How many young guitarists have you known that dream of hitting it big and getting fame, adoration, and riches? Perhaps you're one of them.
The songwriting despite the writer's block, the grueling years on tour, the album and merchandise sales… that all sounds great if you really want it. But you're in for a big surprise if you think that's all it takes to amass extreme wealth and reach the list of the top 10 richest guitarists in the world.
As you read along, you'll discover the three main takeaways for an upcoming guitar player:
Though it helps to have connections, anyone can break through and obtain incredible wealth as a guitarist. A lot of times it's not even about the skill!
If you want to ascend to the richest levels and have one of the highest net worths, you'll need to have other business ventures, and investments, break into TV and film and control your outrageous expenses.
And that's large because, usually for a guitarist, you'll be splitting your earnings 3 and 4 ways with other band members.
The guys on this list are business savvy. They rode their growing momentum, kept marketing and gaining exposure, and jumped from one big record label to another. It's a lifelong pursuit, and unlike other genres (like rap) you'll actually need to know how to write music and play an instrument.
The sky is the limit because many on this list are also some of the richest musicians, period. Make the right moves and you too can join the following list of the top 10 richest guitarists in the world…
#10 – Brian May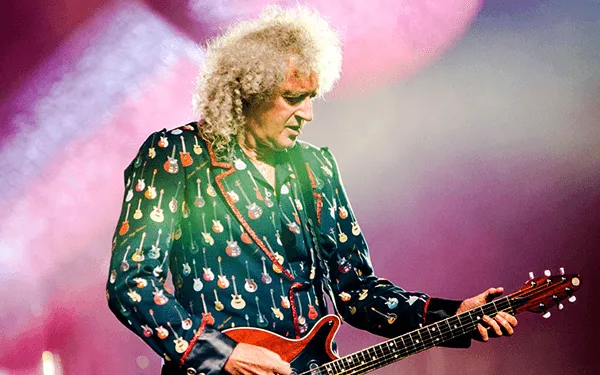 Net Worth: $200 Million
Change: -$10M & ↓1 – Brian is a co-founder of and the lead guitarist for Queen and wrote some of their biggest hits, like "We Will Rock You." He's got all the awards and honors, as you can imagine, and is named anywhere from the 2nd to 26th best guitarist of all time, depending on which magazine you ask.
He's still touring with Queen and playing to huge crowds, with Adam Lambert performing vocals in place of Freddie Mercury. He's contributed to tons of other huge artists' albums and has solo records. He stays busy enough to not have time (or a need) for additional business ventures. Read his trivia facts to see what I mean.
Trivia Fact: Brian is a bonafide astrophysicist with a PhD. He has a flatwing damselfly named after him, the Heteragrion brianmayi. He's a vegetarian, big time animal rights supporter, and anti-smoking advocate. His Victorian stereography collection allowed him to make a significant technical contribution to a book about Picasso's work. In the recent movie about Queen, called Bohemian Rhapsody, he was played by Gwilym Lee. Much of his music was played on his homemade guitar he calls the Red Special.
#9 – Kirk Hammett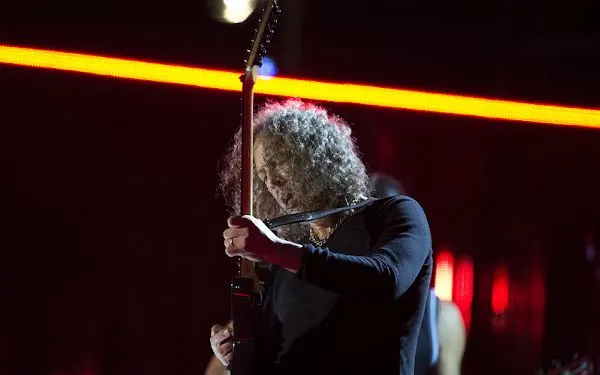 Net Worth: $210 Million
Change: +$10M & +1 – While Hammett is the lead guitarist of Metallica, he is actually not one of its founding members. in 1983, he replaced Metallica's lead guitarist Dave Mustaine after he was kicked out of the band following violent behavior, alcohol and drug abuse. Beforehand, Hammett was performing with Exodus, a thrash metal band he co-founded in 1979.
Kirk Hammett has had a significant impact on heavy metal. With appearances on several heavy-metal classics as Master Of Puppets and The Black Album, it's difficult to say how many guitarists were influenced by his work.
Trivia Fact: He has a long lasting passion for horror cinema which started as a child. He owns an extensive collection of cult horror objects and art, including a costume reportedly worn by 'Boris Karloff (I)' in The Black Cat. He often compares heavy metal to horror cinema, linking their intensity and unpredictability.
#8 – Dave Matthews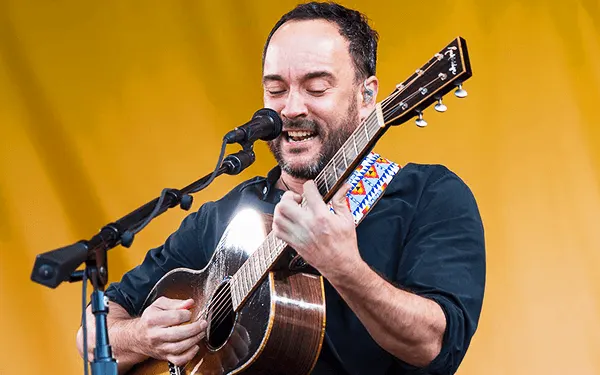 Net Worth: $310 Million
Change: +$10M – Dave is best known as the lead guitarist, vocalist, and songwriter for the Dave Matthews Band, though his solo records and performances have contributed to his wealth, including Grammys and platinum statuses! His collaborations with other megastars like Blue Man Group, Béla Fleck, and Victor Wooten add to his royalties.
Though his own tours are now massive, he once opened for The Rolling Stones, boosting his popularity. Dave broke into acting on the stage, on film, and on TV, but nothing too major. He owns and operates Blenheim Farm, which sells a significant amount of wine annually.
Trivia Fact: The first concert Dave ever went to was by Pete Seeger. In 1986, he worked for IBM. Dave has been a musical guest on SNL five times. He's originally from South Africa. The Dave Matthews Band is the only group to have 7 consecutive #1 albums in a row on the Billboard charts.
#7 – Dave Grohl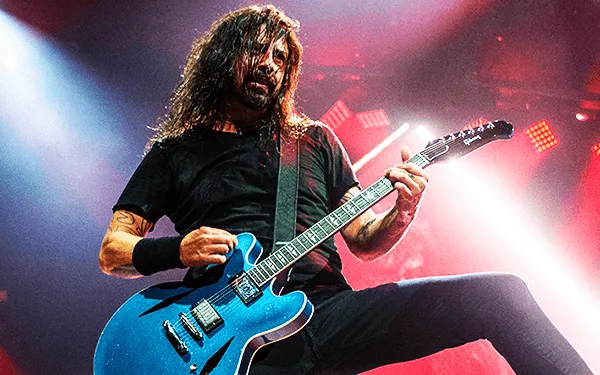 Net Worth: $340 Million
Change: +$10M – Dave Grohl is a true hustler. He started with Nirvana (as the drummer!), killed it with the Foo Fighters, formed a supergroup called Them Crooked Vultures, and now is extremely successful with the Queens of the Stone Age.
He's got the Grammys and inductions in the halls of fame. Grohl once held the #1 spot on the Billboard Modern Rock charts for 17 successive weeks as singles from one band he was in were replaced by another, and then another.
The number of artists he's worked with on his own and their albums are countless, like the number of royalties he must rake in. He's the third richest drummer in the world behind Ringo Starr and Phil Collins.
Trivia Fact: Dave started playing guitar at the age of 12. He's a self-taught drummer, supposedly from listening to and emulating Neil Peart's drumming on Rush albums. He dropped out of high school to join the band Scream (and lied about his age to do it). He drummed temporarily with Tom Petty & the Heartbreakers but declined to join full-time. He has a cameo in an X-Files episode. He can't read music!
#6 – Toby Keith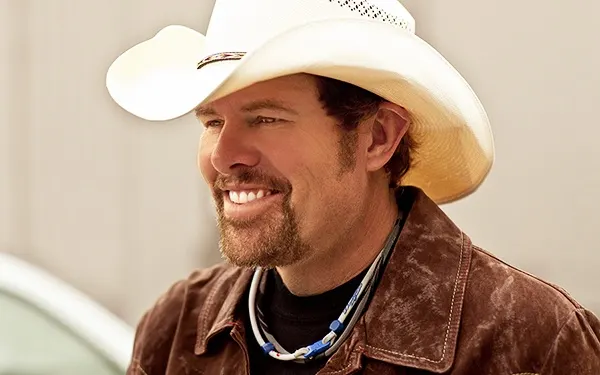 Net Worth: $370 Million
Change: ↓3 – Toby has been in the music industry since 1993, releasing (thus far) 19 studio albums and 2 Christmas records, netting him over 40 million album sales and 61 Billboard Hot Country Songs. Like others who have broken into TV, he has as well but only with performances and no acting.
A large part of his role on this list is due to his other business ventures, such as his nationwide restaurant franchise called "I Love This Bar & Grill." He also owns a clothing line named "TK Steelman." Doubling down on his restaurants, he's introduced an exclusive adult beverage called "Wild Shot."
To top it off, he has co-founded a record label as well. That's the kind of hustle it takes! Naturally, he's one of the richest country singers as well and we have dedicated a detailed article to him. Toby recently announced his stomach cancer diagnostics. We wish him all the best as he undergoes treatment.
Trivia Fact: Toby's outspoken political stances as an independent led to his feud with the Dixie Chicks, and even to him playing the presidential inauguration in 2017. He also supports the youth by providing financial support for those dealing with cancer. He's also trying to bring music education back to our disadvantaged schools. According to Forbes, he makes a huge $53 million per year, topping many other giants like Jay-Z and Beyoncé.
#5 – The Edge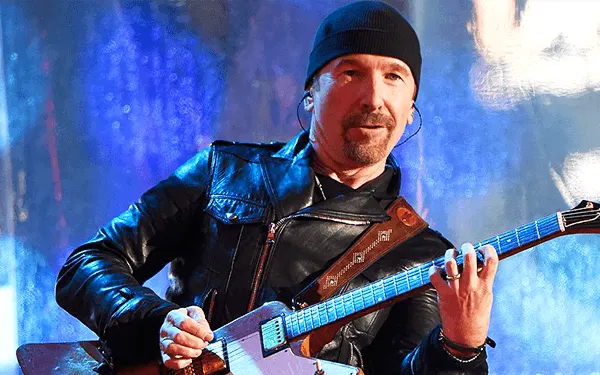 Net Worth: $400 Million
Change: +$60M & ↓1– The Edge, known to his family as David Evans, is the lead guitarist, keyboardist, and backing vocalist of U2. He's been in the group since it started, going on to release 14 studio albums. Edge has produced a solo record as well. He's known for his minimal guitar playing style, layered with tons of effects.
His work extends to other artists like Tina Turner and Roy Orbison and to movies and even stage plays. He holds 22 Grammy Awards and is a member of the Rock and Roll Hall of Fame. He's recorded with others like Johnny Cash, B.B. King, Jay-Z, Rihanna, and Ronnie Wood.
He's getting royalties from all over the place. He was a partial subject of the successful documentary It Might Get Loud. He's the first rock artist to host a concert in the Sistine Chapel!
Trivia Fact: The Edge can speak in both a Welsh and an Irish English accent. His nickname 'The Edge' was given to him by a street gang to which Bono belonged. Funnily, it was based on the shape of his head. He almost quit U2 for religious reasons in 1981. California has denied him the right to build five luxury mansions on 156 acres of land he owns.
#4 – Eric Clapton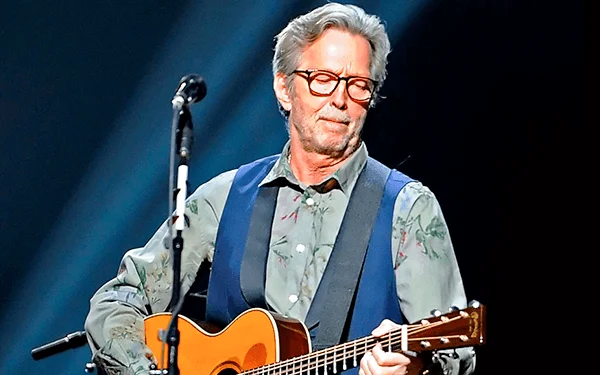 Net Worth: $450 Million
Eric is a beast. He's the only three-time inductee into the Rock and Roll Hall of Fame. The Yardbirds, Cream, Blind Faith, Derek & the Dominos… his bands have all been incredibly successful. And he's worked with The Beatles, B.B. King, and many more acts.
He's sold over 100 million albums and received all the awards and honors. He'd be much higher on this list if he'd kept his expenses together earlier at the height of his career. Rolling Stone calls him the 2nd best guitarist of all time and Gibson calls him the 4th best. His music has been used in countless films and TV shows. He's done it all with music and no extracurricular businesses.
Trivia Fact: Eric is a huge Ferrari car enthusiast and has a huge collection. He's been a vocal supporter of the brand to the point that they honored him with a one-of-a-kind special project car, the Ferrari SP12 EC. In a huge tragedy, Eric lost his four year old son who fell from an open window at the 53rd story of a building.
#3 – Keith Richards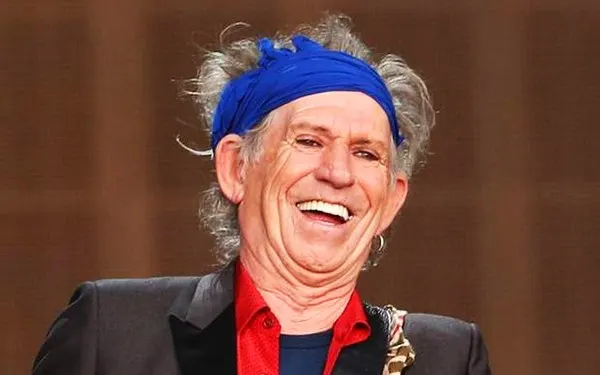 Net Worth: $520 Million
Change: +$20M – Mr. Richards, along with Mick Jagger, is a co-founder and co-principal songwriter for The Rolling Stones. Rolling Stone magazine (no relation!) named him the 4th best guitarist ever. As if his royalties with the Stones weren't enough, he's been a music producer since the 1960s, working with huge artists like Aretha Franklin.
He's got a solo career going and a side project called X-Pensive Winos. His cameos on other artists' albums are too numerous to list. He's one of the few guitarists on the list to have attained such heights only with music and without other business ventures. What a beast!
Trivia Fact: Keith received his first guitar from his grandfather, who kept it on the mantle. Keith was told when he was old enough to take it down, he could have it. He's done some prison time for his nonstop usage of illicit substances. In 2006, he fell out of a tree and had to undergo cranial surgery. The lead character of the Pirates of the Caribbean movies are partially based on his lifestyle and fashion sense.
#2 – Jimmy Buffett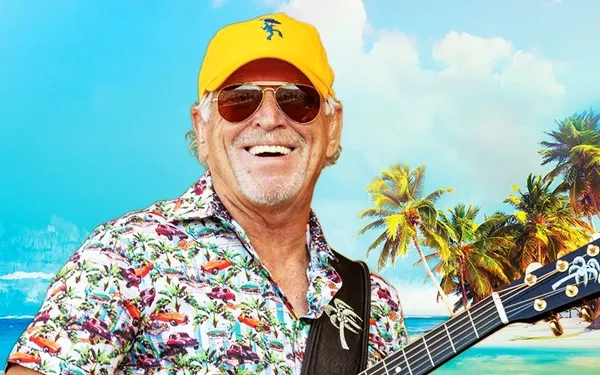 Net Worth: $1.0 Billion
Change: +$400M – Our first member of the list that is also one of the richest rock stars ever. Jimmy is the guitarist that put the "island escapism" sound on the map with his Coral Reefer Band. Though they've stacked up countless hits in this genre, he started out as a country singer before becoming the beach bum he is today.
It was when pal Jim Croce passed in 1973 that Mr. Buffett filled his spot at a record label, producing the smash hit Margaritaville. From there, he's been a touring monster, earning more money from that than his countless record sales. He's even written three #1 best-selling fiction books as well as others that charted.
He's had cameos on TV and in movies as well as writing music for them. He owns restaurants, a record label, a casino, a beer label, had partnerships with an NFL team, and even released a video game. What have I been doing with my life?
Trivia Fact: Buffet's fans are collectively called 'Parrotheads.' His first musical foray was with the trombone in high school, only picking up the guitar in college. While giving a graduation ceremony speech (in sunglasses and flip flops) to the University of Miami, they awarded him an honorary doctorate in music.
#1 – Paul McCartney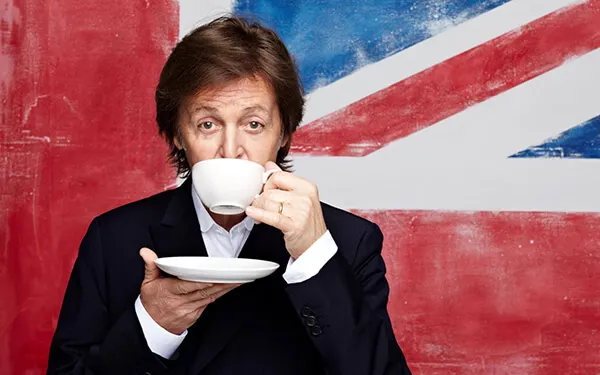 Net Worth: $1.2 Billion
Of course, a member of The Beatles tops the list. With John Lennon, Paul McCartney shared almost all of the songwriting credits for their entire catalog. Can you imagine just the royalties from this, let alone Paul's illustrious solo career and even his work with Wings?
Now think about his collaborations with other monsters like Michael Jackson and Kanye West (one of the richest rappers). Paul has been at it since the 1960s, can play multiple instruments, and has written 32 songs to hit #1 on the Billboard Hot 100. His song Yesterday is the most covered song of all time, by over 2,200 artists.
Trivia Fact: The Guinness Book of World Records features Sir Paul twice, once as the most successful songwriter ever and another as the most honored composer and performer in music. He's even been knighted and holds over 25,000 copyrights.
Who's Dropped Out of the Top 10?
Not all who reach the status of the top 10 richest guitarist in the world manage to maintain the status. Earning your wealth is only the first part of the game. Keeping it is the real challenge. Here's a list of our fallen friends who either have been slipped off by newcomers or tanked their net worth like dummies.
Jimmy Page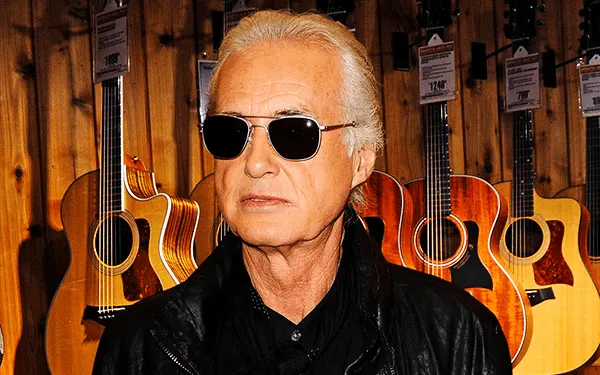 Net Worth: $200 Million
Change: +$10M – Jimmy is the founder and guitarist for Led Zeppelin. Before that, he was a member of The Yardbirds. He's the 3rd best guitarist according to Rolling Stone magazine and 2nd according to Gibson. His early years consisted of being one of the most sought-after session musicians in London, getting credits with groups like The Who, The Kinks, and The Beatles.
Since Led Zeppelin disbanded, he's done tons of collaborations and live performances, staying busy with that and philanthropy work. He owns a lot of interesting property, and for a couple of decades even owned Aleister Crowley's old house (he's big-time into the occult).
Trivia Fact: Jimmy started playing guitar at age 12 after finding a guitar left at his school. By age 13 he appeared on a BBC1 show in 1957. He once put his music career on hold to pursue painting. He formed a supergroup called XYZ (eX-Yes-Zeppelin) with two members of Yes, though they only recorded a 4-track demo.
David Gilmour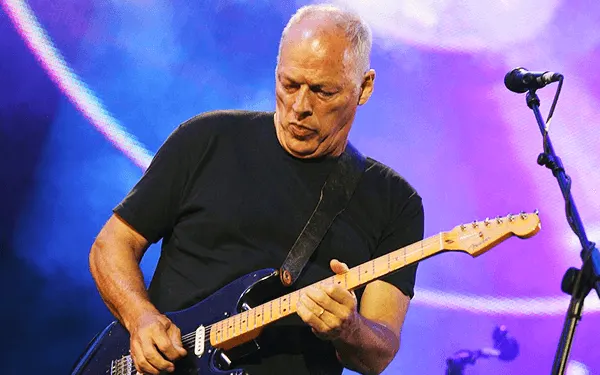 Net Worth: $180 Million
Change: +$15M – David joined Pink Floyd very early on, becoming their guitarist as well as co-lead vocalist. As you know, they're one of the best-selling groups of all time. But David also has produced other top acts, racking up even more royalties, as well as releasing a handful of solo records.
He's considered the 14th greatest guitarist of all time, in all the halls of fame and honored by Great Britain with the CBE title. He's a huge philanthropist, giving and raising money for countless charities and causes.
He founded an airplane museum called Intrepid Aviation before selling it (for massive profit no doubt). This company would supply vintage airplanes to Hollywood films and shows.
Trivia Fact: David was once so broke that he was hospitalized for malnutrition. He once purchased a houseboat and converted it into a recording studio, where two Pink Floyd albums and one of his solo albums were recorded. He paid for Kate Bush's first professional demo and promoted her, leading to worldwide fame. He is godfather to actress Naomi Watts.
Angus Young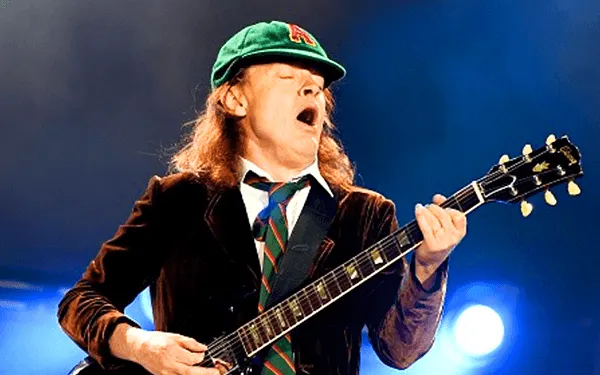 Net Worth: $160 Million
Change: +$20M – Angus is the co-founder, lead guitarist, and songwriter for the legendary AC/DC. He's the only member to remain from the original line-up and is cleaning up on royalties and touring to this day. Rolling Stone magazine named him the 24th best guitarist ever and he's been inducted into the Rock and Roll Hall of Fame.
At 18, Angus and his brother Malcom formed AC/DC in 1973. They hold the 2nd highest-selling album of all time, Back in Black. Along with Gibson, he released his signature Angus Young SG guitar to the masses. Like Keith Richards, he's made it to the list without extra businesses, testifying to his crazy tours and antics on stage as well as massive album sales.
Trivia Fact: His 15 member family left Scotland in 1963 during the "big freeze" when a company ran a TV advertisement offering a different like in Australia. Despite the rumors, the AC/DC name comes from a label on the back of his sister's sewing machine. He tried many costumes on stage, including a gorilla suit, before settling on the schoolboy outfit.
Who Will Claim a Richest Guitarist Spot Next?
Excluding any artists that have fallen from the top 10 list, who else has a real chance of officially becoming one of the top 10 wealthiest guitarists in the world? Here are the closest tycoons right now:
Ronnie Wood at $200 million thanks to his work with The Rolling Stones, Faces, and Jeff Beck Group. He also makes money from Thoroughbred racing and his own visual art.
Robert Plant at $200 million largely due to his legendary role as the lead vocalist in Led Zeppelin, as well as his successful solo career. He also earns money through songwriting and collaborations with other artists.
Paul Stanley at $200 million thanks to Kiss' sales and performance earnings, as well as solo and side endeavors, including a band called Soul Station.
Pete Townshend at $150 million largely due to his leading role in The Who, and his extensive work as an author and investigative journalist.
Mark Knopfler at $110 million thanks to his co-founding role in Dire Straits, his work on 9 film scores, and his cross-genre work in Country music.
Tom Petty at $95 million due to his work with the Heartbreakers, Traveling Wilburys, and Mudcrutch. Though he passed in 2017, we honor him here, as he would have made the top 10 list for sure.
Joe Bonamassa at $20 million as a result of his prolific blues rock solo career that includes lucrative international tours and numerous album sales. Additionally, his income increases through live performances, his signature guitar line, and his record label, J&R Adventures.
It's plain to see that in order to hit this list you need to have been a monster of rock throughout the 70's and 80's or invest your earnings into more and more businesses. The craziest thing is so few of these money-making guys are even considered for the list of best guitarists in the world. If you're slaying it on guitar and want to join this list, plan accordingly, and don't forget us little guys when we add you to the list!
Top 10 Richest Guitarists in the World (2023)
| Position | Guitarist | Net Worth | Nationality |
| --- | --- | --- | --- |
| 1 | Paul McCartney | $1.2 Billion | UK |
| 2 | Jimmy Buffet | $1.0 Billion | USA |
| 3 | Keith Richards | $520 Million | UK |
| 4 | Eric Clapton | $450 Million | UK |
| 5 | The Edge | $400 Million | UK |
| 6 | Toby Keith | $370 Million | USA |
| 7 | Dave Grohl | $340 Million | USA |
| 8 | Dave Matthews | $300 Million | South Africa, USA |
| 9 | Brian May | $260 Million | UK |
| 10 | Kirk Hammett | $200 Million | US |