Nostalgia is a hell of a thing. In an era defined by dread and gallows humor, social media trolls and culture wars, it's not necessarily any surprise that people take comfort in reminiscence.
The nostalgia comes in all shapes and sizes, but you only need to take a look at the absolute behemoth that Stranger Things has become over the last few years to see that our culture holds a special fondness for the 1980s. There is of course so much to choose from, and when the palette is so distinct, we can see why film and TV-makers keep going back to the well.
We like huge shoulder pads and a scrunchy-fastened high pony as much as the next person, but we're all about the music here at Ledger Note. Lucky for us it's an astonishing decade, musically speaking. From thrash metal to gangsta rap, hardcore punk to house, the '80s were the genesis of a huge range of musical styles and trends that continue to reverberate today. We've covered the '80s before, of course, with our rundown of some of the era's biggest dance tracks.
Today, we're here to look at some of the great female singers that helped to define the decade. Please, as ever, feel free to let us know what you think of what we've come up with, but otherwise settle in for the ride. Fair warning, there are absolute bangers ahead.
| Rank | Singer | Key Song |
| --- | --- | --- |
| 1 | Madonna | Into The Groove |
| 2 | Whitney Houston | So Emotional |
| 3 | Tina Turner | What's Love Got To Do With It |
| 4 | Janet Jackson | Control |
| 5 | Chaka Khan | I Feel For You |
| 6 | Annie Lenox | Sweet Dreams |
| 7 | Kate Bush | Running Up That Hill |
| 8 | Bonnie Tyler | Total Eclipse Of The Heart |
| 9 | Cindy Lauper | Girls Just Want To Have Fun |
| 10 | Pat Benadar | Hit Me With Your Best Shot |
#10 Pat Benatar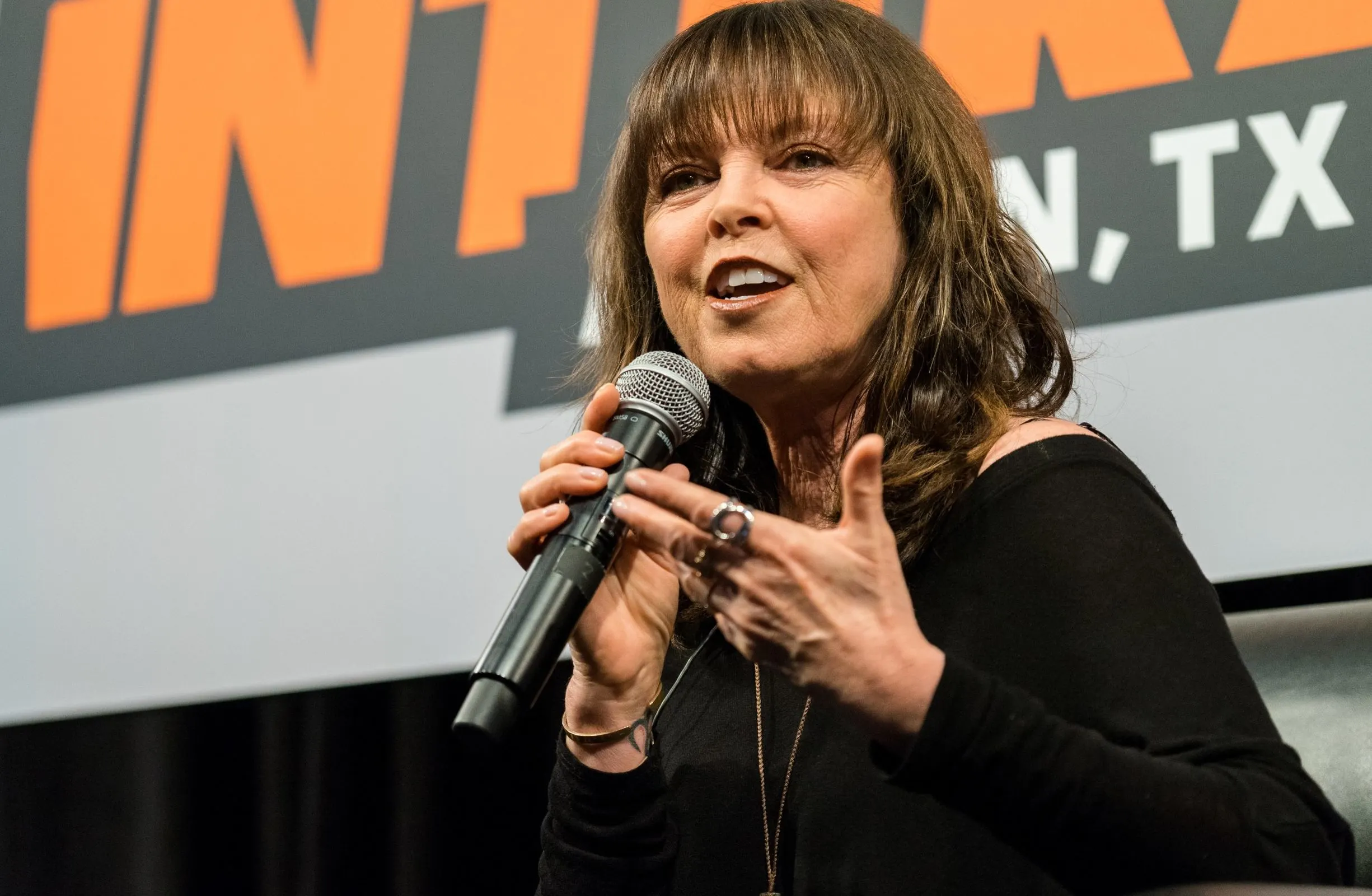 Key Song: Hit Me with Your Best Shot
Spandex? Check. Big hair? Check. Absolutely massive voice? Check. Brooklyn native Pat Benatar had all the hallmarks of an '80s star, having been inspired to pursue a career in music by a Liza Minelli show that she saw in her youth.
Working her way up through the nightclub circuit in the late '70s, developing her distinctive rock vocal style and look, her debut album, In the Heat of the Night was released in 1979, but peaked at number 12 on the Billboard 200 in 1980.
It took a moment for listeners to catch up with her. Her second single, "Heartbreaker," didn't exactly light up the charts on its release, although it has rightly gone down in history as a hard-rock classic.
Benatar reached a new level of acclaim with the release of her second album, Crimes of Passion in 1980, driven by lead single "Hit Me With Your Best Shot," which broke the top ten in the US and was certified gold. Crimes of Passion remained in the album chart top ten for over six months, eventually selling nearly five million copies.
Benatar recorded prolifically through the '80s and had further notable hits with "Shadows of the Night" and "Love is a Battlefield," which secured her as an '80s rock icon.
Trivia: Everyone knows that the first song played on MTV was The Bugles' "Video Killed the Radio Star," but Benatar holds the lesser-known distinction for being the second artist ever screened on the platform, with a cover of the Rascal's "You Better Run."
#9 Cindy Lauper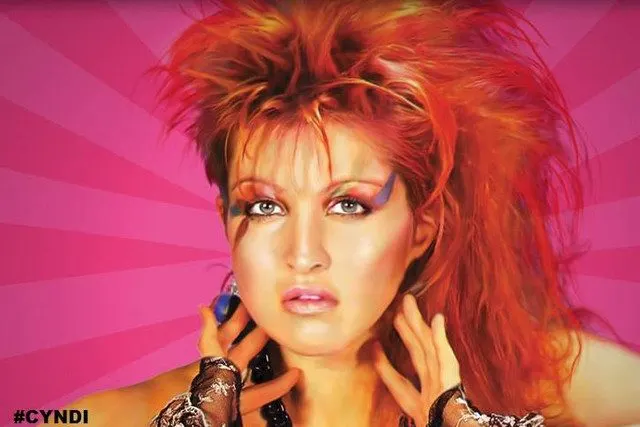 Key Song: Girls Just Want to Have Fun
With her distinctive orange hair, overload of accessories and hyper-glossy pop production, Lauper might be considered a distillation of a certain aspect of '80s music. If we're in the mood to be critical, her trademark song "Girls Just Want to Have Fun" could be seen in as bordering on novelty, with its call-and-response chorus and unusual percussion. That being said there is no doubt the record-buying public took her extremely seriously.
Lauper's 1983 debut album She's So Unusual which [2] has sold 16 million copies, was the first solo album by a female artist to have four consecutive top-five hits on the Billboard Hot 100. She also won Best New Artist at the Grammys in 1985, adding critical acclaim to her impressive commercial clout. She also established her bona fides as an '80s superstar by tapping into the MTV craze, winning the inaugural Best Female Video award at the 1984 VMAs. Rounding out the decade with an appearance on the soundtrack to the hugely popular movie The Goonies, and releasing two more albums, 1986's True Colors and 1989's A Night to Remember.
Lauper remains active today and has put her considerable energies towards everything from activism to a Tony-winning Broadway show, to blues music.
Trivia: An outspoken advocate of LGBT+ rights, Lauper founded the True Colors Fund in 2008, an organization which supports those communities.
#8 Bonnie Tyler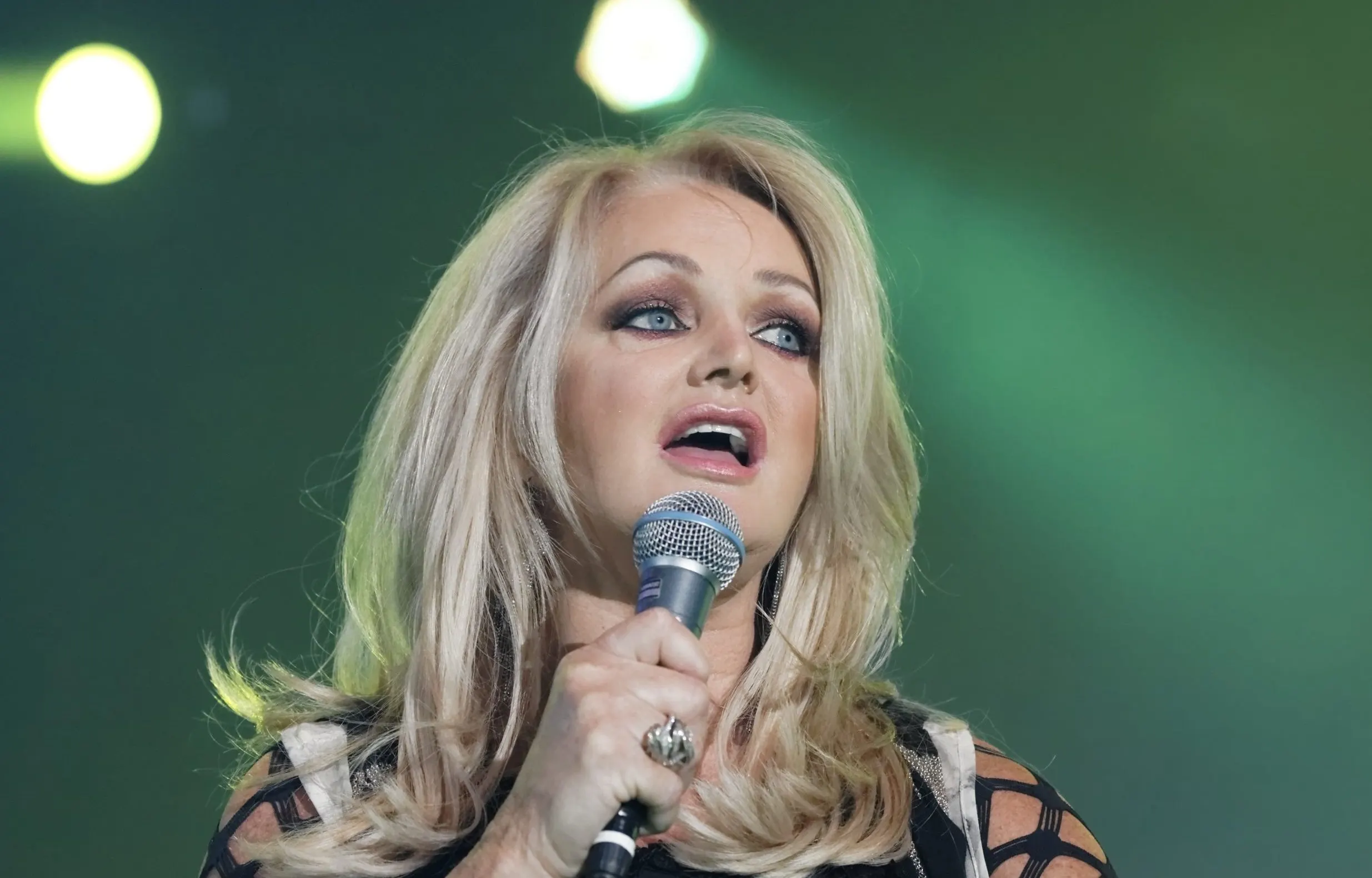 Key Song: Total Eclipse of the Heart
Perhaps an unusual case in the context of this list, Welsh-born Bonnie Tyler began the decade on the downslide. Having released four albums by 1981, Tyler's undeniable talent as a performer and vocalist was in danger of being crushed by critical and commercial indifference. Having charted as high as third on the Billboard Hot 100 with 1978's "It's A Heartache," Tyler had subsequently failed to make much of an impact beyond her native UK.
The answer lay with the doyen of melodramatic rock music, Jim Steinman. As Tyler sought to retool and relaunch her career in the early '80s, she identified Steinman as the man she wanted to work with on producing her next album. The results were astonishing. Tyler's 1983 single, "Total Eclipse of the Heart"– described by Steinman as a "Wagnerian onslaught of sound and emotion" (which will do well enough for us) — was simply one of the biggest hits of the decade. That alone would be enough for Tyler to be considered here, but she proved the hit was no fluke with "Holding Out for a Hero" from the Footloose soundtrack.
Trivia: Although the second half of the decade was more solid than spectacular, Tyler's nose for a hit was put beyond doubt as all three of the singles from her 1988 album became hits for other artists, notably Tina Turner's cover of "The Best."
#7 Kate Bush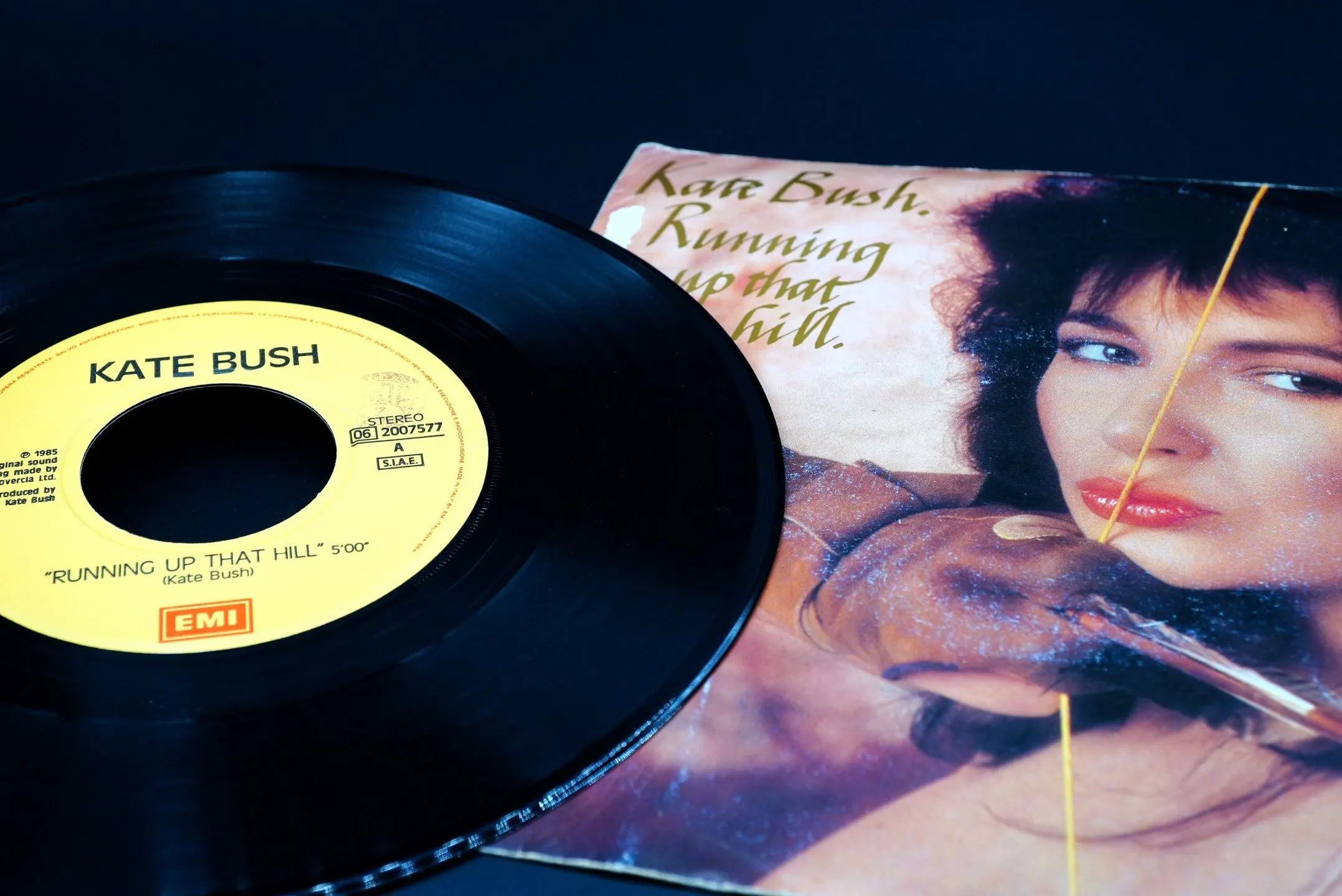 Key Track: Running Up That Hill
Sometimes hindsight is a wonderful thing. We occasionally need to be able to take a little critical distance to appreciate something wholly. It could be said that Kate Bush's career is best considered at one remove. Bush started writing songs when she was 11 years old and signed to EMI as a teen after producing a demo with none other than Pink Floyd's David Gilmour.
After breaking down doors with her 1978 debut, The Kick Inside, she began laying the groundwork for female singer-songwriters to be taken more seriously in the UK. After dominating the charts in her homeland with her unique storytelling style and dense instrumentation, she went back to the studio and began to play a more active role in production.
The year 1985 saw the release of Hounds of Love, containing Bush's two biggest hits, the title track and "Running Up That Hill." Introducing her unique perspective on songcraft to a wider audience, "Running Up That Hill" charted well on the Billboard Hot 100, but more than that it allowed her esoteric, self-produced music to influence another generation of artists. Having been name-checked by everyone from Solange Knowles to Courtney Love, to Regina Spektor, to Big Boi, Bush's music has reverberated through time, even before being re-energized by Stranger Things season 4.
Trivia: Although in 1979 she took a three-decade hiatus from performing live, Bush is credited with being the first performer to use a wireless headset microphone in order to allow her to dance, an idea taken up later by Janet Jackson and Madonna, among others.
#6 Annie Lennox
Key Song: Sweet Dreams (Are Made of This)
Annie Lennox is unique in the context of this list in that her '80s heyday was spent as part of a duo: her career as a solo artist didn't begin until the decade after. While, for the most part, the women on this list are notable for their independence as well as their talent, the sheer quality of Lennox's vocal ability makes her impossible to ignore.
As part of the Eurythmics, Lennox's distinctive contralto 'white soul' voice found a global audience, aided and abetted, as most British artists were at the time, by a focus on aesthetics and the growing popularity of music videos.
Crucially, in terms of Lennox's standing in pop music, Eurythmics caught the wave of American antipathy for domestic music trends and a distinctly Anglophile culture appetite. The Second British Invasion, in the early '80s, found American audiences looking to a slickly styled, technically innovative, undeniably cool generation of British performers, of which Lennox was a leading light. A VMA and Grammy winner, recognized by Rolling Stone magazine as one of the greatest singers of all time and due to be inducted into the Rock and Roll Hall of Fame in 2022, Lennox has never been short of admirers, and we certainly count ourselves among them.
Trivia: Among the many acts and performers Lennox has influenced is, surprisingly, the Spice Girls, with whom she shared a manager. Apparently, it was Lennox who advised that the girls go louder and bolder with their personality traits.
#5 Chaka Khan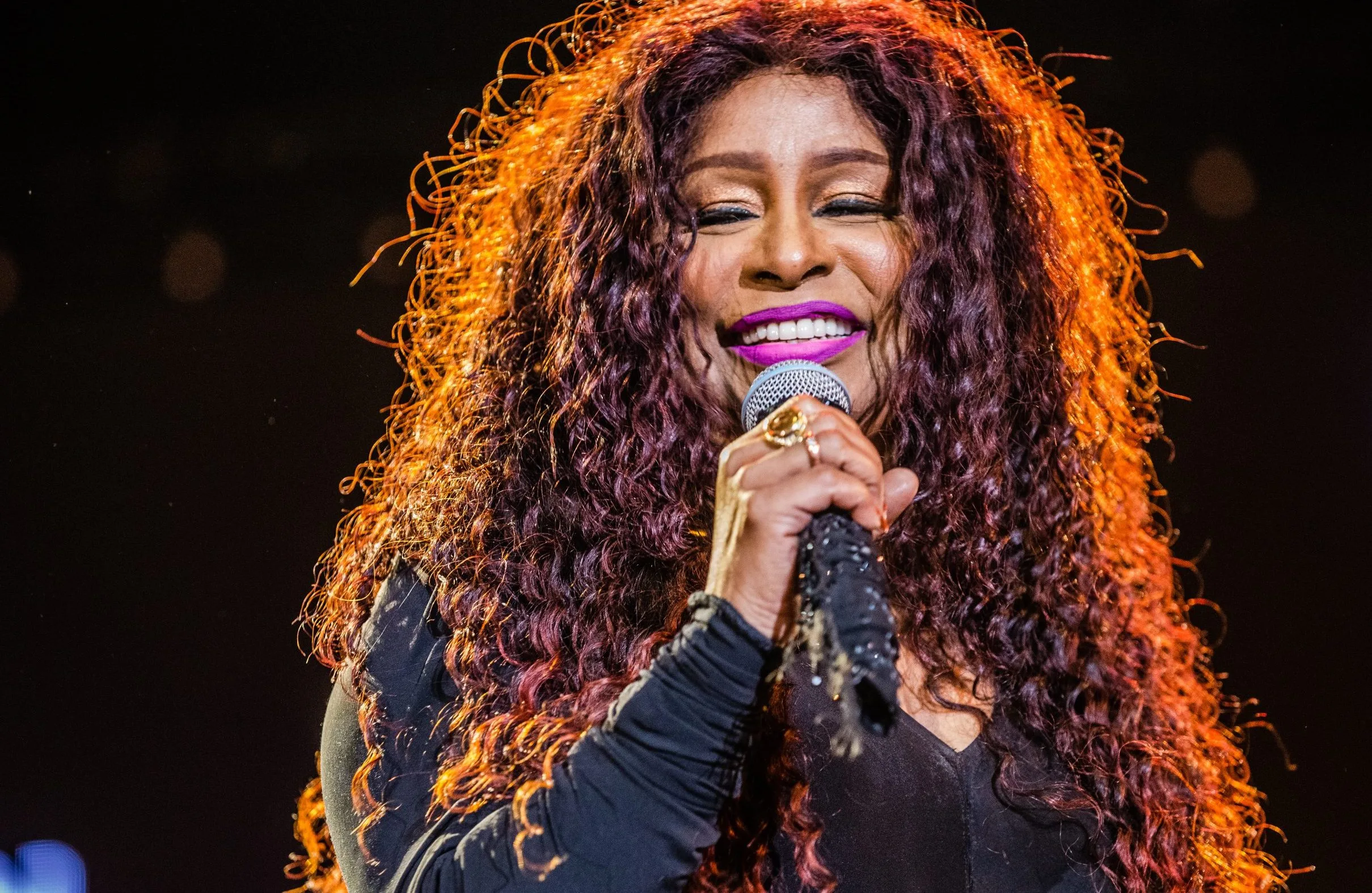 Key Song: I Feel For You
It's fair to say that Chaka Khan, the Queen of Funk, was already a known quantity by the beginning of the '80s, having introduced herself to the world in the '70s via Chicago funk band Rufus. Although the high point of funk as a commercial concern ended with the change of the decade — we've already mentioned the Second British Invasion that was dominating the charts — the Queen was not about to go quietly.
Having stayed on and around the R&B charts with a couple of solo albums at the beginning of the decade, Khan blew the roof the thing in 1984, with the release of her album I Feel For You. The title track, featuring a harmonica solo from Stevie Wonder and a rapped intro from Grandmaster Melle Mel, was a crossover hit, dominating the dance, R&B and pop charts on release. It also won His Purpleness himself, Prince, a belated Grammy for writing it. The song could be considered a staging post in the development of modern pop music, being the first hit to feature an R&B star with a rapper.
While these collaborative hits aren't as popular as they once were, it's fair to say they dominated the charts for the subsequent two decades.
Trivia: Starting the decade with a bang, Khan made a cameo appearance as a choir member in 1980 John Belushi, Dan Aykroyd's classic Blues Brothers.
#4 Janet Jackson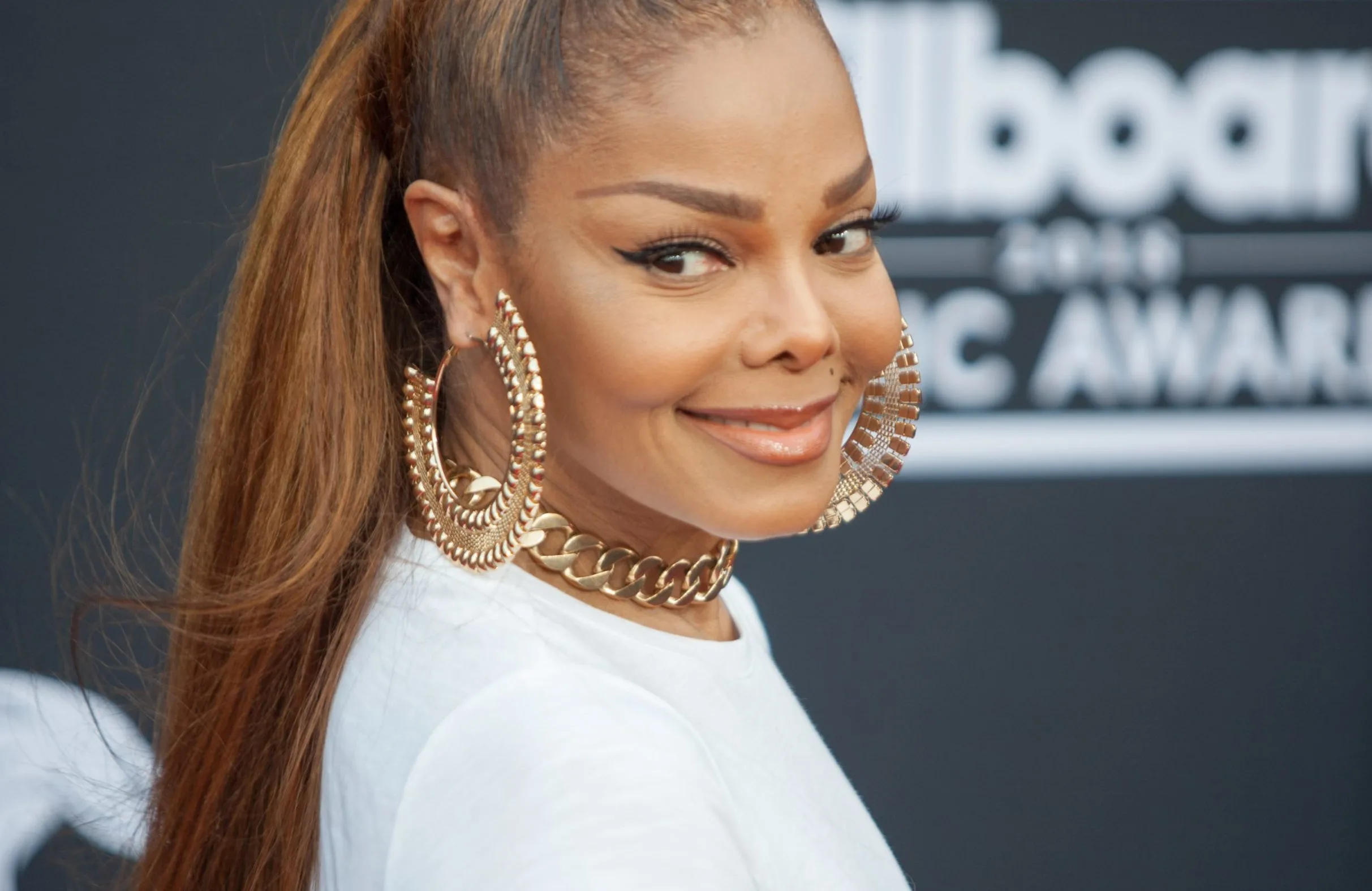 Key Song: Control
Although Janet Jackson's career inarguably peaked in the '90s — when she was being recognized by Billboard as the second most successful artist of the decade — her earlier journey to icon status is worthy of consideration. Stepping out of the long shadow of her family, her 1986 album Control is a classic that catapulted her to the top. The album topped the Billboard charts and boasted no fewer than five top-five singles, making Jackson the first female artist to achieve the feat.
Jackson also found ample room to demonstrate her prowess as a performer and dancer, utilizing then-nascent MTV to huge effect. Her tightly choreographed videos made a huge impact on the music video medium as a whole, and her lyrical and stylistic focus on self-actualization was also hugely important.
Astonishingly, considering the impact of Control, her 1989 follow-up Rhythm Nation 1814 is even more significant. Expanding her lyrical focus beyond herself to tackle wider societal issues, Rhythm Nation 1814, with its accompanying singles and music videos, served to cement her status as a pop megastar.
Trivia: As well as furthering the cause for music videos in general, Jackson's videos also made a star of choreographer Paula Abdul.
#3 Tina Turner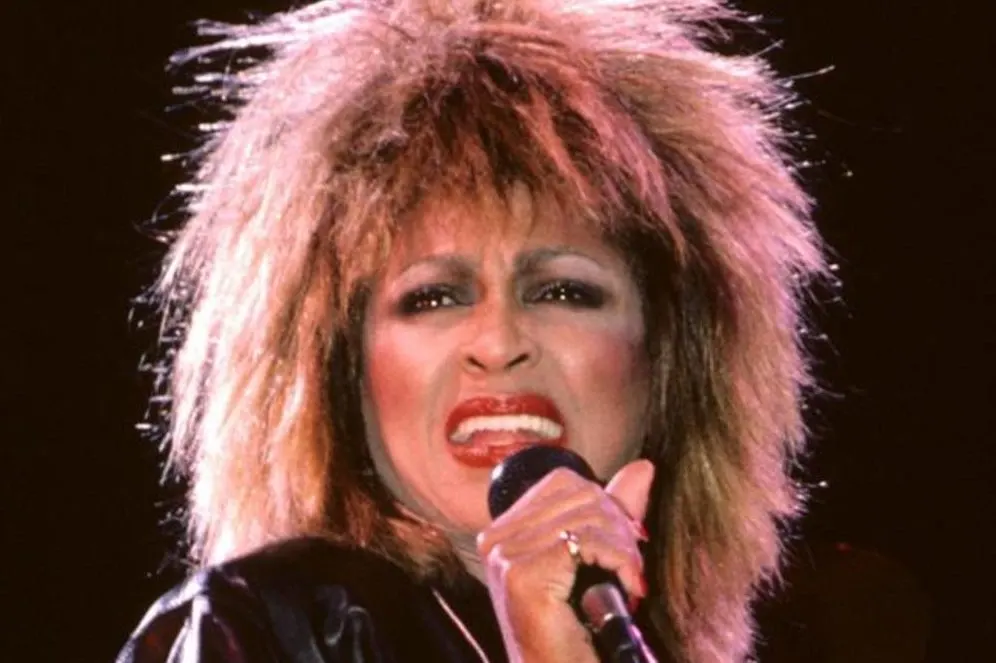 Key Song: What's Love Got to Do with It
From the Queen of Funk to the Queen of Rock 'n' Roll. Turner hit the scene with Ike in 1958 and recorded such classics as "Nuttbush City Limits" and "River Deep – Mountain High." When she ended that deeply troubled partnership in 1976, you could forgive her for taking it easy. But, as the lady herself memorably claims at the beginning of "Proud Mary," "… we never ever do nothing nice and easy."
Having spent the early years of the decade on the club circuit, she was about to make the mother of all comebacks. After a cover of Al Green's "Let's Stay Together" in 1983 performed unexpectedly well, her management gave her two weeks to record a record. The resulting album, Private Dancer, was an instant classic. The album's second single "What's Love Got to Do with It," was one of the decade's biggest songs, making Turner, at 44, the oldest solo female to top the Billboard Hot 100. Joining Lionel Ritchie's tour as the opening act helped to spread the word, as the album sold by the truckload.
Turner spent the rest of the decade at the top, including starring in Mad Max: Beyond the Thunderdome and performing alongside Mick Jagger at Live Aid.
Trivia: Turner also set a Guinness world record in 1988 for the largest paying concert attendance for a solo artist, in Rio de Janeiro, Brazil.
#2 Whitney Houston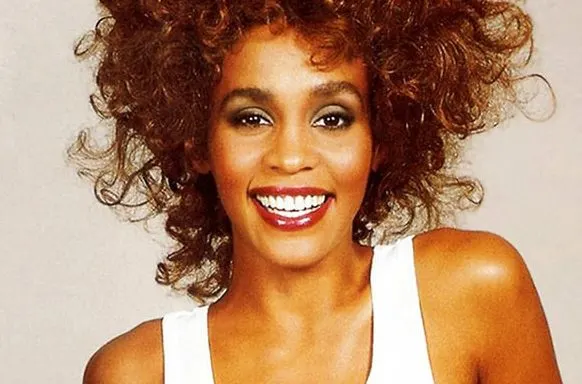 Key Song: So Emotional
There are all kinds of nicknames throughout the history of popular music, from the grandiose to the comic, and often concerned with royalty. They are a mark of great respect, showing that an artist has not only made themselves a household name, but has moved beyond that to become a shared cultural reference point. This brings us to The Voice. Arguably the greatest vocalist in the history of popular music, Whitney Houston's eponymous debut album landed on Valentine's Day 1985, starting one of the great musical careers.
Houston, with a carefully curated image, and a production team geared towards showcasing her incredible vocal talents, completely took over the charts. With her first two albums certified diamond – and both remaining among the best-selling albums of all time — Houston broke new ground in terms of commercial success. In a run from 1985's "Saving All My Love For You" to 1988's "Where Do Broken Hearts Go," Houston set an as-yet unbroken record for seven consecutive Billboard Hot 100 number-one records.
There are some artists who need to be viewed through a particular prism for their merit to be appreciated. That Houston is emphatically not one of them points to her unquestionable greatness.
Trivia: Although The Voice was unprecedented, she was not the only musical talent in her family. Her mother, Cissy Houston, opened for acts including Elvis Presley and Jimi Hendrix as part of The Sweet Inspirations.
#1 Madonna
Key Song: Into The Groove
Such is the nature of constant revolution and revelations within Madonna's career as a singer, songwriter and actress, that you could be forgiven for asking, which Madonna are we talking about? Considering the ubiquity of this artist as a cultural touchstone in the modern age, it can be hard to consider her in terms of something as mundane as an 'early career.' But just as with every story, Madonna has a beginning: The release of her 1983 debut, Madonna.
In the contemporary landscape, Madonna looms large as the most successful female artist of all time, and a byword for the power and scope of pop music. The '80s saw her progress from the bubble-gum "Holiday" to the Vatican-bating "Like a Prayer," via a not-insignificant conservative panic over "Like a Virgin".
Famously, Madonna moved, penniless, to New York in the late '70s in order to pursue a career in entertainment. It's fair to say that there is a case for her as the definitive artist of the '80s, in addition to her dominant role as a pop culture figure for the last forty years. The Queen of Pop, indeed.
Trivia: Although her music is universally adored, the same can't be said of Madonna's big screen career. In fact, the opposite is true, as she holds the record for most wins at the infamous Golden Raspberry awards.
Phew!
What a ride. If you've been playing along at home, and we sincerely hope that you have, we know that you'll have a newfound respect for the women who shaped one of the most important decades in history of popular music. The music industry, and indeed the world at large, often seems beholden to the idea that men are more talented, more popular, and more worthy of praise. We here at Ledger Note are calling nonsense on that one!
We hope that this rundown of some of the most powerful female performers of the '80 helps you to a greater understanding of the music scene as it made a distinct left turn and began heading to the future.