The best power conditioners perform two jobs fantastically. You don't want a conditioner that shines at one of these tasks and not the other. Each and every power conditioner you own should take care of both for you without fail…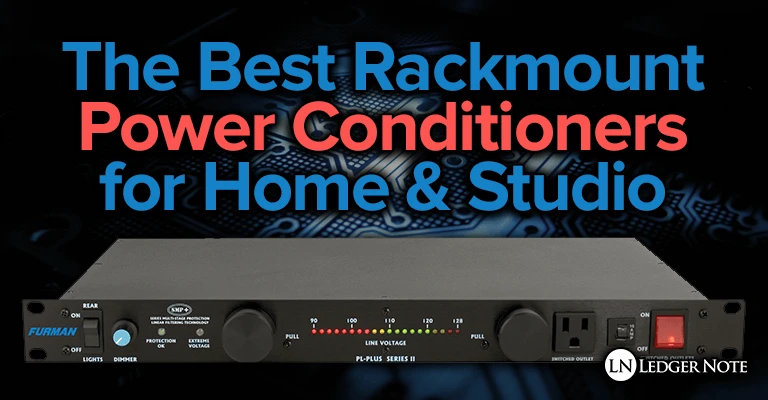 What are these two purposes I'm talking about that are so immensely important that they outshine all other features?
Condition your electric power quality
Being awesome surge protectors with lots of power outlets
That's all you're looking for. Although some can even provide continuity of service by being uninterruptible power supplies (big batteries!), those don't typically have a ton of outlets nor are rackmounted. There are some decent floor options as well.
Whether you're in a home studio, professional recording environment, or live on stage, you want at least one power conditioner in your rack or on the floor. This goes for any tech industry relying on lots of electrical equipment.
It's stationary, keeps all of you gear plugged in and powered, gives you one power switch to control, and protects your gear from electrical surges and other problems.
Our goal today is to explain why you want one of these devices, teach you about what to look for, and then give you some recommendations. Plain, simple, and fast! Let's do it.
First, let's define what these things are and then tackle some frequently asked questions about them in general.
Need more information in order to better understand your needs? We have got you covered! Visit our FAQs section.
included in this guide:
The Best Power Conditioners
We can't cover every option out there and don't need to. There are a lot of companies that offer these products that use deceptive marketing, ridiculous pricing, and intimidation on other companies. We won't be featuring them, which is fine because they don't actually make the "best" list anyways.
Below are the tried and true you can trust and be happy to support. It's largely a company named Furman who dominates the field with reasonable pricing and high quality. Other's cut corners here or there to offer a cheaper price or inflate the price just to trick you.
As I said above, you can get one a little below $100 or you can go up to $300 for a full-featured option. Anything above or below those prices should make you suspicious unless it's a uninterruptible power supply with a far greater range of power quality control.
If you pick from this list you'll be fine:
Rack Mount Power Conditioners
Lots of rack mount gear have the option to remove the rack ears and add rubber feet so you can use them on your desk or with your entertainment system. I've not seen a lot of these options in the power conditioner world, so please consider if you want rubber feet on yours. I'm including one of those here just in case.

The Furman M-8X2 is your lowest priced option with minimal extra features that does exactly what it's designed to do. Some of us really just need a ton of power outlets in our racks with the basic protection of a surge protector. This provides that and tosses you noise filtration so you know you're feeding your gear clean power, extending their own lifetimes and ability to give their top performance.
The only problem this one and most others don't handle is severe under-voltage, which frankly isn't a common issue. It's so uncommon that generally all affordable power conditioners don't deal with it. That requires the one feature that really drives up the price: voltage regulation. The most variation I've ever seen is plus-or-minus 1 volt and it's consistent versus fluctuating.
This is perfect for those that just need more plugs in their rack. I have one below my main, full-featured conditioner with the lights, which I keep at the top so it can illuminate all of the gear below it. What you see here is what 90% of all other power conditioners are, just without the lights and meter readouts. Don't feel like you have to have all of those options if you really don't. Save a solid chunk of cash with this option.
This and all other options on this list deliver 15 amps, but each option also is available in a 20A version as well if you need it depending on your industry. 15A covers most gear in most industries until you start getting into large appliances and equipment.
This hard-worker comes with 9 isolated outlets, with 1 on the front and 8 on the back. Three of the back outlets are spaced out to accommodate wall wart power supplies too, which I personally appreciate on both of mine. Otherwise you end up blocking useable outlets. It also has a single light indicating that your gear is being protected. If it ever goes out (mine hasn't in a decade), use your warranty to get a replacement or a repair! Always play it safe.
Specs:
Item Weight: 4.6 pounds
Connector Type: Power Plug
Voltage: 120 V
Pros:
Great noise filtration
Excellent build quality
Cons:

While there is a middle ground with lights only and no voltage meter, why not go all the way for what amounts to a minor price difference? That's what the Furman PL-PLUS C (pictured) and the Furman PL-PLUS DMC (not pictured) represent.
They include pull-out lights on the front with dimmer switches, the convenient front outlets, and voltage readouts. The C model has a row of LED's you can monitor while the DMC model features a numerical display that can also show the amps as well as voltage.
What this (and the Furman options below) adds on top of the previous model above besides those superficial features is what Furman calls Extreme Voltage Shutdown. If for whatever odd reason you start getting crazy transients, sags, and extremely irregular frequency variations, the devices will automatically shutdown to defend your gear's circuitry from these unsafe conditions.
My own rack right now has an older model of the DMC at the top with an M-8×2 right below it. I'm absolutely pleased with both. They power my computer and recording gear 24/7, day and night with no issues at a fraction of the price (and much cooler looking) than other companies ask for.
Specs:
Item Weight: 11.88 pounds
Connector Type: Power Plug
Voltage: 139 V
Pros:
Reliable performance and portable
Cons:

Before, I mentioned voltage regulation. That's what the AR product name signifies in the Furman P-1800 AR… Advanced Regulation. That's the ultimate non-superficial feature that pushes the price up a bit that is completely worth it if you're working with gear that demands it. It guarantees a stable 120 volts of AC all day.
The P-1800 AR conditions and cleans, promising perfect power quality, while compensating for under-voltage and protecting from over-voltage conditions like transients and surges. If it decides that the electricity is way too crazy to clean, then it will shut down like the others to protect your costly equipment.
It's so rare I've never seen it happen but those are the times you are protecting against, like if a transformer leading to your house blows out. You'll know ahead of time if you see the display start tossing out random numbers. Save your work!
What's missing is the lights but really that USB connector on the front is a nice trade-off. I'm constantly charging my phone and wireless mouse batteries off the front of my own power conditioner.
This is the ultimate in protection. It's the extra layer after the fuse box that ensures you'll never have a big problem on your hands. In the meantime, you can rest assured that your gear is receiving and using the cleanest of power possible.
Specs:
Item Weight: 15 pounds
Connector Type: Power Plug
Voltage: 120 V
Pros:
Provides solid and stable voltage
Cons:

The Furman Elite-15i is like all of the above minus the voltage regulation feature, but designed for home entertainment systems. It's basically the same as the PL-PLUS DMC but with rubber feet instead of rack mounting capabilities. This will fit neatly on your entertainment center with the rest of audio and video gear.
The real difference is in the type of outputs. You have 6 regular outlets on the back and the 1 on the front, but you also have coaxial inputs and outputs for your television signal plus ethernet and 1/8th inch audio options as well. So whether you're working with audio, video, or a combination of both, this will keep all of your investments safe.
TV's, BluRay players, Apple TV and Roku boxes, projectors, surround sound systems, and the works will all be protected from electrical anomalies while operating at a higher quality to maximize your enjoyment.
Specs:
Item Weight: 13 pounds
Connector Type: Power Plug
Voltage: 12 V
Pros:
Has linear AC power conditioner
Has Zero-ground contamination
Cons:
Produces an audible hum sometimes
Floor Power Conditioners
Of course some of us are looking to protect other types of equipment than rack mounted recording equipment or an entertainment system. Maybe we just want something we can shove under and behind our desk to prevent problems with our computers and monitors. If that's you then a floor option is better suited to your needs. Here are my two favorites.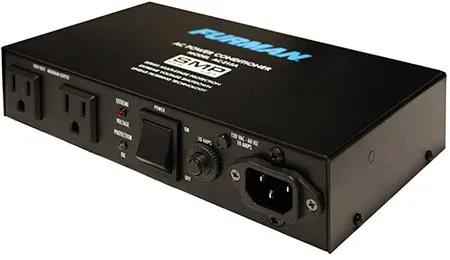 There's no need to be long-winded about the Furman AC-215A. This beast chills on the floor and protects two pieces of equipment from all of the problems discussed.
It's very compact so it's never in your way. What you know is that if extreme voltages come through, the circuit breaker and multi-stage protection kick into gear to defend your expensive equipment like a gaming or work computer as well as anything else that really matters.
With only 2 outputs, it's perfect for small computer based operations. If you need 4 outputs then you can pick up two of these or go ahead and consider the 6 outlet option below.
Specs:
Item Weight: 3.9 pounds
Connector Type: Power Plug
Voltage: 120 V
Pros:
Features advanced technologies
Developed to meet the extreme AC power demands
Cons: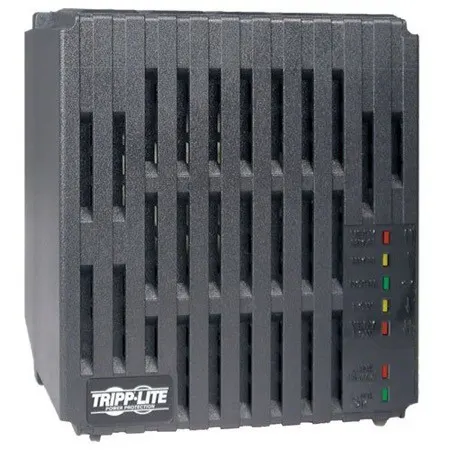 For any one computer-based office or cubicle, 6 outputs should get the job done. That's what the Tripp Lite LC2400 does and does well. For a very reasonable price it even manages to offer voltage regulation for brownouts, sags, and other under-and-over voltage scenarios, on top of everything else you'd expect like surge protection.
Tripp Lite is so confident in their product that they not only offer a 2-year warranty on it, but offer a very generous insurance coverage for equipment it fails to protect. You know why they offer that? Because they know they'll likely never have to pay it out.
The cord is 6 foot long so you will still need to be situated somewhat closely to a regular outlet to power this conditioner itself, but adding on the additional length of your equipment's cords, it even offers you a chance to rearrange your furniture if you want.
As you've noticed on the picture, there are a series of 7 color-coded LED's that offer quick diagnostic feedback so you know exactly how severe of a problem it's protecting you from at any given time. Condition, clean, and protect is the name of the game for this and every other product recommended here.
Specs:
Item Weight: 11.65 pounds
Connector Type: Power Plug
Voltage: 120 V
Pros:
Protects sensitive electronics, computer accessories
Corrects under- and overvoltages in 89V–147V range
Cons:
Voltage can fluctuate sometimes
FAQs
In this section, our goal today is to explain why you want one of these devices, and teach you about what to look for. Let's define what these things are and then tackle some frequently asked questions about them in general.
What is a Power Conditioner?
A power conditioner is a device that sits between your music gear that requires an electrical load and the supply of that power.
As we all know, every city, state, and country provides different qualities of electricity even though they attempt to maintain the same standards (minus country differences of course). The power conditioner, also called a line conditioner, helps manage any outlying behavior that can be detrimental to your equipment and sound quality.

A quick summary is that the device attempts to:
Regulate Voltage (provide consistent power)
Suppress Noise (clean low quality power)
Transient Protection (power surges)
We'll unpack each of those bullet points as we go on, but that's the main three ways they help protect your gear and allow you gear to perform at their maximum capacities.
What's the Difference Between a Power Conditioner & a Power Strip?
The way I always explain this to people who want a quick answer is that power conditioners are like "glorified power strips." I say the same with audio interfaces as "glorified sound cards." It puts it in terms we can relate to.
The truth of the matter: Not a lot. But enough to warrant having one.
A power strip supplies power to several devices at once while protecting them from power surges.
A power conditioner is a power strip that can be rackmounted and also cleans up the power quality. That last part is the big part that matters when every detail of your music, digital film and graphics, or other passions will receive unbelievable scrutiny not only from yourself, but your customers and fans as well.
What Electrical Problems Will It Protect Me From?
This question also answers "Why do I need a power conditioner?" The short answer is to save you from inconsistent power quality. Here's the longer, interesting answer…
The company PurePower summarizes it best by talking about the 10 Power Gremlins. I'm borrowing their graphics here. All credit to them for making them: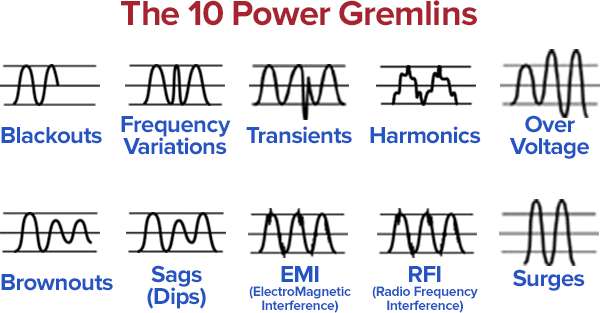 Let's summarize each:
Blackouts – Complete loss of power
Frequency Variation – Instability in frequency
Transients – Small blasts of high voltages
Harmonics – Distortions in the waveform
Over Voltage – Consistent high voltage
Brownouts – Consistent low voltage
Sags / Dips – Small instances of low voltage
ElectroMagnetic Interference (EMI) – Noise from other power sources
Radio Frequency Interference (RFI) – Noise from radio signals
Surges – Short-term blasts of extreme voltages
These are what power conditioners protect you from. You should be receiving a very regular sinusoidal waveform in terms of frequency and voltage, but you don't. And some of these issues can "fry" your gear's circuits.
If you think you don't need one, take a look on the right side of this Wikipedia page and see the inconsistency of the power quality of some of the largest and most wealthy nations in the world. Then realize you need one! Actually, I'll put the pics right here, because it's that serious: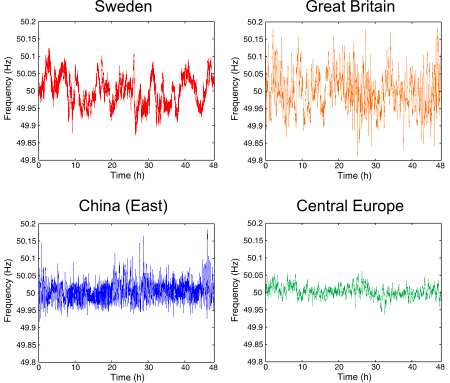 That's just a measure of the inconsistency in frequency. I'm scared to even know about the voltage variations.
What Features Do The Best Power Conditioners Have?
Let me say up front. There is no "best power conditioner for home studios" or anything else like that. I don't care if you're working with audio, computers, servers, or whatever.
Electricity is electricity and all of these applications, appliances, and equipment use it the same. This is what you'll want across the board.
Also, some companies will try to sell you on options ranging in the thousands of dollars. It's not necessary. The most I'd spend on one is $300. For my two, I think I spent around $150 and then $250. The technology is old and everyone has it. No need to break the bank over it.
Okay, so what should you look for in the best rack mount power conditioner, assuming they all take care of the problems mentioned above?

Input Voltage Display – To me this has two purposes. One is vanity. It's cool for you and your clients to see lights or a digital readout. It assures you that it's working and you can see just how crazy your input voltage fluctuates constantly.
The second shows everyone else, like your boss or clients, that you go the extra mile for them. Appearances are half the battle.
Outlet on the Front – I always want an outlet on the front. I'll charge up my phone, power an external microphone supply, and all kinds of other things without having to go behind the rack.
I'd imagine it's even worse in a server or power closet. The backs are set and forget, but that one or two extra outlets on the front is a super convenience.
Extendable Lights – I'm talking about lamps here. The power conditioner I have at the top of my rack has two lamps that pull out and turn on automatically and even features a dimmer switch.
This is a huge deal when the lights in the room are low for atmosphere and mood reasons, but you need to read labels on the rest of your gear as you turn knobs. It especially helps in closets where the overhead lighting is blocked by all the racks of gear.
Power Switch on Front – And the must… You want one main switch on the front to turn on and off all of the outlets at once. Besides shutting down gear with software that needs to do it's shutdown thing, you can just flip one switch and you're done.
So many people leave gear running all day and night due to the annoyance of finding all of the individual switches each day. Now it's not a problem… It's a money saver.