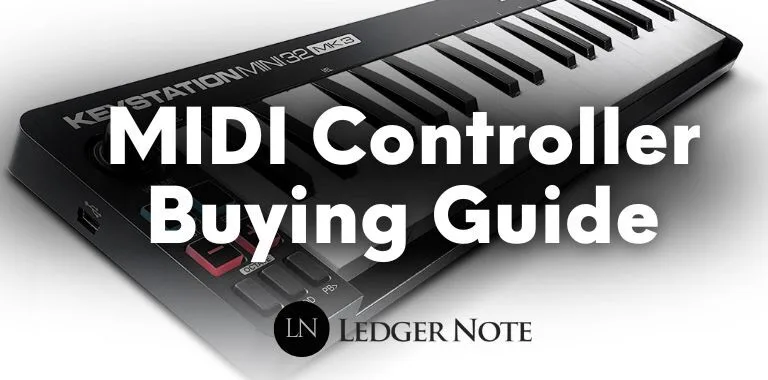 The following review may contain affiliate links which may earn us a small commission when you click on them, at no extra cost for you. As an Amazon Associate we earn from qualifying purchases
Although MIDI has been around since 1983, it's just as popular today. While audio standards come and go, MIDI has managed to maintain longevity due to its versatility and utility.
If you're looking to add a MIDI controller or keyboard to your professional or home studio setup and don't know much about them, don't get discouraged. At its most basic, a MIDI controller is a tactile piece of hardware that provides you with a physical means of interacting with virtual instruments and plugins, thus simplifying music production.
But some go much further than that. Certain models provide onboard sounds and DAW integration, which give you control over parameters like automation and transport (playback). Some even have CV output, allowing you to trigger external hardware like synthesizers.
They come in many varieties, and a lot of them don't provide a full-range of octaves. This means they have a reduced number of keys — 25 and 49 counts are the most common. But if you're looking for access to every octave without having to transpose you have options, too!
As a recording studio accessory they have almost endless utility. They're one of the best studio investments you can make. It's an investment that will serve you well both now and into the foreseeable future, as the MIDI standard doesn't seem to be going away any time soon. This means you don't have to worry about them becoming obsolete, and they'll always have resale value if and when you want to upgrade.
Let's dive into some of the best MIDI controllers, what sets them apart, and why they made our list.
Need more information in order to better understand your needs? We have got you covered! Visit our FAQs section.
INCLUDED IN THIS GUIDE:
If your budget is under $100 but you don't want to skip on quality, don't overlook this great option from MIDI controller king Nektar. This slim, small format option gives you all of the control you could ask for in a sleek enclosure that won't take up too much studio space.
The SE25 keys are also velocity sensitive, making them effective for triggering virtual instruments. For added effectiveness, it boasts three different velocity curves, which lets you adjust how it responds to your playing style articulation.
You can shift the octaves by holding the "2" button or use it to add a layer of harmony as you play it. It's a feature not available on many MIDI controllers and sets it apart from the pack. As soon as the button is released, the SE25 reverts to its original settings.
This real-time control lets you switch between two configurations. You can assign it to move octaves, set the channel, transpose, layer and latch, or a combination of any of them.
The SE25 is tailor-made to be mobile. It easily fits into a gig bag or even a backpack. It integrates with your DAW to provide transport controls, too. For a budget model it's certainly rich in features, making it one of the best MIDI controllers for home studio owners.
Specs:
25 velocity-sensitive keys
Unique "2" button lets you shift octaves or add a harmony layer
Can integrate with your DAW to provide external transport control
Pros:
Small MIDI keyboard that's great for mobile music production
25 keys give you a good range of octaves for certain applications
Six control buttons add to its utility
Cons:
25 keys might not be enough for some needs
Small format and keys might not be large enough for everyone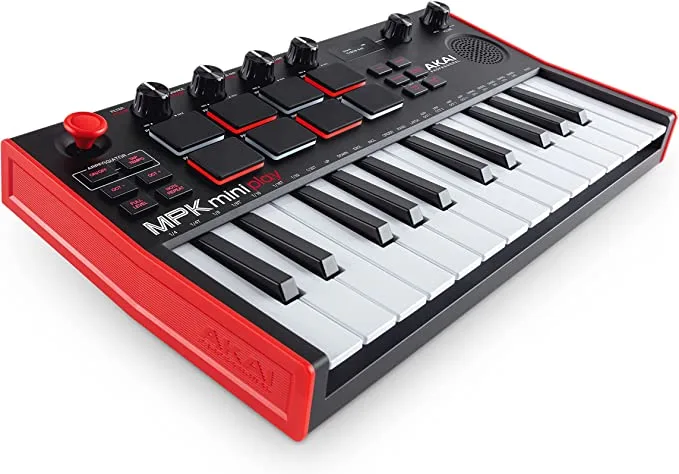 Akai Professional is another company that specializes in MIDI keyboards that offer a lot of features at an affordable price point. Like the Nektar SE25, the Akai MPK Mini Mk3 (as its name suggests) is portable and intended for production on the go. Its 25 synth action keys are velocity sensitive, and it conveniently runs on USB bus power.

You get dedicated octave up and down buttons and a 4-way thumbstick to manipulate modulation and pitch bending. It's not just a MIDI controller, either. It provides two banks of eight backlit MPC-style pads with Note Repeat and Full Level controls.
Each of the eight knobs can be assigned to a variety of parameters for mix control, plugin settings, and much more. The arpeggiator has adjustable range, resolution, and tap tempo. You can really let things ring with an optional external sustain pedal. Since the MPK Mini Mk3 is designed to be mobile, the build quality is durable and can stand up to moving it from session to session.
With a budget-friendly price, solid build, and a host of easy-to-use controls the MPK Mini Mk3 packs in a lot of value. If you need a portable MIDI controller that's a breeze to integrate into a variety of recording rigs this model is worth looking into.
Specs:
Velocity-sensitive, synth action keys
MPC pads provide an alternative way to trigger additional sounds
USB bus power provides easy connection
Pros:
Great build quality for the price point
Dual banks of eight MPC pads with backlight
Arpeggiator has versatile control set
Perfect for mobile music production
Cons:
25 keys might not be enough even with octave transposition
Small format might not be large enough for users with larger hands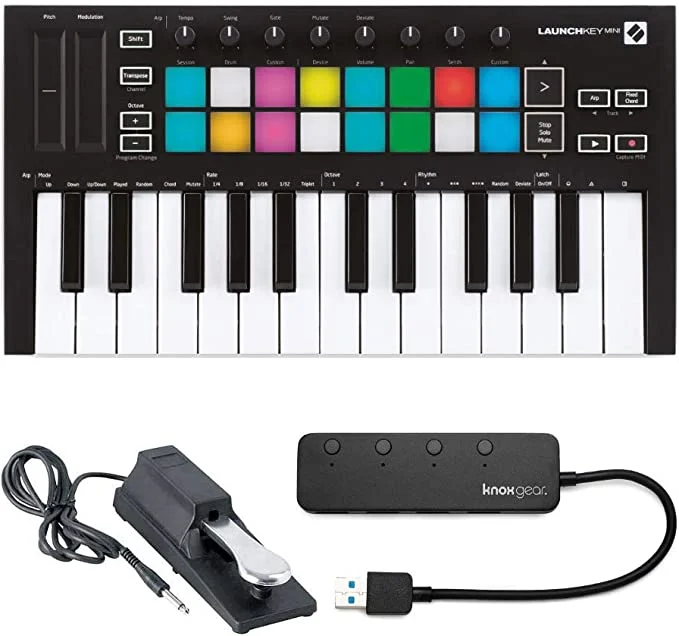 Novation is another company that has, for years, been at the forefront of full-featured, affordable MIDI controllers. Their Launchkey Mini mk3 is another model with 25 synth action keys. But where it really shines is in its additional features.
It has 16 backlit RGB pads with customizable velocity sensitivity. You can use them to trigger samples, loops, and control virtual instrument plugins. Using custom modes you can tailor how it integrates with your setup. It can also let you change control assignments, routing, and color coding of the pads.
Through the Chord Modes feature, every note played is related whether through harmony, tone, or both. This lets your creativity go wild. It lets you customize how it functions, its colors, routing, and controls. You can also use it to connect hardware synths, route them all together, and use the Launchkey as the master controller to send program changes.
And if you use Ableton Live, there may not be a better choice for a MIDI controller. It works with other DAWs as you would expect, but its utility extends a little bit further with Ableton. Everything you need to get started — accessories and even a suite of great plugins — is included.
Specs:
16 customizable, velocity-sensitive, backlit pads
8 knobs let you change up the sounds as you like
MIDI out lets you control external hardware synthesizers
Pros:
Color coding makes pads easy to see in dark spaces
DAW integration, designed to work with Ableton Live specifically
Plugins and necessary accessories included (no 3.5mm to MIDI adapter)
Cons:
Only 25 keys
Best for electronic music styles
Pitch and modulation controls are sliders, not the standard wheels

We finally get to a full-range, 88-key MIDI keyboard! The LX88+ is a combination MIDI controller and keyboard, with a host of features that make it the perfect addition to any live or studio setup.
The keys are semi-weighted, velocity sensitive, and provide intelligent mapping for use with a DAW. They are pre-mapped but are customizable. Pretty much every DAW aside from Pro Tools is fair game.
Eight assignable pads give you another layer of customization, while eight knobs and nine faders give you even more tactile utility. With all of these options, the LX88+ might seem intimidating but it provides a nice level of visual navigation so you don't have to worry about nailing your settings. Full transport controls put playback in your hands, making it a great tool for post-production and mixing.
All of these features come in a streamlined design with a symmetrical layout. At just over $300 the price is right, too. The LX88+ is one of the best full-range MIDI controllers for professionals, and the keyboard features make it one of the best overall.
Specs:
Full-range 88 key MIDI keyboard with intelligent mapping for DAW integration
Assignable, color-coded pads
Easy visual navigation
Total transport control
Pros:
Can integrate with virtually every DAW but Pro Tools
Pads, pots, and faders provide a great amount of control of your sounds
Usable with up to eight tracks through MIDI or audio
Streamlined, symmetrical physical design layout
Cons:
Doesn't work with Pro Tools
Full-range, 88 key controller might be too large for some spaces

If you're looking for a MIDI controller and keyboard that has all of the extra features you could want, the KeyLab 49 MkII is it. The after touch–enabled keys respond perfectly to your playing, making it a great choice for live or studio work. The lightweight, aluminum form-factor provides durability and easy transport.
It comes with 6,500 keyboard and synth presets directly from Arturia's V collection. You'll get access to more vintage and modern analog and digital instrument sounds than you can imagine.
The control set is as robust as it gets, with 16 backlit pads, nine faders, and nine pots. And if you want to get even more specific, there are five expression inputs and four CV outputs for triggering other units.
Not just for music production, it's perfect for sound design and composition for film. It comes with a great software bundle, too. Arturia's Analog Lab, Piano V2, MIDI Control Center, and Ableton Live Lite are all included.
With so many features and controls, the learning curve is a little steeper than with other units, but the reward is worth the effort. Thousands of onboard sounds, multiple control mechanisms, and a small but mighty software suite make this unit a fine choice for anyone looking to add a MIDI keyboard/controller to their rig.
Specs:
Backlit performance pads
6,500 onboard sounds through Analog Lab
Full-featured combination MIDI keyboard and controller
Pros:
49 keys provides a good octave range without having to transpose
Amazing amount of connectivity through expression inputs, CV outputs, USB, and MIDI
After-touch keys
Interface is configurable
Control through performance pads, knobs, and faders
Cons:
Steep learning curve
More expensive due to so many features most MIDI controllers don't offer

Novation's 49SL mkIII is a great hybrid MIDI controller/keyboard that works just as well as a standalone as it does integrated into your digital recording system. This is another model that features synth-style, semi-weighted keys. A keybed like this gives you action closer to the real thing. You can turn on aftertouch to any parameter.
It's got some features that most MIDI keyboards don't, including an onboard 8-track sequencer, arpeggiator with selectable velocity curves, and customizable mapping for software and hardware. But where the 49SL mkIII really shines is in controlling external hardware. Its I/O is impressive, with MIDI, analog clock, two sets of CV, gate, and mod connectivity.
It does have DAW compatibility, but only connects to digital audio workstations that are compatible with InControl or HUI standards. When the MIDI is properly connected, you can use the faders, pads, knobs, and buttons to control parameters within your software.
The 49SL has a lot going on. Between the controls it offers and the way it integrates with different types of software and hardware, it could provide a steep learning curve. But if you need tactile external control over your recording system it's one of the best choices available.
Specs:
Multiple ways to integrate with software and hardware
Integrates with Pro Tools, Studio One, Cubase, and Reaper DAWs
Customizable mapping for software and hardware
Pros:
49 synth-style, semi-weighted keys
Multiple types of I/O
Aftertouch can be set to any parameter
Cons:
No onboard sounds despite being a full-featured model
Can't integrate with every DAW
Some features are better for working with hardware than software
FAQs
What are MIDI controllers used for?
There are a number of ways to use MIDI controllers. Their primary use is for triggering virtual instrument plugins. With a controller you can play them just like a real instrument and fine-tune settings that are difficult to manipulate without one.
But they do much more than this. Some come with their own onboard sounds. These are referred to as MIDI keyboards. This lets you use them as a standalone instrument.
Some also offer DAW integration and provide control over recording software parameters like transport, automation, and plugins. Overall they're a very useful accessory for any studio — home or professional.
What MIDI controller do I need?
The best option for you depends on your needs. Do you only need one for use with virtual instruments? If so, you can go with a model that doesn't offer additional features to help save on cost.
Are you looking for external control of your DAW? Not all of them provide such integration. You'll need to find one with that specific feature. If you need it to come with onboard sounds, your options change again.
Some models offer all features above and additional controls like MPC pads. You need to be realistic about which features you WILL use and purchase accordingly.
What's the best MIDI controller for beginners?
There really isn't a "best" model for beginners (just as there isn't a "best" model for pros). If you're just getting familiar with what they can do, you'll want one that's easy to connect and a simple interface. One that is as straightforward as a plug 'n' play device will afford you more time to focus on what it can do and less time on where everything goes.
But if you honestly think you will eventually use the additional features, keep an eye out for good deals on such units. You may save money in the long run. A lot of people use them mainly for triggering plugins, but if onboard sounds or DAW integration features something you want to play with, better to keep this in mind now.
_____________________________________________
Byline:
Brandon Stoner is a lifelong musician and audio engineer who owns more guitars than anyone needs. As a lover of all things writing and music technology, he crafts every piece with his dog Max on his lap.