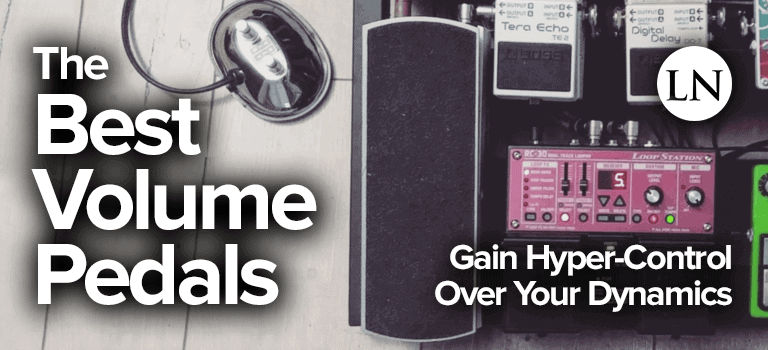 Click here to jump straight to the reviews!
Unlike a boost pedal, which exists to simply inject more gain into your signal path, the best volume pedal has so many uses they can't even be quickly explained.
From acting as a volume knob to functioning like a tremolo, or allowing you to attenuate your amplitude at any point in the signal chain, these pedals are so versatile that you'll continue discovering new ways to use them years into having one.
These differences all arise from where you place the pedal in your signal chain.
At the bare minimum, having a hands free volume control is indispensable. Using it to create atmospheric swells or even act as a noise gate is another.
One could argue that it can even be used somewhat like an expression pedal, depending on which pedals it comes before on your pedalboard. Experimentation is the key, but we'll show you the most common methods below, as well as explain which features you should be looking out for as you begin to evaluate a purchase.
You'll know all you need to know at that point to make an informed decision, and we'll save you some time by sharing our favorite picks from the modern line-up.
What is the Volume Effect?
The volume effect is created by manually controlling the volume of your signal through a rocker foot pedal. It is nothing more than turning your volume up or down just like you would with the volume knob on your guitar. The difference is that you can place this volume pedal at any point in your signal path so that it contains certain effects and controls the expression of others.
In this sense, it can be seen as a way to manipulate other effects (by feeding them more volume, as opposed to an expression pedal which changes the values of the effects themselves), or simply a volume control to be used after all other guitar pedals and before the amplifier.
Alternatively, it's a way to control your volume at a higher range than your knob allows, all without needing to distract your hands. It's a great way to sneak it a bit more loudness and cut through the mix when your solo comes up.
What to Look for in the Best Volume Pedal?
This can be a huge discussion, but we're going to simplify and summarize it as much as possible.
Transparent - You want one that neither adds or takes away from your tone. It should be sonically invisible and only effect the amplitude.
Tone Loss - This is less of a problem with modern options and boost pedals, but be aware that some older choices can effect your frequency response and output levels. We won't recommend any like this.
Passive or Active - Passive pedals require no power and are susceptible to "tone suck" as mentioned above. You want an active pedal like the rest of the ones on your pedalboard.
Build Quality - You're stepping on and rocking this thing constantly. You want one that is built like a tank with a metal chassis.
Stereo Capability - Keyboardists reading this (and some guitarists who use stereo effects live) will want to make sure they choose one that can handle stereo channels as well as mono.
Adjustability - Manufacturers choose a "best of all worlds" setup when they build these, but many let you change the minimum and maximum volumes, the taper (volume curve), and even the torque of pressing the pedal. If tension and all of this matters to you, you'll want a higher-end model.
The above represent the main concerns you should have when on the hunt. It boils down, in my opinion, to getting a very solidly built, actively powered model. That takes care of most issues unless you want the ultra deluxe model, which just adds more features for you to adjust.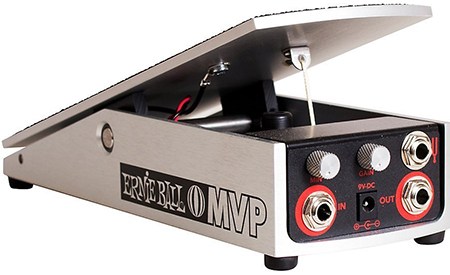 How to Use a Volume Pedal
At the most basic level, the volume control these pedals offer is very simple. You rock it forward to increase your loudness and back for a decrease. However, you can get much more mileage than that out of these devices.
Where to Place it in the Signal Chain
Unlike other pedals that have a fairly strict placement within the guitar pedal signal chain, you can use one of these in nearly any place in order to transform it from simply controlling volume to acting more like an expression pedal. For instance...
Before any effects - If you run your guitar directly into the pedal it will act like the volume knob on your guitar, letting you make micro-adjustments in loudness which also effects the expression of your other effects to a degree.
In between - You can place the pedal before modulation effects and increase the volume to make a flanger become more obvious at certain parts while forcing the delay to bloom and bounce this flanger bounce around to draw more attention to it.
After Time-based effects - If you place the pedal at the very end of the signal chain it will give you control over the volume as a whole, which includes all of the effects you're using.
The options are nearly endless, all based on where you insert the pedal in your signal path. It's up to you and you can explore and create more creative ways of using it, and then hot swap between configurations between songs or even before a solo.
Understanding the Knob Settings
For the simplest, passive pedals all you have to do is patch it into your signal path and move the rocker forward and back. That simple concept is how you'll largely use even the more complex options once you've set them up, because it's typically set-and-forget. Some let you adjust the settings that the manufacturer sets up, but usually their "best of all worlds" default setup is perfect right out of the box.
In that case there's not much you can interact with but the rocker. But if you do choose to dig into these options, you'll find a knob to change the taper of the volume curve (basically changing the sensitivity, and you'll find a knob that allows you to change the maximum loudness levels alongside the travel distance of the rocker. Again, I don't recommend you get into this unless you have ankle problems or find it awkward to use in general.
---
The Best Volume Pedals

Note: Each image and text link leads to Amazon.com where you can read additional user reviews, find specific technical detail listings, see additional product options and sizes, and make your purchase.
Now that we understand which features to look out for with volume pedals and all the various ways to use them in your signal chain, it's time to peruse the market with our overview and see what the best options are for your hard-earned income. The options below are in no special order, but we do point out or favorite pick of the bunch.
We have two other "best in class" picks is the comparison table at the top of this article you can check out too, but please take the time to consider all of them. If they made the list, they exceeded our expectations, and another option may catch your eye due to our differing preferences.
These are the Best Volume Pedals Out There
Volume guitar pedals haven't changed much since the old days, not like other types have. They still focus on the core product, but manufacturers have realized that these are the exact same as expression guitar pedals, so many are moving to a dual functionality.
On top of that, they've added some features like tuner outputs, minimum volume range knobs, and even tension controls for the rocker. All in all, though nothing has changed, the quality of the audio taper has improved with noiseless operation and minimal tone loss. And that's what you get from any of the above in our list of best volume pedals.