The best volume pedals reliably let you alter the amplitude of your signal. Where you place it determines if it's more like moving your volume knob on your guitar to your feet to act as a gain controller or if it's more like a manually controlled tremolo for swells and dips. How you use it is up to you, but being able to trust the pedal is what's important. Look no further than our favorite picks above and below…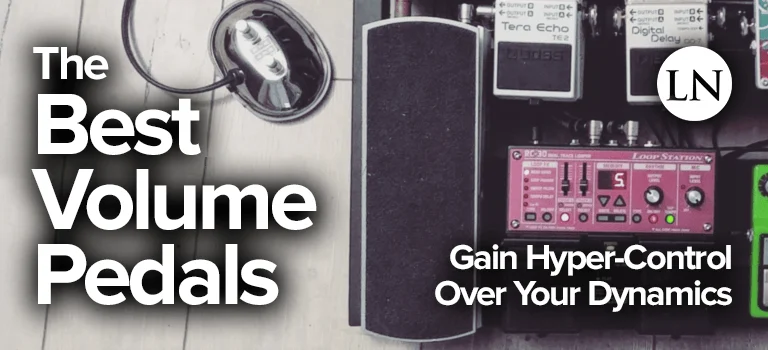 Unlike a boost pedal, which exists to simply inject more gain into your signal path, the best volume pedal has so many uses they can't even be quickly explained.
From acting as a volume knob to functioning like a tremolo, or allowing you to attenuate your amplitude at any point in the signal chain, these pedals are so versatile that you'll continue discovering new ways to use them years into having one.
These differences all arise from where you place the pedal in your signal chain.
At the bare minimum, having a hands free volume control is indispensable. Using it to create atmospheric swells or even act as a noise gate is another.
One could argue that it can even be used somewhat like an expression pedal, depending on which pedals it comes before on your pedalboard. Experimentation is the key.
You'll know all you need to know at that point to make an informed decision, and we'll save you some time by sharing our favorite picks from the modern line-up.
Need more information in order to better understand your needs? We have got you covered! Visit our FAQs section.
included in this guide:
The Best Volume Pedals
Now that we understand which features to look out for with volume pedals and all the various ways to use them in your signal chain, it's time to peruse the market with our overview and see what the best options are for your hard-earned income. The options below are in no special order, but we do point out or favorite pick of the bunch.
We have two other "best in class" picks is the comparison table at the top of this article you can check out too, but please take the time to consider all of them. If they made the list, they exceeded our expectations, and another option may catch your eye due to our differing preferences.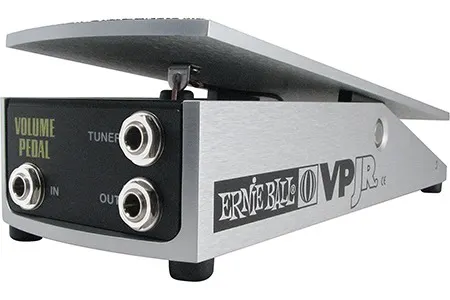 Ernie Ball makes great pedals, period. So much so that they earned two spots on this list, starting with the Ernie Ball VP Jr.. This is the little brother to the MVP below but still holds it's own. If you don't need extra features, then you can save some money and roll with this one.
The VP Jr. features a 250 kilo-ohm resistor, meaning that it can handle the volume swelling for passive pickups as well as active ones, though the volume sweep will have a slightly different character. If you play with active pickups exclusively then you should probably look at the Ernie Ball MVP below. There is a VP Jr. with a 25 kilo-ohm resistor though, but they aren't as easy to find these days.
On the front side where your heel goes, there is a micro taper switch which gives you access to two different volume swell rates, with one being more linear and one being more geometric (both logarithmic still of course). You'll notice that there is a tuner output so if you use the pedal early in your signal chain you can tune on the fly with your tuner in parallel instead of serial.
Like nearly all volume pedals, there's not much extra here. They have one job to do and the game is to make sure it's doing it right. This one does and can save you a chunk of change.
Specs:
Item Weight: 1.32 pounds
Signal Format: Analog
Voltage: 240 V
Pros:
Offers modern user interface
Cons:
Lacks polyphonic tuning
Bulky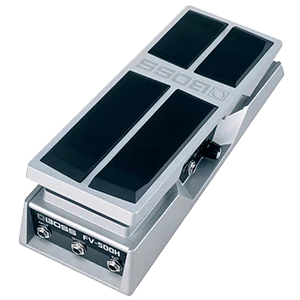 There's not many times you find a clear leader in a category, but Boss pulled it off with volume pedals for guitars with their Boss FV-500H. This thing is built like a tank with a heavy-duty aluminum chassis. What I like is the foot surface is smooth non-slip rubber versus the rougher surfaces other companies use. It's the little things like this that make for nicer transport and even use, in my opinion.
The rocker itself is bigger than average but the rest of the pedal fits uniformly underneath it, unlike many others. There's less of a chance of needing to reposition your foot once it's on there, or even missing it or being off to the side.
One thing about volume pedals is experiencing a slight bit of tone loss but the FV-500H has the least of all, perhaps unnoticeable depending on the rest of your pedal choices. It's a mono and high-impedance option. If you're looking for one for keyboards, try the FV-500L which is stereo with low-impedance.
Like the Ernie Ball options, this one features a tuner output, but it takes it once step further by adding an output so you can use it as an expression pedal too. Next to the tuner output you'll find a Range knob where you can control the minimum volume you can dip out to, which gives you more control over the sensitivity too if you never go to full mute.
From the construction to the features to the quality of the volume swelling and minimal tone loss, you're not going to find a better option. And it's not even among the most expensive choices out there! Give this one a serious look over.
Specs:
Item Weight: 3.3 pounds
Signal Format: Analog
Voltage: 9 V
Pros:
Reliable and has two control switches
Great build quality and easy to use
Cons:
Can take up a lot of space on the pedeal board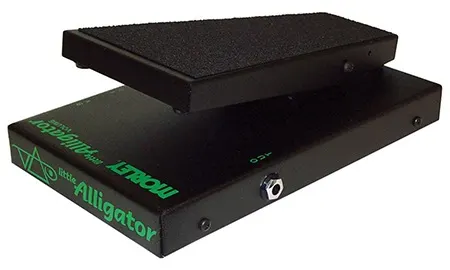 Morley teamed up with legendary guitarist Steve Vai on a handful of pedals. Their wah is the best in the game, and the Morley PLA Steve Vai Little Alligator is a very close 2nd place when it comes to volume pedals. They haven't cut corners. The electro-optical potentiometer is as accurate as any other style but operates completely noise free. You also get a minimum volume knob to control the range of the audio taper.
But beyond that, that's it. You're not getting a dual expression pedal nor a tuner output. You don't get audio taper options. You're using the taper designed to Steve Vai's custom and preferred specifications. And that's a trustworthy of a setting as you could get.
Whether you're playing acoustic-electric guitar, electric guitar, or whatever else with a mono signal, you're not going to go wrong. It's built to be incredibly strong and durable with a wider bass so you won't have any tipping over issues.
The main attractions are the noiseless operation and masterfully designed audio taper, with no extra focus other than making the best volume pedal they could. Instead of a jack of all trades, you're getting a master of one here.
Specs:
Item Weight: 4.1 pounds
Signal Format: Analog
Voltage: 9 V
Pros:
Cons:
Not for heavy enough for stomping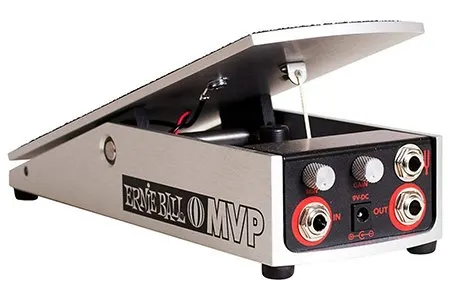 Here is the big brother to the VP Jr. mentioned above, the Ernie Ball MVP 6182. It's the fuller-featured version, and worth the extra cash if you can spring for it. You get everything the VP Jr. offers with the addition of some special extras. You get your tuner output, superior construction, and the same beautiful taper options.
But on top of that they've added a minimum volume knob, letting you control the range of the taper and therefore the sensitivity as well. You'll also notice the gain knob, since this is an active pedal powered by a DC adapter, meaning you can get a very good, noiseless boost while controlling the maximum volume you get at the toe down position.
That's a really nice feature that more than makes up for the lack of an expression output. The one thing some people don't like is there's no real bypass mode. Even with the gain knob all the way down you'll still experience a bit of a boost.
I don't get that complaint since you'll just adjust the volume at the guitar and be buffered down the line anyways, but it's worth mentioning. I'd call this the 2nd place winner if you want a full-featured volume pedal versus one that excels at being just that with no frills, like the Little Alligator above.
Specs:
Item Weight: 2.66 pounds
Signal Format: Analog
Voltage: 9 V
Pros:
Versatile
Solid build quality
Offers minimum and maximum gain controls
Cons:
Can be a little pricey
Lacks true bypass switch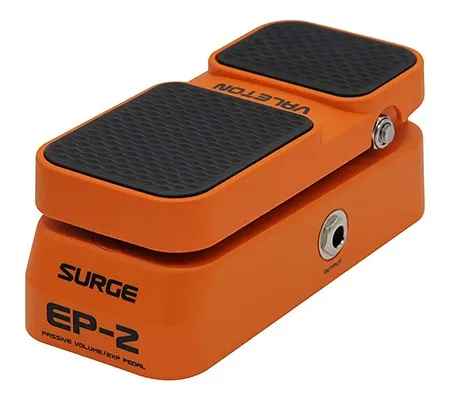 It makes sense to pull double duty with pedals like these, and that's what the Valeton Surge Series EP-2 does. You get a volume pedal and expression pedal in one, and why not since you never use both at the same time. With its smaller footprint and lightweight construction out of thick, hard plastic, it's a pleasure to pack up and carry to gigs or slap on a pedalboard.
The interesting thing here is this is a completely passive pedal, meaning you don't need a battery or power supply. It's 100K ohm resistor means it can handle passive or active instruments in mono. But the real kicker is it can double as a volume or expression pedal like the others above, but at under half the cost. The difference is, you can't switch on the fly. It's either volume or expression with only one output.
What you're looking at here is the cheapest option out there that still performs very well as long as you understand the limitations of the single output. Otherwise, they use a cheaper material that still holds up very well so the savings can be passed on to you. The audio taper is as good as any other on this list, and we include it as an extremely cost-friendly option for those of us balling on a budget. Don't dismiss it!
Specs:
Item Weight: 0.55 pounds
Signal Format: Analog
Voltage: 9 V
Pros:
Great price for the quality
Easy to use
Small and convenient
Cons:
Lacks 100% pristine sound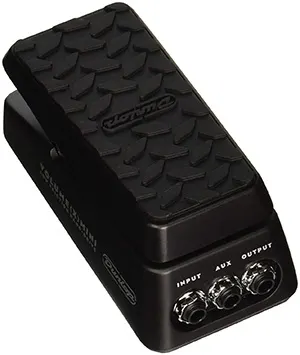 Another smaller option is the Dunlop DVP4 Volume X Mini pedal. Like the EP-2 just above, it is a "half-size" pedal that doubles as an expression control but is built with the toughness of the others using an aluminum body.
You also can adjust the tension of the rocker to fit your needs exactly, unlike most others on the list. You also get a dedicated auxiliary output for the expression function so there's no re-cabling in the middle of a gig.
But that's not all! The auxiliary output doubles as a tuner output too, which you can toggle to with a switch under the rocker. That's pretty dang nice. There's a knob under the rocker that lets you control the minimum range for the expression too, and a switch to invert it so toe-down is less and heel-down is more.
Another difference to notice is the outputs and input are on the back instead of front, which can be nice when it's on a pedalboard. Also, take notice of the non-slip tread on top of the rocker. That's pretty slick. Your foot won't be going anywhere. Dunlop packed everything from their bigger models into this smaller cousin, which everyone seems to be preferring. All the same performance in a smaller pedal, what's not to love?
Specs:
Item Weight: 1.42 pounds
Signal Format: Analog
Voltage: 9 V
Pros:
Lightweight and pedalboard-friendly
Controls volume levels and FX parameters
Compact and easy to use
Cons:
Small footprints and all-black casing make it difficult to notice on dark stages.
FAQs
In this section, we'll show you the most common methods below, as well as explain which features you should be looking out for as you begin to evaluate a purchase.
What is the Volume Effect?
The volume effect is created by manually controlling the volume of your signal through a rocker foot pedal. It is nothing more than turning your volume up or down just like you would with the volume knob on your guitar. The difference is that you can place this volume pedal at any point in your signal path so that it contains certain effects and controls the expression of others.
In this sense, it can be seen as a way to manipulate other effects (by feeding them more volume, as opposed to an expression pedal which changes the values of the effects themselves), or simply a volume control to be used after all other guitar pedals and before the amplifier.
Alternatively, it's a way to control your volume at a higher range than your knob allows, all without needing to distract your hands. It's a great way to sneak it a bit more loudness and cut through the mix when your solo comes up.
What to Look for in the Best Volume Pedal?
This can be a huge discussion, but we're going to simplify and summarize it as much as possible.
Transparent – You want one that neither adds or takes away from your tone. It should be sonically invisible and only effect the amplitude.
Tone Loss – This is less of a problem with modern options and boost pedals, but be aware that some older choices can effect your frequency response and output levels. We won't recommend any like this.
Passive or Active – Passive pedals require no power and are susceptible to "tone suck" as mentioned above. You want an active pedal like the rest of the ones on your pedalboard.
Build Quality – You're stepping on and rocking this thing constantly. You want one that is built like a tank with a metal chassis.
Stereo Capability – Keyboardists reading this (and some guitarists who use stereo effects live) will want to make sure they choose one that can handle stereo channels as well as mono.
Adjustability – Manufacturers choose a "best of all worlds" setup when they build these, but many let you change the minimum and maximum volumes, the taper (volume curve), and even the torque of pressing the pedal. If tension and all of this matters to you, you'll want a higher-end model.
The above represent the main concerns you should have when on the hunt. It boils down, in my opinion, to getting a very solidly built, actively powered model. That takes care of most issues unless you want the ultra deluxe model, which just adds more features for you to adjust.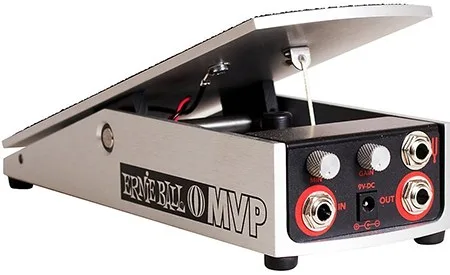 How to Use a Volume Pedal
At the most basic level, the volume control these pedals offer is very simple. You rock it forward to increase your loudness and back for a decrease. However, you can get much more mileage than that out of these devices.
Where to Place it in the Signal Chain
Unlike other pedals that have a fairly strict placement within the guitar pedal signal chain, you can use one of these in nearly any place in order to transform it from simply controlling volume to acting more like an expression pedal. For instance…
Before any effects – If you run your guitar directly into the pedal it will act like the volume knob on your guitar, letting you make micro-adjustments in loudness which also effects the expression of your other effects to a degree.
In between – You can place the pedal before modulation effects and increase the volume to make a flanger become more obvious at certain parts while forcing the delay to bloom and bounce this flanger bounce around to draw more attention to it.
After Time-based effects – If you place the pedal at the very end of the signal chain it will give you control over the volume as a whole, which includes all of the effects you're using.
The options are nearly endless, all based on where you insert the pedal in your signal path. It's up to you and you can explore and create more creative ways of using it, and then hot swap between configurations between songs or even before a solo.
Understanding the Knob Settings
For the simplest, passive pedals all you have to do is patch it into your signal path and move the rocker forward and back. That simple concept is how you'll largely use even the more complex options once you've set them up, because it's typically set-and-forget. Some let you adjust the settings that the manufacturer sets up, but usually their "best of all worlds" default setup is perfect right out of the box.
In that case there's not much you can interact with but the rocker. But if you do choose to dig into these options, you'll find a knob to change the taper of the volume curve (basically changing the sensitivity, and you'll find a knob that allows you to change the maximum loudness levels alongside the travel distance of the rocker. Again, I don't recommend you get into this unless you have ankle problems or find it awkward to use in general.