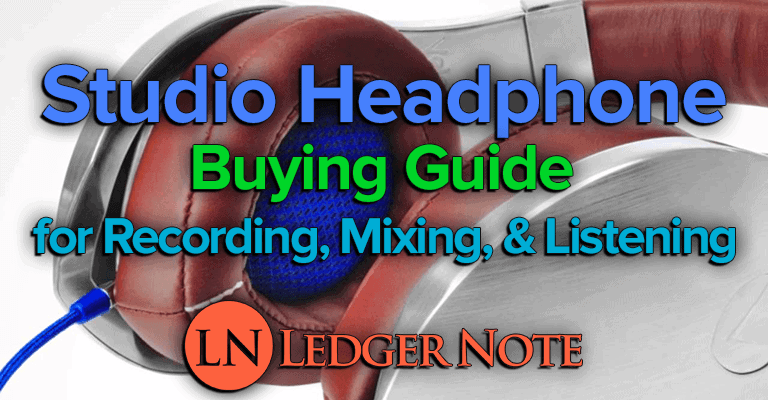 Click here to jump straight to the reviews!
I don't know if you'd call it fortunate or not but I've had the pleasure of using lots of different options including the best studio headphones on the market.
Between them being stolen in high school to destroyed in my college backpack to my cat laying on them and puking in the ear holes… it's been quite the adventure. I can't count the number I've stepped on while climbing out of bed after passing out listening to my favorite reference albums.
Having used them in a million environments for a billion reasons, I've got a few things to point out for you to think about first before you commit to any one pair of headphones. One set can fit all of your needs as long as you think ahead.
The issue isn't just audio quality, faithful sound reproduction, or which look the coolest. Of course those factors matter but what about the ability to buy replacement parts after you accidentally vacuum up the connector and cord? What about how comfortable they remain after you wear them for five hours straight?
There's a lot of little seemingly inconsequential things like that that matter a lot. There's also one gigantic factor that you'll have to decide upon and I'll guide you through it, having been on both sides of the fence many times.
"Which are the best headphones for recording? How about mixing?" This buying guide will cover all of this and explain how those questions don't make as much sense as you'd think.
If you already know the deal then feel free to scroll on down to the studio headphone reviews section. Otherwise, let's summarize all of this real fast so we can get to the fun part!
Consumer vs. Professional Headphones
The first thing to understand is the difference between consumer headphones and those for music industry professionals. A set of Sennheiser's may cost the same as Beats By Dre, but one justifies the price through research and development and the other just has to cover the insane marketing budget. I'm sure you can guess which is which.
So what's going into this research and development that makes pro cans better than consumer ones?
Frequency Response
The goal of studio earphones, even the in-ear buds, is to provide a flat frequency response. This means that it adds no flavor to the sound. You need to hear what you're working on as neutral and true as possible, especially when mixing. This costs money to develop cones to that level of precision.

Consumer headphones don't care about this at all. As a matter of fact they purposefully mess it up in order to satiate a certain demographic. Beats By Dre are designed for Rap, Pop, and R&B listeners which explains the outrageous bass response.
Most of these types employ what's called a "Smile Curve" in the frequency response. It boosts the bass and the high-end and leaves the middle lacking because a lot of people find this pleasing, particularly in noisy environments like the gym or school bus.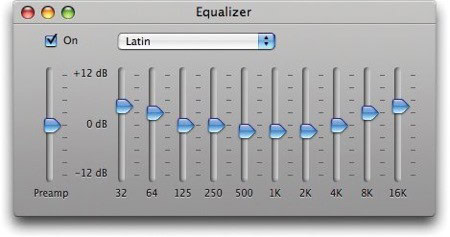 You can imagine that it'd be hard to call any critical listening shots with that equalization curve. It also literally ruins the mixes and recordings other pro's worked hard to achieve. You've not heard your favorite records correctly until you do it with some real nice recording headphones!
Now let me say that most of the time you'll see a slight bass boost in the frequency response curves of pro-phones too. This is because woofers this small can't produce deep bass without that help.
It looks "off" on paper but to your ear it will sound completely flat and neutral. It's compensation for the lack of bass in this case and intentional. Don't be alarmed is my point.
Small Considerations Before a Purchase
Let's knock these out before we get to the most important aspect of all.
What's Your Budget? As mentioned above, pricing doesn't equal higher quality. I'll cover you here with my recommendations below (and save you a ton of cash). Achieving higher quality and flatter frequency responses is a diminishing returns type of thing. You pay increasingly growing increments for smaller gains in quality.
What's The Purpose? Again, I'm going to drop some insight on the next section to help you think about this. But you need to be realistic. Are you only recording? Will you be mixing too? Will you listen for pleasure as well? Most of us buy one pair of headphones to cover all uses.
Will You Need an Amplifier? Some headphones require headphone amplifiers to drive each woofer. If you're buying say... 10 pairs for an entire band to wear while recording you'll want an amp for independent volume control and routing sub-mixes anyways. Most of the ones I'll show you don't need an amp so you can plug it right into your iPod or whatever and keep them portable.
Also think about the padding of the ear cushions and head band for comfort. Consider as well, especially in the higher range, if replacement parts are available. Okay, now we get to the big question and my advice surrounding it.
Closed Back or Open Back?
The big question that changes everything. When it comes to headphones there are two classes available: closed or open backs. Let me go ahead and say it so you can think about it as you read along.
I prefer closed back headphones in all cases.
You'll understand why in a second.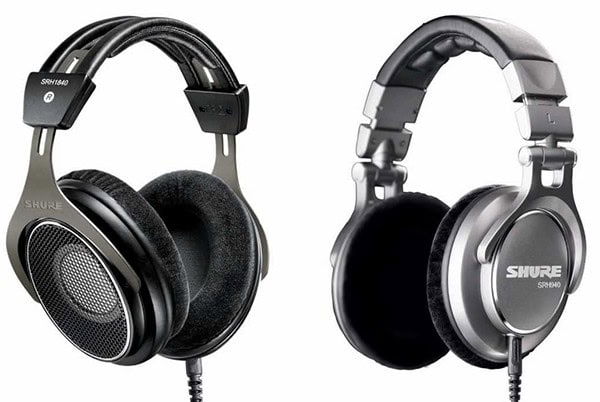 Open on the left, closed on the right, I write headphone rhymes every time that I type.
The difference is that some headphones feature a grill on the outside/backside of the woofers that lets air and sound escape. It also lets sound in. Closed back headphones don't let sound in or out.
Let's look at this from my viewpoint of closed being superior for studio work like recording, tracking, and mixing.
Pros of Closed Back:
When listening, no unwanted sounds get in. This let's you focus and hear minute details and changes.
When recording, no sounds leak out and back into the microphone. This also provides privacy and keeps you from annoying everyone else around you at work or wherever.
Cons of Closed Back:
Sound pressure can't escape (so keep the volume at a reasonable level).
People do claim there is this one downside to closed back headphones. Like if you're riding your bike you may not hear cars coming like you would if their engine sounds and the wind could contaminate your listening experience. This is really stupid logic in this context and worlds of others.
The only real objection is that closed back headphones don't let sound pressure escape so you might end up with a cavity resonance or damaged hearing. This is partially a legitimate reason except you shouldn't be listening loud enough for it to ever matter.
You should only be spot checking loudly here and there. The closed nature blocks out everything else when they are circumaural (over and around the ears). There's no need for it and it can harm your hearing.
Check out this table. You're going to wear these a lot for long exposure times. Open back headphones will encourage you to turn up the volume if other sounds are going on around you.
| SPL | Time |
| --- | --- |
| 85 dB | 8 hours |
| 88 dB | 4 hours |
| 94 dB | 1 hour |
| 97 dB | 30 minutes |
| 100 dB | 15 minutes |
| 112 dB | < 1 Minute |
| 115 dB | < 30 seconds |
You can see that I skipped some Sound Pressure Level (SPL) increments but it still illustrates the point. Every teeny tiny boost in volume cuts the time in half before you begin to damage your hearing. Your kids aren't ignoring you, they're just deaf already.
I see no benefit to open backs unless you just like the way they look. They render headphones useless unless you're in isolation from all other human beings and sounds. You can't record with a microphone with them either.
And now for the fun part:
---
The Best Studio Headphones

You now know as much as any professional to be able to make an informed decision about what you need in a pair of headphones. It's time to look at the best in each price range!
Note: Each image and text link leads to Amazon.com where you can read additional user reviews, find specific technical detail listings, and make your purchase.
These are the best headphones for mixing, recording, tracking, and pleasure listening you'll find in each budget range. There are lots of others but they don't stack up like these do.
Choose your range, pick your favorite, and you'll be guaranteed wealth, health, and happiness (or at least some solid ear cans)! Please note these are all closed back until the last section dedicated to open backs.
Best Studio Headphones Under $100
For the hobbyist or professional on a budget needing to buy a ton of pairs, you can't go wrong with the two following options. They're well built with a focus on a flat frequency response (like all in this list). They are world's better than more expensive consumer cans and video game headsets for a fraction of the price.
Best Studio Headphones Under $200
Now we jump up a tier. While I found my personal balance between cost and quality above, you should certainly explore more options if you perform a lot of detail work in your headphones by preference or lack of a good listening environment.
It's definitely cheaper to buy a real nice set of cans than to buy monitors, a subwoofer, and a ton of acoustic treatment. Here's a couple that the music community unanimously considers the best in this range.
Best Mixing Headphones - No Price Considerations
Now we're in the realm of "Give me the best quality possible." If you need to mix but can't break the bank then get the DT770's right above or the HD 280 Pro's as a step down from there. Otherwise, take a look at these two options if you need mind-blowing quality for detail work.
These aren't needed for tracking and recording, but for mixing and pleasure listening then you're in heaven.
Best Recording Headphones - Open Back
Because I'm a nice guy and I know some of you have legitimate reasons or have your heart set on open back headphones that I'll tell you about a couple of the best according to everyone else. They have the quality we all need but I wasn't in the right environments to not have outside sounds leaking in.
Here's your best cheaper option and one of the better mid-range ones.
These are the Best Studio Headphones
I rest my case! The entire point of professional headphones isn't to have thumping bass or look cool at the gym. It's all about hearing the most true, non-colored, least exaggerated version of whatever you're listening to as possible that even the best studio monitors can't deliver without blowing a fortune on acoustic treatment.
This is so you can study, listen critically, and make precise tweaks and changes to your mixes and recordings. Some people like open back cans for pleasure listening but for getting lots of various types of work done with one set, I vote closed back as the best studio headphones.