The best boost pedals do one thing but they do it perfectly, which is to provide your signal with clean, distortion free gain. People joke about turning the knob up to 11, and with the boost effect you can do just that in a linear, noiseless fashion. Whether you want more volume or to drive an amp harder, a solid boost pedal will get the job done…
There are times when you simply can't get enough gain. Maybe you just need more volume in general or your other pedals or long cables have sucked too much power out of your signal. Or perhaps you want to drive a distortion pedal or a tube amp even harder.
This is what the best boost pedal does, and it does it in a clean fashion so you don't have to worry about lifting your noise floor or unintentional distortion like you get with cheap options.
Many guitarists will have their boost in bypass mode, waiting for their solo to arrive, and when the time comes they engage and hit the audience with the most mind-melting experience of their lives.
There are a lot of various uses for boost, and the consensus is that it's better to have one and not need it than to need one and not have it.
Need more information in order to better understand your needs? We have got you covered! Visit our FAQs section
included in this guide: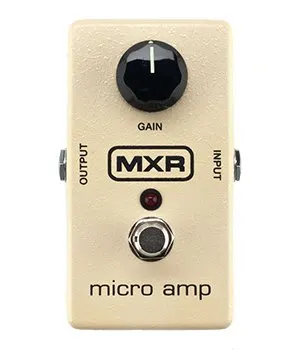 The universally loved MXR M113 Micro Amp is easily the best bang for your buck. Like most others on the list, the operation is simple. You step on the switch to turn on the pedal and then twist the gain knob to choose how much clean boost you want. If it's that simple then why does everyone love it so much then?
Whether you're boosting a passive pickup instrument or getting read to drive some distortion with an active instrument, it does so in a holy trinity fashion: it adds no noise whatsoever, there's no tone loss even without it being true bypass, and the amount of gain it's capable of pushing is astounding.
You can use it to drive your distortion, use it to balance the volumes between two guitars, use it to make up for loss in a long pedal chain, switch it on to boost during a solo… it does it all flawlessly.
This is a transparent, clean boost with no compression, no artifacts, and no tone loss. That makes it useful in an incredible number of scenarios for guitar, bass guitar, and more. If all you're hunting for is an additional volume knob that's otherwise invisible, then you've found one of the holy grails.
Specs:
Item Weight: 1 ounce
Product Dimensions: 5.9 x 4.6 x 2.7 inches
Signal Format: Analog
Pros:
Intuitive to set up
Easy to use
Impressive near-clean boost
Cons: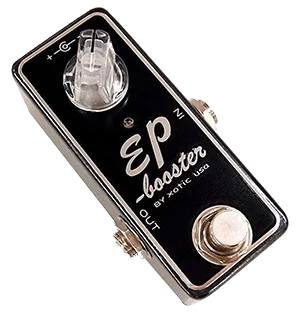 When you want the boost that edges out the rest of the competition, look no further than the Xotic EP Booster. You wouldn't realize it by just looking at it, but this mini pedal packs quite a few features in it.
The discrete FET preamp offers up to 20 dB of gain with a pleasing coloration. It's based on the preamp in the legendary Echoplex tape delay pedal and is very faithful to that sound, adding the sparkle and shimmer in the high-end users of that classic came to love.
In addition, there's two internal DIP switches that let you select the type of boost you desire. The default setting is the 'Bright' one we've just described, but you can also switch over to a 'Bass Boost' setting for single coil guitars. Surprisingly, bass guitars shine in the 'Bright' setting because it adds some top end in the harmonics to really make them intelligible.
The 'Bass Boost' is a weird name for it, because what it really is is a full frequency transparent boost. That means you're getting the best of both worlds here: clean and color. When combined with your own EQ pedal you can sculpt any sound you want without losing tone anywhere.
Whether you're looking for clean gain or to add a creamy full-bodied smoothness to your rig, this is where you can have both. Give it a whirl and you'll see why it's so highly rated and praised throughout the music community.
Specs:
Item Weight: 12.8 ounces
Product Dimensions: 5.6 x 3.2 x 2.8 inches
Signal Format: Analog
Pros:
Makes your sound thicker
Offers a variety of options
Cons:
Switches can be difficult to change on the fly.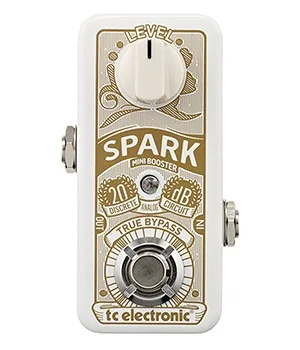 Of the cheaper priced booters, the TC Electronic Spark Mini not only wins the category but is just as good as those in the higher price bracket. It offers up to 20 dB of gain, which is more than enough for any task, whether that's boosting up a passive pickup or driving an active instrument for distortion. The discrete analog circuitry keeps tone loss to an absolute minimum.
What's cool about this one, besides being over half the cost of other similar quality boosters, is this one actually has true bypass. That's great, even though most will always keep it on and play through it. It's small footprint means it won't eat up much space on your pedalboard either.
What the Spark Mini has that others don't is a feature TC Electronic is calling PrimeTime. Without having to change any settings, you can use it in a momentary fashion (meaning you press and hold the switch to boost during a solo then step off and it cuts off) or in the classic on/off fashion of most stompboxes. It knows based on how you press the switch.
That's a sweet bonus feature that far more costly options don't have. It's noiseless, minimal tone loss, clean, and cheap! Everyone loves it and so will you.
Specs:
Item Weight: 5.6 ounces
Product Dimensions: 3.66 x 2.01 x 1.81 inches
Signal Format: Analog
Pros:
Tonally transparent
Compact design
Cons:
Can't be powered by battery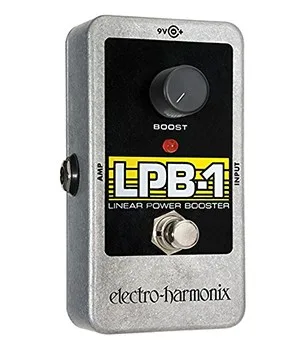 The Electro-Harmonix LPB-1, which stands for 'Linear Power Booster,' is a remake of the original 1968 model that was responsible for pushing overdrive to the masses. The operation is simple. You turn it on and dial in the amount of gain you want. There's nothing extra. It's true to the original in every way except one difference we can all appreciate, which was the addition of true bypass. When it's off, it's off!
What makes this different than the others is it's inexpensive since there's no extra features and isn't a nano pedal. It's a bit smaller than your standard full sized option but not so small you risk missing it with your foot and stepping on other pedals at the same time. The case is die-cast and extremely sturdy. You couldn't crush one of these with your foot if you tried.
This isn't a completely clean boost but it's not entirely colored either. It does impart warmness and fullness with a slight boost to the low mids to really help saturate your amp. Remember that this was developed to push overdrive. But it really depends on your amp. If you have a bright amp you may like the balance this brings.
If you use an amp with a lot of bass then this might accentuate that too much. If you want transparency, then you'll prefer another option. For those looking for that vintage blues, crunch sound, look no further.
Specs:
Item Weight: 10.4 ounces
Product Dimensions: 5.75 x 2.75 x 3.45 inches
Signal Format: Analog
Pros:
Compact die-cast chassis
Improves the gain and saturation of the amp
Cons:
Does not offer 100% clean boost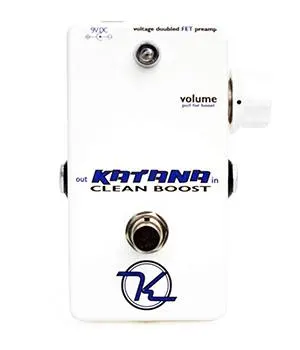 Among the most expensive boost pedals out there is the Keeley Katana Preamp. Does it warrant the higher cost?
Well, first of all the pedal uses a series of cascading FET stages to mimic a tube amp more so than more "modern" methods like using blue LED's and non-diode clipping stages. It's also another deceptive pedal that has more features than are obvious, except on this one you don't have to dismantle it to access them.
For instance, the volume knob, interestingly placed on the side so you can turn it with your foot, in it's normal configuration is an unbelievably transparent volume controller with up to 20 dB of gain. But pull it out into its second setting and you add the color of slight overdriven tube edge and grit. That's a great choice to have that you can turn on and off very easily on the fly.
But back to the clean boost. That's where this thing shines. The dual FETs on the inside receive almost double the voltage of the 9v DC adaptor. These high voltage rails mean you get a lot of headroom which means we're not just talking about clean transparency. We're talking extra clean.
The same pedal comes in a mini version that's not easy to find, but if that's your preference I'm sure you can hunt for it used. Otherwise, take the full size beast and live the dream!
Specs:
Item Weight: 8.1 ounces
Product Dimensions: 4.38 x 6.75 x 3.25 inches
Signal Format: Analog
Pros:
Hi-gain and hi-cut switches offer lots of tonal shaping options
Cons:
Quite expensive for a mini pedal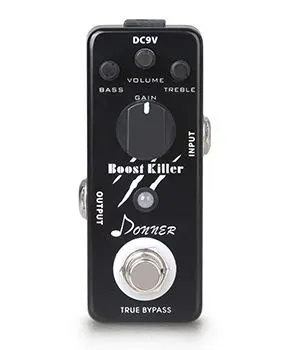 Another fantastic lower cost option is the Donner Boost Killer. Perhaps it's the lowest cost pedal out there, and especially so when you consider just how many features they packed into this tiny micro chassis.
The main feature is the boost, of course, with the much bigger gain knob. But in combination there's a volume knob so that you control the output with no attenuation added, you can turn both up for weaker signals and passive pickups, etc. It even makes a nice volume control during practice so you don't have to get up and move over to your amp.
On top of that, it has Treble and Bass knobs for equalization. Each EQ range can be boosted or cut by up to 15 dB which is quite a lot. With this you can really change the character of your amp, adding high-end or decreasing the low frequencies, etc. Now, there's not as much gain coming out of this as there are in other pedals, but in combination with the volume knob you'll have no problem pushing an overdrive pedal or an amp to distortion.
It's transparent, it has true bypass, it has an output volume control plus an EQ section, and most of all it's as inexpensive as you can get. This is a decent pedal even if you don't consider the price, but when you do, it makes perfect sense for the guitarist who is purchasing on a tighter budget.
If you can tack on a little bit more, though, I recommend you go with the TC Electronic Spark Mini above. Otherwise, this one will suit you just fine.
Specs:
Item Weight: 8.5 ounces
Product Dimensions: 3.74 x 1.73 x 1.89 inches
Signal Format: Analog
Pros:
Create a rich distortion sound
Whole aluminum-alloy chassis, stable and strong
Cons:
Audible clicking sound when the pedal is engaged
FAQs
In this section, our goal is to cover the basics of what these pedals do and how they do it, how you should use it, and which features to look out for when you start considering a purchase. After that quick discussion, you'll know all you need to know in order to make an informed decision.
And that's when we'll get you started by sharing our favorite choices from the modern line-up, which offer the most and cleanest gain.
What is the Boost Effect?
The boost effect is very simple in that all it does is increase the amplitude of a sound signal. The goal is to provide more gain than your guitar's pickup or preamp can give.
The problem is that the more you turn up your volume, the more you turn up the noise floor in the signal. Boost pedals provide what is called clean, transparent, linear, or distortion-free gain by boosting the signal without also increasing the noise or affecting the timbre of your tone.
They're used for two main reasons. The first is that many rock and metal guitar players want to drive their amplifiers harder to achieve a natural distortion or even to pair it with a distortion or overdrive pedal to really push it to the limit.
The second use is for players with big pedalboards. Often players will experience "tone suck" where the jump through all of these pedals causes signal degradation and volume loss. Boost can help prevent and make up for this loss. There are also buffer pedals out now designed to combat this second issue as well.
This degradation happens due to many pedals, especially vintage ones, not having a true bypass, and also because guitar cables are unbalanced and accumulate noise over long runs, whether that be one long one, several jumpers between pedals, or a combination of both. Boost before or after can ensure your signal stays topped off by the time it reaches your amplifier.
What to Look for in the Best Boost Pedal?
By purist definitions, a boost should do only that. The tool is designed to increase your amplitude by a desired amount and do so in a clean and transparent fashion. But there are many choices on the market that add coloration to your signal.
Of course some people love it and feel it as warmth and fullness, while others would rather not have it since it alters your tone slightly. That's up to you but you should be aware of the choice and watch out for it. For those that color your signal, you may still want a true bypass so you can turn that flavor on or off.
Another consideration that could be stated for all pedals is whether or not you want it in the nano pedal size. Some guitarists want all of their boxes to be the same size on the pedalboard while others will mix and match. A boost can easily be crammed into a nano size, so if you want that the option is definitely available.
Finally, most boosts have the on-off switch you step on and a knob to turn to define how much extra volume you want. There are some out now that offer an equalization section, usually just treble and bass and sometimes with mids.
These might also have a gain knob in addition to the volume knob. I'm assuming most already have or intend to get their own EQ pedal or that another pedal already has an EQ section on it. That's something to consider.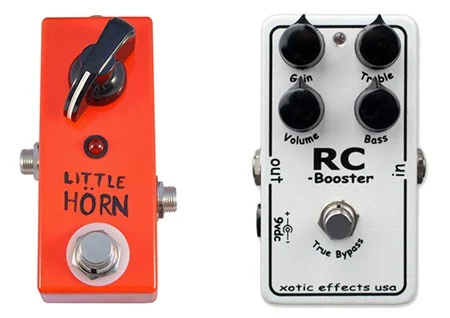 How to Use a Boost Pedal
Boost isn't a classic effect so much as an additional volume knob to get even more gain. That should be a pretty good hint of where to use it in your signal chain, but we're going to explain real quick and also give an overview of all the knobs you'll find. Unlike a volume pedal, which you'd likely use at the end of your signal chain, these come pretty early in your path.
Where to Place it in the Signal Chain
There is a very specific, logical, and natural order for your guitar pedals to appear in within your signal path. It goes like this:
Dynamics, Filters, & Pitch Shifters
Boost & Distortion
Modulation
Time
Before you engage your boost for that extra gain (almost always to drive distortion), you want to take care of the basics, like compression, equalization, and pitch shifting. Once that's done, crank up the volume and hit your distortion. And because you want to distort before modulating or adding reverb and delay, it's only natural for your extra gain to come in at the second stage of the signal chain.
Understanding the Knob Settings
You've probably already looked at some boost pedals before and have seen that there is usually, in 99% of cases, only one single knob to deal with, and that is Gain. The entire reason these pedals exist is for gain and nothing more.
Sometimes you'll see some that include an EQ stage, and that's fine if you're trying to have as few pedals as possible. But forget about the jack-of-all-trades pedals. You want one pedal for each task that does the job right, and the only job here is to give you more clean, transparent volume to feed into other effects.