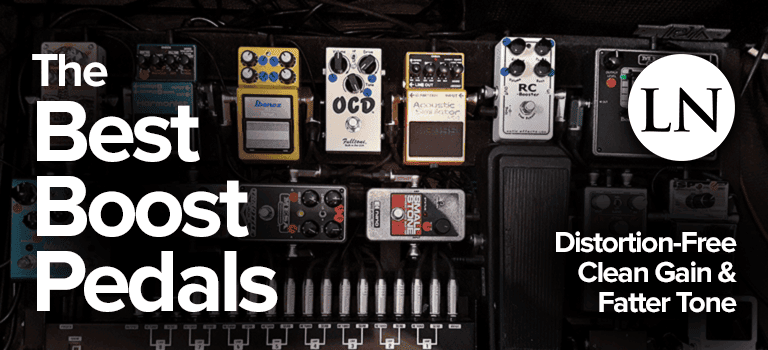 Click here to jump straight to the reviews!
There are times when you simply can't get enough gain. Maybe you just need more volume in general or your other pedals or long cables have sucked too much power out of your signal. Or perhaps you want to drive a distortion pedal or a tube amp even harder.
This is what the best boost pedal does, and it does it in a clean fashion so you don't have to worry about lifting your noise floor or unintentional distortion like you get with cheap options.
Many guitarists will have their boost in bypass mode, waiting for their solo to arrive, and when the time comes they engage and hit the audience with the most mind-melting experience of their lives.
There are a lot of various uses for boost, and the consensus is that it's better to have one and not need it than to need one and not have it.
With that being said, our goal today is to cover the basics of what these pedals do and how they do it, how you should use it, and which features to look out for when you start considering a purchase. After that quick discussion you'll know all you need to know in order to make an informed decision.
And that's when we'll get you started by sharing our favorite choices from the modern line-up, which offer the most and cleanest gain.
What is the Boost Effect?
The boost effect is very simple in that all it does is increase the amplitude of a sound signal. The goal is to provide more gain than your guitar's pickup or preamp can give.
The problem is that the more you turn up your volume, the more you turn up the noise floor in the signal. Boost pedals provide what is called clean, transparent, linear, or distortion-free gain by boosting the signal without also increasing the noise or affecting the timbre of your tone.
They're used for two main reasons. The first is that many rock and metal guitar players want to drive their amplifiers harder to achieve a natural distortion or even to pair it with a distortion or overdrive pedal to really push it to the limit.
The second use is for players with big pedalboards. Often players will experience "tone suck" where the jump through all of these pedals causes signal degradation and volume loss. Boost can help prevent and make up for this loss. There are also buffer pedals out now designed to combat this second issue as well.
This degradation happens due to many pedals, especially vintage ones, not having a true bypass, and also because guitar cables are unbalanced and accumulate noise over long runs, whether that be one long one, several jumpers between pedals, or a combination of both. Boost before or after can ensure your signal stays topped off by the time it reaches your amplifier.
What to Look for in the Best Boost Pedal?
By purist definitions, a boost should do only that. The tool is designed to increase your amplitude by a desired amount and do so in a clean and transparent fashion. But there are many choices on the market that add coloration to your signal.
Of course some people love it and feel it as warmth and fullness, while others would rather not have it since it alters your tone slightly. That's up to you but you should be aware of the choice and watch out for it. For those that color your signal, you may still want a true bypass so you can turn that flavor on or off.
Another consideration that could be stated for all pedals is whether or not you want it in the nano pedal size. Some guitarists want all of their boxes to be the same size on the pedalboard while others will mix and match. A boost can easily be crammed into a nano size, so if you want that the option is definitely available.
Finally, most boosts have the on-off switch you step on and a knob to turn to define how much extra volume you want. There are some out now that offer an equalization section, usually just treble and bass and sometimes with mids.
These might also have a gain knob in addition to the volume knob. I'm assuming most already have or intend to get their own EQ pedal or that another pedal already has an EQ section on it. That's something to consider.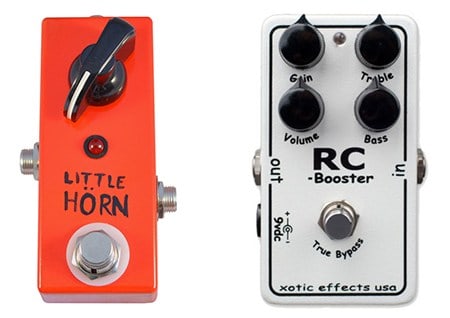 How to Use a Boost Pedal
Boost isn't a classic effect so much as an additional volume knob to get even more gain. That should be a pretty good hint of where to use it in your signal chain, but we're going to explain real quick and also give an overview of all the knobs you'll find. Unlike a volume pedal, which you'd likely use at the end of your signal chain, these come pretty early in your path.
Where to Place it in the Signal Chain
There is a very specific, logical, and natural order for your guitar pedals to appear in within your signal path. It goes like this:
Dynamics, Filters, & Pitch Shifters
Boost & Distortion
Modulation
Time
Before you engage your boost for that extra gain (almost always to drive distortion), you want to take care of the basics, like compression, equalization, and pitch shifting. Once that's done, crank up the volume and hit your distortion. And because you want to distort before modulating or adding reverb and delay, it's only natural for your extra gain to come in at the second stage of the signal chain.
Understanding the Knob Settings
You've probably already looked at some boost pedals before and have seen that there is usually, in 99% of cases, only one single knob to deal with, and that is Gain. The entire reason these pedals exist is for gain and nothing more.
Sometimes you'll see some that include an EQ stage, and that's fine if you're trying to have as few pedals as possible. But forget about the jack-of-all-trades pedals. You want one pedal for each task that does the job right, and the only job here is to give you more clean, transparent volume to feed into other effects.
---
The Best Boost Pedals

Note: Each image and text link leads to Amazon.com where you can read additional user reviews, find specific technical detail listings, see additional product options and sizes, and make your purchase.
Now that we understand what boost pedals are for and which features to keep an eye out for, it's time to venture into the market with our overview to get a grasp on what the best options are for our hard-earned money.
We don't rank them in any special order since they all met and exceeded our expectations, but we do point out what our own top pick is. There are two other "best in class" choices in the table at the top of this article too, but we recommend you consider each model below in case your preferences lead you in a direction ours didn't.
These are the Best Boost Pedals Out There
Boost pedals have one real job to do and two ways of doing it. They need to provide plenty of gain and it needs to either be transparent or colored.
Some companies are now adding two-band EQ's, as seen above, or even the ability to toggle between transparent and colored modes. Whichever style you want or even both can be had in a single pedal, and you'll find the right choice for you above in our list of best boost pedals.