The best octave pedal puts some power in your playing. By doubling your signal and pitch shifting it up or down an octave, you can boast the thickest tone in town. Heck, try tripling it or even replacing your original signal. The options are endless and the choice is yours…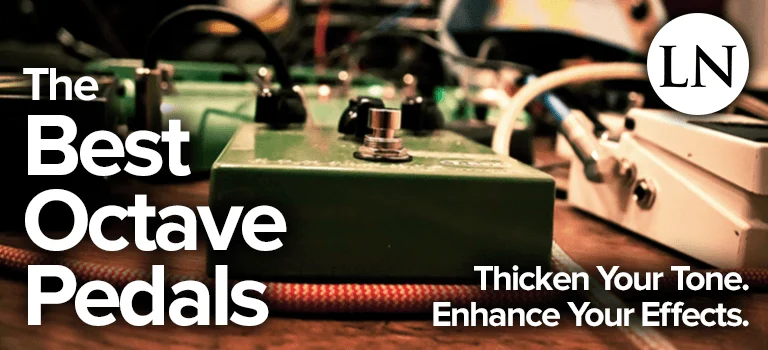 The octave effect is exactly what it sounds like it is. You can pitch shift your signal up or down an octave or more at a time so you can use your guitar to play the role of other instruments like a bass guitar, for example.
What many don't understand at first is that you can recombine the original signal with the octave-shifted signal to create a thicker, richer tone, mixed together at the volumes you prefer.
You can do far more, actually, which we'll get into.
Some pedals even toss in other features like adding distortion. But unlike harmonizers and pitch shifters, many of which are more complex and prone to causing error like playing notes out of the key, octave pedals lock you into that pure eight note interval so there's never any screw ups.
The newest options feature polyphonic detection that can only drop the frequencies of your lowest notes so you can rip legitimate bass lines along with your higher notes and even more modes.
Check out our reviews of the best octave pedals if you want to find out how to get the greatest sound quality possible. For all price ranges and features, we have the greatest best octave pedals available!
Need more information in order to better understand your needs? We have got you covered! Visit our FAQs section
INCLUDED IN THIS GUIDE: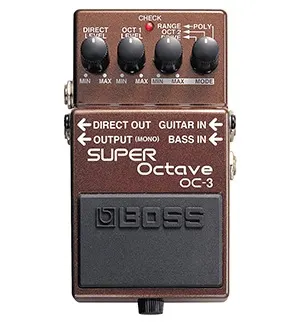 Boss always brings high-quality and dependability at reasonable prices, and that's why the Boss OC-3 Dual Super Octave gets our "Best Budget Pick." They led the field with this one, being the first octave stompbox to include a Polyphonic Octave mode. It also has a Drive mode that includes distortion as well as the original OC-2 mode that set the stage for this one's success.
The Polyphonic Octave mode handles multiple notes, harmonizing entire chords if you wish. You can even set the note range you want it to activate on. The OC-2 Mode can add notes one and two octaves below (the reason it's called a 'dual octave pedal,' while the Drive mode can do the same with distortion added.
Notice the separate bass and guitar inputs. The dedicated bass input has a different optimized circuit that can produce really deep and stable bass octaves.
As far as the knobs, you'll be able to set your direct level (the volume of your original signal) independently from the first and second octave levels. The fourth knob is the mode selector, which determines what the third knob does. It's either a 2nd octave volume knob for the 'Oct 2' and 'Drive' modes, or a range control for the 'POLY' mode. The tracking is fast and the transposing is accurate.
Boss' pedals are indestructible to normal use and this one provides plenty of options for the bassist and guitarist alike at the best price you'll find for this kind of quality. Give it a fair shake!
Specs:
Item Weight: 1.1 pounds
Product Dimensions: 6 x 4 x 6 inches
Signal Format: Analog
Voltage: 9 Volts
Pros:
Poly mode sounds great and functions beautifully.
Dials the right amount of drive
Cons:
Can become temperamental with heavily down-tuned guitars.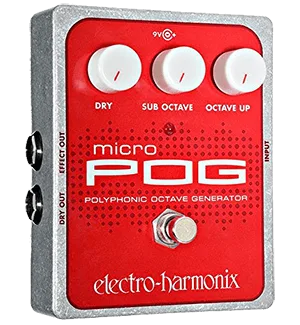 The original POG slayed it. It won all the awards and praise, but it had only one issue. It was too big. Now, in the Electro-Harmonix Micro POG you get all of the same quality in a simpler design, earning it our "Best of the Best" pick.
It's far easier to use but keeps the same flawless polyphonic tracking and high quality algorithm and tone. There's an even smaller "Nano POG" out there but stray from that. It uses a different algorithm that's not nearly as pleasing.
But the Micro POG is the same as the classic. The legend lives on with a far less complicated user interface on its die-cast chassis that fits neatly on your pedalboard. Unlike the Boss above that gives you two octaves down, here you get an octave up and an octave down, both with independent volume controls. You can also control your original pitch volume with the Dry knob.
The icing on the cake is you get a Dry Out and an Effect Out so you can give both their own treatment. Throw some distortion on your sub-octave and you're in heavy metal heaven. Put a flanger and reverb on your up-octave and get that organ sound. It's all possible with the Micro POG.
POG stands for Polyphonic Octave Generator, meaning it can handle single notes and chords all with ease. The tracking is so fast, you can pick out the quickest arpeggios on the planet and it'll track them all perfectly. This is the one you want if you refuse to compromise on quality. And it's not even that much more than any other, price-wise.
Specs:
Item Weight: 295g
Product Dimensions: 4.75 x 4 x 2.25 in
Signal Format: digital
Voltage: 9.6 volts
Pros:
Compact pedal
Very stable at various tones
Cons:
Pricier than the competition (excellent quality though)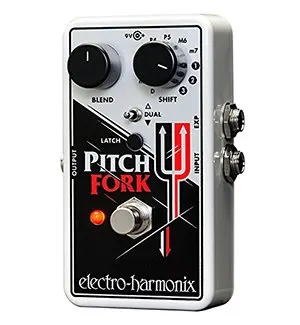 This is another insanely good option from EHX, like the Micro POG. This one, the Electro-Harmonix Pitch Fork brings a lot more harmonization choices to the table. That's cool but it's not explicitly an octave pedal alone, but many of you may prefer these extra options.
It's our "Best Bang for the Buck" pick for these extra options alone. Let's start with the switch in the middle. You can choose to have an octave up, sub-octave, or both at the same time.
From there you'll move to the knob on the top right. You see the three numbers in black circles? Those are for transposing 1, 2, or 3 octaves, which is why we are here. But you also can use the D mode for 'Detune' which will add a pitch shift of 17 cents.
You also get a minor and major 2nd, major 3rd, perfect 4th, perfect 5th, major 6th, and minor 7th. So, not only do you get access to all of the octaves you could need, you get all of these intervals as well. In Dual mode, you can even mix and match octaves with intervals. This thing is no joke.
The Latch button is a nice touch, which takes it out of Latch mode and places the main footswitch into Momentary mode. That means it'll be in buffered bypass until you press it down, and then it remains engaged until you let off of it with your foot.
This Latch button also changes the way the expression pedal behaves, placing it in control of the pitch shift, but in Momentary mode it becomes a glissando rate controller. The default rate is 60 milliseconds, but with an expression pedal you can change that from 4 ms up to 2 full seconds.
This pedal deserves its slot in our list of best octave pedals and we placed it as high as we could, after our top pick and the best budget option.
Specs:
Item Weight: 215g
Product Dimensions: 4.5 x 2.75 x 2.1 in
Signal Format: digital
Voltage: 9 volts
Pros:
Very versatile unit
Great choice of sound
Cons:
Chord tracking could be improved
higher "hiss" than som e competitors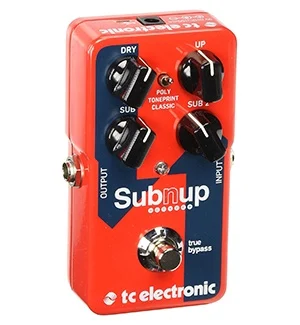 Another very strong contender in the list is the TC Electronic Sub 'N' Up Octaver. It has everything you'd expect from the pedals above and quite a bit more. In this case you get one octave up and two octaves down (one at one octave below and the other at two).
The guitarist can become the bassist with this bad boy! TC Electronic busted out what they're calling their next-generation octave engine that can handle polyphonic transposition and the classic monophonic style we all love, all selectable with the switch in the middle.
This new engine has ridiculously fast tracking and perfect tones up or down. You'll get no weird transients or slips here. You also get true bypass and an optional buffered bypass if you don't want any tone loss over long cable runs.
As always with TC's pedals though is the TonePrint mode, which lets you download custom presets made by professional musicians. You can plug the pedal up to your computer or beam the presets to your pedal with your smart phone right through your instrument's pickup.
You can create your own presets or access their huge library. By doing this, you can even add in modulation to your octaves (you have to use your computer though, there's no knobs even though the circuitry is ready).
If you're the type of player that likes to create their own sounds and have a minimal number of pedals to deal with while doing that, then you've found the pedal that's right up your alley!
Specs:
Item Weight: 13.4 ounces
Product Dimensions: 5 x 3.27 x 2.87 inches
Signal Format: Analog
Voltage: 9 Volts
Pros:
Great tones and flexible
Tracks well in extreme octave settings and with complex chords
Cons:
Separate outputs for the dry sound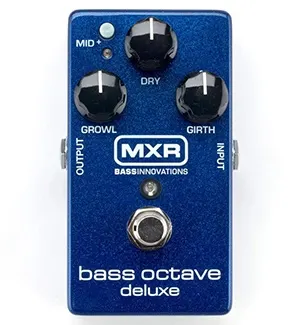 I have to have at least one entry in here dedicated purely to the bassists. The MXR Bass Octave Deluxe is the answer to all your needs.
It features two separate analog sub-octave channels with a separate dry volume control and a Mid+ button to EQ boost the middle frequencies (up to 14 dB) of your clean signal. This Mid+ can be tuned to 400 Hz or 850 Hz internally. MXR also included their "Constant Headroom Technology" that helps maintain high headroom which also helps ensure superior tracking.
It needs to be pointed out that although there are two knobs for octaves, this is not a dual octave pedal in the sense that you have one sub-octave and then another two octaves down. Both of these are one octave down but have different characters that you can blend and match to taste.
The first is a Growl knob that is described as a throaty, midrange sub-octave voice, while the other is called Girth which is a smooth voice that accentuates the deepness of the notes. I'm glad to see Jim Dunlop keeping MXR alive, especially these analog pedal with so much character.
As a bassist, this one should be getting all of your attention unless you're looking for a harmonizer, in which case you'll have to jump back to a digital pedal.
Specs:
Item Weight: 9.6 ounces
Product Dimensions: 5.75 x 4.5 x 2.75 inches
Signal Format: Analog
Voltage: 9 Volts, 18 Volts
Pros:
Stunning variation in octave sounds.
Cons:
The shifting bottom E on notes that ring can affect the sound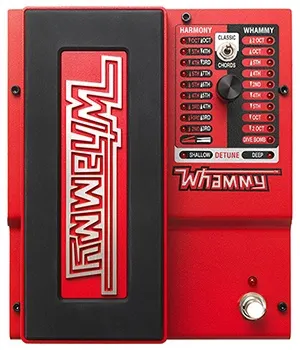 You know any time a pedal makes it to its 5th generation that it must be doing something right and continually improving or it wouldn't survive such a competitive industry. That describes the DigiTech Whammy 5th Generation perfectly. Let me point out that this is more of a pitch shifter pedal than an octaver or even a harmonizer, but many don't realize they want that until they see it.
This beast can handle one or two octaves up or down in classic monophonic mode or polyphonic mode for chords. What you can't do is stack octaves though. You'll pitch-bend into them and it's only one at a time. But there's a lot more going on too, like having true bypass and the MIDI input to control the expression pedal, plus other sweet "icing on the cake" features.
DigiTech isn't shy about this pedal. Countless top guitarists use this, like Jack White, Steve Vai, The Edge, Billy Corgan, Buckethead, David Gilmour, Matt Belamy… the list literally goes on and on. And they've all stacked up over 60 Grammys and entered the Rock & Roll Hall of Fame while using this pedal.
You can use the Whammy in three modes. One is the classic shallow or deep detune which is the purpose of a whammy bar, but you'll control that here with the built-in expression pedal. Otherwise you can be in the Whammy column where you'll pitch shift your signal in up to 9 ways up or down or use the ultra fun 10th dive bomb setting. There's also the Harmony side with some very tasty intervals you can slide between with the expression pedal, or stay locked in if you like.
If you want to stack octaves then this is not for you. Otherwise, this is a real winner if you're interested these abilities pitch shifting abilities.
Specs:
Item Weight: 4.18 pounds
Product Dimensions: 10.51 x 8.15 x 2.6 inches
Signal Format: Analog
Voltage: 9 Volts
Pros:
Smooth-as-silk pitch shifting.
Long-overdue true-bypass switching.
Cons:
Slight glitch when playing fast riffs
FAQs
In this section, we'll be covering what octave pedals are. We'll explain exactly what your effect options are, how to use them, and what to look for when you start evaluating which pedal you might want.
By the time we're done you'll know all you need to know, and from there we'll get you started by showing you our favorite picks from the current line-up, since these pedals have progressed a good deal since the early days. Let's waste no time in getting right to it.
What is the Octave Effect?
The octave effect is a simple pitch shifting of an original sound, up or down by eight full notes. This is effectively a doubling or halving of the frequency of the sound, making it lower or higher pitch but maintaining the same notes being played.
That is what the effect is, but today's pedals offer much more than the older, simpler ones. You can transpose a guitar lick up or down by one or more octaves (or even intervals like a harmonizer pedal or pitch shifter pedal), you can keep the original and recombine it with a pitch shifted version, or you can alter the original and a duplicate by varying amounts.
These pedals will also offer you a mix knob so you can define how loud each version of the audio is in the combined output. The classic choices are often called octaver pedals.
Ultimately, you can thicken your tone and create unison harmonies or even play bass on a guitar if you need to fill in for a missing band member. The uses extend from there into how you can use an octave pedal to feed into other effects pedals to create even more lush and wild soundscapes and tones.
How eccentric you want to get is up to you, and you'll only be limited by imagination.
What to Look for in the Best Octave Pedal?
Octaves aren't the one trick pony that many think they are. A lot has changed and some more resemble harmonizer pedals these days than classic octaves.
If you're reading this, you're probably out for a classic style, so that's the first main thing to consider. I'd avoid one that tries to be both an octave and a harmonizer, largely because the jack-of-all-trades is usually the master of none.
The best choices below and on the market in general will offer you a handful of options that you most definitely want. You'll want a 'sub octave' and an 'octave up,' which allows you to define the volume of up to two extra octaves instead of just one.
You'll also have a knob labeled as mix, dry, or volume, which lets you define how loud those octaves are in addition to their own individual controls. You'll do better to think of this as the volume of your original pitch, which you can keep or get rid of it.
Finally, I'd choose one with the option of an 'effect out' output and a 'dry out,' which lets you later treat your original pitch and your octave'd ones with different effects.
For example, you can maintain your original pitch like normal with a reverb and then use a sub-octave with distortion to create a huge soundscape. The options are endless if you have these choices.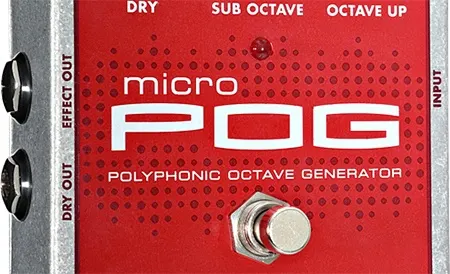 How to Use an Octave Pedal
Octaves can be used alone or in combination with the effects output and other pedals to create amazing combinations. As mentioned above, you can distort the deeper sub-octave for metal and rock.
You can use the up-octave or down with a volume pedal, reverb, delay, and a volume pedal to treat it like on organ. But let's step back and look at this effect in isolation first.
Where to Place it in the Signal Chain
This effect would come before your amplifier's effects loop and possibly create one of it's own. Here's the most logical ordering of the typical guitar effects chain:
Dynamics, Filters, & Pitch Shifters
Boost & Distortion
Modulation
Time
Technically, this is a pitch shifter so it would come sequentially at the beginning of your signal chain, before any of the more flashy effects so it can be influenced by them. This is the case in a linear setup or using the pedal's own effects loop.
Understanding the Knob Settings
The most common knobs you'll find on these pedals are the Blend and Octave variables. Blend is the same thing as Dry or Mix, which lets you determine how loud the pitch shifted signals should be in comparison to your original.
Depending on the pedal, you'll see one or two Octave knobs, sometimes called Sub and Upper, giving you control over their own inclusion and volumes in the overall mix.
Some will feature a Mode knob that lets you choose between options like polyphonic, oct 2, and drive, for example. The polyphonic option will let tell the pedal that you intend to play chords, while the 'oct 2' says to engage the 2nd sub-octave so you can play very deep bass notes. Drive adds a distortion option in case you don't want to use a distortion pedal or deal with an effects loop.