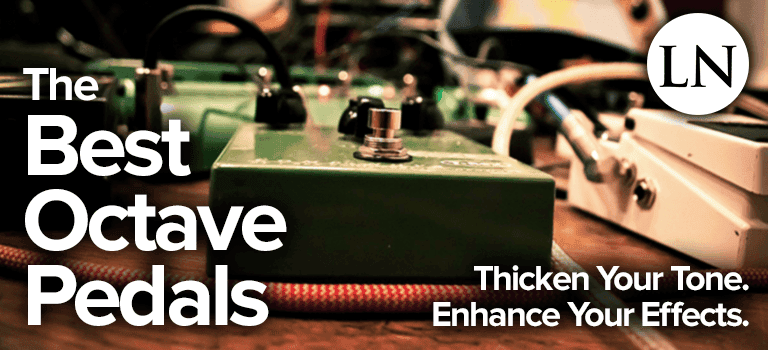 Click here to jump straight to the reviews!
The octave effect is exactly what it sounds like it is. You can pitch shift your signal up or down an octave or more at a time so you can use your guitar to play the role of other instruments like a bass guitar, for example.
What many don't understand at first is that you can recombine the original signal with the octave-shifted signal to create a thicker, richer tone, mixed together at the volumes you prefer.
You can do far more, actually, which we'll get into.
Some pedals even toss in other features like adding distortion. But unlike harmonizers and pitch shifters, many of which are more complex and prone to causing error like playing notes out of the key, octave pedals lock you into that pure eight note interval so there's never any screw ups.
The newest options feature polyphonic detection that can only drop the frequencies of your lowest notes so you can rip legitimate bass lines along with your higher notes and even more modes.
We'll be covering this and more in the discussion. We'll explain exactly what your effect options are, how to use them, and what to look for when you start evaluating which pedal you might want.
By the time we're done you'll know all you need to know, and from there we'll get you started by showing you our favorite picks from the current line-up, since these pedals have progressed a good deal since the early days. Let's waste no time in getting right to it.
What is the Octave Effect?
The octave effect is a simple pitch shifting of an original sound, up or down by eight full notes. This is effectively a doubling or halving of the frequency of the sound, making it lower or higher pitch but maintaining the same notes being played.
That is what the effect is, but today's pedals offer much more than the older, simpler ones. You can transpose a guitar lick up or down by one or more octaves (or even intervals like a harmonizer pedal or pitch shifter pedal), you can keep the original and recombine it with a pitch shifted version, or you can alter the original and a duplicate by varying amounts.
These pedals will also offer you a mix knob so you can define how loud each version of the audio is in the combined output. The classic choices are often called octaver pedals.
Ultimately, you can thicken your tone and create unison harmonies or even play bass on a guitar if you need to fill in for a missing band member. The uses extend from there into how you can use an octave pedal to feed into other effects pedals to create even more lush and wild soundscapes and tones.
How eccentric you want to get is up to you, and you'll only be limited by imagination.
What to Look for in the Best Octave Pedal?
Octaves aren't the one trick pony that many think they are. A lot has changed and some more resemble harmonizer pedals these days than classic octaves.
If you're reading this, you're probably out for a classic style, so that's the first main thing to consider. I'd avoid one that tries to be both an octave and a harmonizer, largely because the jack-of-all-trades is usually the master of none.
The best choices below and on the market in general will offer you a handful of options that you most definitely want. You'll want a 'sub octave' and an 'octave up,' which allows you to define the volume of up to two extra octaves instead of just one.
You'll also have a knob labeled as mix, dry, or volume, which lets you define how loud those octaves are in addition to their own individual controls. You'll do better to think of this as the volume of your original pitch, which you can keep or get rid of it.
Finally, I'd choose one with the option of an 'effect out' output and a 'dry out,' which lets you later treat your original pitch and your octave'd ones with different effects.
For example, you can maintain your original pitch like normal with a reverb and then use a sub-octave with distortion to create a huge soundscape. The options are endless if you have these choices.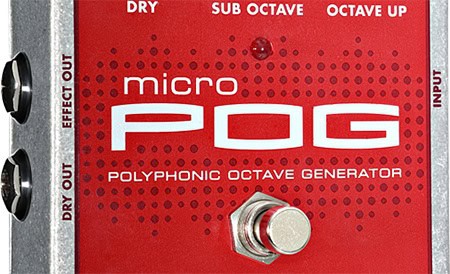 How to Use an Octave Pedal
Octaves can be used alone or in combination with the effects output and other pedals to create amazing combinations. As mentioned above, you can distort the deeper sub-octave for metal and rock.
You can use the up-octave or down with a volume pedal, reverb, delay, and a volume pedal to treat it like on organ. But let's step back and look at this effect in isolation first.
Where to Place it in the Signal Chain
This effect would come before your amplifier's effects loop and possibly create one of it's own. Here's the most logical ordering of the typical guitar effects chain:
Dynamics, Filters, & Pitch Shifters
Boost & Distortion
Modulation
Time
Technically, this is a pitch shifter so it would come sequentially at the beginning of your signal chain, before any of the more flashy effects so it can be influenced by them. This is the case in a linear setup or using the pedal's own effects loop.
Understanding the Knob Settings
The most common knobs you'll find on these pedals are the Blend and Octave variables. Blend is the same thing as Dry or Mix, which lets you determine how loud the pitch shifted signals should be in comparison to your original.
Depending on the pedal, you'll see one or two Octave knobs, sometimes called Sub and Upper, giving you control over their own inclusion and volumes in the overall mix.
Some will feature a Mode knob that lets you choose between options like polyphonic, oct 2, and drive, for example. The polyphonic option will let tell the pedal that you intend to play chords, while the 'oct 2' says to engage the 2nd sub-octave so you can play very deep bass notes. Drive adds a distortion option in case you don't want to use a distortion pedal or deal with an effects loop.
---
The Best Octave Pedals

Note: Each image and text link leads to Amazon.com where you can read additional user reviews, find specific technical detail listings, see additional product options and sizes, and make your purchase.
Now that we a solid grasp on octave pedals and which features to look for, let's take a bird's eye view look at the current marketplace, viewing only the best options out of the bunch. We didn't order these in any special way other than where we draw attention to our favorite pick.
We do point out our opinion on two other "best in class" choices at the top of the article. Beyond that, we recommend you consider each carefully since they all exceeded our expectations. You may like one more than we did, and they're all certainly qualified.
These are the Best Octave Pedals Out There
There's all kinds of reasons to want to stack octaves or transpose your signal. Why you want to do it is of no concern to me!
I just want to make sure you end up with the best tool for the job, which is why I hit you with the best of several types above. Whether you're looking for a pure octaver, a pitch shifter, or a harmonizer, we've got you covered above with our choices for best octave pedal.