The best looper pedal is more than an effects pedal. It's more like a recording studio in a box that can have your back whether you're on stage creating an entire ten track composition on the fly or sitting at home building backing tracks to practice your improvised solos over. The options are only limited by your imagination, and if yours stretches past the limits of the crowd's imagination then minds are going to get blown and your wallet is going to get fat…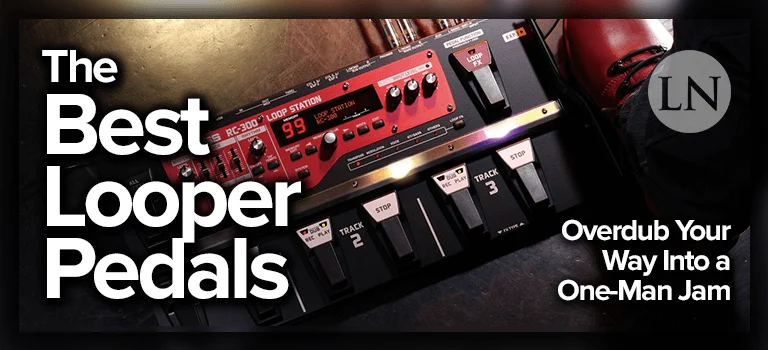 Loopers have come a long way since they first busted on the scene. What started as novelties and practice tools have become unbelievable workstations that can be used to produce full fledged recordings, acting as a multi-track recorder, to helping master instrumentalists build up entire backing tracks over which they improvise and entertain.
Although you can find a looper embedded into a microphone or keyboard, nobody has really embraced this technology like the modern guitarist.
These take very little introduction. We've all seen guitarists use all manner of effects to create entire songs all out of their one instrument, including the sounds of bass, percussion, rhythm guitar, and ambience. Then, they dial in their main tone and shred the most amazing solos over the backing track.
The one-man band has never been happier or more productive. All guitarists would serve themselves well to be familiar with and capable of using a looper pedal, because when the opportunity arises, there's no better way to woo the crowd on stage or practice their craft at home.
Need more information in order to better understand your looper pedals and your specific needs? We have got you covered! Visit our FAQs section.
INCLUDED IN THIS GUIDE: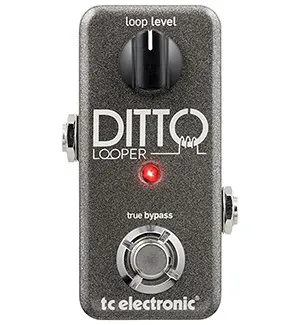 There is a lot to be said for a simple loop pedal. They have to provide high quality playback to make up for the "lack" of features (simplicity is a feature in my book) and also justify a smaller price. The TC Electronic Ditto Looper does all of thees things and thus earns our Best Bang for the Buck pick.
It's simplicity doesn't mean they skimped out though. You still get the luxury of True Bypass and Analog-Dry-Through with zero latency, meaning your signal will never be diminished and you won't get any tone suck.
The minimalist approach is surprisingly easier to use, which is a huge plus when you're live in the moment. You still get all of the functionality you'd expect, like Record, Undo & Redo, Stop, and Erase. You access them through different switch commands like one-press, press-and-hold, etc. You can do everything, building luscious layers live on stage or to practice at home.
Down to the nitty gritty though. You can loop up to five minutes in length, and it's all done in 24 bit, uncompressed wave files so you'll never compromise on quality. Who the heck plays a 5 minute loop? I don't know but the choice is there. You also get unlimited overdubs on each loop, but you will lose the overdubs when you delete the loop, as expected.
But what's nice is the loops are retained in the internal memory even after you unplug the power or turn it off. The extra small enclosure is a nice touch too for busy pedalboards, and is built like a tank. If simplicity and compactness are your thing, then there you go.
Specs:
Item Weight: 0.17 pounds
Signal Format: Analog
Voltage: 9v
Pros:
True bypass and analog-dry-through
Easy to use
Cons: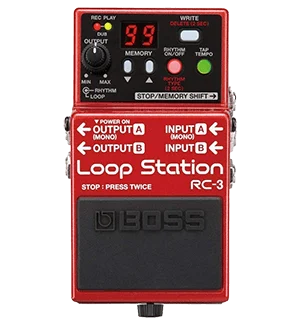 Sometimes you want a full fledged loop station in a normal pedal size, and that's what the Boss RC-3 Loop Station brings to the table. You wouldn't believe the features they crammed into this thing. It doesn't matter if it's a guitar, bass, keyboard, whatever. You can record up to 99 audio phrases and have up to 3 hours of total recording capacity, all in full stereo if you choose.
The Auto Recording function is nice, which detects when you start playing or gives you a one bar count-in. That's huge in terms of lining up your loops correctly, which can be very annoying at times.
For practice it even has three built in drum patterns to help you figure out that rhythm problem in advance. It records in 16 bit / 44.1 kHz, which is the same as professional releases. You can even connect it to your computer and export recordings if you want.
With the stereo inputs, you can play mono, stereo, or even play two mono instruments at the same time to create an incredible soundscape. The user interface is easy to use too, with a tap tempo, visual loop navigator, and LED indicators letting you know if you're recording or not. As far as standard sized looper pedals go, you'll not find a more fully featured one than this.
Specs:
Item Weight:
Signal Format: Analog
Voltage: 9v
Pros:
Extremely well built and durable
Up to 3 hours of recording time
Cons:
Drum patterns are not very versatile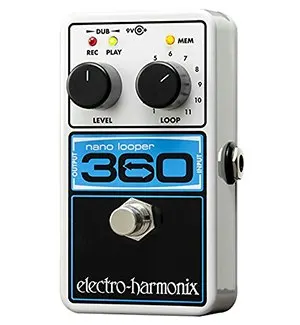 I love this pedal for a few specific reasons, though there are plenty of other worthy reasons. The main one is the incredible value you get at such a reasonable price, which is why I named it our "Best Budget Pick." The Electro-Harmonix 360 Nano Looper lands somewhere in between the two options above. It's simple to use but doesn't embrace minimalism and still has a lot of features but isn't a full blown loop station.
You're looking at having 11 different loops at once with up to 360 seconds of length per loop. Each loop can host unlimited overdubbing at a 24-bit bit rate and 44.1 kHz sample rate. That's better than professional album releases.
Having a knob to navigate loops is so much better than trying to do it through a complicated set of foot commands in my book. Regarding those, you'll still use them to record, overdub, undo-redo, and erasing. You can't really escape that on any pedal.
The quality is there and so is the functionality all for a decent price. There are a few differences that can be a benefit or a nuisance, like once you record a loop you have to tap the switch again to initiate playback, where others will immediately start playing back the loop.
These differences are quickly sorted out and can be preferable depending on the player. But despite that, I don't think you'll find a better cheap option.
Specs:
Item Weight: 1.3 pounds
Signal Format: Digital
Voltage: 9v
Pros:
Sturdy and simple
Easy loop storage
Cons:
Not steeped with features
Not very versatile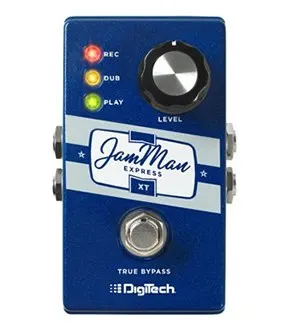 What appears to be another simple solution is nothing of the sort. The DigiTech JamMan Express XT has some seriously heavy-hitting features hidden inside it. This is another easy to operate option that has a few more obvious features, like LED indicators telling you if you're recording, overdubbing, or in playback mode. You get 10 full minutes of loop time in mono or stereo with unlimited overdubs in 24 bit / 44.1 kHz quality. The real benefits, though, are under the surface.
For instance, timing your loops is everything. With this one you get a feature called Jam Sync which will automatically synchronize your start and stop times with another Express XT or Solo XT model so you can capture independent loops that are timed perfectly with each other. One person can control all of the looping while several instrumentalists play.
It also has their new Silent Clear feature, that detects when you're clearing loops and stops the pedal from outputting audio to your amp. Most pedals require you to turn down your amp so you aren't popping weird noises out at random as you reset.
Otherwise, it works like every other looper in terms of foot commands. It's a great option for a team of players or the solo player who only needs one loop at a time.
Specs:
Item Weight: 8.8 ounces
Signal Format: Analog
Voltage: 240v
Pros:
Intuitive
Great value
Full of clever features
Cons:
Lack of internal memory locations or USB support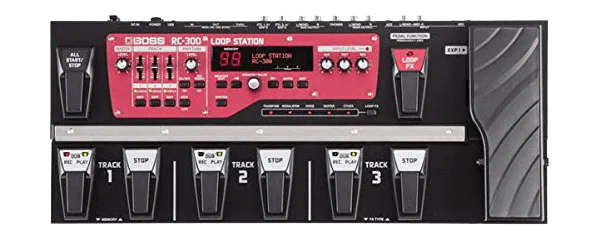 I don't even think it's an argument at this point. The Boss RC-300 Loop Station is the best loop station on the market. It has an incredible number of features and the price tag reflects that, but if you're looking to put on a huge show or get in some serious practice, you won't find a better solution.
You're looking at three independent stereo tracks with their own volume settings and foot controls. Each also has two foot pedals each so there's no crazy foot commands needed that introduce error into your live show.
This loop station has its own built-in effects you can add to each track, an expression pedal on the right side, and a huge control panel that's very intuitive to use. You can plug in any instrument you want through the TRS jacks and even an XLR input with phantom power for vocalists, violinists, drummers or percussionists, and beatboxers.
Any instrument or microphone can be used! You can record up to 99 loops across 3 hours of internal memory. You can export these loops and even import WAV files if you create some loops at home first.
That's not all. There's the Auto Recording feature that keeps you from having to perfectly time the starting position. There's a count-in mode so you can hear one bar of rhythm to help keep you locked in. You can transpose, add a phaser, reverb, flanger, and a lot more to any or all tracks, each with controllable parameters on the expression pedal.
There's even a Loop Quantize feature so if you're off on your starting time it figures it out and gets you back in time. There's far too much to mention here, but you're looking at the loop workhorse right here, the absolute best in the game.
Specs:
Item Weight: 1.1 punds
Signal Format: Analog
Voltage: 9v
Pros:
Years of reliable use, tank tough build
Versatile output options – can route each track into its own output ports
Cons:
Complex, bulky and heavy, not advisable if you just need a basic looper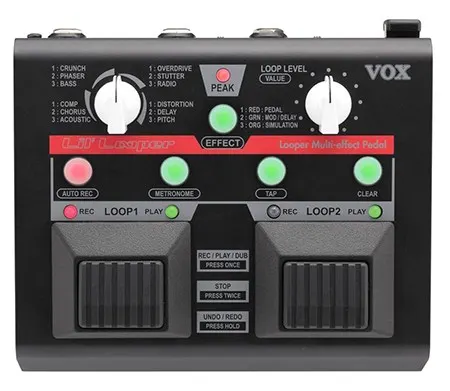 This beast is like two super powered compact loopers mixed with a multi-effects pedal. The VOX VLL1 Lil Looper is a dual pedal with two independant loops, allowing up to 90 seconds with infinite overdubbing on each loop. It's the baby brother of the VOX Dynamic Looper that offers more options than needed at times, which can be confusing in a live performance.
The benefit of just having two tracks with single loops is you don't need to navigate between loops, you get to control two outright, but only two versus up to 99 like others offer. But realistically, who uses more than two? I've personally used at most 3 and have seen videos of people using up to 5. Two covers the spectrum with overdubbing.
What's nice is you get a twelve effects you can add onto the loops and you can tap tempo in a metronome to help you start and stop loops at the right time. But this station features Loop Quantizing too so even if you're off a bit it can sync them together so you never end up with embarrassing micro-mistakes. It even has a balanced microphone input for vocalists and an external foot switch input if needed.
This is the best option for someone who wants another track without having to go through the navigation needed with standard sized pedals.
Specs:
Item Weight: 1.59 pounds
Signal Format: Analog
Voltage: 12v
Pros:
Dual-pedal looper with multi-effects
Cons:
The finish is made with a lot of plastic
More expensive compared to other compact loopers.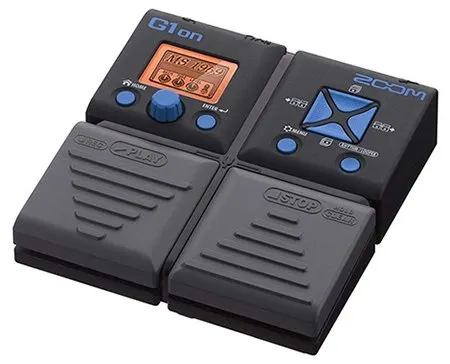 I had to include the Zoom G1on because it not only is a high quality station, but is a very affordable one at that. It's also a full-fledged multi-effects pedal at that. This is a great choice for the guitarist or bassist on a budget trying to stretch every dollar.
It has a ton of features crammed into its tiny chassis, from 100 onboard DSP effects and 14 amplifier models, and you can even use up to 5 effects simultaneously instead of just one or two. It also features a chromatic tuner and rhythm machine with 68 different drum patterns so you can play to a backing track or use it to help you stay on beat.
The LCD panel is a nice touch, giving you a very clear idea of everything you're doing. The selector knob and navigation buttons are easy to use (especially in a hurry). It records in 16 bit / 44.1 kHz resolution for one loop up to 30 seconds in length.
Others offer 5 minute loops and all that but come on, who loops an entire song? You can also overdub this loop as much as needed, so you won't be at a loss to build up an entire orchestration over the course of your performance.
You'll have your main input for your instrument, but you can also plug in a smart phone or any other secondary device into the auxiliary input to play along and pump out of your amp or headphones. There's quite a bit here, and while it's totally suitable for on stage performances, I think this option serves even better as an at home practice tool thanks to all the backing rhythms and the auxiliary input. If you're on a budget, definitely look into this one. It can serve you well with.
Specs:
Item Weight: 0.84 pounds
Signal Format: Analog
Voltage: 9v
Pros:
Strong built
High quality effects
Cons:
FAQs
Today we'll discuss all the features these offer, which to look out for when you start to evaluate a purchase, and we'll be discussing shortly how to use them in general.
From there, you'll be fully capable of making a decision for yourself, and we'll get you started with our current recommendations from the modern line-up of options available. Let's get straight into it.
What is the Looper Effect?
The looper effect isn't like other traditional signal processing effects for audio. The name of the effect summarizes it nicely, because all it does is take a segment of audio and loop it so that it when that segment ends it starts playing again immediately at the beginning.
Whether used for practicing or on stage during live performances by guitarists, vocalists, or any number of other types of instrumentalists, these are typically used to construct the backing tracks to a song one by one until the orchestration is complete and the player can then play lead melodies or improvise over it.
For instance, any series of 2 bar, 4 bar, and 8 bar loops can be added on top of one another to be played together in unison, and each can be paused or added back to the song by pressing one of the many pedals on the effects unit.
For instance, a guitarist may beat box backing drums into the mic and loop them every four bars. Then he or she may establish the chords of the song by strumming rhythm guitar. They can then add a bass line and some ambient vocal harmonies into the chords.
At that point, they're free to play lead guitar and sing the lyrics of the song. In this way, one person can perform the roles of an entire band for an audience, all in real time.
What to Look for in the Best Looper Pedal?
There are really two types of loopers out there. There are the kind that help you loop audio, build songs, practice, and entertain. Then there are the ones that give you all kinds of live time stretching tools, help you export audio to your computer, and try to function more like a multitrack recorder.
I'm of the opinion that the second type are overkill. But those are real features you can look out for and may end up with by pure virtue of buying the best option on the market. If you are hunting for one like this, watch out for how much memory it has and how long of loops it can remember and recall.
But, at the end of the day, any pedal on this list will get the job done of looping and giving you plenty of the expected options of mixing, stopping and starting tracks, etc. I'd say the main thing you want is a well-built chassis, solid like a tank, because there's no pedal you'll step on more than a looper. Regardless if you get a simple pedal or a full blown loopstation, the construction is super important.

How to Use a Looper Pedal
The looper effect is a very non-traditional effect if you even want to call it that. Although some give you access to some effects like equalization or reverb, you likely won't even bother with it. Let me explain why.
Where to Place it in the Signal Chain
There's a very logical guitar pedal order, but that doesn't really matter here. What matters is that you understand that your looper comes last. You want to feed your final signal, after you've tweaked it with all the effects you want, into your looper.
It's job is to capture what you created and then play it back to you over and over, and really nothing more. Once you've recorded it into a loop you can change the overall volume of it, but beyond that you want to get all of the tweaking done before you ever record it. It's faster and more reliable that way, and even better if you can control the volume first.
Understanding the Knob Settings
This discussion can go on forever because there are so many types of loopers, from very simple with one knob to complex multi-track recording systems. The simplest ones will include a switch to start and stop recording, which we could call the Record Button, and a Level knob to reduce or increase the volume of the single loop you recorded.
The more complex (and better to a degree) options that let you record multiple loops will include a lot of LED lights to indicate if you're currently recording or have engaged the Tap Tempo.
It's not easy to press a button in perfect timing and one mistake can screw up the entire show, forcing you to recapture a loop or play with it out of time. The tap tempo helps control the start and stop timing of the recording and is a godsend.
Other than that, for the smaller pedals, you'll get a couple of Memory buttons. These let you navigate through previously recorded loops to mute, delete, or resume them so you can create a live arrangement of a song.
Some do this with buttons and others let you control it with a foot pedal, which is better so you're not squatting down on stage tinkering around instead of performing. Some include prebuilt drum loops to help you stay in time as well.
Full on loop stations are an entirely different monster that we can't cover here. Most of the same knobs and buttons exist, but exist multiple times so you can control it all per track without having to navigate through the memory. You'll want to read the user manual on those!