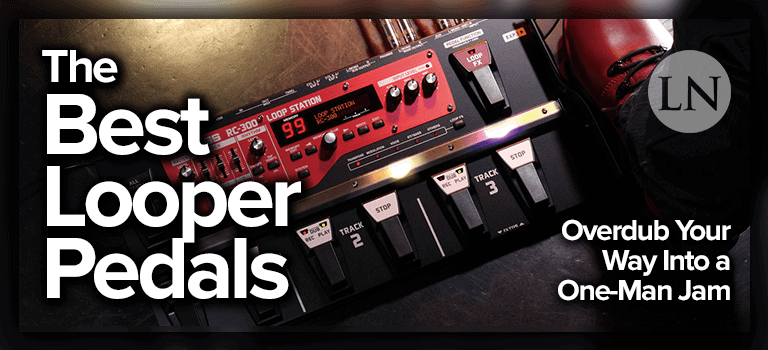 Click here to jump straight to the reviews!
Loopers have come a long way since they first busted on the scene. What started as novelties and practice tools have become unbelievable workstations that can be used to produce full fledged recordings, acting as a multi-track recorder, to helping master instrumentalists build up entire backing tracks over which they improvise and entertain.
Although you can find a looper embedded into a microphone or keyboard, nobody has really embraced this technology like the modern guitarist.
These take very little introduction. We've all seen guitarists use all manner of effects to create entire songs all out of their one instrument, including the sounds of bass, percussion, rhythm guitar, and ambience. Then, they dial in their main tone and shred the most amazing solos over the backing track.
The one-man band has never been happier or more productive. All guitarists would serve themselves well to be familiar with and capable of using a looper pedal, because when the opportunity arises, there's no better way to woo the crowd on stage or practice their craft at home.
Today we'll discussing all the features these offer, which to look out for when you start to evaluate a purchase, and we'll be discussing shortly how to use them in general.
From there, you'll be fully capable of making a decision for yourself, and we'll get you started with our current recommendations from the modern line-up of options available. Let's get straight into it.
What is the Looper Effect?
The looper effect isn't like other traditional signal processing effects for audio. The name of the effect summarizes it nicely, because all it does is take a segment of audio and loop it so that it when that segment ends it starts playing again immediately at the beginning.
Whether used for practicing or on stage during live performances by guitarists, vocalists, or any number of other types of instrumentalists, these are typically used to construct the backing tracks to a song one by one until the orchestration is complete and the player can then play lead melodies or improvise over it.
For instance, any series of 2 bar, 4 bar, and 8 bar loops can be added on top of one another to be played together in unison, and each can be paused or added back to the song by pressing one of the many pedals on the effects unit.
For instance, a guitarist may beat box backing drums into the mic and loop them every four bars. Then he or she may establish the chords of the song by strumming rhythm guitar. They can then add a bass line and some ambient vocal harmonies into the chords.
At that point, they're free to play lead guitar and sing the lyrics of the song. In this way, one person can perform the roles of an entire band for an audience, all in real time.
What to Look for in the Best Looper Pedal?
There are really two types of loopers out there. There are the kind that help you loop audio, build songs, practice, and entertain. Then there are the ones that give you all kinds of live time stretching tools, help you export audio to your computer, and try to function more like a multitrack recorder.
I'm of the opinion that the second type are overkill. But those are real features you can look out for and may end up with by pure virtue of buying the best option on the market. If you are hunting for one like this, watch out for how much memory it has and how long of loops it can remember and recall.
But, at the end of the day, any pedal on this list will get the job done of looping and giving you plenty of the expected options of mixing, stopping and starting tracks, etc. I'd say the main thing you want is a well-built chassis, solid like a tank, because there's no pedal you'll step on more than a looper. Regardless if you get a simple pedal or a full blown loopstation, the construction is super important.

How to Use a Looper Pedal
The looper effect is a very non-traditional effect if you even want to call it that. Although some give you access to some effects like equalization or reverb, you likely won't even bother with it. Let me explain why.
Where to Place it in the Signal Chain
There's a very logical guitar pedal order, but that doesn't really matter here. What matters is that you understand that your looper comes last. You want to feed your final signal, after you've tweaked it with all the effects you want, into your looper.
It's job is to capture what you created and then play it back to you over and over, and really nothing more. Once you've recorded it into a loop you can change the overall volume of it, but beyond that you want to get all of the tweaking done before you ever record it. It's faster and more reliable that way, and even better if you can control the volume first.
Understanding the Knob Settings
This discussion can go on forever because there are so many types of loopers, from very simple with one knob to complex multi-track recording systems. The simplest ones will include a switch to start and stop recording, which we could call the Record Button, and a Level knob to reduce or increase the volume of the single loop you recorded.
The more complex (and better to a degree) options that let you record multiple loops will include a lot of LED lights to indicate if you're currently recording or have engaged the Tap Tempo.
It's not easy to press a button in perfect timing and one mistake can screw up the entire show, forcing you to recapture a loop or play with it out of time. The tap tempo helps control the start and stop timing of the recording and is a godsend.
Other than that, for the smaller pedals, you'll get a couple of Memory buttons. These let you navigate through previously recorded loops to mute, delete, or resume them so you can create a live arrangement of a song.
Some do this with buttons and others let you control it with a foot pedal, which is better so you're not squatting down on stage tinkering around instead of performing. Some include prebuilt drum loops to help you stay in time as well.
Full on loop stations are an entirely different monster that we can't cover here. Most of the same knobs and buttons exist, but exist multiple times so you can control it all per track without having to navigate through the memory. You'll want to read the user manual on those!
---
The Best Looper Pedals

Note: Each image and text link leads to Amazon.com where you can read additional user reviews, find specific technical detail listings, see additional product options and sizes, and make your purchase.
Now that we are familiar with looper pedals and have a better idea of which features are important and how they're used in each musical environment, it's time to check out our bird's eye view of the marketplace to see what the best choices are for your hard-earned money.
We'll have no specific order below, though we will point out our top pick of the group. Our two other "best in class" picks can be seen at the top of this article in the comparison table. But make sure to give each equal consideration since they all made the list, meaning they met and exceeded our expectations.
Also, for convenience, we'll split these into two categories. Many newcomers may be looking for loop "stations" but be thinking of them as "pedals," so we'll include both, but in different sections. If you're looking for a loop station just scroll on down and you'll see them.
Best Looper Pedals
The following picks come in the classic stompbox size as you'd expect with most other guitar pedals. These are the kind most guitarists take on stage due to their simplicity of use.
Best Loop Stations
These are the wider loop stations that often include several switches and tracks and can even function as multi-track recorders. They offer a much broader variety of features for home and at the studio that aren't always wise to have on stage, unless you're a one-man band.
These are the Best Looper Pedals Out There
When it comes to loops, you'll need to decide if you want a pedal or a bigger loop station, based on your live show style. Within the pedals you'll need to choose either a very minimal and simple option or one with all of the features.
When it comes to loop stations you'll have to choose from a full blown recording suite or an easier to use choice with less features that act more as expanded pedals.
Navigating through loops is the annoyance, and if you don't like that then these simpler stations can be a great replacement. Either way you go, we've presented the market's top options for the best looper pedals above.