Beyonce's Net Worth is $450 Million
| | |
| --- | --- |
| Name | Beyonce |
| Other Names | Beyoncé Giselle Knowles, Queen Bey |
| Birthday | September 4th, 1981 |
| Birth Place | Houston, Texas |
| Star Sign | Virgo |
| Height | 5ft 6 or 167.6 cm |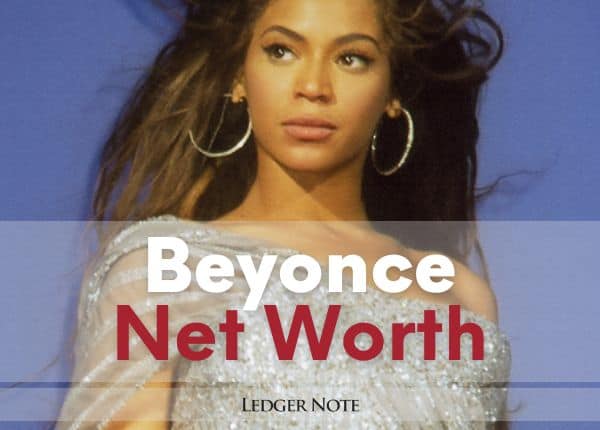 Beyonce is an artist, activist and cultural touchstone that really requires little introduction. Since founding Girls Tyme, the group that would go on to be known as Destiny's Child, Beyonce has undeniably been at the forefront of popular culture. Her career highlights are well known, but they all bear repeating.
After Destiny's Child went on hiatus in 2000 to allow the band members to pursue individual projects and ambitions, Beyonce's career as a solo artist took off. In 2002, she made her theatrical debut in Austin Powers in Goldmember alongside Mike Myers, and her song Work It Out was released as the lead single for the soundtrack.
2003 was a transformational year for Beyonce as she received critical acclaim and public recognition for her debut solo album Dangerously in Love and the feature on her then-boyfriend, now husband, Jay-Z's single 03 Bonnie & Clyde.
Her career has gone from success to success, as we will see below.
But you are here today to learn what Beyonce's net worth is and how she earned that money, so let's answer those questions at once.
What is Beyonce's Net Worth?
Beyonce's is estimated to be worth over $450 million. As we'll soon see, she has earned this astonishing net worth from many different sources, including her musical success and wise business decision.
Trivia: Beyonce was only nine years old when her first band, Girl's Tyme, was formed
How Much Money Does Beyonce Make from her Music?
Put simply, Beyonce is one of the best-selling artists of all time, with both Destiny's Child and her solo albums selling nearly thirty million physical copies each, no mean feat given the consumer market has been moving away from traditional purchases since the beginning of her recording career.
As a measure of how robust her popularity has been through a changing market, a recent update of the RIAA's certifications, of which Beyonce has nearly 70, suggests that Beyonce's digital sales stand at over 110 million. Beyonce's streaming stats are also huge, with nearly fifty million Spotify hits a month generating somewhere in the region of two million dollars annually. Her duo with Ed Sheeran features as one of the most streamed songs of all time on Spotify.
Her legendary live shows have also proven popular and profitable over the years. For example, her third concert tour, The Beyonce Experience, grossed $90 million, a figure absolutely dwarfed by the $256 million in ticket sales alone brought in by her Formation tour in 2016.
Trivia: Alongside her many other talents, Beyonce is a keen filmmaker, having learned video editing through working with her own production company back in 2008. She is listed as director for 4 films, including Beyonce: Lemonade (2016) and Homecoming (2019).
How Much are Beyonce's Business Ventures Worth?
Although the numbers are hard to pin down, it's clear that Beyonce's choice to relaunch her Ivy Park brand through Adidas was a wise one. She managed to gain full ownership of the brand beforehand after she buying out British retail mogul Phillip Green. Forbes reported that the deal with Beyonce, who also acts as a 'creative partner' for the brand, was part of an overall push by Adidas to reverse sales that fell in consecutive years at the beginning of the 2010s. The brand struck a similar deal with no other than Kanye West and his brand Yeezy.
She owns minority stakes in several other businesses, such as flavored water brands Lemon Perfect, WTRMLN WTR and French fashion brand Destree, alongside fellow musician Rihanna.
Alongside her various business investments, Beyonce also founded Parkwood Entertainment, LLC, a management, production and entertainment company, in 2010.
Trivia: She has even been described as recession-proof by US investment bank Goldman Sachs.
What Other Assets Does Beyonce own?
Along with her rap-royalty husband Jay-Z, Beyonce owns a $90 million mansion in Bel Air, a $40 million private jet and a $13 million car collection.
Although the figures were inflated by several sources (some suggesting a hard to believe return of up to $300 million), Beyonce's decision to be paid in shares for her corporate show for the ride-share giants, Uber, in 2015 has likely proven to be a savvy one providing she sold her stake at the company IPO. She may have indeed netted an additional gain of $3 million.
Trivia: The private jet was purchased outright by Beyonce, as a gift for husband Jay-Z to mark the first father's day after the birth of the couple's first child, Blue Ivy Carter.
Private Life
Beyonce shares very little about her personal life and even claimed that her quality of life depends on her privacy. In 2008, she married mega-star hip-hop singer, producer and entrepreneur Jay-Z with whom she has three kids (Blue Ivy, born in 2012 and twin Rumi and Sir, born in 2017). Her relationship hasn't always been smooth sailing (Jay-z admitted to cheating in a 2017 interview with the New York Times), and she has sometimes used turbulence in her marriage for musical inspiration.
However, we can tell you a lot more about her philanthropic activities. Despite the hard work, enormous successes, and lavish lifestyle that Beyonce enjoys, she has remained grounded and in touch with the struggles of others throughout her career, as shown by her long-standing dedication to charitable pursuits. From setting up a foundation, providing aid in the wake of Hurricane Katrina to donating to global foodbank networks, the Queen knows how to give back.
In addition, Beyonce has used her superstar status to advocate for the Black Lives Matter movement and racial injustice issues in general, including her famous Black Panther dancers at the Super Bowl Halftime Show in 2016.
Trivia: Beyonce takes her first name from her mother's maiden name, which is itself a clerical error, a misspelling of the surname Beyince.
There we have it, a career and portfolio as diverse, considered and well-maintained as we may well have come to expect from Queen Bey. As we've discussed, although her ongoing position at the very top of the tree musically accounts for the bulk of Beyonce's net worth, she has also spent her career making big moves elsewhere.
Singer, dancer, businesswoman, mother, choreographer, designer, activist, we could go on, but we won't; it is always worth restating just how broad Beyonce's career has been up to this point.