Bon Jovi's Net Worth is $410 Million
| | |
| --- | --- |
| Name | Jon Bon Jovi |
| Other Name | John Francis Bongiovi |
| Net Worth | $410 Million |
| Birth Date | March 2, 1962 in Perth Amboy, New Jersey |
| Zodiac Sign | Pisces |
| Height | 5'9″ |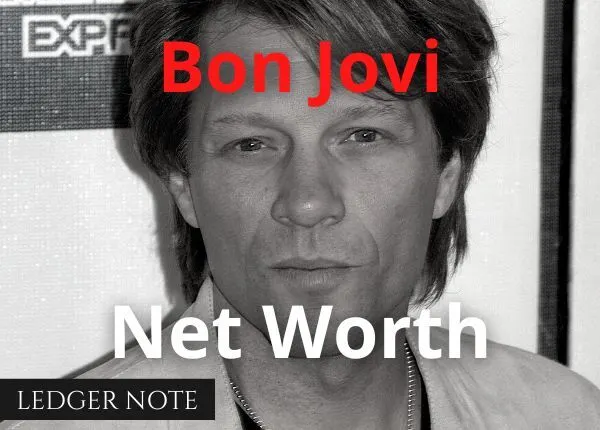 Jon Bon Jovi is the frontman of the seminal rock band Bon Jovi and considered one of the greatest rock singers in history. Bon Jovi's long career in music began when he was 13; he has written some of the biggest songs of the 1980s, such as "Livin' on a Prayer", "Wanted Dead or Alive" and "You Give Love a Bad Name". He is also an actor and, more recently, an investor in sports franchises. Here is a closer look at the net worth of Jon Bon Jovi in 2022.
How Much is Bon Jovi Worth?
Bon Jovi's net worth is $410 million. He's the founder and frontman of the popular rock band Bon Jovi who successfully bridged the gap between pop and hard rock. The band was inducted into the Rock & Roll Hall of Fame in 2018 and has been nominated for nine Grammy Awards, winning once.
Jon Bon Jovi has also appeared in multiple films, including "Moonlight and Valentino" (1995), "U-571" (2000), and "Cry Wolf" (2005), as well as television shows, such as "Sex and the City", "30 Rock", and "The West Wing". The impressive net worth of Bon Jovi is the result of his diligent work ethic and the longevity of his career.
Trivia: Despite Bon Jovi's massive success, Jon comes from humble beginnings. He still lived with his parents in Sayreville, New Jersey, while recording the band's first three albums.
How Much Does Bon Jovi Make from His Music?
Bon Jovi has sold over 130 million albums worldwide with his band, making him one of the richest rock stars in history. Their catalog includes 15 studio albums, three live albums, five compilation albums, five EPs, 66 singles, 14 video albums, and 71 music videos. Jon, on his own, has released two studio albums, one live album, two compilations, and 16 singles.
The band currently has over 21 million monthly listeners on Spotify, while Jon, as a solo artist, has around 1.9 million. They're also a prolific touring group. Their 2010 world tour grossed over $201.1 million — half of which came from North America alone. Their 2017 "The House is Not for Sale" tour grossed $31 million.
Trivia: In 2013, the group ended their deal with Mercury Records after signing to the label in 1983 and releasing 13 albums. They are currently signed to Island Records.
How Much is Bon Jovi's Business Ventures Worth?
Jon is also an avid sports fan and has expressed interest in investing in various franchises. In 2004, he became a minority owner in the Philadelphia Soul, a team in the Arena Football League. Jon appeared in several commercials for the AFL alongside former Denver Broncos quarterback Jon Elway, co-owner of the AFL's Colorado Crush. However, he has since sold his ownership stake in the team.
In 2011, he pursued purchasing 15% of the Atlanta Falcons for $150 million but the NFL lockout occurred the following month, and Bon Jovi worried it would negatively impact the team's $1-billion valuation, so he backed out of the deal.
Jon also released a rose wine called Diving into Hampton Water in 2018 with his son Jesse. He has admitted that his Jesse mostly runs the business, and he is more of a silent partner. Jesse worked on it as a side project with his college roommate Ali Franklin. The two then showed it to Jon, who was immediately impressed and introduced them to French winemaker Gerard Bertrand, who helped bring the project to life. It's since been very successful.
Trivia: Jon almost purchased a stake in the Buffalo Bills in 2014 but was thwarted by Donald Trump. Trump was also interested in investing in the Bills, so he allegedly conspired with Republican operative Michael Caputo to start a grassroots campaign to turn the people of Buffalo against Bon Jovi.
What Other Assets Does Bon Jovi Own?
Throughout his career Bon Jovi has accumulated a large portfolio of real estate.
In 2020, Jon purchased a $43-million mansion in Palm Beach. He bought his previous Florida property for $10 million, before tearing it down and building a new mansion in its stead. He sold that property for $20 million.
After purchasing the mansion in Palm Beach, he decided to liquidate some of his real estate portfolio.
In February 2022, he listed his Manhattan pied-a-terre for $22 million, which was over $3 million more than he paid for it four and a half years prior. The 4,000-square-foot West Village apartment has four bedrooms and 4.5 bathrooms and features gorgeous oak floorboards, floor-to-ceiling windows, multiple Juliet balconies, and a small terrace with gorgeous city views.
He also listed his New Jersey mansion for $20 million in July 2019. The 18,000-square-foot home sits on 15 acres of land, including 700 feet of real estate along the Navesink River. It also has seven bedrooms, seven bathrooms, five powder rooms, coffered ceilings, hardwood and marble floors, and a courtyard pool with a cabana.
Trivia: Bon Jovi's New Jersey mansion was designed by architect Robert A.M. Stern, the former dean of the Yale School of Architecture.
Bon Jovi Personal Life
Jon Bon Jovi is the son of former marine and barber John Bongiovi Sr and Playboy Bunny-turned-florist Carol Sharkey. He worked several regular jobs while forming Bon Jovi and wrote "You Give Love a Bad Name" at his parents' house in Jersey. Jon married his high school sweetheart Dorothea Hurley in 1989. They have four children together: Stephanie, Jake, Jesse, and Romeo.
Jon founded the Jon Bon Jovi Soul Foundation, a non-profit focused on hunger and homelessness in the U.S. He's also been outspoken on his political beliefs and has endorsed Democratic presidential candidates such as John Kerry and Joe Biden.
Trivia: Jon Bon Jovi is a blood relative of Frank Sinatra. Frank was Bon Jovi's great-uncle on his father's side.
Selected Discography
| | | |
| --- | --- | --- |
| Work | Release Date | U.S. Sales |
| Bon Jovi | January 21, 1984 | 1,000,000 |
| 7800° Fahrenheit | March 27, 1985 | 1,000,000 |
| Slippery When Wet | August 18, 1986 | 13,364,000 |
| New Jersey | September 19, 1988 | 7,130,000 |
| Keep the Faith | November 3, 1992 | 2,000,000 |
| These Days | June 27, 1995 | 1,000,000 |
| Crush | June 13, 2000 | 2,071,000 |
| Bounce | October 8, 2002 | 500,000 |
| Have a Nice Day | September 20, 2005 | 1,000,000 |
| Lost Highway | June 19, 2007 | 1,000,000 |
| The Circle | November 10, 2009 | 500,000 |
| What About Now | March 8, 2013 | 500,000 |
| Burning Bridges | August 21, 2015 | – |
| This House Is Not for Sale | November 4, 2016 | – |
| 2020 | October 2, 2020[ | – |
Notable Award Wins
| | | | |
| --- | --- | --- | --- |
| Year | Nominee/Work | Award | Category |
| 1988 | Bon Jovi | American Music Awards | Favorite Pop/Rock Band/Duo/Group |
| 2004 | Bon Jovi | American Music Awards | Award of Merit |
| 2007 | "Who Says You Can't Go Home" with Jennifer Nettles | Grammy Awards | Best Country Collaboration with Vocals |
| 2014 | Bon Jovi | Top Touring Artist | Billboard Music Awards |
Concert Tours
| | |
| --- | --- |
| Tour Name | Tour Date |
| Because We Can (concert tour) | February 2013 – Decembre 2013 |
| Bon Jovi Live | February 2011 – July 2011 |
| Bon Jovi Live! | September 2015 – October 2015 |
| Bounce Tour | October 2002 – June 2002 |
| The Circle Tour | February 2010 – December 2010 |
| Crush Tour | 2000 |
| Have a Nice Day Tour | November 2005 – July 2006 |
| I'll Sleep When I'm Dead Tour | 1993 |
| Keep the Faith Tour | 1993 |
| Lost Highway Tour | October 2007 – 2008 |
| New Jersey Syndicate Tour | October 1988 – February 1990 |
| One Wild Night Tour | March 2001 – July 2001 |
| Slippery When Wet Tour | July 1986 – October 1987 |
| These Days Tour | April 1995 – July 1996 |
| This House is Not for Sale Tour | February 2017 – October 2019 |