Kelly Clarkson's Net Worth is $50 Million
Think way back to that first season of "American Idol", and star-in-the-making Kelly Clarkson will come into view. Her talent and charisma, combined with a ton of hard work, took her from talent-show standout to music icon and TV talk-show mainstay. It also took her net worth to $50 million.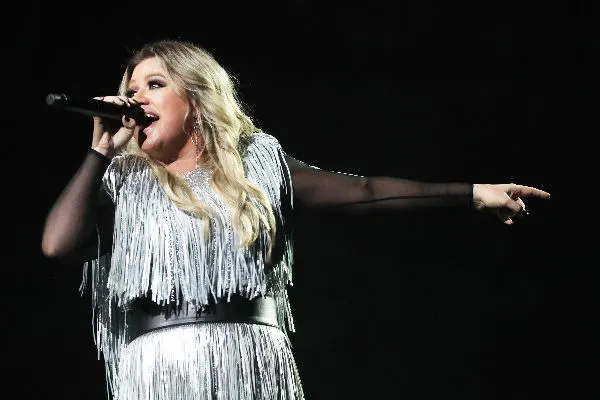 Let's toast to Kelly, the ultimate self-made girl. She dictated her own narrative, and is proof-positive that dreams can come true. She has since used her powerful voice (in some cases, literally) to inspire and make a difference. In other words, Kelly has earned every cent of that net worth but is willing to share in her good fortune. Ready for the details on just how she built her empire?
| | |
| --- | --- |
| Name | Kelly Brianne Clarkson |
| Profession | Singer, Songwriter, Television Personality |
| Net Worth | $50 Million |
| Birthplace | Fort Worth, Texas, USA |
| Birthday | April 24, 1982 |
| Nationality | American |
| Height / Weight | 5'3″ / Varies |
| Relationship Status | Divorced |
From Humble Beginnings to 'Idol' Stardom: Kelly's Early Career and Breakthrough
Kelly Clarkson was born right in the heart of Texas—Burleson, to be exact—on April 24, 1982. She spent her childhood under the watchful eye of her mama, an English teacher, and honing her voice for her dad, an engineer. It was her school choir instructor who noticed her killer pipes back when she was in just seventh grade. Bolstered by this seal of approval, she took a leap of faith and bolted out west to Los Angeles straight after high school. Her first stint out west ended in disappointment, however, and she returned to Texas.
But, as we know, that big break finally came in 2002 when she auditioned for Fox's new talent competition "American Idol". The show was huge. Americans from coast to coast tuned in and voted for their favorite performers. Kelly's combo of a killer voice, charm you couldn't resist, and a sense of humor that was just infectious hit the sweet spot with viewers.
She would win that first edition of the series. Suddenly she was holding a cool million in prize money and an amazing recording deal with RCA Records. Not too long after—like, two weeks!—her first single, "A Moment Like This," dropped. It was the start of something huge.
A Multi-Million-Dollar Journey: Kelly Clarkson's Music Career Earnings
Upon vacating the "American Idol" stage, Kelly Clarkson—million-dollar recording contract from RCA Records in hand—embarked on her superstar journey. She launched sold-out tours, released hit albums, started her own talk show. She even made a stop on "The Voice" where she quickly became everyone's favorite coach. All that hard work translated into serious dough.
Hard work, and amazing music. Take her second album, Breakaway (2004), for instance. It sold over 11 million copies worldwide. On the record, she turned up the heat, swapping her pop sound for a bit of rock, and her fans totally dug it, sending her fame sky high.
It's not just about golden vocal cords, though. Kelly is extremely likable, and that comes out when she's onstage. She has racked up a cool $60.5 million in concert revenue throughout her career. Just in 2019, her "Meaning of Life" tour cashed in a sweet $17.5 million, selling out every single date. Back in 2006, her "Addicted" tour hit $1.385 million in just two dates.
And let's not forget those big, fat paychecks from "The Voice". Whenever Clarkson got behind that judge's desk, she was banking $14 million a season, which works out to $560,000 an episode.
Diversifying Income: The Golden Streams Fueling Kelly Clarkson's Fortune
Kelly does not sit on her music earnings (though she totally could). She's spreading her wings into TV, property, and corporate tie-ups.
The most notable must be her own daytime chat show, "The Kelly Clarkson Show", launched in 2018. Not only did it bag her a couple of shiny Daytime Emmys in 2020 and '21, it also gave her a new cash cow to milk, all the while letting her bubbly personality run wild on-screen (and gifting the world her amazing Kellyoke performances).
She has also stacked the green ever higher by plugging brands, thanks to her down-to-earth and relatable image. TreSemme, Amazon, Apple, and Toyota, to name just a few, have all contributed to the thickness of her wallet.
Kelly has gone one step further with retail giant Wayfair, becoming their first-ever brand ambassador in 2020. She even launched her own furniture and decor line, conveniently named "Kelly Clarkson Home," the same year. This little venture not only added to her moolah but also sprinkled a little something extra into her brand.
The Wealth of Kelly Clarkson: Notable Possessions and Philanthropic Initiatives
After calling it quits with her ex (more on that later), she treated herself to a $5.4–million five-bed pad in Toluca Lake. That same year, she nabbed a $17-million ranch in Montana, using it as her hideout during the first days of the pandemic. In a plot twist, though, she agreed to hand over a 5% slice of it, worth $908,800, to her ex Brandon Blackstock.
Her collection of cribs also included a bespoke farmhouse with eight bedrooms, a private pool, and a guesthouse in Encino, all of which she once shared with Blackstock. But after the divorce, the couple bade farewell to the property, selling it for $8.2 million in September 2021. And let's not forget the lakeside place in Tennessee, which despite having a humongous swimming pool and a grand foyer, was let go for $6.3 million in July 2021, a million less than their initial asking price.
Apart from houses, Kelly's flaunting her wealth on four wheels, too. She has in her garage a Lincoln Navigator, a Range Rover SV Autobiography, a Mercedes Viano, and last but not least, a Chevrolet Camaro SS. Yep, she's zooming around in cars that most of us dream about.
Despite her luxurious lifestyle, she's all about giving back. She teamed up with P!nk in February 2023 to auction off a unique soundwave artwork featuring their song "Broken & Beautiful". Together they raised $50,000 for No Kid Hungry. Plus, in 2022, she donated to local charities all over the U.S. in her 'Good Neighbor of The Year' segment on her TV show.
The Personal Tapestry: Diving into Kelly Clarkson's Life Behind the Scenes
Let's go back to the beginning, shall we. Kelly was born to Jeanne Ann Taylor and Stephen Michael Clarkson in Burleson, Texas. But it was mostly her mom she grew up with after her parents split up. She has two siblings. Though they are spread across the country, Kelly has spent time rebuilding bridges to ensure they remain a part of each other's lives.
Then entered Mr. Charming into her life: Brandon Blackstock. He is the son of Narvel Blackstock and stepson of country queen Reba McEntire. Sparks flew at the rehearsal for the Academy of Country Music Awards back in May 2006 and, in December 2012, they got engaged. By October of the following year, they're hitched! They became proud parents to two cutie pies: River Rose and Remington Alexander.
River's the elder sibling and was born on June 12, 2014. Just like her momma, River loves the spotlight and has accompanied Kelly to a few events, including the fancy Nashville Christmas Parade. Fun fact: Kelly's 2016 children's book, River Rose and the Magical Lullaby, was inspired by her! Then there is Remington (a.k.a. "Remy"). Born on April 12, 2016, the little guy had some hearing issues at first, but Kelly made sure he got all the help he needed.
After a roller-coaster ride of seven marital years together, Kelly and Brandon decided to part ways, citing differences they couldn't overcome. The proceedings wrapped in March 2022, with Kelly buying some peace and closure from the rough time with court-ordered payments, including a one-time payment to the tune of $1.3 million to Brandon.
Overcoming Hurdles: Major Events in Kelly Clarkson's Life
We've mentioned her divorce from Brandon Blackstock. The split, which took its toll on her family, was not made any easier by the coverage the tabloids dedicated to her heartache.
Her bank account also ached. We're talking about a whopping $115,000 a month that Kelly's court-ordered to cough up in alimony until January 2024. Add another monthly payment of $45,600 for child support. (This is on top of that $1.3-million one-time payout, by the way).
Next on the drama train? A nasty report in Rolling Stone from May 12, 2023. Some of those associated with "The Kelly Clarkson Show" had been speaking disparagingly about their experiences, from complaints about being underpaid to allegations of working crazy overtime. They reckon these working conditions took a toll on their mental health. Kelly hasn't said her piece on this one yet, though the plaintiffs maintain Kelly had little to do with their grievances.