Post Malone's net worth is $45 million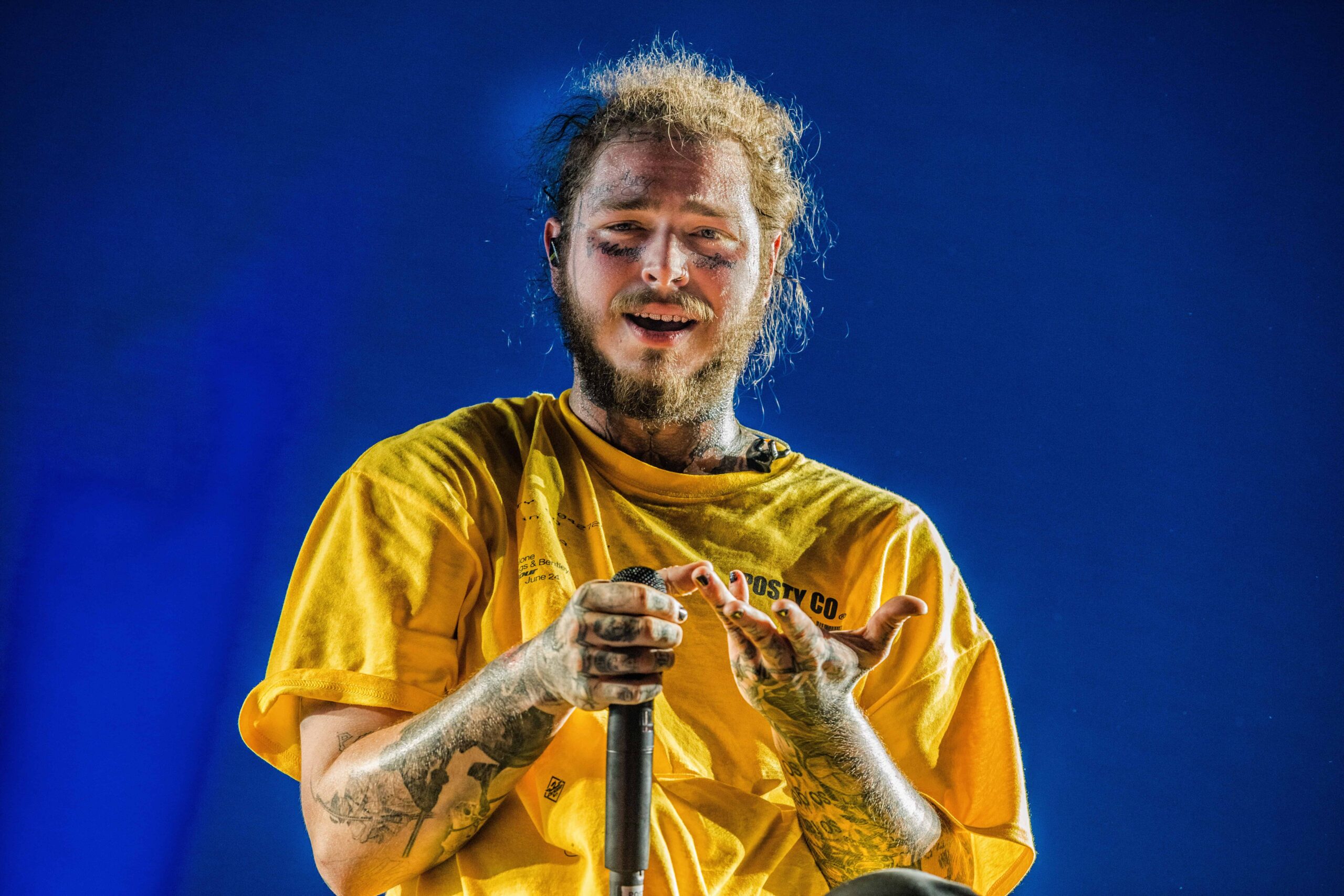 Post Malone, or as his mom named him, Austin Richard Post, is the definition of cool. He's breaking barriers and making serious waves in the music scene. Born on a firework-filled day, July 4, 1995, in Syracuse, New York, he was raised by his DJ dad Rich Post who raised him right, feeding him a steady diet of solid music from a young age.
His jams? An amazing mashup of everything: hip hop, rock, country, you name it. But Malone doesn't just keep this versatility in his music. Nope, his bank account is just as diverse with a killer net worth of $45 million in 2023.
| | |
| --- | --- |
| Name | Austin Richard Post |
| Profession | Musician, Songwriter, Record Producer |
| Net Worth | $45 million |
| Birthplace | Syracuse, New York, USA |
| Birthday | July 4, 1995 |
| Nationality | American |
| Height / Weight | 6'0″ (183 cm) / Not Publicly Known |
| Relationship status | Engaged |
The Journey to Stardom: Post Malone's Early Career and Breakthrough
Believe it or not, it was a video game—Guitar Hero—that sparked Malone's interest in strumming an actual guitar. Using YouTube tutorials, he learned how to do so (tripping over a few chords, of course) and in his own words, "You gotta start somewhere. You just gotta stick with it, cause a lot of people wanna give up whenever they first start something." He even dabbled in heavy metal before settling into his signature melody-driven rock and later, hip-hop vibe.
2015 proved to be the game-changing year for Malone. He dropped "White Iverson" on SoundCloud, getting head nods from hip-hop big shots like Wiz Khalifa and Mac Miller. And in no time, he signed a deal with Republic Records. Plus, Justin Bieber was so impressed he invited him to open for his shows and even feature on Malone's 2016 album Stoney.
Stacking the Notes: Post Malone's Revenues from His Music Career
Though Post Malone is still a relative newcomer to the music business, his albums have earned him plenty. They have been rockin' the top charts, with countless songs hitting platinum. For example, Beerbongs & Bentleys drilled its way to platinum status in just four days! Plus, Hollywood's Bleeding flew off the virtual shelves, selling 489,000 copies right out of the gate.
He has also been making money through his tours. His epic "Beerbongs & Bentleys" global trot ran from April 2018 to August 2019 and drew $60 million. In early 2020, Posty was stuffing his pockets with over $1.3 million a city during his "Runaway" tour. It was brought to a halt in mid-March because of the pandemic, but you feel as though the tour was only just picking up steam and that per-city figure would grow.
Diversification: The Flip Side of Post Malone's Net Worth
Post Malone's money moves aren't limited to the studio; the young artist is savvy enough to spread his coins across different cash-making projects.
Last August, he ventured into the eSports scene by becoming part owner of Envy Gaming. With eSports blowing up globally, this is one clever way to cash in on the digital gold rush.
Then there's the sweet deal he's got going with massive brands like Bud Light, HyperX, and Crocs. Beyond fattening his wallet, these partnerships are boosting his fame and increasing his global cred.
He's even got wine game. What began as dinner talk became a reality when he unveiled Maison No. 9, a rose from the south of France. Along with two other investors, Post Malone is sure to make this endeavor as successful as everything else he has put his mind to.
Assets and Endeavors: A Peek into Post Malone's Extravagant Possessions
So it turns out, Post Malone doesn't just rock it onstage, but also offstage with some drool-worthy possessions. Take his Utah digs, for instance. He's got this gem registered under "Wow Cool House" (yeah, you read that right!). Back in 2018, he forked out $3,093,750 for a place with five bedrooms and seven bathrooms spread over 13,000 square feet, all sitting on almost seven acres in Salt Lake City. Yes, the man lives large!
Besides being a sucker for cool property, he's got an insane car collection. His garage is a shrine of luxury – with stunners like a Bugatti Chiron, McLaren Senna XP, Lamborghini Aventador LP750-4 SV, and a Rolls-Royce Phantom taking center stage. It's not just a place to park his rides, but a testament to his love for fancy wheels.
And just when you thought Malone's indulgence might be a touch over the top, he shows us that he also enjoys sharing his fortune. In 2022, he got in on the Twitch action by setting up a charity streaming event series called "Gaming for Love". Those game streams managed to rake in around $196,066. As if that wasn't enough, the big-hearted guy added another $40,000 in collaboration with his partners, contributing to a total cash-in of over 200K for multiple charities. This act of giving earned him major kudos and showed he's keen on using his wealth and fame to make a difference.
Off-Stage Whispers: Inside Post Malone's Personal Life
Post's life isn't just about epic tunes and killer riffs—it's also about his wicked personal style (how has it taken this long to mention his stellar braids and tats!). As for his love life, he popped the question to his long-term girlfriend not once, but twice. The first time was a little impromptu, fueled as it was by alcohol during a sojourn in Vegas. When that didn't go as planned, he had to do a sober re-do, which thankfully got a yes.
Another major life moment rocked Post's world in May 2022, as he and his fiancée welcomed their first child, a daughter. You won't find any further details regarding the bundle of joy online though—Post and his partner aren't sharing the name or exact birth date.
For all his spotlight moments and crazy public life, Posty really values his privacy when it comes to his relationships and being a dad.
Encounters with Controversy: Major Incidents in Post Malone's Journey
Back in 2017, Post Malone ruffled some feathers with some remarks about traditional hip hop, leading some to accuse him of cultural appropriation. Clearing the air, he later explained that it was all about his personal taste in music and not a jab at the whole genre, smoothing things over with those in the music business who took umbrage with his commentary.
Then in 2020 Tyler Armes claimed he was due co-writing credit for Malone's smash hit "Circles". The dust finally settled in 2023 when both parties agreed on a deal but the terms are hush-hush so nobody knows how big of a dent it left on Malone's wallet.
Media
net_worth
net_worth
early_career_and_initial_breakthrough
revenues_from_primary_career
revenues_from_primary_career
other_revenues
notable_possessions
notable_possessions