Rihanna Is Worth $1.7 Billion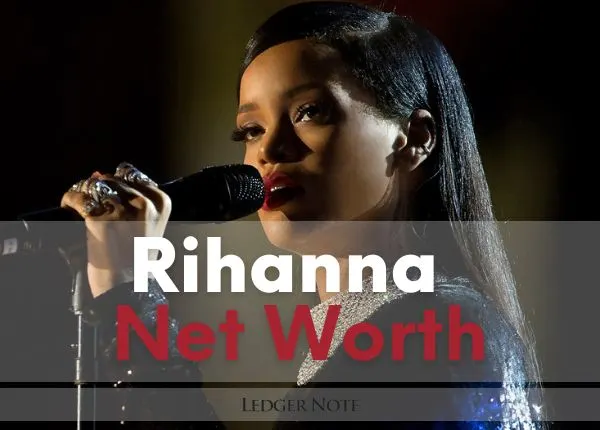 | | |
| --- | --- |
| Name | Rihanna |
| Other Name | Robyn Rihanna Fenty |
| Net Worth | $1.7 Billion |
| Birthday | 20 February 1988 in St. Michael Parish, Barbados |
| Star Sign | Pisces |
| Height | 5ft 8 (173 cm) |
Early Life
Rihanna was born in Saint Michael, Barbados, and grew up in Bridgetown. She is the oldest of three siblings and has two brothers, Rorrey and Rajad Fenty. She attended Charles F. Broome Memorial Primary School and then the Combermere High School.
Rihanna had a turbulent childhood, largely overshadowed by her parents' marital issues and her father's drug and alcohol addictions. Her parents eventually divorced when she was 14.
Following this distressing period, Rihanna turned to music, forming a trio with two school friends. She got her big break in 2003 when she was introduced to record producer Evan Rogers who was vacationing in Barbados at the time. She signed her first record deal in 2005 at the age of 17 with Def Jam.
Trivia: At the same time that Barbados rejected Queen Elizabeth II as head of state, Rihanna was declared a national hero of the island in 2021 and is only the second woman out of 11 recipients to be honored.
How Much Does Rihanna Make Through Her Music?
Rihanna has released eight albums, two remix albums, one reissue, seven box sets and three EPs. Since she burst onto the scene in 2005, the "This Is What You Came For" singer has sold over 60 million album units and 215 million digital tracks globally. All of this is underpinned by over 52,000,000 monthly Spotify listeners, proving that her fanbase – the Rihanna Navy – is going strong.
In terms of touring, Rihanna has enjoyed success after success. Her 2013 "Diamonds" tour in support of her Unapologetic album grossed over $141 million with 84 out of 87 concerts sold out, which means around 1.6 million people saw the pop star perform. It was such a smash hit that extra dates were added.
Trivia: In 2012, Rihanna took 150 journalists and 35 fans and flew them around the world for a week on her Apologetic album tour. However, the PR stunt was a disaster and Rihanna spent a majority of her time in a panic room!
However, success wasn't immediate. Rihanna didn't see major touring profits until her 2010 "Last Girl On Earth" tour supporting her Rated R album grossed $40 million. It is reported that the total profit of her tour a later year to promote her Loud album was $90 million. Her latest tour, ANTI, which ran from 2015 to 2016 and included 75 shows, grossed $110 million, second only to her top-earning "Diamonds" tour. The singer hasn't toured since, instead focusing on her business interests and her family. Nevertheless, her next album is highly anticipated and will surely make a splash when it drops.
Rihanna performed at the Super Bowl LVII half-time show on February 12, 2023. This was her first live performance in five years, following her performance at the 60th Grammy Awards on January 28, 2018.
Trivia: Rihanna has won nine Grammys and has been nominated for 33.
How Much Are Rihanna's Businesses & Investments Worth?
The 34-year-old is the founder of Fenty Beauty, Fenty Skin, and Savage X Fenty.
Rihanna launched Fenty Beauty in 2017 under her Fenty Fashion House umbrella, in partnership with luxury brand LVMH. However, while Fenty Maison ceased operations in 2021, Rihanna's various lines continue. She owns a 50 per cent stake in Fenty Beauty, which is now available in 17 countries. The line reportedly made $100 million in its first 40 days and continues to be a success, ensuring Rihanna a steady income stream.
Alongside Fenty Beauty, Rihanna owns a 30 per cent stake in the Savage x Fenty lingerie brand, which is worth an estimated $270 million. In March 2022, the company was reportedly considering an IPO valued at $3 billion, so Rihanna's 30 per cent stake could transform into some big bucks in the near future.
Trivia: When Rihanna launched her business House of Fenty, in partnership with LVMH, she became the first woman of color to lead a brand of the LVMH group. Another interesting fact: Fenty is the first new clothing brand launched by LVMH since 1987.
What Assets Does Rihanna Own?
Businesses aren't the only thing Rihanna has invested in over the years. The superstar is also a major player in the world of real estate, having made her first purchase – a $6.9 million Beverly Hills mansion – in 2009. She sold it three years later at a loss of over $1 million and opted instead to rent, paying $65,000 a month for a stunning Pacific Palisades mansion with seven bedrooms and nine bathrooms.
Rihanna finally put down roots in Barbados in 2013 with the purchase of a $22-million villa, which includes five ensuite bedrooms, a private gym, and a 24/7 concierge service.
Rihanna also owns a Wilshire Corridor condo, bought for $925,000 in 2015, and a $6.8-million Mediterranean-style villa in the Hollywood Hills. Her most recent purchase? Two neighboring Beverly Hills mansions, one for $13.8 million and the other for $10 million!
Alongside her ever-expanding property portfolio, Rihanna has a considerable car collection valued at $2.4 million and includes such cars as a $330,000 Lamborghini Aventador.
While it is not clear whether she owns a private jet, Rihanna is a frequent user and was seen in August 2022 flying with her newly born son and her partner, A$AP Rocky.
Trivia: Rihanna isn't just a singer and dancer but an actor too with major roles in films including "Battleship", "Valerian and the City of a Thousand Planets", "Ocean's 8". She also lent her voice to the children's animated movie Home.
Rihanna's Personal Life
As well as making music headlines, Rihanna has made headlines for her personal life. Notable ex-boyfriends include Hassan Jameel, whom she dated for three years before ending the relationship in 2020.
Others include Chris Brown, whom she dated in 2007-2009. The two split following a physical altercation in which Brown attacked the "Diamonds" singer. She has also been linked in an on-again-off-again relationship with Drake in 2009-2016, which also involved several collaborations, including "Take Care" and "Work".
In May 2022 Rihanna bore a son with her partner ASAP Rocky. The two had been friends for years but didn't make their romantic connection official until 2020. Rihanna made headlines away from the music spotlight and boardroom for her daring maternity outfits, which emphasized her growing bump.
The "Love the Way You Lie" singer is family-centric, having recently reconciled with her father and calling him one of the "coolest people on the planet."
Trivia: Before becoming a world-famous pop star, Rihanna was an army cadet in Barbados. She even said that military training helped her balance books on her head, which proved handy when strutting her stuff on the catwalk in beauty pageants!
All of her music, movie, and business moves explain why Rihanna is at the top of our list of Top 10 Richest Musicians in the World. With a net worth of $1.7 billion and a career still on the rise, the new mom and ultimate badass boss can expect that value to increase.
Selected Discography
| | | |
| --- | --- | --- |
| Work | Release Date | U.S. Sales |
| Music of the Sun | August 12, 2005 | 623,000 |
| A Girl like Me | April 11, 2006 | 1,400,000 |
| Good Girl Gone Bad | June 5, 2007 | 2,800,000 |
| Rated R | November 23, 2009 | 1,130,000 |
| Loud | November 16, 2010 | 1,800,000 |
| Talk That Talk | November 21, 2011 | 1,150,000 |
| Unapologetic | November 19, 2012 | 1,200,000 |
| Anti | January 28, 2016 | 603,000 |
Notable Award Wins
| | | | |
| --- | --- | --- | --- |
| Year | Nominee/Work | Award | Category |
| 2007 | Rihanna | American Music Awards | Favorite Soul/R&B Female Artist |
| 2008 | "Umbrella" (feat. Jay-Z) | Grammy Awards | Best Rap/Sung Collaboration |
| 2009 | "Live Your Life" | BET Awards | Viewer's Choice Award |
| 2010 | "Hard" (feat. Young Jeezy) | BET Awards | Viewer's Choice Award |
| 2010 | "Run This Town" (w/ Jay-Z & Kanye West) | Grammy Awards | Best Rap Song & Best Rap/Sung Collaboration |
| 2011 | Loud | American Music Awards | Favorite Soul/R&B Album |
| 2011 | "Only Girl (In the World)" | Grammy Awards | Best Dance Recording |
| 2012 | Talk That Talk | American Music Awards | Favorite Soul/R&B Album |
| 2012 | "All of the Lights" (w/ Kanye West, Kid Cudi & Fergie) | Grammy Awards | Best Rap/Sung Collaboration |
| 2013 | "We Found Love" (feat. Calvin Harris) | Grammy Awards | Best Short Form Music Video |
| 2014 | Rihanna | BET Awards | Best Female R&B Artist |
| 2014 | Unapologetic | Grammy Awards | Best Urban Contemporary Album |
| 2015 | "The Monster" (w/ Eminem) | Grammy Awards | Best Rap/Sung Collaboration |
| 2015 | Rihanna | American Music Awards | Favorite Female Artist – Soul/R&B |
| 2018 | "Loyalty" (w/ Kendrick Lamar) | Grammy Awards | Best Rap/Sung Performance |
Concert Tours
| | |
| --- | --- |
| Tour Name | Tour Date |
| Rihanna: Live in Concert Tour | July 2006 – September 2006 |
| Good Girl Gone Bad Tour | September 2007 – January 2009 |
| Last Girl on Earth | April 2010 – March 2011 |
| Loud Tour | June 2011 – December 2011 |
| Diamonds World Tour | March 2013 – May 2013 |
| Anti World Tour | March 2013 – November 2013 |