Shania Twain is Worth $410 Million
| | |
| --- | --- |
| Name | Shania Twain |
| Other Name | Eilleen Regina Edwards |
| Net Worth | $410 Million |
| Birthday | August 28, 1965 in Windsor, Canada |
| Star Sign | Virgo |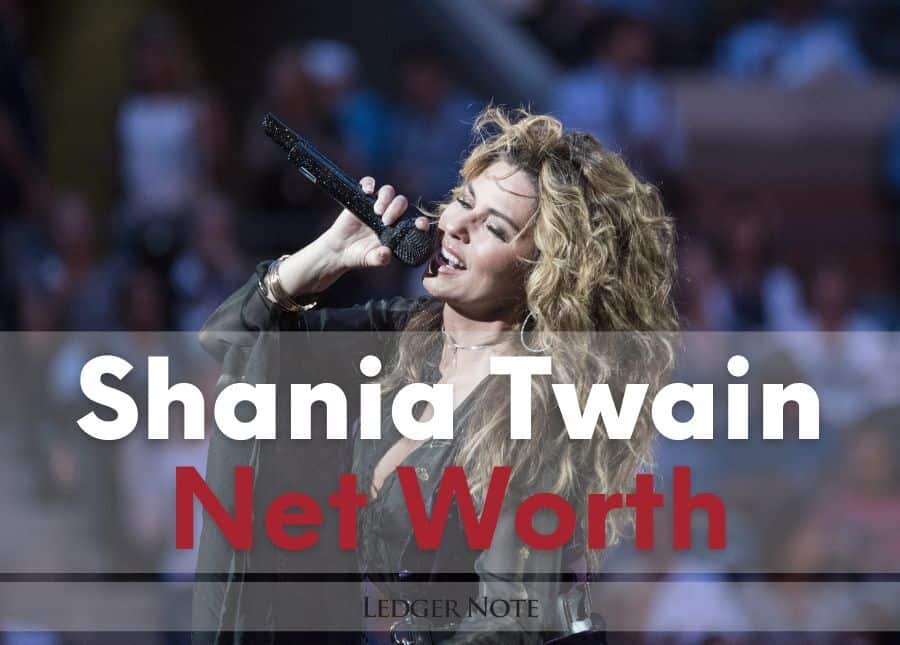 Shania Twain is a country music legend who blossomed in the 1990s in the country and pop country genres. While her own career has gone from strength to strength, she's also inspired the next generation of country stars including none other than music royalty Taylor Swift, who counts Twain as one of her biggest musical influences.
Trivia: Shania Twain ranks close to the top of our Top 10 Richest Country Singers in the World
How Much is Shania Twain Worth?
So how much exactly is Shania worth and how did she make her millions? Well, Shania Twain is worth a whopping $410 million, which should be no surprise when we look at her long and successful career.
The singer shows no signs of slowing down with a sixth studio album due to be released in 2023. And it's not only her musical millions but her foray into reality TV — with a stint as a judge on American Idol — and her property portfolio which have helped her amass her fortune.
Trivia: Shania Twain's life and career was given the Netflix treatment with a documentary released July 26 entitled Not Just a Girl!
How Much does Shania Twain Make Through her Music?
Shania Twain has an impressive portfolio with five studio albums, three compilation albums, two live albums, 43 singles, and 38 music videos, not to mention her guest appearances and remix albums! She currently boasts a Spotify monthly listeners total of 12 million and has sold over 48 million albums in the US alone.
Even those who have never owned one of Twain's records are likely to know her singles. Her iconic track "Man! I Feel Like a Woman" hit number 5 in the country charts and was secured by beauty brand Revlon for the TV ads also featuring Twain. Another hit, "Come on Over" spent 20 weeks on the Billboard country chart, and the album of the same name of the same name is #5 on our list of Top 10 Best-Selling Albums of All Time!
But it's not just her albums that earn her serious money. Twain is a brilliant live performer and her 2015 Rock This Country tour grossed $69 million from 72 shows. She carried on that streak into her 2018 Now tour which ran from May to December 2018 and grossed $67 million.
Trivia: Twain's debut album with Mercury Records only featured one of her original songs. It wasn't until meeting her first husband, music producer Robert John "Mutt" Lange, that she was able to have more creative control.
How Much are Shania Twain's Businesses and Investments Worth?
In 2005, Twain created a limited edition scent with Febreze with the proceeds going to the charity America's Second Harvest which funds foodbanks across the United States. Sticking to scent-related business, Twain also partnered with Coty in 2007 to produce a signature fragrance called Shania Starlight. An ever evolving artist, Twain turned her hand to writing and published her autobiography From This Moment On in 2011.
Trivia: Twain almost gave up music following her Lyme disease diagnosis but was convinced otherwise by Lionel Richie, with whom she eventually rerecorded the hit duet "Endless Love."
What Assets does Shania Twain Own?
Shania Twain has quite the property portfolio with houses all over the world including a $12.9 million Bahamas beachfront home with five bedrooms, six bathrooms, a butler's pantry and a personal dock slip all within the exclusive gated community of Old Fort Bay.
Trivia: Twain's Bahamas property has been on and off the market a few times, most recently in 2019.
Shania Twain's Personal Life
Shania Twain had a difficult childhood and early adulthood to say the least. At the age of 8 she was already performing in clubs to add to her mother and stepfather's somewhat irregular income. At 21 she moved to Toronto and continued to perform. Not long after, both of her parents died tragically in a car accident. At just 22 years old Twain returned home to look after her younger siblings and has since said of the experience that "[n]obody could really help me through that grief." However, she didn't let that dim her spirit and while juggling a job performing at a Canadian resort, and bringing up her sister and two brothers, she continued to pursue music, finally signing her first recording contract in 1992.
Shania Twain's love life has been just as much of a rollercoaster. She met her first husband, music producer Robert John "Mutt" Lange in 1993 and six months later they were married. The couple stayed together until 2008, when their union broke down after Lane had an affair with Twain's best friend.
Twain later married Swiss Nestle exec Frederic Thiebaud and they have been together ever since.
Netflix released a documentary dedicated to the country-pop star in July 2022. Not Just a Girl explores the country singer's extensive career, from aspiring bar singer to global celebrity. It uses a combination of archive video and rare interviews with Twain herself and some of her friends, including singers Lionel Ritchie and Avril Lavigne. A must-see documentary!
Trivia: Shania Twain's current husband, Frederic Thiebaud, is the ex-husband of her former best friend – the one who had an affair with Twain's first husband!
With such a stellar career that continues to flourish it's not difficult to see why Shania Twain is worth $400 million and why her fortune continues to grow.
Selected Discography
| | | |
| --- | --- | --- |
| Work | Release Date | U.S. Sales |
| Shania Twain | April 20, 1993 | 1,000,000 |
| The Woman in Me | February 7, 1995 | 12,000,000 |
| Come on Over | November 4, 1997 | 20,000,000 |
| Up! | November 19, 2002 | 5,891,000 |
| Now | September 29, 2017 | 233,800 |
Notable Award Wins
| | | | |
| --- | --- | --- | --- |
| Year | Nominee/Work | Award | Category |
| 1996 | Shania Twain | American Music Awards | Favorite Country New Artist |
| 1996 | The Woman in Me | Grammy Awards | Best Country Album |
| 1997 | Shania Twain | American Music Awards | Favorite Country Female Artist |
| 1999 | Shania Twain | American Music Awards | Favorite Country Female Artist |
| 1999 | Come On Over | American Music Awards | Favorite Country Album |
| 1999 | "You're Still the One" | Grammy Awards | Best Female Country Vocal Performance & Best Country Song |
| 2000 | Shania Twain | American Music Awards | Favorite Pop/Rock Female Artist |
| 2000 | Shania Twain | American Music Awards | Favorite Country Female Artist |
| 2000 | "Man! I Feel Like A Woman!" | Grammy Awards | Best Female Country Vocal Performance |
| 2000 | "Come On Over" | Grammy Awards | Best Country Song |
Concert Tours
| | |
| --- | --- |
| Tour Name | Tour Date |
| Come On Over Tour | May 1998 – December 1999 |
| Let's Go! (Residency) | December 2019 – September 2022 |
| Now Tour | May 2018 – December 2018 |
| Rock This Country TOur | June 2015 – October 2015 |
| Shania: Still the One | December 2012 – December 2014 |
| Up! Tour | September 2003 – July 2004 |