Toby Keith is Worth $370 Million
| | |
| --- | --- |
| Name | Toby Keith |
| Other Name(s) | Toby Keith Covel |
| Net Worth | $370 Million |
| Birthday | July 8th, 1961 |
| Birth Place | Clinton, Oklahoma |
| Star Sign | Cancer |
| Height | 6ft 2' (190cm) |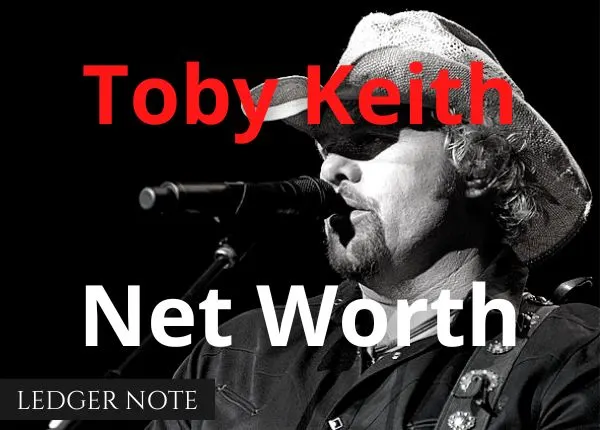 When it comes to modern country music, Toby Keith, with the trademark sincerity of his lyrics, and undeniable songwriting chops, is never far from the conversation. Since his emergence in the mid-nineties, he has staked out his reputation with mega-hits like 'Should've Been A Cowboy' and 'How Do You Like Me Now?' and has recorded prolifically, with 21 studio albums selling forty million copies.
Despite his wealth, featuring as he does on our rundown of the world's richest country singers, and success as a musician, Keith actually started out on a promising career working on the oil fields in Oklahoma with his father before a rapid decline in the industry left him unemployed. He also played semi-pro football for two years before deciding to focus on music full-time. So, with such a fascinating career behind him, we'd like to take a closer look at Toby Keith's net worth.
How Much is Toby Keith Worth?
Toby Keith's net worth is reported at a cool $370 million, which is enough to place him firmly near the top of the country music game but, perhaps unsurprisingly, considering his interesting route into a full-time career as a musician, his wealth is not simply a result of his music.
How Much does Toby Keith Make from his Music?
Having released 21 studio albums, 2 Christmas albums and 7 compilations since 1993, accounting for forty million sales, it is fair to say that Keith is both prolific and hugely popular.
Forbes reported some dizzying numbers, pointing to a one-off payment of $1 million for a show at the Houston rodeo back in 2013, while also claiming that the singer made a staggering $65 million in the twelve months leading up to the show. It also states that he hadn't earned less than $48 million a year in the five years previous.
Fair to say that the Cowboy Capitalist's chops for endorsements and commercial moves have been richly rewarded. Further to that, a conservative estimate would be that he earns almost $180,000 per month from Spotify streams alone, not to mention radio play and royalties.
Trivia: Per reporting by Forbes circa 2013, Toby Keith had written a No.1 country hit every year for the past two decades. His earnings over that time are said to have exceeded $500 million.
How Much are Toby Keith's Business Ventures Worth?
Alongside his patriotic lyrics and enduring popularity, Keith has displayed a serious knack for business decisions and an undeniable work ethic. In his first year as a touring musician following his 1993 debut, he initially committed to playing 150 shows for around $10,000 each, before a second single released partway through the tour doubled both his bookings and his pay.
That unapologetic commitment to his career has stood him in good stead. In 2005, Keith began his own label, Show Dog, in exchange for signing over half of his next album and providing a greatest hits compilation to his previous label, Universal. At the time, he also invested heavily and supported another new label, Big Machine, resulting in a stake of around 10%. Alongside his own continuing commercial success, he also profited from any artists signed to Big Machine, including Rascal Flatts, Tim McGraw and, crucially, Taylor Swift. Although the relationship between Swift and her former label boss Scott Borchetta is an entire saga in itself, there was a time when it was an extremely profitable set up for all involved, including Mr. Keith.
Trivia: As yet another example of Toby Keith's unwavering popularity, one of his trademark tunes 'Should've Been a Cowboy', was the most played country song of the decade during the nineties.
What Other Assets does Toby Keith Own?
As has been noted elsewhere in this article, Keith is known for his remarkably astute approach to business, and rather than rely on the assuredly steady stream of income that his long-lasting and prolific musical career provides, he has continuously pursued entrepreneurial projects.
As reported in 2014 as he was registered in Forbes' year-end highest earners list, Keith is the owner of a chain of restaurants called I Love This Bar & Grill, and a mezcal brand, Wild Shot. Keeping with Keith's down-home charm persona, his restaurants promise 'nothing fancy here' and serve soulful food, including Keith's favorite, the fried bologna sandwich.
Trivia: Does everything Toby Keith touches turn to gold? It seems entirely possible when you consider that, within nine months of its release in 2011, Wild Shot was the No.1 Premium Mezcal brand in the US.
Personal Life
In keeping with his reputation as a real-life, latter-day American Cowboy, Toby Keith is a family man, married since 1984 and with three children, one of whom, Krystal, is a country star signed to her father's label. He also set up the Toby Keith Foundation in 2006 to help children battling cancer.
Most recently, in June of 2022, Toby Keith revealed his own struggles with cancer, for which he is undergoing treatment. We sincerely wish him all the best in this fight and a speedy recovery.
And there we have the tale of a true American. Staunchly political, occasionally controversial, but with an undeniable drive to make the most of his talents and wildly successful in all that he chooses to do. Maybe he should've been a cowboy, but it is fair to say, judging by Toby Keith's net worth and legacy, that he's made a success of the life he's chosen.
Selected Discography
| | | |
| --- | --- | --- |
| Work | Release Date | U.S. Sales |
| Toby Keith | April 20, 1993 | 1,000,000 |
| Boomtown | September 27, 1994 | 1,000,000 |
| Blue Moon | April 16, 1996 | 1,000,000 |
| Dream Walkin` | June 24, 1997 | 500,000 |
| How Do You Like Me Now?! | November 2, 1999 | 1,000,000 |
| Pull My Chain | August 28, 2001 | 2,000,000 |
| Unleashed | August 6, 2002 | 4,000,000 |
| Shock 'N Y'All | November 4, 2003 | 4,000,000 |
| Honkytonk University | May 17, 2005 | 1,000,000 |
| White Trash With Money | April 11, 2006 | 1,000,000 |
| Big Dog Daddy | June 12, 2007 | 500,000 |
| That Don't Make Me A Bad Guy | October 28, 2008 | 500,000 |
| American Ride | October 6, 2009 | 500,000 |
| Clancy's Tavern | October 25, 2011 | 500,000 |
Notable Award Wins
| | | | |
| --- | --- | --- | --- |
| Year | Nominee/Work | Award | Category |
| 2001 | Toby Keith | Academy of Country Music | Top Male Vocalist |
| 2002 | Toby Keith | Billboard Music Awards | Top Country Artist |
| 2021 | Toby Keith | National Medal of Arts | Outstanding contributions to the excellence, growth, support and availability of the arts in the United States |
Concert Tours
| | |
| --- | --- |
| Tour Name | Tour Date |
| Unleashed Tour | 2002 |
| Shock'N Y'all Tour | 2003 |
| Big Throwdown Tour | 2004 |
| Big Throwdown Tour II | 2005 |
| White Trash With Money Tour | 2006 |
| Hookin' Up and Hangin' Out Tour | 2007 |
| Biggest and Baddest Tour | 2008 – 2009 |
| America's Toughest Tour | 2009 |
| Toby Keith's American Ride Tour | 2010 |
| Locked and Loaded Tour | 2011 |
| Hammer Down Tour | 2013 |
| Hammer Down Under Tour | 2014 |
| Good Times and Pick-Up Lines Tour | 2015 |
| Interstates and Tailgates Tour | 2016 |
| Should've Been A Cowboy XXV | 2018 |