Some of the best guitarists of all time have used them. Cordoba guitars fly a little bit under most players' radar. But they make some great mid-level nylon string guitars that are the perfect mix of build quality and affordability.
Bottom Line:
If you're looking for a classical guitar that combines value and a reasonable price point, the Cordoba C7 CD might be exactly what you're looking for.
When it comes to the conversation around the best Cordoba classical guitar, the C7 CD should absolutely be a frontrunner. It's a great handmade guitar that's perfect for the beginner or intermediate player looking to add a classical guitar to their collection. But it's crafted well enough for nylon string veterans too. It's got a great complement of tone woods that give it a big low end, fairly focused midrange, and a shine to the top end that works great for solo pieces or in a mix.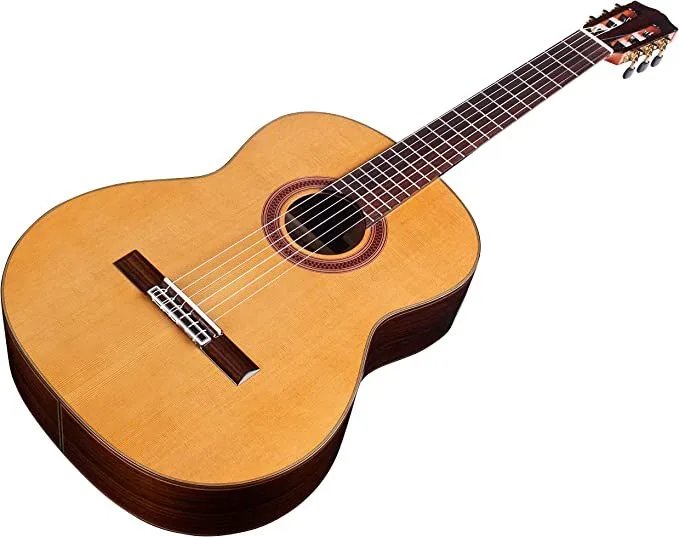 Pros and Cons
| Pros | Cons |
| --- | --- |
| Rosewood back and sides and cedar top is a great tonewood combination | Midrange isn't as focused as more demanding players might want |
| Good mix of frequency content that works in a solo or band context | Made-in-China build quality isn't terrible, but could be a little more substantial |
| Great attention to smaller details like the quality of the nut, saddle, and bridge | Wide neck won't suit everyone |
| Affordable and good value for money | No electronics means you'll have to use a sound hole pickup to amplify it |
| | Does not come with a case or gig bag |
Specifications
Neck: Mahogany, C Shape
Fretboard: Rosewood
Frets: 19 total, 12 to body
Back: Indian rosewood
Sides: Indian rosewood
Top: Solid top
Top Wood: Western red cedar
Bracing Pattern: Spanish fan
Binding: Rosewood
Scale Length: 648mm | 25.5 inches
Truss Rod: Dual action
Nut and Saddle Material: Bone
Nut Width: 52mm | 2.04 inches
Bridge: Rosewood
Tuners: Cordoba GK
Review
In this Cordoba C7 CD review we'll go over how it's built, how it sounds, and all of the specs to help you understand if it might be a guitar worth considering adding to your collection. The C7 CD is a fantastic choice for beginner and mid-level players who want to explore what a classical guitar can do or add their distinctive sound to their guitar roster. The nylon strings are easy on the calluses, too.
It's got an interesting combination of tone woods that complement each other well. The laminated sides and back are made of Indian rosewood, lending warmth and resonance. The top is Canadian red cedar to add some upper midrange and high end sparkle that offsets the darker quality of the rosewood.
As the wood top ages it will sound better and better. Cordoba is pretty deliberate in selecting the wood they use in their guitars, but being from the factory line and made in China you might have to play it in for a bit to get the full tonal versatility.
Body
The body uses a traditional Spanish seven-fan bracing design to maximize resonance and sustain. Fan bracing is generally preferred over lattice bracing when it comes to classical guitars. With this design, the top is able to vibrate more freely but still provides a balanced tone across the frequency spectrum.
The body is a useful size too. It's not so small that it doesn't provide enough projection, especially considering it doesn't have electronics. But it's small enough to be played comfortably whether you're sitting down or standing. To give you an idea, it's somewhat of a mix between an OM and OOO body size. And rounding out the C7's look is a high-gloss polyurethane finish. The sleek body binding and bridge are both rosewood.
But perhaps the biggest downside to the guitar overall is the previously mentioned lack of electronics. So if you need to plug in for live or recording work you'll have to buy an aftermarket soundhole pickup. It's not a total dealbreaker, but definitely worth mentioning. The body doesn't have any cutaways, so there are 12 frets until the neck meets the body, with 19 overall.
Neck
The neck is made of mahogany and the fingerboard is rosewood. But like most classical guitars it does have a pretty wide neck. This is important to keep in mind when it comes to the type of neck you like and in regard to things like string spacing. The scale length is 25.6 inches, with a two inch nut width. Like you'd expect from a classical guitar, the wood inlay is rosette with a rosewood binding.
A feature that is somewhat uncommon to classical guitars are fret markers. But the C7 offers the standard markers to help guide you when navigating up and down the fretboard.
Build Features
The Cordoba C7 CD has some simple but solid appointments. The nut and saddle are both bone, which gives it great intonation and sustain. The deluxe tuners are in a 3-and-3 configuration with pearl buttons.

Action and sustain is critical when it comes to classical guitars. A lot of them don't have an adjustable truss rod, but the C7 CD features a two-way adjustable truss rod.
Sound Quality
It's got a pretty bright sound for a classical guitar. This can help it stand out in a mix context.
It has a round bottom end with solid bass. Perhaps the most critical part of a guitar's frequency range are the mids. They're about as focused as you would expect from a guitar at this price point.
Final Thoughts
Overall the C7 CD is a great mid-level guitar. Below $600 brand new it shouldn't price anyone out and sounds good for the money. It's made in China, which doesn't necessarily spell doom like it used to. But it's definitely got attention to detail in the build quality that should make the country of origin much less concerning.
There are a lot of positives here. But the two biggest downsides are that it doesn't come with any electronics or a case – two very solvable problems.
The C7 CD has a great mix of playability, balanced frequencies, and solid appointments. A flair for the dramatic is common in classical guitar playing, and this guitar isn't overly flashy when it comes to aesthetics. But its streamlined, classy look suits the style perfectly.
Overall, if you're looking to add a classical nylon string to your guitar arsenal this model shouldn't be overlooked.
Don't forget to check our best classical guitars guide for a comprehensive overview of the most attractive classical guitars at different price points.
Cordoba C7 CD FAQ
Is the Cordoba C7 full-size?
Yes, it is a full-size classical guitar. The body is a little slimmer than some, but overall it is a comfortable shape with good frequency balance and projection.
Where is the Cordoba C7 made?
The guitar is manufactured in China, build quality isn't too bad but could be a little more substantial.
What size is the Cordoba C7?
The overall length is 984mm. The length of the body itself is 489mm. The upper bout is 95mm and the lower bout is 100mm.
Which guitar is best for classical music?
Any guitar can be used to play classical music. Traditionally, nylon string guitars are most closely associated with the genre. But it really comes down to player preference.