'58, '59, '60. Say those numbers to any normal, functioning member of society and they'll probably offer a puzzled reaction. Say them to a guitar freak, and it's the equivalent of offering a secret handshake.
There's something unmistakably magical about the Gibson Les Paul guitars made in those years. Whether it was the old wood sourced from trees in Kalamazoo, Michigan, the legendary P.A.F. pickups, or the players (Red Hot Red himself included) who would go on to make the guitars truly world-famous, those guitars are known as the "Holy Grail" for rightful reasons.
Yet with all highly sought after items come the price-point caveat. Les Paul guitars from this time carry a mighty tag, often being sold past half a million dollars. In this context, it can be easy to be discouraged when trying to recreate the Les Paul tone. How could one strike a balance between the Holy Grail of guitar tones and not breaking the bank? The Les Paul Special II from Epiphone resolves this age old conundrum sweetly.

Verdict
The Les Paul Special II from Epiphone is a budget-friendly guitar that emulates the classic Les Paul tone. The features of this guitar might not look exactly like the original Les Paul guitars from the golden years, but its user-friendly features make it ideal for beginners and proficient players alike who want a classic-sounding companion without a Sotheby's-level investment.
While there are some obvious compromises for a guitar attempting to emulate one of the most famous instruments of all time at this price point, the Epiphone Les Paul Special II takes on this extraordinary challenge with powerful results that will certainly keep the customer satisfied.
| Pros | Cons |
| --- | --- |
| Beautiful unique design that faithfully emulates the classic Les Paul look | Can go out of tune during long sessions, making it less than ideal for intense recordings and gigs |
| A great clone of the golden-years Les Paul sound | Intonation issues require a proper setup |
| Versatile tonal options to dial in your own particular style | |
| User-friendly structure and construction | |
Introduction
Epiphone, a subsidiary of Gibson, has itself been in the guitar-making business for 150 years, certainly ensuring some knowledge in the process. In reaction to Fender's Broadcaster, Gibson began designing its own electric guitars in the 1950's, leading to its prime years in the late 1950's. It was also around this time that Epiphone was purchased by Gibson, lending much credibility to Epiphone's current "inspired by Gibson" line of guitars and products.
Born in the 1990's, the Epiphone Les Paul Special II is a salute to the original Les Paul model while offering its own user-friendly design and budget-friendly price tag. In contrast to its Gibson counterpart, the Les Paul Special II doubles down on playing comfort and ease of use, while still offering a faithful emulation of the legendary Les Paul tone.
Full Review
Why We Like It
The Epiphone Les Paul Special II features a beautifully faithful mahogany body and neck with a rosewood fingerboard, perfectly emulating its Gibson sibling. The Special II contains dual open-coil hum-bucking pickups – a 650R pickup in the neck and 700T pickup in the bridge. These pickups are ceramic, so they'll cut through and take distortion and heat very well (which you'll probably want for your Les Paul variations.) This will allow you to easily get low-dirt blues through full-throttle metal tones.
The Special II's slim-taper "D" profile neck and ultra cutaway on the treble end makes fretboard navigation easy, while its medium sized frets will feel smooth and easy on the hands. While both the bridge and neck positions offer great tonal emulations of the warm and glassy Les Paul tone, the bridge position might offer the most effective blend between modern punch and classic warmth.
There are some obvious departures from the classic Les Paul design. As opposed to having tone and volume pots for all pickups and a selector toward the top of the heel, there is instead one volume pot and one tone pot, and a selector below the pick guard. The good news is that the pots aren't mini – meaning a broader range of control; and what you lose in tonal control you gain in simplicity and ease of use (not to mention making sure you don't accidentally knock your tone around mid-solo.)
Limitations
Despite the features that make the Epiphone Les Paul Special II a worthy option for beginners and budget-mindful musicians, it does have its limitations. While maintaining a remarkable overall build quality, some components such as the tuners and hardware may not match the standard found in more expensive guitars. Therefore, frequent or aggressive use might result in quicker wear and tear.
Additionally, the Epiphone Les Paul Special II might require a professional setup to idealize the playability and intonation. But perhaps the most notable limitation is that despite offering a versatile sound suitable for various genres, the sound quality may not match the clarity and complexity found in higher-end alternatives.
While the Special II is a great guitar, it's also a budget option. Therefore, there are some limitations to keep in mind before your purchase.
First and foremost are the tuners. The guitar might go out of tune fairly easily after long playing sessions. Chalk this up to the tuners themselves, the plastic nut, or the bolt-on neck. That last element isn't a limitation in and of itself, and arguably helps the sustain.
The pickups, though helpful in emulating the vintage tone, are notably not PAF's. Their sound is cutting but not as resonant and thick as the legendary Gibson pickups. Out of the box intonation has been noted as a concern as well. These caveats make a proper setup all the more important.
Variations
With the limitations in mind, it's good that the Special II has some great variable choices. Limited editions include souped up design elements and different finish options – great for the Les Paul enthusiast to choose their favorite burst to emulate. Starter packs include a practice amp, but it's important to remember that these packs vary on retailer and location.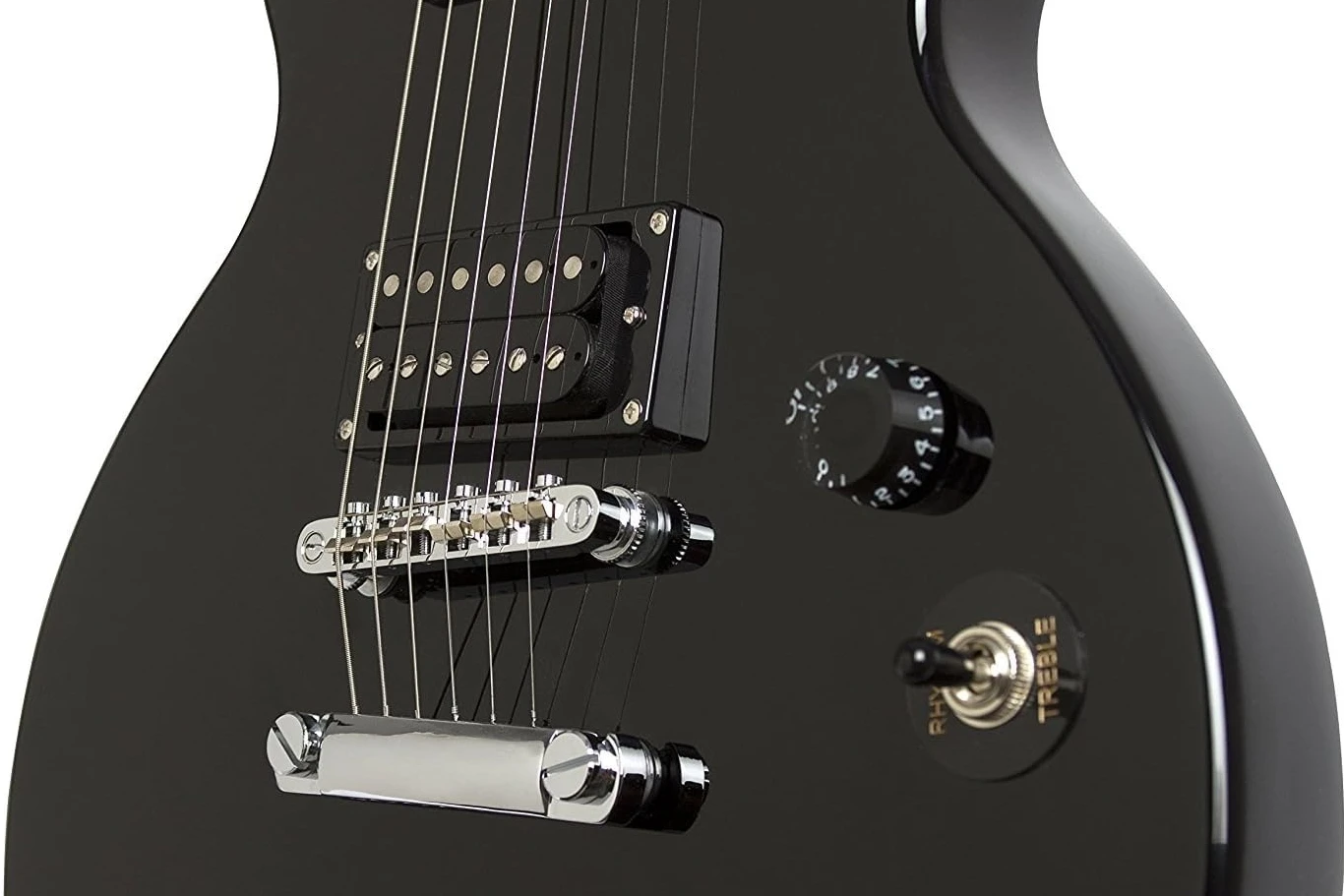 Alternatives
If you're looking for a Les Paul clone with a bit more buck and bang, we recommend the Yamaha Pacifica series, renowned for tonal versatility and construction quality. The Ibanez RG Series offers a sleek design and harder tone. For Fender lovers, the Squier's Classic Vibe offers emulations of 50's and 60's Stratocasters. For those looking to stay in the Gibson world, Epiphone's Les Paul Standard includes higher grade pickups and hardware.
Conclusion
The Les Paul Special II is a commendable emulation of the legendary Les Paul line while staying in a terrifically affordable price zone. The construction, while containing some budgetary compromises, is more than up to the job of offering a steady clone of the Les Paul sound. The simple control layout and versatile sound palette, along with its user-friendly design, make it an ideal candidate for any beginner or proficient player wanting a vintage-sounding guitar that doesn't cost a fortune.
Body Style: Les Paul
Body Shape: Les Paul
Body Material: Mahogany
Body Finish: Gloss
Profile: 50s Vintage, 60s Vintage
Scale Length: 628.65 mm / 24.75 in
Fingerboard Material: Laurel
Fret Count: 22
Frets: Medium
Joint: Bolt-On
Bridge: Epiphone LockTone Tune-O-Matic
Neck Pickup: Gibson BurstBucker™ 3
Bridge Pickup: Epiphone 700T Humbucker
Pickup Selector: 3-way Epiphone Toggle
Frequently Asked Questions
Who is the primary audience for the Epiphone Les Paul Special II?
The Epiphone Les Paul Special II is targeted at beginners, casual players, and budget-conscious musicians looking for an affordable and versatile electric guitar. The guitar is also suitable for entry-level practice, home recording, and small-scale performances across various musical genres. However, it might not match the requirements of professional players looking for stage performance or recording instruments.
What are the Pickup specs on the Epiphone Les Paul Special II?
The Epiphone 650R Humbucker and 700T Humbucker – ceramic pickups that have high output gain and do a great job of getting the vintage, bluesy Les Paul sound.
What are the tonal control capabilities of the Les Paul Special II?
Very straightforward layout with quick tonal switching prioritized – one volume and one tone knob. There's also a three-way pickup selector toggle directly above the pots for neck, bridge, and combo.
This review may contain affiliate links which may earn us a small commission when you click on them, at no extra cost for you. As an Amazon Associate we earn from qualifying purchases.