Not much to say about the guitar that this model is inspired by! As we've stated before, the output from Gibson in 1959, 1960, and 1961 paved the way for generations of famous guitarists around the world, renowned for their elegant design, construction, and unbeatable tone. Epiphone has several budget-friendly alternatives for its famous Gibson counterpart, but the Les Paul Standard falls in the lower price point.

Verdict
Yet trial and error over recent years have led to the Epiphone Les Paul Standard holding its own against its bigger-budget siblings. It's well-built, good-looking, and above all does an admirable job of emulating the Gibson Les Paul tone.
| Pros | Cons |
| --- | --- |
| Rich, versatile tone | Might require adjustments out of the box before it's up to par with other Les Paul sound-alikes |
| Great construction, elegant design | It sounds good, but doesn't capture the Les Paul tone all the way |
| Affordable alternative to many more expensive models | While affordable, it's not cheap, but then again if that's your objective, I suggest looking for a guitar without "Les Paul" in the title… |
Introduction
Sometimes I wonder if Les Paul would have approved of all the guitars made in his image, or maybe I'm just thinking of another religious figure…Regardless, Epiphone has been steadily constructing budget models of Gibson counterparts for decades now, and it only makes sense that Gibson's most famous model would have several famous (or infamous) clones. Epiphone has several, including the Special II and E-1 models.
So where does the Standard fit? The Epiphone Les Paul Standard is about the closest you'll get to an original Gibson design and sound without the hefty price tag. Its construction, playing comfort, and pickups have been souped up in recent years to accommodate budget-conscious aficionados who want their Les Paul clones to live up to the name, darn it!
Epiphone's done a fairly good job here, and we recommend this guitar for those wanting something in between a cheap alternative and the real deal for a few reasons. Let's dive in.
Full Review
Why We Like It
The Epiphone Les Paul Standard's most surprising characteristic is its tonal versatility. Though you're getting vintage, you're getting everything vintage, from the muddiest and dirtiest of blues through the most fuzzed-up Abbey Road Harrison voicings. It can do all of those and some. This is in no short order thanks to its pickups.
The Probucker 2 and Probucker 3, located in the neck and bridge respectively, operate better than most factory pickups I've seen on budget-friendly guitars. The neck is smooth and rhythmic, the bridge has bite and body. The tone pots are full-size, giving extra control over the characteristics of the pickups. These Probuckers aren't the legendary P.A.F.'s, and yet they don't have to be; they provide a sonic signature for the Standard that's its own.
With all this in mind, it's important to underscore that this guitar, that offers a powerful punch-up toward Les Paul heaven (not literally, you won't be able to meet him) exists in an affordable price range. No, you might not get the bells and whistles of "Made in America" models, but you'll get close enough while still being able to pay the bills.
The Standard is also well-designed for a guitar in this price range. It stays faithful to the iconic Gibson Les Paul design with its Corinthian headstock, its acoustic-style single cutaway, and aged-wood style burst in the center of the body. The mahogany body and mahogany set neck offer a cohesive, though tapered resonance that feels almost gated in a modern way. The SlimTaper "D" shape neck profile is faithful to the original and aged gloss makes fretboard navigation and upper access easy.
Limitations
The Epiphone Les Paul Standard isn't the Gibson Les Paul. It won't match its more expensive counterpart's resonance, warmth, and mix-ready output. The Standard is its own guitar, and does a fairly good job in that respect.
There have been complaints of quality variation out of the box. It's important to make sure that your guitar is sounding and feeling good and sturdy before modifying it, as budget instruments are more susceptible in their infancies to unhappy accidents. Modifications and setups will help bring your Standard to life.
There's also the pesky budgetary Catch-22. While this is a budget-friendly guitar, I wouldn't necessarily call it a budget guitar. The Standard doesn't cost as much as many higher-end guitars, but it's not at the bottom of the price point barrel, either.
Variants and Colors
The Epiphone Les Paul Standard has a choice of finishes that pay homage to the original's color options, including its Classic Sunburst and Translucent Blue. My favorite is the Aged Dark Cherry Burst, which feels especially Color Television-ready! Even if the tone isn't 100% Les Paul, I'm glad Epiphone got the design close to perfect.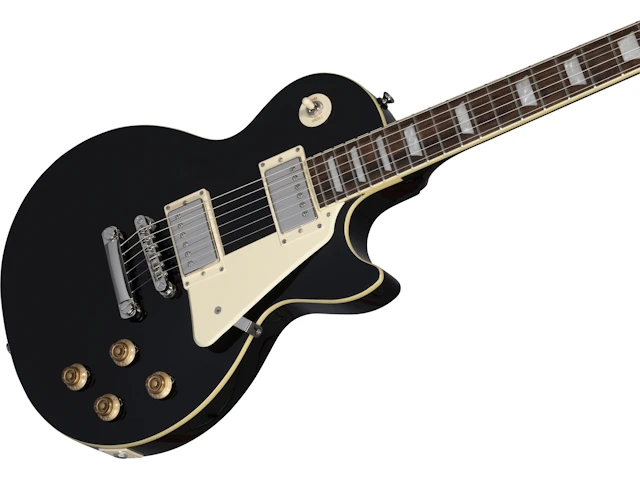 Alternatives
If this is an issue, we recommend the Epiphone Les Paul Special II. The Special II is an entry-level guitar with some great characteristics and a respectable tonal output. While it's not going to sound as beefy and powerful as the Standard, it's about as cheap as anything you'll find with Les Paul in the name.
Conclusion
The Epiphone Les Paul Standard is an admirable ode to its parent company's most famous guitar, and also stands on its own as having a particular tone and character. Its solid construction and elegant design give it an accurate Les Paul style, while its price point remains affordable for many players.
It's not going to have the unmistakable magic of the Gibson Les Paul. But as far as wallet-friendly alternatives go, this guitar is among the best options for those wanting the Les Paul magic. It's a great step for anyone willing to spend a little to get a classic performance that's both recognizable and easily personalized.
Body Style: Les Paul
Body Shape: Les Paul
Body Material: Mahogany
Profile: SlimTaper C
Scale Length: 629.0 mm / 24.763 in
Fingerboard Material: Laurel
Fret Count: 22
Frets: Medium Jumbo
Bridge: Epiphone LockTone™ ABR-1
Neck Pickup: Gibson BurstBucker™ 2
Bridge Pickup: Gibson BurstBucker™ 3
Pickup Selector: 3-way Switchcraft® toggle
Frequently Asked Questions
What pickups are in the Les Paul Standard?
The Epiphone Les Paul Standard has two humbucker pickups: the Probucker 2 and Probucker 3 in the bridge and the neck respectively. These pickups are more than up to the task, though some Seymour Duncan humbuckers are recommended for those needing a supercharge to their Les Paul tone.
What are some of the defining construction features of the Epiphone Les Paul Standard?
The guitar features a mahogany body with a carved maple top, a mahogany neck usually with a SlimTaper "D" profile, a 24.75 inches scale length, a 12-inch radius fingerboard mad from rosewood, 22 frets, and dual humbucking pickups. It's available in various finishes.
Who would benefit from the Epiphone Les Paul Standard?
Any player hoping to capture the Les Paul style without paying for the full-on Les Paul experience. In this sense, modern guitarists who are inspired by the Gibson sound will have a field day, as this is a tonally malleable vintage style guitar that sounds good but isn't trapped in 1959.
Is the Epiphone Les Paul Standard good for beginners?
Yes, and aficionados as well. All in all, this is an easy way for those who aren't as into the vintage sound to find their own voice within it, just as it's a great way for retro-heads to find a little bit more modern versatility.
This review may contain affiliate links which may earn us a small commission when you click on them, at no extra cost for you. As an Amazon Associate we earn from qualifying purchases.