Ever wonder what the classic Tele tone would sound like with a modern, souped-up spin? Fender's American Ultra Telecaster is the answer, a premium guitar with a premium build for a versatile take on rock's first legendary guitar.

Verdict
The Fender American Ultra Telecaster is both a faithful ode to electric guitar that started it all and a versatile instrument that fully stands on its own. The construction and tone are sublime, and the S1 capabilities are pretty astoundingly fitted into the Telecaster build while not compromising the Telecaster tone. The American Ultra is pricey, but if you want a faithful Tele that can seamlessly work on modern material, you're not going to get much better.
| Pros | Cons |
| --- | --- |
| Fantastic construction with top notch components | Tele purists might not enjoy the S1 and more comfort and shred-focused design (contours on the back such as the sloping neck are markedly different) |
| Easy to play and fretboard navigation on high end is phenomenal | Not budget friendly |
| Ultra Noiseless pickups are truly stunning, and S1 series switch is an exciting option that opens up tonal possibilities | |
Introduction
The Fender Telecaster is the most famous electric guitar of all time. The first mass-produced solid body Spanish-style electric guitar, the Telecaster instantly became the go-to sound for rock and roll in the 1950's and early 1960's, cementing its legacy with its hard-hitting low passed tone. Was the Telecaster the most versatile, full-range electric guitar on the planet? It certainly was for a time, and that legendary momentary run led to its current place in the hearts of millions of guitarists all over the world. You know what you're getting with the Tele sound, and if nothing else, it will take you to a place.
Therefore, manufacturing a version of the instrument for a new audience is a hefty undertaking. Trying to make a luxury instrument that keeps an iconic tone while allowing for modern variations is no easy task. Fender walked this tight rope with precision-based aplomb, giving the Fender American Ultra Telecaster new features while also keeping it in the pocket of history's most well-known guitar.
Full Review
Why We Like It
Out of the box, the American Ultra looks like the sleekest Telecaster you've laid eyes on. Apart from the iconic Tele features (string through body, diagonally placed volume and tone knobs, steep cutaway), the Ultra boasts a beautiful semi-gloss satin finish, tapered heel contour on the back of the body, and a chrome-painted brass bridge. For decades Tele fans have modded their instruments to have brass bridges, as trial and error have concluded that brass bridges produce the best sound. Good thing Fender's listened to its clientele!
The Ultra boasts a Modern "D" neck profile that easy to play, yet somewhat faithful to the original (dare I say "chunky"?) 1950's Telecaster neck. The swooping treble cutaway at the base of the bolt-on neck that leads to the heel contour allows for easy navigation of the upper register. The maplewood rolled fingerboard itself is designed with playability in mind. With twenty two frets and pearl inlays, the medium jumbo frets feel comfortable and perhaps most of important of all…like a Telecaster. The locking tuners are leaps and bounds ahead of the tuning stability of the classic models (though maybe you've developed Stockholm Syndrome with your old terrible tuners…like I have.)
Yet it's the pickups that stunned me most about the Ultra. Yes, the series capability in the combo position is great, and quite the step forward for a Telecaster design. The S-1 tone pot push allows both pickups to run in Series with each other before the signal reaches the output jack, cancelling noise and effectively acting like a humbucker as opposed to the single coils that the pickups are on their own.
Yes, this is very cool. You can completely transform your tone to something a lot smoother than the classic Telecaster. If the Ultra Noiseless Vintage pickups themselves sounded like a factory reprint of the original Tele pickups, I'd be singing this capability's praises. But to me, the series sound felt muddy and lacking impact.
The single coil pickups themselves, on the other hand, sound truly remarkable. They're nothing like the noisy, muffled, screamer pickups associated with Telecasters from the 50's, yet contain all of the attack and chime that I was hoping to hear. Both positions are astoundingly versatile; that is that a riff played with any combo at at any position between the bridge and neck has its own effective flavor and use. That's not just a Telecaster, that's a Telecaster from the future.
Limitations
I hope that if you're looking at a guitar with Telecaster in the title, you'd have an idea of what you're buying in terms of general tonal and playing capability. If there's anything close to wrong with this instrument, it's the price tag.
The Ultra is a premium guitar with nostalgia brand-name value and advanced components, and its price reflects as such. Again, think before you purchase any Telecaster; it's a guitar with a remarkably distinctive character. Yet if you're willing to spend and know what you're looking for, the Ultra is a terrific choice.
Now, there are some obvious differences between the Telecaster and the Ultra. The Ultra is a modern guitar forged with decades of knowledge and subsequent generations' input; the Telecaster is first and foremost an experiment. It's very important to make this distinction, as those racking their brain trying to exact a vintage sound might spend many years trying to determine why the instruments of the rock and roll boom had a specific character. The answer is quite simple: they were working with the knowledge and resources that they had available. Whether you want a guitar that's from the past, or one that looks back on the past is up to you, but the latter option might assist you better as you determine your own personal playing style.
Variations
The American Ultra Telecaster is available in many different finishes and colors that feel remarkably fresh for Fender's usual designs. Even the classic sunburst has a glittery gleam to it that feels new, the Cobra Blue is simply stunning. All of this lends to the Ultra being more than just a Tele.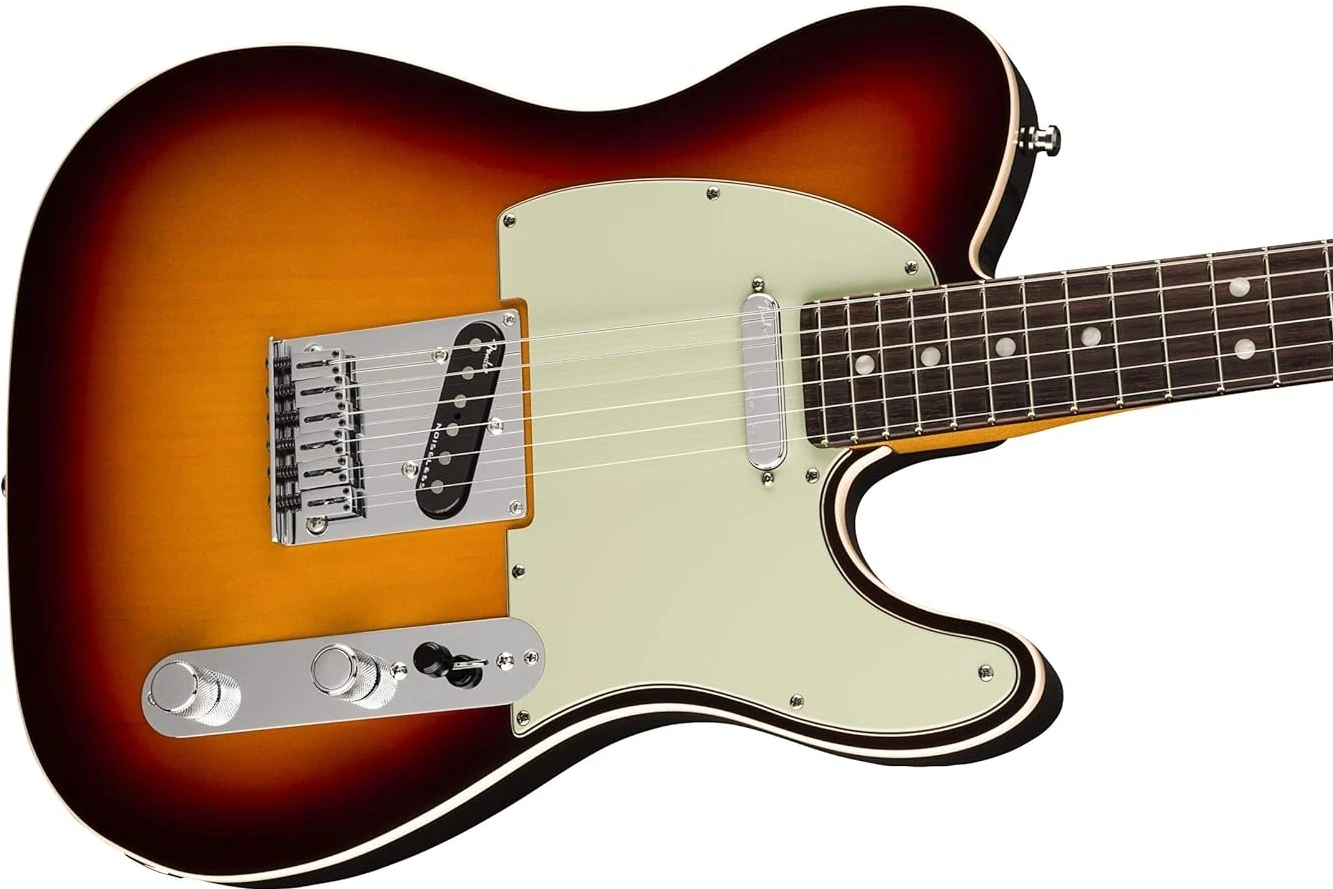 Alternatives
If you're searching for a guitar that has a similar tone and capability to the Ultra without the premium price, we'd recommend the Fender American Professional II Telecaster. The design is closer to the original Telecaster, including a bulkier C-shaped neck, with the exception of the bridge, which is string-through as opposed to the original Telecaster's string-through body. The pickups are respectable V-Mod II single coils, but without the Series 1 capability of the Ultra. Overall, the Professional II offers a little less bang for a little less buck.
Conclusion
The Fender American Ultra Telecaster is an example of how to revamp a classic instrument properly. Its design is both faithful to history's most famous electric guitar while also improving upon its ease of use and tonal range.
It's a commendable reboot of an iconic instrument, and if you know want the Telecaster sound but are unsure of the Telecaster limitations, I highly recommend giving the Ultra a try. It's in the premium price range, but will give you premium performance. All in all, the Ultra is a tribute to the past, with one ear tuning for the future.
Body Material: Alder
Body Finish: Gloss Urethane
Body Shape: Telecaster®
Neck Material: Maple
Neck Construction: 4-Bolt Standard
Neck Finish: Satin Urethane with Gloss Urethane Headstock Face
Neck Shape: Modern "D"
Scale Length: 25.5″ (64.77 cm)
Fingerboard Material: Maple
Number of Frets: 22
Fret Size: Medium Jumbo
Nut Material: Bone
Bridge Pickup: Ultra Noiseless™ Vintage Tele®
Neck Pickup: Ultra Noiseless™ Vintage Tele®
Frequently Asked Questions
What makes the Fender American Ultra Telecaster stand out?
The Fender American Ultra Telecaster is both a faithful ode to a legendary instrument while providing a stunning tonal range and comfortable playing capability. The Ultra Noiseless Vintage pickups have a fantastic versatility while staying true to the Tele tone. The series option allows the single coils to act as a humbucker, giving a smoother, cleaner tone with more sustain.
What are its limitations?
The Ultra is an expensive instrument, and should be thought of first and foremost as a Telecaster reboot. Buyers wanting an authentic 1950's Telecaster will be as disappointed as buyers wanting a more modern tone.
Are there alternative options?
The Fender American Professional II Telecaster is a great alternative for buyers wanting a more authentic original Telecaster at a lower price point, but those buyers should note that the original Telecaster itself is a fairly limiting instrument.
Does the Fender American Ultra Telecaster come with its own case?
Yes, the Ultra Telecaster comes with a Fender hardshell case that is capable of fitting both its Telecaster and Stratocaster models.
How many frets does the Fender American Ultra Telecaster have?
22, as Leo himself intended!
This review may contain affiliate links which may earn us a small commission when you click on them, at no extra cost for you. As an Amazon Associate we earn from qualifying purchases.