An introduction to the PRS SE Custom 24: a tour-de-force from one of rock's most legendary guitar manufacturers at an affordable price.
Verdict
We all know the name. Paul Reed Smith has been creating guitars for the rock market for over forty years, and his company's unique blend of craftsman precision and unbridled passion has led to the output of some of these past few decades' most iconic guitars and tones. Good thing that this phenomenally versatile and well-built guitar doesn't cost an arm and a leg, even though it might have you shredding enough that your limbs grow weary. The PRS SE Custom 24 offers fantastic value, quality, and comfort across a wide range of styles.
| Pros | Cons |
| --- | --- |
| Great tonal versatility | Though affordable, it's not an entry-level price |
| Choice between humbucking and single coil pickups | As a PRS, it doesn't offer the cleanest, smoothest sound |
| Smooth and easy to play with a comfortable neck profile and double cutaway | Tremolo use can easily detune the guitar |
| Gorgeous to look at with distinctive PRS bird-shaped inlays | |
Introduction
While the man, the myth, the legend Paul Reed Smith should warrant no introduction, I'll offer one for those in need. As an apprentice to Gibson impresario and Les Paul mastermind Ted McCarty, Paul Reed Smith began designing and building guitars in the 1970's. After seeing Adrian Belew in concert in 1982, Smith was allowed to redesign Belew's Ibanez Blazer with new tuners, bridge, and pre-amp. So inspired by this new sound that Smith went back to work to transfer this system to a humbucking guitar, and thus the PRS line was born.
PRS is known for its instantly distinctive tone, a true product of late 20th Century guitar manufacturing that matches thick, cutting, high gain modern tones with the warmth of the iconic mid-century Les Paul sound. Paul Reed Smith is a living legend, and these guitars reflect this transient state between the old and the new, the bluesy wisdom of the past and the high octane experimentation of the present.
Therefore, it's only natural that these guitars would be expensive. With price points that go well into the thousands of dollars, it's easy to become discouraged from shelling out to get one. However, the PRS SE Custom 24. is a fantastic blend of affordability and value, giving you tonal variety, precision, and ease of use without draining your wallet.
Full Review
Why We Like It
The PRS SE Custom 24 is offers an astounding value for its price. Regardless of your proficiency, the Custom 24 will direct you toward finding your own style with its comfortable pattern thin neck and high caliber tonal capabilities. The Custom 24 boasts a classic configuration of a double cutaway, rosewood neck, and 24 medium jumbo frets. This signature attention to detail is not only indicative of the quality construction, but lends to its user-friendly fretboard navigation.
Like the guitar nerd's dream that it is, the Custom 24 doesn't just offer a humbucker or single coil option, but a push-pull option between the two on its tone pot. And these aren't ordinary cheap pickups, the 85/15 "S" humbuckers are designed with your PRS in mind. They're both distinctive and versatile, and work especially good with blues, lead, and prog tones. Dial in the tone and coil option to your preference and explore how forward or ambient you can get. Use the remarkable tremolo bridge to add pitch bend effects to your playing.
The build quality is classic PRS. The Custom 24's rosewood fretboard comes complete with mother of pearl inlays in the classic PRS bird design. The simple layout with the three-way pickup toggle, push-pull capability and clean pick guard-less body lends an extra level of elegance to this guitar.
Limitations
There are some limitations to the PRS Custom 24. The tremolo bridge is magical, but like all tremolo bridge usage, it ultimately leads to serious detuning. Furthermore, the pickups are part of the distinctive PRS sound, but might come off as muddy or brittle to some. Nothing a Seymour Duncan Jazz pickup switch won't fix, but my advice is too be faithful to the factory setup for a while before jumping the gun on a pickup change.
The sound of the PRS Custom 24 is remarkable for its price point, but it might not be up to par with those familiar with PRS's more high-end models. The Custom 24 is also made to rock, so it wouldn't be my first choice for anyone hoping to channel a pre-1970 tone.
Variations
The Custom 24 comes in several finishes in line with the gorgeous PRS style, including solid colors, bursts, and different patters. My personal favorite is the flame maple veneer top, adding a little spice to a fairly straight-forward (though beautiful) standard look. The Custom 24 also comes left-handed for my fellow lefties, and is also available with several different hardware configurations.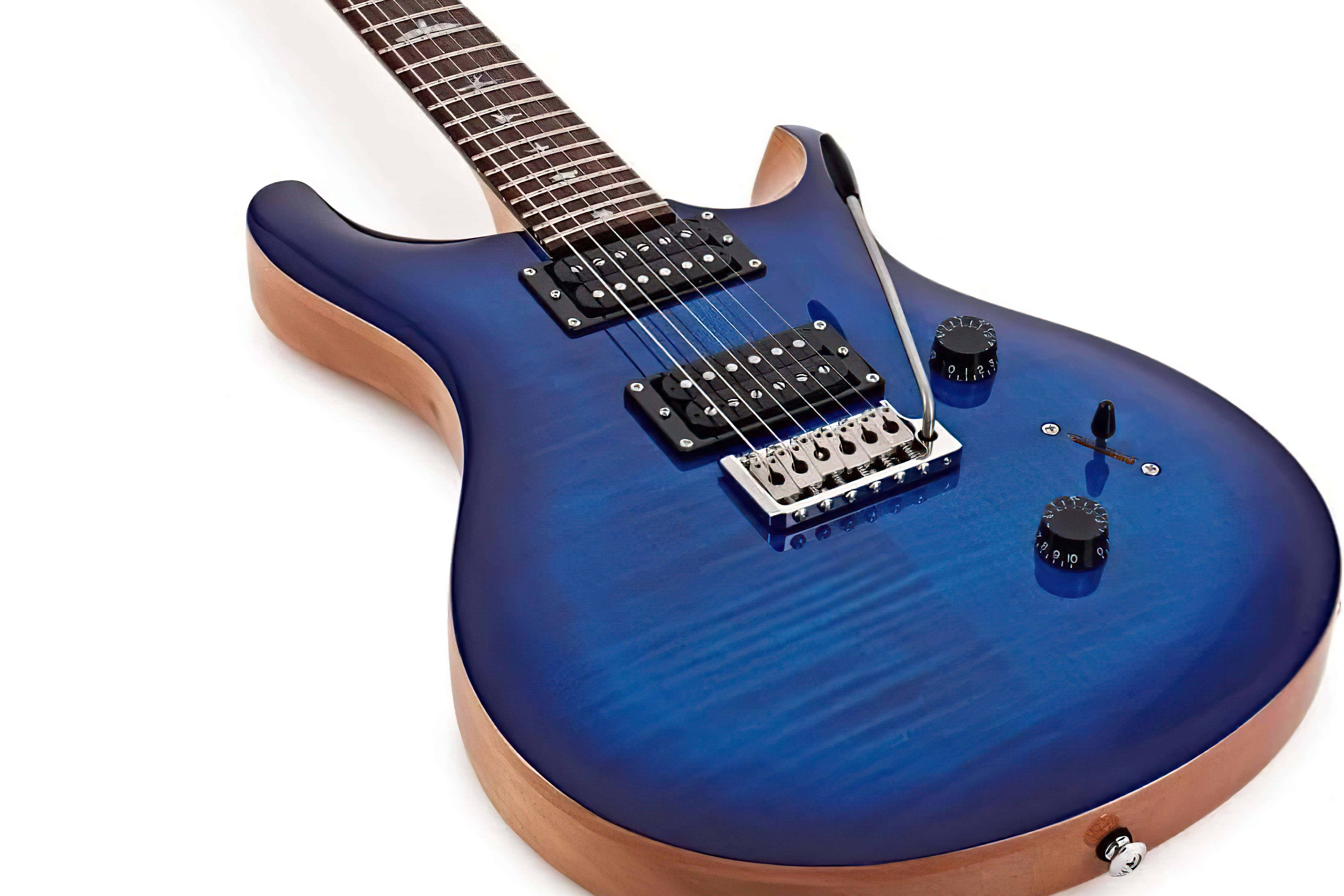 Alternatives
If you want something similar to the Custom 24 that's even more affordable, we recommend the Yamaha Pacifica 611. This line is known for its bang for its buck, though in classic Yamaha fashion, its tonal capabilities are totally up to you to decipher. On the upside, the 611 is more easily customized.
Conclusion
In a competitive and dizzyingly complicated musical world, purchasing the right guitar that allows you to play a variety of tones well might feel complicated. The PRS Custom 24 not only accomplishes this, but does it with panache, giving you variety while not sacrificing on the signature PRS sound and look.
The Custom 24 is a student guitar, and comes with the associated limitations. Yet as far as those come, the Custom has a wildly valuable sound and playing capability. If you're looking for an affordable piece of equipment that's easy to play and produces an iconic sound that you can mold to your liking, you're not going to get much better than the Custom 24. And in the realm of budget-friendly guitars, this one is absolutely studio and gig-ready. So if you're looking for your next serious investment that doesn't break the bank, consider the PRS Custom 24.
Body Construction: Solid body
Top Wood: Maple
Veneer: Flame Maple
Back Wood: Mahogany
Number of Frets: 24
Scale Length: 25″
Neck Wood: Maple
Neck Construction: Multi-Ply
Truss Rod: PRS Double-Acting
Neck Shape: Wide Thin: 2 1/4″
Fretboard Wood: Rosewood
Headstock Logo: Signature "SE"
Bridge: PRS Patented Tremolo, Molded
Tuners: PRS Designed Tuners
Frequently Asked Questions
Is the PRS SE Custom 24 good for beginners?
Yes, it's perfect for beginners and proficient players alike, an increasingly difficult line to tow.
What kind of music is the PRS SE Custom 24 suitable for?
The PRS SE Custom 24 is versatile, but works best for more modern styles, including prog, pop, and hard rock. It can also be useful in metal, but you might want to consider switching pickups before you do so.
How can I make the most of the tonal capabilities of the PRS SE Custom 24?
Adjust the push-pull tone knob to change from humbucking to single coil, allowing you to transfer from a shoe-gaze rhythmic wash to a hard-cutting solo in the blink of an eye.
What is the build quality of the PRS SE Custom 24 like?
The PRS SE Custom 24 is in line with all PRS guitars in offering top of the line attention to detail and precision. The mahogany body, rosewood fretboard, and pearl inlays work well with the PRS-designed nut and bolt-on neck to provide sustain and ease of play.
This review may contain affiliate links which may earn us a small commission when you click on them, at no extra cost for you. As an Amazon Associate we earn from qualifying purchases.