There's a famous moment in Spinal Tap where Christopher Guest shows the director his amplifier that's been "modified" to go up to 11. It's become such an iconic moment that manufacturers and metal-heads alike have been using the expression for decades to describe their desire to get the hardest, biggest, thickest rock tone from their guitars.
We're happy to inform you that while the Schecter Hellraiser C-1 may not be labeled on its volume and tone pots, you'll probably guess that the top number is 11. The C-1 is a hard-rock powerhouse instrument that provides a highly respectable sound. If you're looking for a guitar to imbue your playing with metallic sustain and drive, this is the axe you've been looking for.

Verdict
The Schecter Hellraiser C-1 is a beloved option for hard-rock, metal, and thrash players, and for good reason. It's an extremely efficient propulsion of distorted and overdriven tones with design and hardware thoughtfully composed with unreal levels of sustain in mind. It's robustly built and worth its mid-tier premium price.
| Pros | Cons |
| --- | --- |
| EMG humbucking pickups with single coil options | Heavy for some players |
| Fantastic construction with neck through design | EMG pickups offer a distinctive attack and sustain, and though single coil option opens up some tonal possibilities, it's still largely a guitar for harder rock – Gothic aesthetic, cross inlays, and string-through bridge might not appeal to your style preferences |
| Mahogany body and quilted maple top make it resonant and beautiful to look at – "C" shaped neck profile and ultra-access cutaway makes fretboard navigation easy | |
Introduction
If you're looking for ways to up your metal tone, meet the Schecter Hellraiser C-1. Its string-through bridge, mahogany body, and EMG active pickups are included in this guitar's wonderful design with one thing in mind: more sustain. Crank up the distortion and enjoy rich midrange offered by its EMG 89 neck pickup or choose the single coil mode in the EMG 81TW in the bridge for a piercingly vintage lead tone.
Aside from the tone, the guitar is extraordinarily comfortable. The three-piece mahogany neck with gloss finish and ultra-cutaway ensure comfort and ease of fretboard access.
Full Review
The C-1 is hands-down a very impressive guitar. Its combination of style, tone, and versatility make it a top choice for any metal or hard rock guitarist (no doubt why Curtis Ward, former guitarist of Bring Me The Horizon, played one on stage for many years.) The pickup options are pretty astounding for a guitar out of the box; its use of dual humbuckers with a single coil option at the bridge allow for a unique choice between an organic, modern feel and the vintage mix-cutter vibe of a Telecaster-style lead.
These pickups offer the classic EMG 81 hum-bucking thickness with the availability of its single coil counterpart, a true level of versatility. You can transition from a warm rhythm line to full high-gain metal insanity with one push/pull pot. The guitar's design
also makes for a unique playing experience. The thin "C" shaped neck and cutaway allows access across the fretboard, making it ideal for both rhythm and lead players. The TonePros TOM string-through bridge makes for excellent sustain and control.
Limitations
As this is a guitar designed with metal in mind, there are some licks this guitar might not be best for. The active high-gain pickups are thunderously powerful – to the point that you're not going to get a perfectly clean tone. Even the most delicate neck playing with the 89 will still have a bluesy flavor of vintage distortion.
The C-1 is also a fairly heavy guitar. The mahogany and maple top combo are gorgeous, but might also be taxing on your shoulders after long playing periods. Also, the metal-head look of the guitar runs from headstock to input jack, and might not be your style.
Versatility in Versions and Colors
But if it is your style…you are in luck. The C-1 comes in several look and color options, making it suitable for your own playing style and aesthetic preferences. There are several distinct pickup configurations that can lend a warmer, smoother tone all around, as well as color options such as crimson red, classic black, and a particularly metal transparent quilted maple top.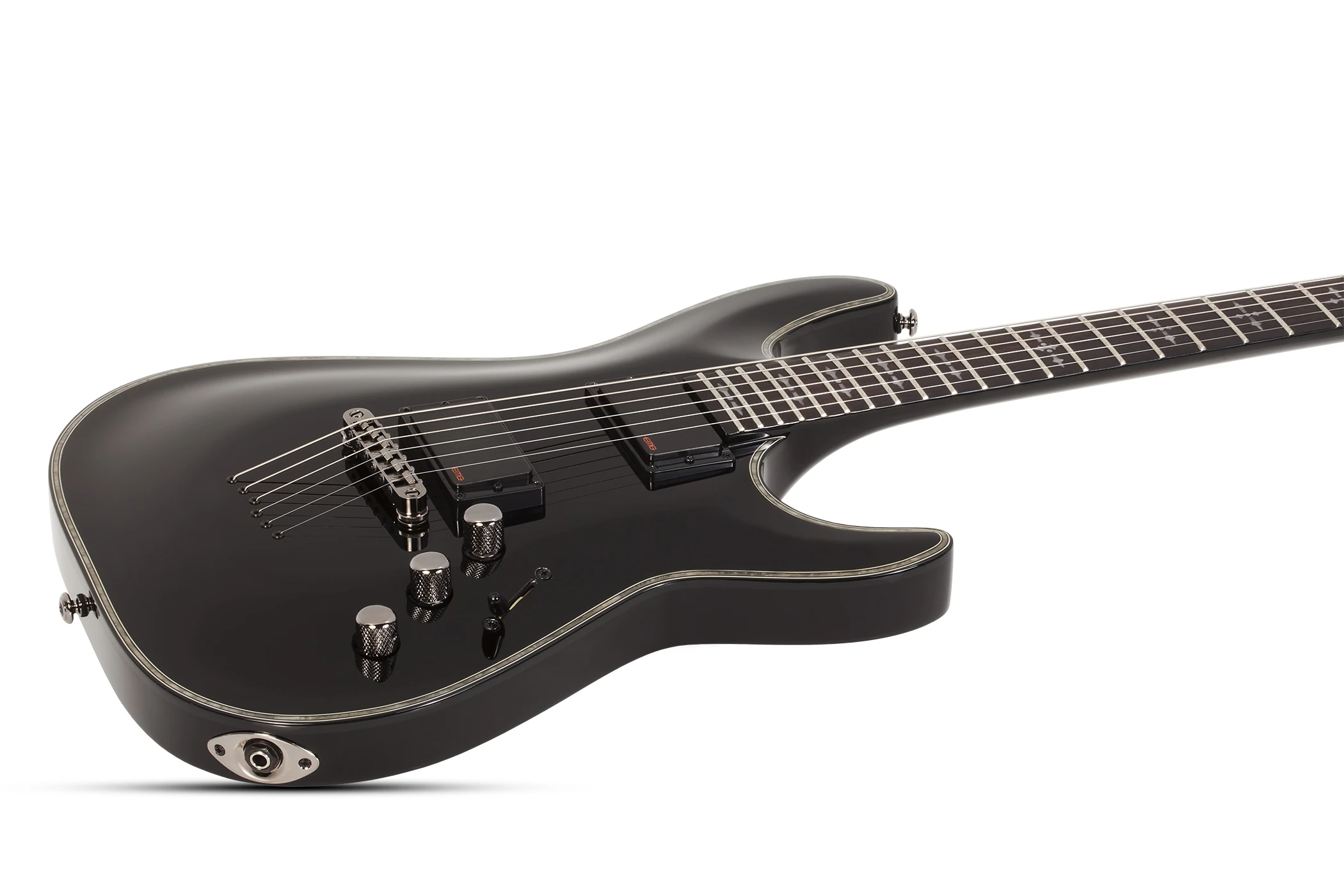 Alternatives
Like the C-1, the ESP LTD EC-100 is also hard-rock-focused guitar with a mahogany body, a maple top, and active pickups. It also has set-neck construction with sustain in mind, and is in a similar price range. It might be easier on your shoulders, and will give you a bit more tonal versatility if you like to play clean.
Conclusion
In all, the Schecter Hellraiser C-1 is an exceptional guitar for both road and studio use in the realm of hard rock and metal. It's visually stunning, easy, to play, sounds perfect for its intended style, and has an exceptional tonal variety for any thrash player out there.
Yet if you're not a metal player, or you'd rather a guitar that's assuredly light, you might want to consider your options before you purchase. But despite these potential caveats, even in its mid to high price range, the C-1 is a pretty astounding instrument for that cost. It's not every day that you come across a guitar that comes to you with the option of instantly switching from a humbucker to single pickup, much less a guitar so thoughtfully designed with metal-level sustain in mind.
If you're a metalhead and are looking for a new companion, I highly recommend the C-1. Regardless of skill level, the C-1 will inspire you and give you a supercharged tone across its sweetly elegant neck. In other words, it'll take you up to 11.
Guitar Colors: Black Cherry (BCH)
Top Contour: Arched Top
Construction: Set-Neck w/Ultra Access
Body Material: Mahogany
Top Material: Quilted Maple
Bridge: TonePros T3BT TOM w/ String Thru Body
Controls: Volume (Push-Pull)/Volume (Push-Pull)/Tone/3-Way Switch
Bridge Pickup: EMG 81TW
Neck Pickup: EMG 89R
Battery Compartment: 9-volt Clip-in Battery Compartment
Tuners: Schecter Locking
Fretboard Material: Rosewood
Neck Material: Mahogany 3-pc
Inlays: Abalone Gothic Crosses
Scale: 25.5″ (648mm)
Neck Shape: Thin "C"
This review may contain affiliate links which may earn us a small commission when you click on them, at no extra cost for you. As an Amazon Associate we earn from qualifying purchases.