If you're looking for the perfect couch guitar that works surprisingly well on the road, we've got the axe for you. Meet the Squier Bullet Mustang.

Verdict
The Squier Bullet Mustang from Fender is one of the manufacturer's best budget guitars. Out of the box it's a sturdy, robust, tonally admirable couch guitar. As a modding platform, you can make something truly yours with it.
| Pros | Cons |
| --- | --- |
| Works well across an array of styles and genres | Character and tone aren't as thick and present as higher end instruments |
| Lightweight and extremely sturdy – great for beginners, students, and traveling musicians | Quality control issues have been reported, yet this is reflective of its price range |
| Great for modding and customizing | Bullet Mustang doesn't sound quite like a Mustang |
| Affordable | Build quality and materials may not satisfy experienced players seeking higher-end models |
Introduction
It's hard finding your first guitar. With so many options, often many out of your price range, it's difficult to weed through the mountains of Reddit posts and Youtube videos all claiming to be the answer to your questions. The plain truth is that even as a proficient guitarist, I often find myself not knowing exactly what I'm looking for in my next instrument.
The Squier Bullet Mustang makes it easy. Rather than leading you down a specific tonal rabbit hole that breaks the bank, or giving you a cheap hunk of wood that falls apart easily, the Mustang doubles down on robustness while giving you a ready canvas.
The Bullet Mustang stays faithful to the original design of the Mustang, though it doesn't exactly sound like one. You're not going to get the legendary bite that the Mustang has become associated with, yet you won't get the price tag either. Instead of trying to be a carbon copy of its more expensive guitar, Fender has tasked Squier (which started manufacturing Fender's student models in 1982) with creating an affordable tabula rasa that packs an admirable punch).
Full Review
Why We Like It
The world of Mustang clones and sound-alikes can be hit or miss. After all, the legendary line of Fender Mustangs produced from 1964 to 1982 is a tough legacy to match. Mustangs attained cult status in the 90's, most notably through Nirvana's frontman Kurt Cobain, whose golden overdrive was no doubt aided by the Mustang's bright thickness. Since then, the world-famous "student guitar" has had many lesser imitators, while the price of Mustangs themselves have gone far beyond the budget of an average student. It's good then that Squier's Bullet Mustang stays true to the design and spirit of the Mustang while keeping true to the original's budget and travel-friendly nature.
While the original Mustang had single-coil pickups, the Squier Bullet Mustang is equipped with dual humbuckers (a modification that Cobain's model had), perfect for giving the opening riff on your cover of "Smells Like Teen Spirit" that extra punch. Yet this isn't just a guitar for grunge-rockers, the adjustable pickup switch and tone pots and be dialed in to fit even the smoothest jazz tone for an intimate bar gig.
The Squier Bullet Mustang comes out of the box looking like an enthusiast's dream: a simple, elegant instrument in the shape of Fender's legendary Mustang. The three-way pickup switch, volume and tone knobs, and string-through bridge is emblematic of classic Fender designs. The bridge is a six saddle hardtail that allows for some decent sustain, while also proving surprisingly comfortable.
The Poplar body and maple neck are remarkably lightweight and sturdy, so much so that for a second I thought that the neck was set as opposed to bolt-on. Seriously, you can knock it around pretty hard and get all the battle-scars without having to take it into your luthier. The laurel fingerboard juxtaposed with its satin finish on the neck makes for very comfortable playing and easy fretboard navigation. The strings also just feel looser on this guitar than usual, perhaps because of the remarkably flat neck out of the box, or perhaps because of the bridge height. Either way, it's a great feature when noodling or learning how to play.
The humbucking pickups on the Bullet Mustang are both nice sounding. While the neck does what you'd expect a standard factory neck pickup to do, the bridge pickup is actually pretty surprising. There's a wah attack and bite to it that's entirely its own. Of all sonic features of this guitar, the bridge pickup actually does sound similar to the Mustang. The pickups are also very to easy to modify for those in need of the Seymour Duncan touch.
Limitations
As a budget guitar, the Squier Bullet Mustang must be thought of as such. The tone is good, especially great in the bridge position, but it's not the Mustang. With some easily done modifications, the Bullet will certainly have more girth and strength, along with everything so great about its comfort and playability.
The Mustang is affordable, and therefore its components aren't as premium as Fender's higher end models. This might lead to some issues with tuning stability and elements loosening over time. Yet it has to be said that the body and neck are remarkably steady, and would probably survive a late night brawl with someone who's asked you to play "Free Bird" one too many times.
Availability and Variants
The Squier Bullet Mustang is available in several different finishes and colors. My favorite however, is the Imperial Blue, a strong, bright color which creates a nice contrast with pick guard. The Squier Bullet Mustang is also incredibly easy to modify with higher end pickups for a closer sound to the original Mustang.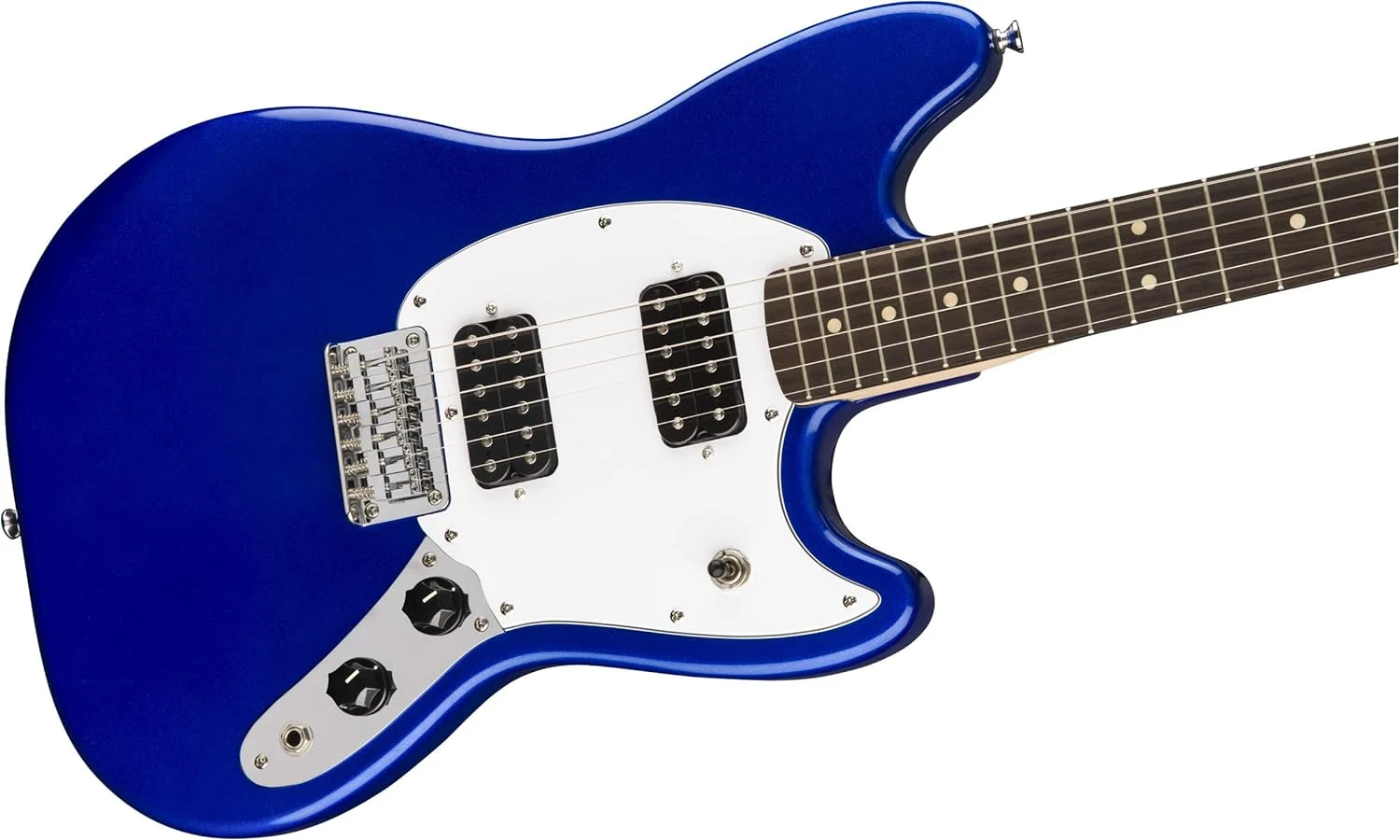 Alternatives
If you want an affordable guitar that's a bit more high grade than the Squier Bullet Mustang, we recommend the Squier Classic Vibe Mustang. It's a bit pricier but offers a step up in terms of components, hardware, and tone wood. The Classic Vibe sounds a bit more like a Mustang, and is still affordable.
Conclusion
The Squier Bullet Mustang is a faithful clone of the Fender Mustang while bringing its own flavor of versatility and adaptability that doesn't break the bank. It's a great entry-level guitar that hearkens back to the days when Fender made guitars students could actually afford.
With a compact, lightweight body and a wide array of finishing options, the Bullet Mustang is at once easy to bring on the road and hard to mistake for someone else's at venue…not that that's ever happened to me.
Whether you're learning to play, or learning to play to enjoy playing again, the Squier Bullet Mustang is a great option to have around. With its sturdiness and admirable qualities, there's very little to lose in giving it a whirl.
Body Material: Poplar
Body Shape: Mustang®
Body Finish: Gloss Polyurethane
Neck Material: Maple
Neck Finish: Satin Urethane
Neck Shape: "C" Shape
Scale Length: 24″ (610 mm)
Fingerboard Material: Indian Laurel
Number of Frets: 22
Fret Size: Narrow Tall
Bridge Pickup: Standard Humbucking
Neck Pickup: Standard Humbucking
Frequently Asked Questions
What makes the Squier Bullet Mustang an ideal choice for beginners?
The Squier Bullet Mustang offers player-focused features with a satin finish on its "C" shape neck across its limber scale length. Its strings are loose and easy, making it perfect for beginners, and is among the cheapest new guitars on the market.
Why might experienced players appreciate the Squier Bullet Mustang?
If you're an experienced player, you'll enjoy the Bullet's lightness and robustness. You also might enjoy the Bullet's wonderful stock bridge pickup for lead playing. And if you have three hours to kill between sound check and the gig, you might enjoy that you won't have to bring your instrument home to play in the interim! The Mustang is also perfect for modding with better pickups.
What genres of music suit the Squier Bullet Mustang?
The Squier Bullet Mustang is a blank canvas for tonal exploration, working best in the rock and hard rock styles, but providing respectable high gain output for several different styles, including intimate rhythm and jazz tones.
What can be done to optimize the performance of the Squier Bullet Mustang?
Modification, modification, modification. One simple set of replacement pickups and you'll be in the zone of Kurt Cobain in no time. The neck is already extremely flat, but adjust the truss rod to your particular liking (surprisingly, this guitar can take it).
This review may contain affiliate links which may earn us a small commission when you click on them, at no extra cost for you. As an Amazon Associate we earn from qualifying purchases.