Bottom Line:
Yamaha is one of those music manufacturers that doesn't really make bad instruments at any level and their product lineup offers different instrument models so that any player can find something they love. So even though the Yamaha C40II comes in around $150, it doesn't sound cheap.
The C40II is a great all-around guitar for the money. Though it is designed for beginners, if you're in a classical model and trying to learn how to play guitar it might just be the perfect introductory model for you. It's made with the beginner in mind, but long-time players will still find value in it.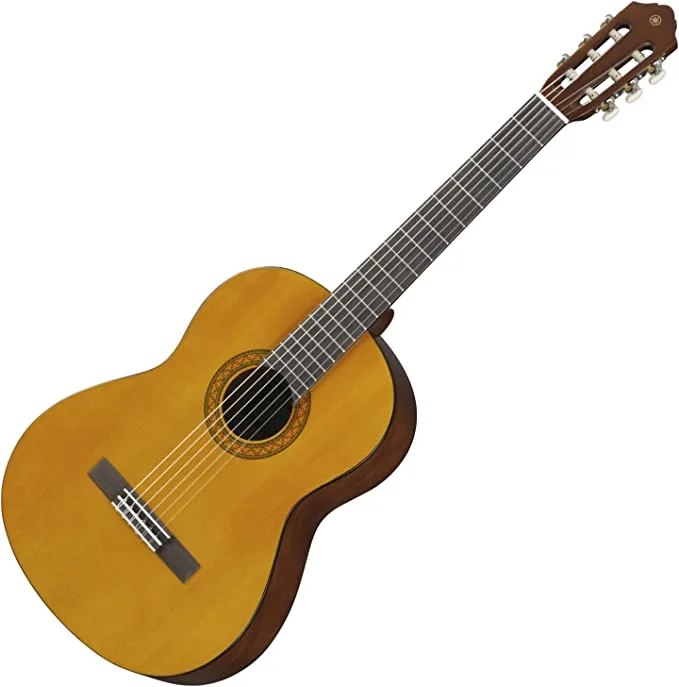 Pros and Cons
| Pros | Cons |
| --- | --- |
| Full-scale classical guitar | Veteran players might find build quality not good enough |
| Nut width lets you play with traditional fingerstyle techniques | Full-scale could present a challenge for players used to ¾ scale |
| Player port app is a useful tool for any player, especially beginners | Brighter sound might not be rich enough for some |
| Spruce top gives a nice, bright sound | No electronics, so an aftermarket pickup is required to amplify it |
| Gorgeous aesthetics and solid protection | |
Specifications
Scale: Full-scale
Body: Classical
Body style: No cutaway
Top: Spruce
Back: Meranti
Sides: Meranti
Neck shape: Classical
Neck wood: Nato
Fingerboard: Rosewood
Number of frets: 18
Scale length: 25.56 inches
Bridge: Rosewood
Nut: Full 2-inch width
String type: Nylon
Number of strings: six
Tuners: Classical
Finish: gloss
Review
Introduction
The beauty in the sound of a classical guitar is undeniable. Not only that, it also requires a much different type of technique to perform. It's mostly played fingerstyle, so it's important to have certain built elements in place to get the most from your playing.
Similar to our Cordoba C7 CD review, this full-size classical guitar offers beginners and more advanced players alike a well-made and affordable instrument.
Tone Woods
The Yamaha C40II classical guitar provides all this and more. It's got a unique combination of tone woods. The back and sides are meranti, a fairly neutral-sounding type of wood which is well-balanced across the frequency spectrum.
With this in mind, the spruce top gives you a sparkly high end that complements the warmth of fingerstyle playing well.
Body
The body is a classical guitar shape with no cutaways, it's comfortable and easy to play, especially when sitting.
With a traditional scale length of 25.56 inches you'll have no problem pulling pleasing classical sounds out of it. It's also got an even appearance with little to no imperfections.
Neck
A classical neck shape made of Nato wood works well with the rosewood fingerboard. The body doesn't have any cutaways, but the 18 frets are more than enough to provide a good classical guitar sound.
A traditional two inch nut width gives you a proper starting point for developing your technique. It is a full scale design, so if you're used to playing a smaller ¾ scale there might be a bit of a learning curve.
The neck has a nice contour that is ideal for playing this style of guitar.
Headstock
The headstock features a traditional Spanish style. It's an elegant appeal, with the Savarez D'Angelico Light Tension strings it ships with coming through either of the holes that are located next to the tuners and flowing into the nut.
The 3-and-3 deluxe tuners have a classic look with a smooth turn. They stay in tune very well. Not holding tuning well is a common issue with lower-end guitars, but you shouldn't have any tuning issues with the Yamaha C40II.
Bridge
The bridge is made of a warm resonant rosewood that is a great compliment to the high midrange and upper frequencies of the spruce top.
As with all acoustic guitars there is no way to intonate the bridge. So if that is a concern you can always take it to a luthier and get a custom bridge saddle cut. But Yamaha guitars generally come with a well-done factory setup.
Aesthetics
The gloss finish and overall look is pretty stunning for a guitar in this price range. It brings a spirit of classical guitar that shines through perfectly. All sides of the guitar have an evenness to the wood grain that is pretty sleek, with very few (if any) imperfections.

Accessories
The C40II doesn't come with a strap, case, or any type of electronics. But all of these are available from Yamaha.
Classical guitars are generally meant to be played while standing up and unamplified. But knowing that each player's preferences are different they made sure that each player can tailor how the guitar is set up to their liking.
Final Thoughts
At just over $150 the Yamaha C40II offers an incredible value, build and material quality, and price point that anyone can afford.
For a beginning player it's a top choice when getting into classical guitar. More seasoned players might need something a little higher end, but guitarists of all skill levels have something to like about it.
Keep in mind that it does have the traditional classic string spacing due to the nut width. This means if you're not used to playing a full-scale classical guitar it might feel a little awkward at first.
The deliberate selection of tonewoods work together well to give it an even sound across frequencies, with solid projection even when it's unamplified.
Overall you can't go wrong when choosing a Yamaha instrument no matter what you play and the Yamaha C40II classical guitar is no different.
At this very affordable price point and with this feature set, what do you have to lose?
Yamaha C40II FAQ
Is Yamaha C40 full size?
Yes, it's a full-size classical guitar with 18 frets and traditional string spacing thanks to the nut width. If you're used to playing a ¾ scale then it might feel a bit awkward at first. But once you get used to it you shouldn't have any problems.
What is the difference between C40 and C40II?
There are some key differences between the two, mostly in the tone woods. The C40II uses meranti. The back and side tone woods are also different. The C40 has a slightly richer sound, again due to the different build materials.
But overall there aren't many drastic differences and they sound comparable to each other. You really can't go wrong with either one.
What is the difference between Yamaha C40 and C70?
There aren't many differences between the two. The C40 has chrome tuners while the C70 has gold. Otherwise their build components are identical across the board. This means that they have a very similar tone to one another, if not identical.
Are Yamaha classical guitars good?
Across the board, Yamaha has a fine attention to detail in all of their instrument manufacturing. They aren't specifically known for their lineup of classical guitars – but they should be.
If you're looking for an affordable, full-scale classical guitar the C40II is a fine choice for any skill level.