Find yourself a budget guitar that can do both. The Yamaha Pacifica 112V boasts high-end features for an incredibly affordable price. But does it walk the walk as well as an MT?

Verdict
The Yamaha Pacifica 112V proves to be more than capable of providing premium wallop for a sensible price, and is a solid choice for beginners and advanced players alike.
| Pros | Cons |
| --- | --- |
| Alnico V single coil pickups | Pickups are good for a budget guitar, but could easily be replaced |
| Good bridge humbucker that splits into single coil with a tone pot pull | Tuning stability has been noted as an issue when using the tremolo bridge (though it was fine for me) |
| Looks beautiful with its Stratocaster-inspired design and finishes | Gator gig bag could be of better quality (surprising, I know…) |
| Phenomenal value for its price tag | |
Introduction
Yamaha is probably the closest thing the music industry has to a true corporate dynasty. Established in 1887, this piano and reed organ manufacturer used its manufacturing capacities after World War II to produce motorcycles. With so many products, Yamaha has essentially mastered vertical integration – creating instruments, recording hardware, and the amplifiers and speakers recorded music is enjoyed on.
With such a long running history as an industry titan, it's no surprise that Yamaha produces great guitars for those on a budget. Yamaha's phenomenal Pacifica line exemplifies the company's dedication to craft and quality control, no matter the price tag. Modeled off the Fender Stratocaster, the Pacifica line's elegant design and malleable clean tone have been the companion to all from my little brother to Miles Davis guitarist Mike Stern, whose own signature model Pacifica is a Telecaster-styled delight.
So what's the deal with the 112V? To start off, the very name is pretty straightforward for a guitar model. 1 refers to the affordability, the second 1 refers to the number of humbucking pickups, and the last number "2" refers to the number of single coils. The V refers to the Alnico strength of the Alnico pickup, V being the strongest, crankiest, and most popular.
An affordable Yamaha with Alnico single coils and a humbucker? What's there not to love? The Yamaha Pacifica 112V does exactly what you'd want it to – and at a budget. There are some caveats to keep in mind, but they all have to do with the fact that the 112V is a budget instrument that operates like one. These don't change the face that the Yamaha Pacifica 112V is a great guitar that can do a lot for very little. Let's dive in
Full Review
What We Like
The Yamaha Pacifica 112V is first and foremost an incredibly versatile instrument. The five-way blade selector across two single coils and one humbucker at the bridge offers everything from the most intimate rhythm section to the growliest solo one could hope for. The bridge pickup also splits into a single coil with the pull of the tone pot. Whatever style you like to play, the Pacifica 112V can almost definitely exact it with precision.
Aside from the elegant tone, the Yamaha Pacifica 112V also boasts an elegant design. With an alder body and bolt-on maple neck, the 112V has that iconic Stratocaster look. When a layperson thinks "guitar," they think something that looks pretty similar to the 112V. It's not just the looks, the Pacifica stays true to the Yamaha reputation; it's darn near impossible to break.
As a budget guitar, the 112V is pretty fantastic. Almost everything works exactly as it should, its looks great, it's designed true to the Yamaha brand, and is a phenomenal bang for your buck. All this makes it a valuable guitar, especially for those learning to play and honing their sound.
Limitations
Onto the shortcomings. As a budget instrument, there are some considerations about its makeup to keep in mind before purchase. First off is the pickup choice. The single coils have been noted as being just too soft. You could try raising the pickup height but keep in mind with a stock single coil like this, there's a good chance that the tone will be significantly altered.
The humbucker in the bridge is good. It's not out-of-this-world (predictable for a budget guitar), but it sounds satisfactory for any style. The nut is plastic and the tuners don't work extraordinarily well with the tremolo bridge. Replace the pickups, nut, and tuners, and you have yourself a pretty premium guitar for a budget price.
Something else to keep in mind is the gig bag that comes with the 112V. It's a budget Gator case and probably isn't the best mode of transportation if you want to take it on the road. Get yourself a hard case and call it a day.
Alternatives
If you want something a bit more premium and are willing to move your price bracket, the Fender Player Series Stratocaster is a great alternative. The Player Series has name brand appeal, sounds like a classic Strat, and delivers the classic versatility associated with the Stratocaster name.
Variety and Availability
The Yamaha Pacifica 112V has a variety of finishes to choose from. If you're into the something other than a classic solid blue or black, the classic violin sunburst is a beautiful chocolate-caramel concoction.
For lefties, the 112JL version is available to make sure that you and George won't bump guitars on the Ed Sullivan Show (I couldn't resist). The limited edition and signature Yamaha models offer boutique tones and designs tailored for aficionados and enthusiasts.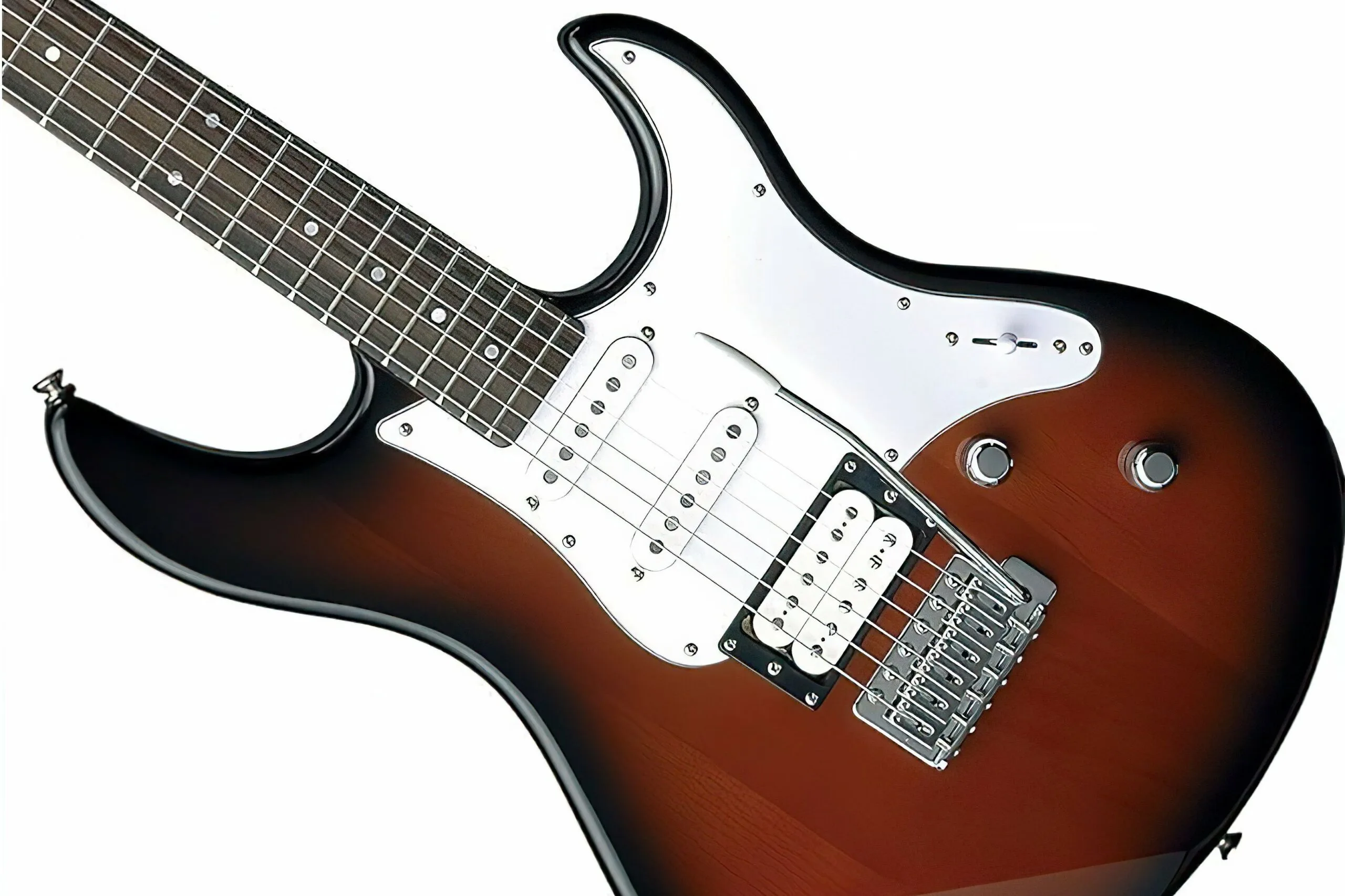 Conclusion
All in all, the Yamaha Pacifica 112V is a great guitar and a fantastic budget guitar. While there are elements to upgrade, the construction, design, and feel are there to truly send your playing over the edge, whether you're a beginner or an expert. However, as a budget guitar with a flexible tone, this might be best suited for those still figuring out their personal style.
Speaking of style, this guitar has a Strat-like versatility that allows one to exact their personal tone to a tee. The capabilities are there in the 112V to give you a very professional shredding experience, and for the price, it's hard to pass up.
Body Type: Solidbody
Body Shape: Pacifica
Body Material: Alder
Body Finish: Gloss Polyurethane
Neck Material: Maple
Neck Shape: C
Fingerboard Material: Rosewood
Fingerboard Inlay: Dots
Number of Frets: 22, Medium
Scale Length: 25.5″
Neck Pickup: Yamaha Alnico V Single-coil
Middle Pickup: Yamaha Alnico V Single-coil
Bridge Pickup: Yamaha Alnico V Humbucker
Frequently Asked Questions
What is the body of the Yamaha Pacifica 112V made of?
The body of the Yamaha Pacifica 112V is actually carved out of alder. Alder is a classic tone wood that lends to the guitar's durability.
What makes the Yamaha Pacifica 112V a good choice for beginners?
The Yamaha Pacifica 112V is an affordable guitar that's versatile, easy to play, and easy to upgrade.
Are there any limitations to the Yamaha Pacifica 112V?
The 112V's stock pickups could either be modified or upgraded, as well as the nut and tuners. Keep in mind that the tuning stability changes when you use the tremolo bridge.
Is the Yamaha Pacifica 112V available in other versions or colours?
Yes, the Pacifica is available in several different finishes, while the Pacifica line itself has several different models, including the impeccable Mike Stern 1511.
This review may contain affiliate links which may earn us a small commission when you click on them, at no extra cost for you. As an Amazon Associate we earn from qualifying purchases.