The best microphone stands are different for every application. You'll need to think about why it is you're on the hunt in the first place and where you'll be using your stand. You might even give thought to how you'll store it, if it will be transported around, and much more. We cover all of the considerations and show you the top options for each scenario below…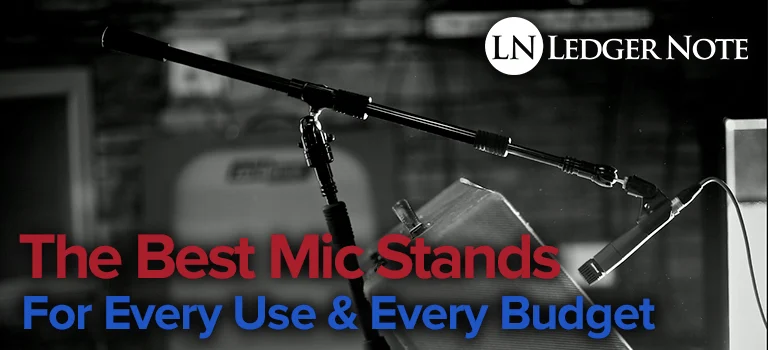 Everyone knows what this contraption is, what it looks like, and what its purpose and function are for a vocalist or recording engineer. However, just as it is with pretty much everything that you can fork over hard-earned money for, a cheap stands pales in comparison to the best mic stands.
What's more, because these stands tend to look so similar since it's such an ultimate example of form following function, it may be very difficult at first glance to discern any differences.
However, these differences are absolutely essential to learn, as they often represent the fine line that separates a mic stand that's worth cajoling your purchasing power and one that should cause you to run fleeing from your neighborhood music gear store of choice.
This, of course, leads to a conundrum. If you're in the market for one to two stands for either your studio or the stage for that all-important upcoming gig, you probably don't have the time needed to test out all of the brands and models and parse their respective selling points.
Need more information in order to better understand your needs? We have got you covered! Visit our FAQs section.
INCLUDED IN THIS SECTION: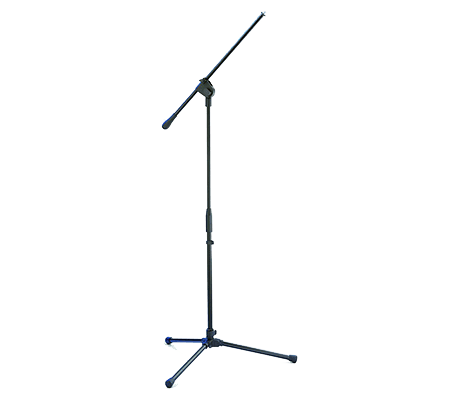 If you're hunting for a tripod base with a boom, then the Samson MK-10 will satisfy your needs. What I particularly appreciate about this option is that the tripod legs extend much lower and further horizontally than others. This lowers your center of gravity and creates a wider base that resists tipping from sideways pressures.
There's no counterweight on this boom (although you could add one yourself) but what you can do is make sure it extends in the same direction of a tripod leg if you extend it as far as you can. I'm also a fan of the latches which feature quick-twist adjustments.
The other thing is that this sucker can collapse into a relatively small size, once you collapse the pole, turn the boom down, and pull the legs together. You can keep an entire collection of these tightly packed into one closet.
The best thing about this model is that it costs less than most of us will blow on a single dinner, it's extremely durable, and if you lose one by loaning it out or leaving it at a gig, you won't care to just order another. It's a workhorse for the studio or stage, for sure.
Specs:
Item Weight: 3.3 pounds
Product Dimensions: 25.5 x 3.5 x 3 inches
Material Type: Steel
Pros:
Cons:
May need anchoring in windy situations
Tripod may be an issue on stage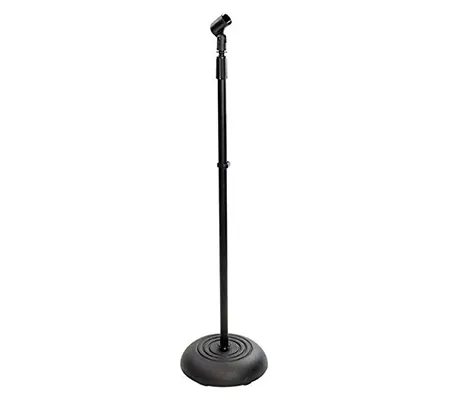 The Pyle-Pro PMKS5 looks like your standard round base stand, but this beast is a tank. It's made out of die-cast and steel. The pole can unscrew for transport so you can carry the base separately, which is the main attractor of this stand.
The base weighs over 9 pounds and has a large enough diameter to resist rocking but not so much that you can't move it about with your hands for live performance. The height at its lowest is 33.5 inches and can extend up to 60 and a quarter inches.
That may seem a little low for tall people but remember that dynamic mics will be tilted up and condensers are going to add quite a bit of height themselves without even considering the shockmount.
I've personally had more than one of this very model before I started buying the more luxury models below. It was good enough for me to return to it. I'm sure anyone starting out or traveling with one can get the max value out of it.
Specs:
Item Weight: 9.92 pounds
Product Dimensions: 1.67 x 8.86 x 8.86 inches
Material Type: Steel Alloy Base + Mounting Pole
Pros:
Adjustable and durable
Easy to use
Sturdy
Cons: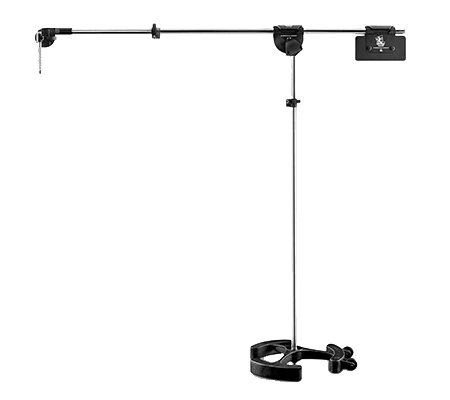 This is the end-all be-all microphone stand. The Latch Lake micKing series is the highest quality stand you'll ever find. In terms of usability, the spin and lever locks are fast and secure. You're saving seconds not dealing with slippage and repositioning, which sounds absurd until you multiply that by 10,000 and understand how much time you lose to non-sense from cruddier products.
The real deal is not only is every single component built from better materials, from the poles to the cord clips, but you've got features you won't find elsewhere. Check out the counterweight on the boom. The top mics, especially large condenser mics, are heavy.
Boom slippage is the biggest issue in music and audio recording and this entirely solves it. Check out the base. Not only is it super heavy but it has wheels for quick moving (only when you tilt it!). 90% of the weight is in the perimeter so it doesn't tip even if you bump it.
The coolest thing to me is if you need multiple mics, which is great for mixing choices, the bases can interlock and create an even more secure structure. This is next level for press conferences, interviews, live music… pretty much all situations.
Specs:
Item Weight: 7.0 pounds
Product Dimensions: 56 x 17 x 9 inches
Material Type: Steel
Pros:
Superbly engineered design.
Massively heavy but compact wheeled base.
Cons:
Can be a little wobbly sometimes
In terms of a round base stand, the Atlas Sound MS25E is one of the most stable you can find due to the triangular shape where they stuffed most of the weight in the corners. Like all of the choices in this section, this is one of those "for life" purchases due to the extreme durability, even in the latches and threading.
The tube assembly for the vertical poles is oversized for increased resistance to bending even in the inner pole. The larger diameter allows for thicker walls as well, doubling the strength. This is the kind of stand you want if you use a reflection filter as a mini-vocal booth around your heavy mic. It keeps the weight centered and isn't going to tip unless you football tackle it.
And of course, you can always add their boom or another company's boom since the threading is standardized.
Specs:
Item Weight: 28.2 Pounds
Product Dimensions: 36 x 21.5 x 5 inches
Material Type: Steel
Pros:
Great build quality for the price
Solid joints and clamping points
Folds up neatly
Cons:
Too light for heavier mics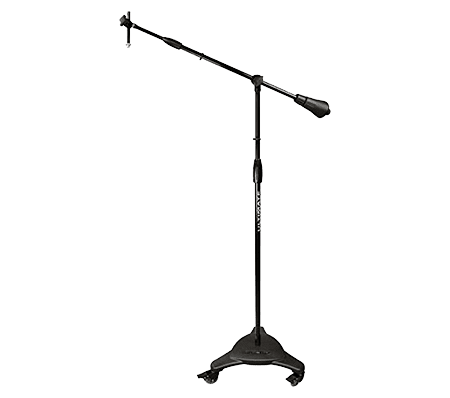 The Ultimate Support MC-125 also has a hybrid-style base. It's a mix of a tripod and a circle base but with extensions to look more like a triangle. This allows weight to be shifted further outward to increase stability. What's great about this one is it's on wheels all the way around.
These wheels have locks that you can quickly engage or disengage with you feet that lock both the rolling and the angular movement so you get no shifting until you want it. In addition, you'll notice the big knob on the back of the boom which is actually a 5.75 pound counterweight.
Believe it or not, once you put a heavy 3 or 4 pound condenser mic and extend it, you're looking at a serious movement of the center of gravity. This counterweight brings you back to the middle.
This is important since the stand height can reach up to just under 83 inches and the boom can reach out to 61 inches. This one has been hailed as one of the most adjustable studio booms ever. That would be a huge negative without the superior stability the base and counterweight offers.
Thanks to that, it's a huge bonus. It's the perfect investment for studios that want the best for their clients but don't want to needlessly break the bank.
Specs:
Item Weight: 35 Pounds
Product Dimensions: 61 x 3.75 x 3.75 inches
Material Type: Synthetic
Pros:
Solid construction
Long product life
Cons:
The price is too expensive
Mic Stand Accessories
When the time comes to buy a stand for your mic, you'll need to pick up more than just the stand itself. There are a few accessories you'll also want to pick up to make sure you're maximizing their effectiveness.
Below we've included our favorites of each type. You can click any of the images or blue links to learn more. Some of the accessories you should look into include: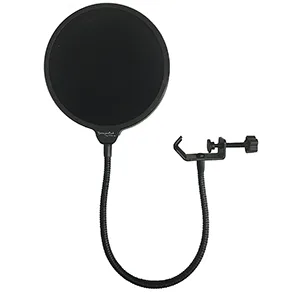 Pop Filter – These are great for reducing plosives or keeping them from ever reaching your recording at all. You can also use them to help yourself or a client keep a proper distance from the mic, since we all tend to want to put our mouths on the mic like we see on TV so much.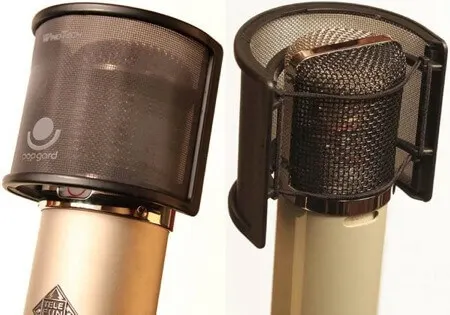 Wind Screen – Usually wind screens are little puff balls of foam or long-nap microfiber material, but I really like the style above due to it being ridiculously more visually attractive while working just as well. They help stop the sound of air gusts and over-breathing.
Reflection Filter – As an at-home recording engineer, you can't always afford nor want to hang up a ton of acoustic treatment. The best shortcut is one of these mini-vocal booths that wrap around your mic and sit right on your stand. Heads up, these don't work on booms!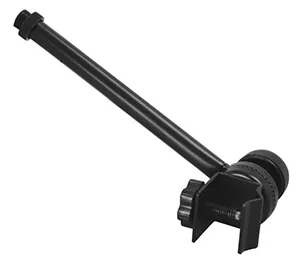 Sidemount Booms – This tool is essential If you're a singer/songwriter type that needs to record vocals and guitar together. By attaching this space-saving device to your stand, you can mike up both elements simultaneously, adjusting it to ensure your guitar sound is precisely to your liking.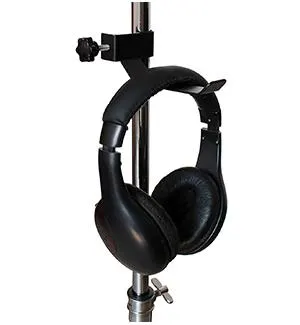 Headphone Hangers – If you're recording, you already know that headphones are an important part of the process. You also know how tedious it can be to constantly roll up and put away your headphones every day, just to unpack and unroll them the next day. This tool allows you to simply hang the headphones on the stand and leave them there, where they'll be chilling until you need them next time.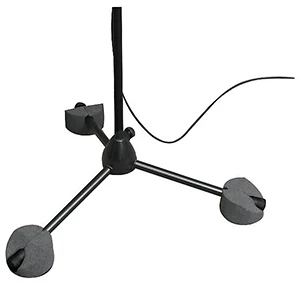 Ground Isolators – Certain instruments and foot movements cause vibrations on the floor. This could sneakily compromise the integrity of your stand if you're not careful – not to mention your vocal performance.
These devices envelop the prongs of the stands, creating a "floating" effect that minimizes actual contact with the floor. As such, this will help keep your sound smooth and consistent. Look up the shockmount that goes with your microphone too. It will suspend your mic in mid-air with rubber bands to stop vibrations from making it into your recordings.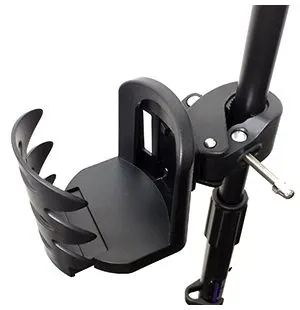 Drink Holders – This may look superfluous, but it's more important than you think. Having a drink at the ready keeps a vocalist's throat in good shape. So why not have this needed liquid in a spot that's easily accessible? A proper drink holder will easily clip to the stand's pole in a way that won't interfere with anything else. It can be the difference between a perfect take and one you just have to accept.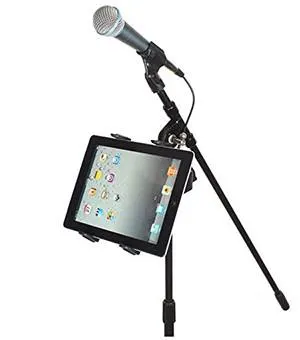 Clip Mounts – If you're planning on making your recording session a multi-media experience, control of remote apps that stem from a tablet or smart phone is more than a cool little gadget. A good clip will allow you to have this control from behind the mic. This makes this technically advanced process considerably more efficient.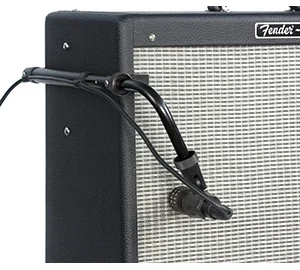 The Cab Grabber – This device isn't a accessory per se. However, it is a stand replacement; one specifically geared to miking up guitar cabs. This little gadget could be a boon for recording spaces where space is at a premium, as it helps you skip out on using an extra stand.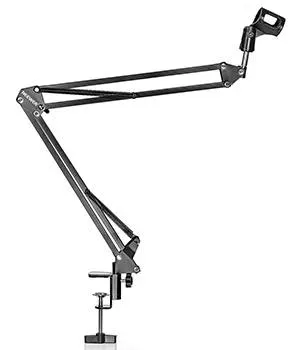 Scissor Arms – This is another cool space-saving device with a bit of a twist. Its compact design is built to hold a mic that's designed for use in a tighter, smaller space, such as a radio DJ booth or podcast-ready desktop.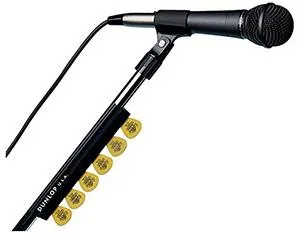 Guitar Pick Holder – There's not a lot to this, which is why it costs nearly nothing. The attraction is that it looks a lot better, for those who care, than some of the DIY options guitarists will employ. It creates a tight but small clip that you can squeeze some picks into. If you drop one on stage, you need to be able to grab the next immediately or you risk screwing up your set.
Accessorizing your core equipment can save time and recording takes, and honestly it's just fun for us and for our clients.
These are the Best Mic Stands Out There
Although a microphone stand's ultimate purpose is clear cut, choosing the perfect stand for you and your exact purpose doesn't necessarily follow suit.
The music you create and the place in which you share that music to the masses play key roles into determining which microphone stand would be an excellent purchase, and which would cause a massive amount of sorrow.
FAQs
In this section, we're sharing the wealth of wisdom we've accumulated through numerous gigs over the years to help you make the most informed decision possible.
It could be the fine line that separates the right purchase and one that gives you buyers' remorse the moment you set it up.
The most important part of the buying process happens before you even browse a store to purchase an item. There are several factors that you must consider regarding your music-fueled circumstances. These are elements that, when addressed, will organically weed out stands that would be a total failure.
Am I Performing Live or in the Recording Studio?
The first thing you should think about here is place of performance. In other words, where do you plan on using the stand on a routine basis? This makes a huge impact on what kind you'll want. It also serves as your first clue regarding no two stands being alike.
If you are looking for a microphone stand you're going to tote with you for your numerous gigs, you're probably going to be in the market for something that's pretty heavy duty. In a live performance situation, you're going to be setting up and tearing down your set a great deal. You'll need a bit more robust to stand up to this abuse.
On the other hand, if you're planning on setting the microphone stand exclusively in a studio, constant set up and tear down may not be that big of an issue. Therefore, you may not need something quite as sturdy.
Pro-Tip: With that being said, if you have a situation where you're in the studio and doing a decent amount of live gigs, you may want to consider picking up a pair of stands – one each for the appropriate situation. With something this inexpensive there's no reason to force one to be a mediocre compromise.
Tripod Bases vs. Solid Round Bases
The type of mic stand base is also an important factor to consider.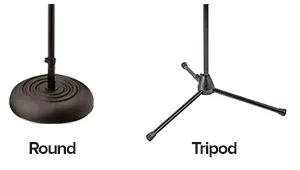 There are essentially two types of bases for these stands: tripod and solid. As you may guess, the former gets its name because it rests on a three-pronged base like a camera tripod.
The latter base is flat and either round or (rarely) square, with the stand portion shooting up from the base's middle. The round base is heavy in order to keep a low center of gravity, but aren't very wide.
To determine which base you want to use, another question has to be considered. Specifically, what kind of performance are you going to be conducting behind the mic?
If you're just looking to purely sing and nothing else, then a solid base stand may be more your speed. If you're showing up to your gig with a guitar in your hand, then a tripod's going to be your best bet.
The reason for this has to do with a mic boom; a microphone set up on an extension bar specifically to be trained on a secondary sound, such as an instrument.
Solid base stands aren't boom compatible because the center of gravity is moved too far out horizontally, so they work best if you don't have a need to mic up another instrument.
Tripod stands, on the other hand, allow you to use them with or without a boom, making them essential if you want the sound of your instrument to shine through.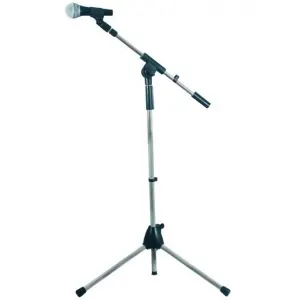 Another advantage that a tripod stand has that a solid stand does not is that they fold up. As such, they don't take up a whole lot of space. If you're going to be traipsing around from gig to gig in limited space, this is probably something that would probably be a great deal of interest to you.
That being said, a lot of round bases do allow the vertical portion of the stand to unscrew from the base.
How Durable Do I Really Need?
Finally, you should pay close attention to the level of durability that a stand offers. This ties back to the first point we made when we were talking about how you were planning on using the mic.
However, we're reiterating it somewhat because it's easy to forget how easy it is to subject a stand to torment. They will be knocked over, knocked around, have heavy instruments in hard case shells stacked on top of them, etc.
It should be noted that you don't have to be the second coming of Steven Tyler to have a stand that's subject to a lot of wear and tear. It's also important to remember that it'll take its fair share of lumps away from the stage.
Factors like storage, transport, and the occasional handling by people that may not be as careful as you are all components that factor into the overall equation. And the bigger your gigs get, the less control you may have over that latter element.
Some of the stands out there are surprisingly technologically advanced. Stands with counterweighted booms, casters, wheels, and even shock absorbers are all available to aid you in the various aspects of ownership, from stable positioning to minimizing vibrations that could come from other instruments.
These aren't the kind you want to beat to death, and we'll talk more about these features further down the article. The best mic stands aren't meant to be carried from gig to gig and tossed into a van like nobody cares about it.
The Six Types of Microphone Stands

There are essentially six mic stand types to consider:
Tripod Stands – As mentioned earlier, these stands sit on three-pronged bases. They're easy for storage, and they tend to be versatile enough to allow for an added boom.
Tripod Boom Stands – These are designed to be like an average tripod, but it has a boom built into the top. This allows for a longer reach than a regular tripod stand.
Round Base Stands – As mentioned earlier, a round base is the aesthetic hallmark of this stand. They're great for pure singers because they take up less floor space and they're harder to trip over if you plan on being active while on stage.
Low-Profile Stands – These are low to the ground microphone stands. These are specifically geared to pick up sounds from low-setting instruments, such as a kick drum or guitar amplifier.
Desktop Stands – These look similar to low-profile stands, but they aren't necessarily geared toward musicians. Their primary intention is for podcasting or bedroom recording while seated.
Overhead Stand – These stands come in handy when you need to deal with an extreme angle or height like you'd see with a drum overhead. These are the largest and priciest of all stands, essentially giant tripod boom stands.
There are other types that you'll find in the video industry that we won't cover as they aren't necessarily relevant to most uses. There are even crazy, unique stands like Freddy Mercury's bottomless mic stand. For the reviews below we're going to stick to the main three types, which cover 99% of cases.
Useful Resources
While you're at it, you may be interested in some of these additional resources after you look at the reviews below:
There's plenty more but we can't list it all here! Use the search function at the top of the site or venture through our Mixing & Mastering column and Studio Recording column.
Let's start with the more inexpensive models first. Keep scrolling to see all of the fun microphone stand accessories, too. Remember, these come with mic clips for those without your own shockmounts.