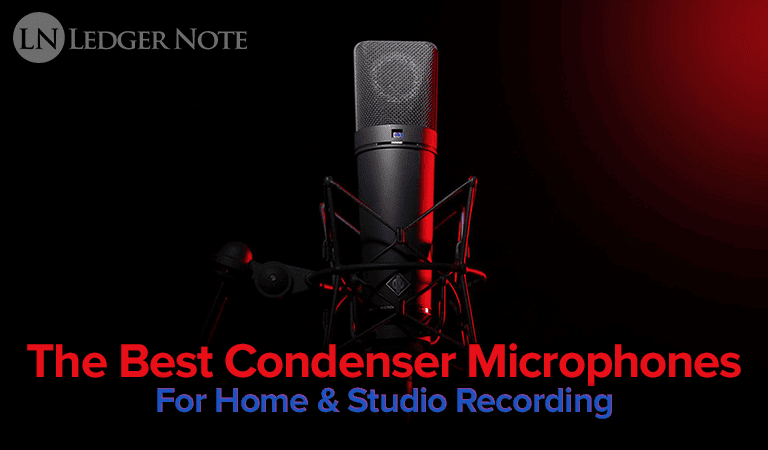 Click here to jump straight to the reviews!
While nobody outright says that a dynamic mic or ribbon mic can't compete with the best condenser microphone, we all eventually cast our vote with our wallets.
Condenser mics are clearly the most popular types period, whether we're talking about home recording or in a professional studio, or vocals versus instruments.
It's hard to go wrong with any of the best of each budget range. It certainly makes post-processing an easier and more enjoyable task.
Close miking with a cardioid, large diaphragm condenser not only picks up amazing detail but also helps minimize other issues related to bleed and a poor acoustic environment (a huge problem for home studio recording). Tack on a reflection panel and you can produce results that compete with major label releases. Zero exaggeration.
So let's take a look at what makes a condenser what it is, how to use and care for one, what else you'll need to get the most out of your purchase. Then we'll take a look at the options unanimously considered the best in each price range so you can save time hunting around and get on with some recording!
Of all of the types of microphones out there, everyone loves a condenser. By looking at how it works and how it's constructed, we can begin to understand why they are everyone's favorites. To really comprehend it you just have to use one and be wowed by the quality increase for most applications over other types.
What is a Condenser Microphone?
All microphones work just like our ear drums do. There are diaphragms that are thin plates or skins that vibrate due to the pressure of sound waves contacting them.
The difference in mics arises mainly from how the mechanism attached to the diaphragm translates these vibrations into an electrical signal to be sent down the mic cable and to a speaker or computer.
Condenser is an old term for the electrical component called a capacitor.
A capacitor is made of two conductive metal plates attached to a battery. The battery feeds a charge to the plates so that an electrostatic field can be maintained between them.
As the plates are moved closer together, some of the charge in the field is released due to a capacitance change and becomes the current that is your audio signal.
The front plate of the capacitor is the diaphragm. As sound reaches it, it is pushed closer to the back plate to generate the current!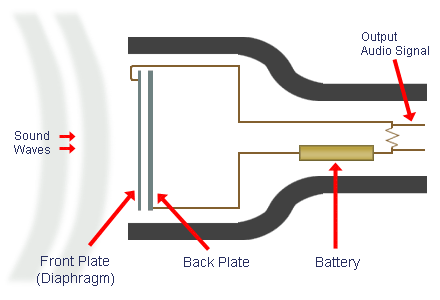 There are a few implications that arise due to this type of construction:
The battery and tubes require 48 volts of phantom power to operate
The sensitivity of the diaphragm becomes distortion at too high of SPL's.
They are ideal for most applications, even recording amplifiers as long as you manage the volume.
For anything much louder, you'll want to use a dynamic microphone. You can scream into a condenser and be fine, but if you blast an electric guitar amp at it you might want to use a Sound Pressure Level (SPL) monitor to make sure you're not over-doing it and damaging the diaphragm. This is a good, cheap tool every studio engineer should have in their desk drawer or pocket.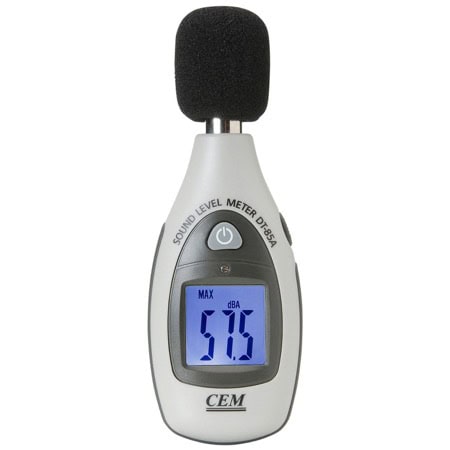 Speaking of damaging the mic, let's take a look at how to care for yours once you have it in your hands.
How To Care For The Best Condenser Microphone
Thankfully, this is one of the easiest things in the world.
Humidity: First and foremost, whether you store your mic in a closet, mic cabinet, or leave it on the mic stand, you want to make sure that the room's humidity is such that you aren't accumulating moisture on the diaphragm. This is usually not an issue in most temperature controlled homes and buildings.
Moisture: In addition, any time you're recording vocals with your condenser mic, it's a good idea to have a pop filter up. The reason is that the grills will allow moisture through and most of us will accidentally spit a little here or there as we sing or rap. You don't want little globules of saliva or food landing on the diaphragm.
Sound Pressure: The pop filter will also help you manage your own or your vocalists distance, and therefore volume, from the mic. Sound pressure levels rise exponentially the closer the mic is to the sound source.
If you put your mouth right to the grill like you see people do with handheld dynamic microphones, there is a real possibility that you can harm your mic permanently. Each mic has it's own maximum safe SPL rating. Make sure you know yours and check with an SPL meter occasionally.
Phantom Power: Phantom power must be used when recording with a condenser. This will be provided by your audio interface, mixer, or stand-alone preamplifier.
It is extremely important that you always turn the phantom power button or switch to the off position before plugging in or unplugging the mic cable. It doesn't always happen but you can receive a surge of voltage much higher than the mic can handle that can damage the battery, tube, or diaphragm.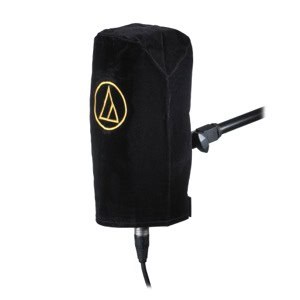 Dust: Finally, if you leave your mic on the stand when it's not in use, place some kind of decorative bag (so it still looks cool) over the mic. It doesn't matter if you get dust settling on the shock mount, cable, or mic stand, but you do not want it on the diaphragm. This can damage and alter the frequency response it's capable of providing.
What Else You Need For Home Studio Recording
For those new to the recording industry, please note that you can't simply convert your mic's XLR cable to a tiny 1/8th inch stereo input and feed it to your sound card.
We've already mentioned that for condenser mics you need 48 volts of phantom power. You also need a preamplifier to boost the mic-level signal up to a useable line-level signal without boosting the noise floor as well.
Then you need an analog-to-digital converter (ADC) to translate the electrical signal into a binary one your computer and recording software can use.
But don't panic!
Every single bit of this can be had in one piece of hardware called an audio interface. They come in various shapes and sizes and are what all studios start with before they start collecting stand-alone pieces to complement the interface.
These recording interfaces come with all you need and more, wired in the right order, and they connect to your computer typically through USB or Firewire. It's a piece of cake thankfully, because you cannot get by without one.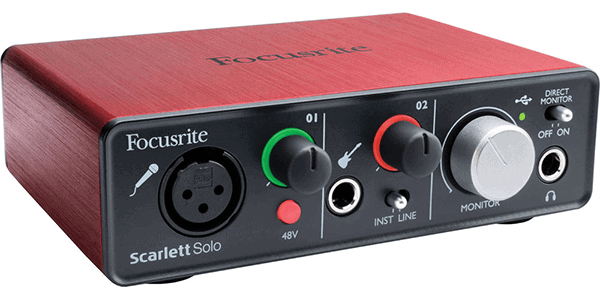 Check out our write-up and reviews in our Audio Interface Buying Guide at various budget ranges if you need one. You can snag a real cheap option just to get you started in the meantime if you aren't ready for a bigger purchase. I'd definitely start with a great mic and then upgrade the rest over time than the other way around.
Recording Vocals & Mixing Tips
For the newer folks out there just getting into the game, you'll need some guidance on how to get the most out of your new mic. Read these as you wait for your mic to arrive by mail so you'll be ready to clean up whatever vocals, instruments, voice-overs, or podcasting stuff you record.
If you can't read them now, then you should bookmark them for when you're ready, because every piece of audio needs post-processing and these are chock-full of fool proof tips on how to get it done quickly and effectively:
No song, radio spot, movie audio, or even live performances sounds as good as they do without some mixing. It's one of the most fun aspects of recording to me. You too can enjoy it without frustration with those links above.
And now we're ready for the fun part...
---
The Best Condenser Microphones

As always, we're going to list these from least to most expensive, but also bust them into sections based on total budget to help keep things organized.
Note: Each image and text link leads to Amazon.com where you can read additional user reviews, find specific technical detail listings, and make your purchase.
We can't cover every mic out there, but we can promise that all of these have universal acclaim for their range. You can rest easy knowing you maxed out your possible audio quality with these options. I'll also mention, for lower-priced mics it's generally a bad idea to go used.
There's no telling the mistreatment they underwent, especially regarding the diaphragms. My advice is to not gamble on mics. Other gear, sure. Mics... nah. Let's get this party started!
Best Condenser Mic for Home Studio Under $200
You may be thinking "But hey, I've seen mics as low as $30 at RadioShack!" Well... those are toys. There are a ton of mics out there that look like a million bucks that cost less than $50. Don't fall for silly marketing ploys.
The first mic on the list is under $100 and it is the only one I'll recommend at that level. All others are going to disappoint you and be a wasted stepping stone towards a later upgrade. The MXL 990 can stick with you and be used to mic drums or other less prominent instruments as you get better preamps and what not.
Best Condenser Mic for Vocals Under $300
This is the next level in budget that brings a noticeable difference in results beyond just adding more features. The following two choices are the best in class and are tried and true, being in high demand for long time, to the point that improved models have been released, the first of which is:
The Best Vocal Condenser Mic Under $700
This is the sweet spot right before prices start increasing exponentially for smaller gains in quality. Even if you're looking for a top of the line mic, your search can stop here if you're already working with killer preamps, compressors, and converters in an acoustically treated recording room.
You'll notice I keep talking about vocals since that's mainly what people are looking for, but at this range these mics can record any sound source perfectly, from bass to flute to electric amps and more. As always, watch your SPL levels though, and expect top notch results.
Best Condenser Microphone - No Price Consideration
Sometimes the money doesn't matter. We're given or have a budget and told to get the best money can buy for recording vocals because a huge artist coming in next week. What you're looking at in this section are some of the more costly mics (and the most costly I've ever seen last).
The first two are hanging in just beyond that nice break point where you start getting diminishing returns in quality for the increased cost. They are still worth it even for home studios.
The final is absurdly priced and used by those artists when quality is all that matters (Dr. Dre bought one to use for 50 Cent at the height of his popularity).
These are the Best Condenser Microphones
Choosing the right condenser is no longer an issue with our suggestions above, but there are things we can't do for you. It will be up to you to use our supplied tips to mix your recordings down.
It's up to you to take proper care of your mic so it serves you for decades to come.
The only thing I can guarantee is that you'll be pleased by any choice from our curated selection above in your budget range and rest easy knowing you're working with the best condenser microphone.