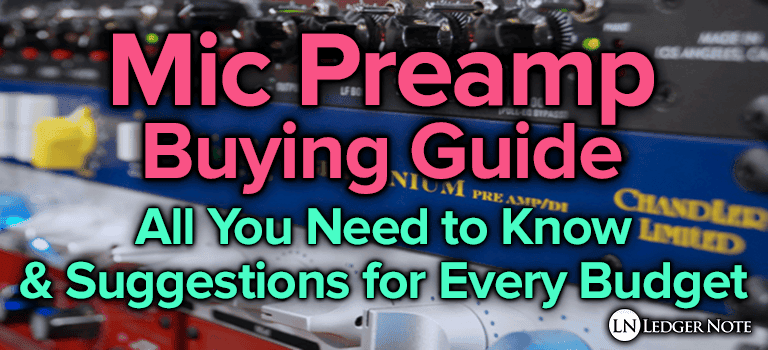 Click here to jump straight to the reviews!
"Yeah but it's got Class X Goober pre's in it!" Don't be a sucker for marketing. These mixers, recording interfaces, and channel strips are offering you countless recording channels, several preamplifiers, a compressor, maybe an equalizer, and A/D and D/A converters for what... a couple hundred bucks or less? Just how good can any of those components be?
This is the kind of scenario where the phrase "Jack of All Trades and Master of None" comes from.
Check this out. It doesn't matter if you're in your studio tracking vocals or instruments with the world's most sensitive and expensive microphone in a perfect acoustic environment. You haven't heard nothing yet until you run that signal through a proper preamp. It's akin to listening to and analyzing a world class mix on tiny speakers with a 128 kbps MP3 file... it doesn't make sense and you're not unlocking it's full potential!
If you're here then you're ready to score a dedicated preamp for your vocals or whatever's running through your signal path. You've identified the weak link in your recording chain, and you're right. In my opinion, preamplifiers are the most important yet also the most underrated piece of gear found in a studio. Probably because it doesn't feel sexy, but that's also because newbies aren't quite sure what they do.
Let's clear the confusion and take a look at the best of the best in every price range and even drool over the ones where price is no object...
We'll cover some of the frequently asked questions and talk about some of the physical form factor options before we start talking about the actual pre's, just in case anyone new is reading or something slipped past you in your research. We'll keep it quick.
Frequently Asked Questions
We're going to discuss what a preamp is, what it does, why you must have one, and the types available. If you already know what's up, please feel free to scroll down past this short section to get to the buyer's guide! This post assumes you understand how to set up a studio and how the signal path flows (mic then preamp then...).
What Exactly is a Preamplifier & Why Does My Mic Need One?
I cry every time I see someone recording a microphone without a preamp, mainly because I did it too. Unlike electronic instruments like a keyboard or guitar that produces it's own line-level (or instrument-level) signal, a microphone produces a mic-level signal by converting acoustic energy into a very low-voltage output. The catch is that mic-level is anywhere from 50dB to 80dB quieter than line-level.
The purpose of a preamplifier is to boost a mic-level signal up to a line-level signal.
If you attempt to record a mic-level signal, you're going to find it's extremely quiet and the volume will have to be boosted significantly, with horrible results. You're going to expose all of the noise in the environment, the hum of electricity, and any unwanted transients of the mic itself. What a preamp does is boost the mic signal without boosting the rest of the trash you don't want.

Of course, some preamps do that much better than others, which is where price comes in. Someone's gotta pay for that research and development!
Do Different Preamps Affect My Recordings in Different Ways?
Yes, but they all affect your recording quality in good ways. What you'll want to decide is what flavor you like. This is why many studios have several preamps on tap that they like to pair with various microphones for certain instruments or styles of vocal recording. Let me explain while keeping it simple...
There are two types of flavors:
Transparent preamps are invisible to the ears. What they do is boost the signal while maintaining the original flavor of the microphone, which might be dark, bright, or neutral. Colored preamps will add coloration, which is to say that it imparts its own signature sound to your recording. Generally this is just different levels of "warmth" that is coming from harmonic distortion.
What is This About Coloration Versus Transparency?
This harmonic distortion is a type of saturation that can be very desirable, especially for vocals (but it can always be added in the mixing stage too, so a transparent preamp might be what you want if you're only going to buy one. This keeps your options open). The saturation is the color and a lack of it is the transparency.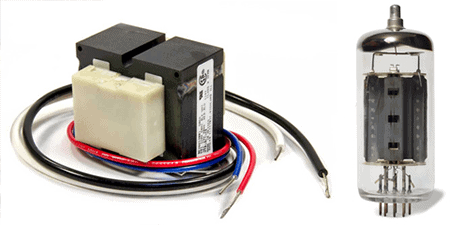 This saturation comes from the two types of preamps, separated by circuit design:
Tube Preamps
Solid-State Preamps w/ Transformers
Preamplifiers with tubes are going to impart a flavor of color to your signal. Vacuum tubes (pictured on the right above) have gas inside them isolated by a space with nothing inside of it, not even air (here's a great indepth explanation). People will modify their tube mics and preamps by swapping out tubes for different styles. Solid-State styles have no gas or moving parts. The ones without transformers (pictured above on the left) are transparent, while those with transformers can apply different colors based on the transformer.
What About Phantom Power & Direct Injection?
Some microphones like condensers with tubes for instance require a power source of about 12 to 48 volts. This is fed to the mic back through the same XLR cable from the preamplifier, although some will have their own power boxes or even take a battery. The point is that pretty much every single preamp, even on lowly 4-channel mixers and single channel interfaces, will feature phantom power that you can enable or disable. This is something you should be aware of but also realize you don't have to worry about it. It's a standard that's always built in.
Direct injection, or DI, is a line-level input that bypasses the amplification part of the circuitry but still allows you to color your signal. This is great for bass guitar, synthesizers, and other line-level instruments especially if you're wanting to run them through a channel strip for the EQ and compression on top of the color of the pre.
What's Up With 500 Series & Lunchboxes?
All of this recording and mixing is just a type of signal processing, which is used in tons of industries out there. The 500 Series style is not new, but is only recently gaining popularity among the music and recording industry. Let me list off the pros and cons so you can decide if you want to go this route.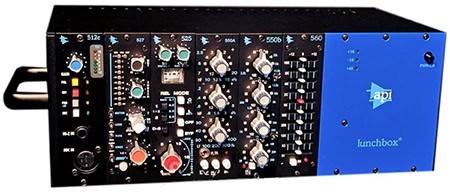 Pros: First and foremost, you have to buy a Lunchbox (the one above is highly recommended around the net), which is a rectangular box with a variable number of vertical slots in it. There are small ones with handles on top for portability and there are larger ones that can be rackmounted. What these do is provide power to the 500 series units you buy. The lunchboxes themselves are a hefty up-front cost, usually around $500 to $1,000 for a decent one with enough slots. The 500 format units are plug and play in any manufacturer's lunchbox, in case you were wondering. It's all standardized.
If you can get past that hurdle, you win out because all of the 500 series units are much cheaper than their counterparts. The three reasons they are less expensive is because the chassis is much smaller, the power is handled by the lunchbox, and they are all one channel for the most part. Basically you're paying for a lot less parts and electronics. What's cool too is there are compressors, EQ's, and everything else in this format. You can mix and match and create your own channel strip or fill that sucker with a ton of pre's.
Cons: The negatives are that, depending on what you're recording, you'll need to buy pairs of preamps so you can handle stereo signals. They are also more compact, leaving less space to print information around the knobs and forcing the manufacturers to cram more knobs in a smaller space. Neither of these are big deals. It's just a matter of taste. I like horizontal rack units just because I do. I will eventually build out a lunchbox though so I can have cheaper access to more expensive preamplifiers.
One more point to mention is that some lunchboxes require special DB-25 snake cables (like above) instead of typical XLR's or male-to-male TRS cables (some offer DB-25 and XLR like the API lunchbox above). Think about the number of slots you're buying too, in regards to the overall width of the box. If you decide you want to rackmount it, you don't want to go over the standardized 19-inch width. Most lunchboxes are this width or less and can be mounted with rack ears as an additional cheap purchase.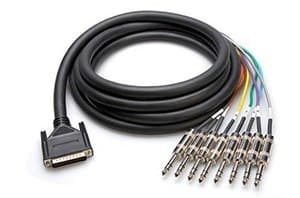 Also heads up, I'd save myself the headache and get one that has XLR or TRS inputs and outputs. If you're going to keep it portable, I'd want an internal power supply too. If I was going to rack it, I wouldn't care about the external power supply (it's just an additional "wall wart" style box instead of just a power cable coming out the back). Ones without internal power have room for another couple of slots, bringing you up to 8 instead of 6.
Things to Consider First
If you've gone hunting for a preamp already, then you know there's more considerations you have to deal with before committing to a purchase. The main three are:
Coloration
Form Factor
Channel Choices
We already covered coloration above. The next thing to consider is the form factor. Form factor refers to the physical design of the preamp's case. It boils down to three options:
Desktop
Rackmount
500 Series
Making this decision is as simple as deciding how many pieces of outboard studio gear you're going to collect over the years. If you think you'll buy several preamps, compressors, EQ's, set up a patchbay and all of that then you'll want to consider your classic rackmount style or a 500 series style that fits into a 500 series lunchbox chassis. These can be rackmounted as well or carried around like a literal lunchbox for portability. If you're only working with vocals or one signal path at a time and don't think you'll buy more than one preamp and will do the rest of your mixing in the box, then you might enjoy a desktop style which is just a standalone box that sits on your computer desk.
If you rule out desktop styles, then you don't need to worry too much about choosing between a horizontal rackmount unit versus a 500 series style right now. Most of the respectable companies will offer their preamps in both styles. But heads up because most 500 series pre's are single channel mono. Speaking of number of channels...
Lastly, you'll have to choose how many channels of pre-amplification you'll need. Your most common choices are single channel (for mono recordings like vocals), dual channel (for stereo recordings like acoustic guitar or piano), or a channel strip with as many as 4 or 8 preamps in them.
A Word About Channel Strips
You'll find two types of channel strips out there. Some are just a row of preamplifiers that take XLR inputs from your mic cable and spit the signal out the back with a 1/4" patch cable. This is good for recording entire bands at once or a full drum set, etc. It's a cost effective choice but you're getting back into the "Jack of all trades, master of none" territory. You can find perfectly presentable preamp channel strips, but they won't stand up to the single and dual channel options at the same price range.
If you need a ton of channels (mainly for drums), I'd recommend buying at least one or two solid channels from this list and then tracking drums and less forward instruments on cheaper preamps for the time being, such as through a 8+ channel interface until you can grow your collection. Your listeners will get far more out of hearing perfect vocals than "less than average everything."
The other type of channel strip you'll see out there are the kind that encompass your entire signal path. They will feature a preamplifier that feeds directly to an EQ and then to a compressor, or some variation. Some of these are fantastic and we'll mention a few below. Don't feel like you're compromising on quality on these as long as you pick from the ones mentioned. I'm specifically only mentioning the ones that didn't sacrifice any components to compete on price.
---
The Best Mic Preamps

Let's get to it! We're going to bust these apart by typical budget ranges, starting with the cheapest first and moving on up to top-tier where nothing matters but quality.
Note: Each image and text link leads to Amazon.com where you can read additional user reviews, find specific technical detail listings, see additional product options and sizes, and make your purchase.
Best Cheap Preamp Under $200
What I mean here by cheap is anything under $200. There will be less expensive options but I won't point you to the absolute bottom rung, because most of them are going to be a waste of your money and no better (possibly worse) than your interface pre's. Try to get something where you won't be wanting to upgrade again immediately.
I'm calling this the "consumer level." It'll get you going and going very well, sounding better than everyone else messing with mixers and even the cheaper of the best audio interfaces.
PreSonus BlueTube v2

First up is the PreSonus BlueTube v2. This is a nice entry-level desktop preamp with two channels, allowing you to record two mono signals or a stereo signal. What's cool about this one besides it's decent quality is all of the options that help you gain your footing in the world of pre-amplification.
It features two XMAX pre channels running through 12AX7 vacuum tubes into a solid-state gain stage. Because they are separated, you have the capability of using the Tube Drive knob to really push the saturation if you like without affecting the gain. So you can play with recording an almost transparent signal to an extremely colored sense of warmth. The VU meters are sexy too and light up yellow. It also features 80 Hz high-pass filters so you don't allow a bunch of low-end noise in and a -20dB pad to help you control your input levels before the output gain.
It's not bad at all and is perfectly at the 1/2 unit size if you want to put it on a rackmount shelf later.
DBX 286s

DBX are veterans in the signal processing game and that shows in the DBX 286s. In this channel strip, you gain access to their entry-level preamplifiers and also their popular compression. I don't really care about the enhancer or gate, but those are fantastic to have access to for live performances. I deal with that stuff in the mix. But what I do appreciate is the onboard de-esser, which gets rid of the sibilance that will spike out on "S" consonants in vocals or string scrapes on guitar, etc.
Having a compressor on board is great. I always record with live compression to avoid any accidental clipping and distortion before hitting the converters, albeit a very light amount. You'll be able to do the same without having to buy an additional piece of equipment if you opt for this channel strip.
This particular model is solid-state and single channel, which will suit most people's needs just fine. Notice that this is a rackmount unit. You can set it on your desk if you don't have a rack, but I'd recommend getting some of those fuzzy sticker pads to put on bottom so you don't scrape up your desk.
ART TPS II

ART has had tons of preamps show up on these "best of" lists and their newest ART TPS II is taking all of their old models slots on the lists. It's 2-channel path comes in an attractive rackmount chassis. Both preamps feature tubes who's color can be changed with the drive knob that's called V3 Variable Valve Voicing. There are suggested settings for various instruments and genres, although you can set it where ever you like it, of course.
I like front plate designs like this because it impresses clients. Presentation is a large part of the battle and ART isn't leaving you hanging there.
Best Mic Preamp Under $500
Moving on up to the "under $500" category opens you up to more impressive pieces of studio gear and higher quality recordings. Jumping up to this price range gets you into the realm of emulation pieces that recreate the aspects of the top and classic options.
I'm calling this the "prosumer level." You're going to get some professional level quality, especially if you know how to mix and have a decent acoustic environment.
Black Lion Audio B173

Now we're talking. Black Lion Audio's B173 is a single channel, half-rack pre that's meant to emulate the flavor of the classic Neve 1073 (which we'll be talking about below!) at a fraction of the price.
This is solid-state with transformers which is how it achieves its coloration. The gain is stepped, meaning the knob clicks from setting to setting instead of being a smooth pot (stepped knobs tend to not wear out or have noisy spots). You have your direct injection, high impedance instrument input as well.
You can't go wrong with one of these. It's patterning itself after one of the most successful preamplifiers ever.
Warm Audio WA12

The Warm Audio WA12 has the color that it describes... warm. Warm Audio are a newer company on the block that quickly shot to the top of the most respected among home recording studio enthusiasts and professionals. This is a desktop chassis but can easily be converted to racked with rack ears. They also offer a 500 Series version as well.
It features everything you'd expect out of a quality preamp, including a D.I. input, phantom power, gain padding, phase polarity inversion, and an impedance switch called Tone here. It's solid-state with transformers that bring it as close as you'll get to the classic Melcor 1731 sound at this price range.
Everyone who has a chance to play with one of these absolutely loves it.
Focusrite ISA One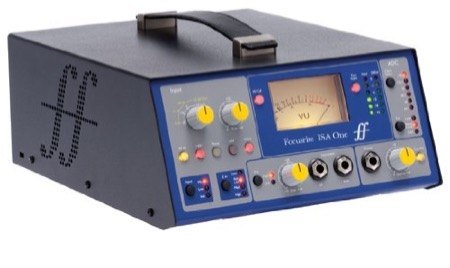 There was no way Focusrite was not going to make it on this list. The Focusrite ISA One is their classic single channel preamplifier. You've likely run into the Focusrite name as they supply pre's to all kinds of mixer and interface companies, albeit lower tier ones. The ISA One shows their true skill level.
I forgive them for this strange chassis shape because it looks so awesome and is portable. This bad boy is transformer based but still largely transparent, although the impedance knob has four settings that let you try different amounts of color.
It has inserts as well so you can bounce out to an EQ or compressor before coming back in, or you can just flow the signal right on out too. Of course it has a direct injection instrument input too. What's neat about this one too is that it has a dedicated headphone output. Add in the optional analog-to-digital converter and you've basically got an entire studio in the box.
Back in 1985, access to these was almost $15,000 in today's money. Times have changed but that lets you know how awesome these are. Consider it, especially if you're only setting up on solid channel for voice overs, podcasting, or vocals.
Best Mic Preamp Under $1000
The three above are majestic, no doubt. But now we're getting into what I'd consider past the "consumer" and "prosumer" levels into the "professional level." If you're buying one of these, you know what you're doing or intend to learn. You could push out a professional record with any of these and nobody would blink an eye. This is the bottom of the high-end.
FMR Audio Really Nice Preamp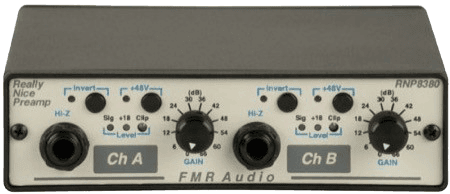 The FMR Audio Really Nice Preamp, commonly just called "the RNP," is unbelievable. I have one paired with their compressor (the RNC!) in a Funklogic rack tray so they look prettier and fit into the rack. They make a killer channel strip together.
Anyways, you might be looking at this and thinking "but it's ugly." Yep, that's the philosophy of FMR. They skipped out on the laser engraving of metal rack plates and opted for solid plastic in order to bring you two better quality pre's. Let me tell you... Funklogic sells rack trays for all kinds of configurations of FMR gear, so don't let the face turn you off.
I use my RNP, as you'll have seen my recommendations across this site, all of the time. I choose it over other "better" preamps all of the time. It's dual channel and solid-state with all of the options you've come to expect reading through this article. The knobs are stepped, there are inserts, instrument inputs, etc.
The one thing you'll see people mention is that the outputs are unbalanced. It's going to be right next to your interface anyways, so just don't use a 10 foot cable and use normal patch cables. I've paired this with a Rode NTK mic and rivaled top industry releases...
Grace Design M101

The Grace Design m101 is another indisputable best in this price range. It comes in this half-unit desktop version that can be rackmounted with ears or on a shelf, and also comes in a 500 Series version called the m501.
The m101 is a favorite among users looking for a direct injection point or a preamp that is absolutely as transparent as possible. Basically what this guy does is take your microphone and show you it's true potential. It unlocks the most value out of any mic you throw at it. You'll notice a "ribbon" button you'll want to engage for ribbon microphones. It features phantom power and a high pass filter as well.
This is one I can't personally say much more about as I've not used it, but everyone else says it's the jam, especially in the high-frequencies. It reveals that sparkle. Give it a consideration!
Universal Audio SOLO/610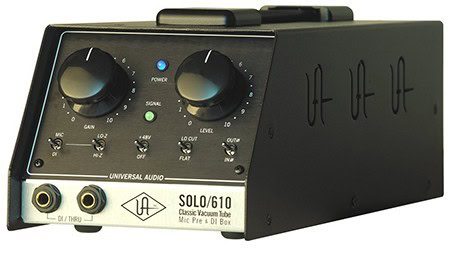 Another standalone lunchbox chassis, the Universal Audio SOLO/610 is modeled after the classic Putnam 610 pre's that are highly coveted for their beautiful tube coloration. Like all at this range, it's got a low-cut feature, phantom power, impedance settings for the tube and D.I. input, and phase reversing.
This is a single channel preamplifier with phase reversing and tube circuitry. It has a feature the others haven't featured, which is a ground lift to disconnect the ground loop and remove any hum and buzz that's being picked up by nearby electronics. The low-cut switch is going to take care of most of that, but you may not want to engage the low-cut depending on what you're recording, so this extra option is very nice.
If you're looking for a very colorful option in this price range, look no further than the SOLO/610.
True Systems P-Solo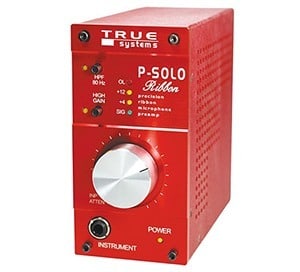 Whenever the RNP is discussed, the True Systems P-Solo comes up as well. People love both and argue which is better (meaning they both rock!). The main difference is that the P-Solo is just that, a solo channel instead of dual. The main difference beyond that is that the P-Solo does have a color to it despite it being solid-state and transformerless.
This bad boy features the high-impedance instrument input, a high pass filter to dodge low-frequency noise, and phantom power. The large gain pot is attractive and smooth, allowing you to dial in the perfect gain staging.
Pictured above is the "Ribbon" version, and you can tell the difference because one says Ribbon on the face and is specifically designed for ribbon microphones. The "normal" version is recommended for condensers and dynamic mics.
The Unlimited Budget - Price is No Object!
Up here is the realm of unlimited possibility, except for all of the limitations... some of the best of the best preamplifiers are no longer manufactured and have to be purchased on the used market. Some are only for giant mixer consoles. Some are readily available on places like Amazon but at varying prices from different sellers. What I'm going to do is list the ones among the top that are actually attainable without having to watch eBay and forums for 6 months or longer in hopes one appears.
Avalon VT-737SP

The Avalon VT-737sp is a classic channel strip that works miracles on vocals, adding it's warm color while providing access to a top quality compressor and equalizer as well. Recording studios specializing in rap, R&B, and pop clients will undoubtedly feature one of these. Most others do too because it's awesome for bass guitar D.I.'d in.
There is also the desktop Avalon M5 that is just the preamp from the channel strip. Honestly, the value for the compressor and EQ is worth the price difference since the bulk of the cost still remains due to the preamp and the chassis. But be aware that the standalone option does exist.
I had a friend once ask me to keep his 737 strip while he moved. It ended up staying with me for about six months and I almost cried when I had to give it back. What it did for my vocal recordings was miles beyond everything listed above, especially since I was using it in a vocal booth. If you have a studio, this is a must have and on my list to finally purchase for myself soon!
Honestly, if I played bass or keyboard live, I'd run myself through this and completely mix my signal before I let the sound guy get ahold of it. Vocals too, really.
Great River Electronics MP-2NV

The Great River MP-2NV is patterned after the classic Neve preamplifiers with it's own advances. This is why I haven't bought an Avalon yet. I really want one of these guys. Like really bad. When you hit this top level quality stops being an issue. Everything is perfect. It becomes a matter of what flavor you want. I got a chance to play with one of these and I absolutely love what it does with large diaphragm condensers with vocals. It's the most transparent and crystalline clear preamp I've been honored to use.
This is a rackmount dual channel option with independent controls for polarity reversal, impedance changing, gain and trim, and also Hi-Z inputs for instruments. You can also score a single channel of this in a 500 Series format called the Great River MP500NV if you're building a lunchbox. I'm going to stop talking because I could rant forever about this. I'd love about four channels of these and I could die a happy man.
Solid State Logic Alpha VHD

You may not recognize the full name of Solid State Logic, but everyone knows the acronym SSL. Many professionals happily pick up a twenty to $100,000 SSL mixing console with 24 to 96 channels and call it a day. It's the gold standard for many in the industry, regardless if we're talking about pre-amplification, compression, equalization, or conversion.
Thankfully, they've released the Solid State Logic Alpha VHD for the rest of us, which is a four channel preamp strip that features the pure and classic SSL transparency and also the Variable Harmonic Drive option so you can add any warmth you want. It's got everything else you expect, from D.I. inputs, pad, and loads of gain (+75dB).
They've kept it very affordable, offering four independent channels for the price that many companies charge for one channel. They've been in the game since 1969, nailed their development immediately, and sold to like hotcakes to every company in radio, television, and music. Now they can keep the prices low for the rest of us who don't need 96 channels!
If you're hunting for a top quality preamp but need more than one or two channels, this is your friend instead of a strip of 8 or more channels from Focusrite or PreSonus (nothing against them! But this is the price-is-no-object section).
API 3124+

Another company that doesn't mess around is API and this is very obvious with the API 3124+. API is another one of those companies that puts their masterpieces in consoles and decided give the rest of us lowly mortals access to their console circuitry in rackmountable form.
Yep, you got it. Phantom power, instrument inputs, -20dB pads, polarity switches... the works. Like the SSL option above, this beauty offers you four channels of clean, punchy, and transparent yet slightly dark preamps. You've heard API on top record releases and not realized it, favored by many for its ability to handle fast transients. Lots of studio engineers like to track drums with these API pre's, along with everything else.
You can't go wrong here. The flavor here is fast reacting and transparent in the high's with a bit of low-end warmth. There are 500 Series formats if you want as well.
Neve 1073DPX
Finally we reach the coveted Neve 1073DPX. The 1073 might be the best of the best, and unquestionably the option with the most pleasing and noticeable color to it. As you look around online you'll see a lot of 1073 numbers with letters tagged after it. This is denoting the 500 Series, the EQ alone, etc. But the classic console version was just the 1073, featuring a preamplifier and an equalizer. That's what you're looking at here, turned sideways with two channels.
If you scoop this up you want two channels so you can record stereo sources as well. You've heard this monster on most of the most famous records since 1970. You've got your direct injection input, inserts on the back, headphone monitoring, level meters onboard, and everything else you could need.
The equalizer has 3-bands and a dedicated high-pass filter. Basically, you can use this live or in the studio and dial in the perfect mix and commit it to the take if you prefer instead of doing it all in the box with plugins. Hardware mixing sounds fantastic and I personally try to apply a little bit of everything I know I want before hand (but not too much in case I want to back off, which will no longer be an option).
This is the holy grail of preamps. Purchase and never look back. You just hit the big time.
Conclusion
We covered the basics of what a preamplifier is for and how it affects the quality of your musical recordings. We then listed off the best of each category, with the categories relating to prices of under $200, under $500, under $1,000, and where there's no limitation on budget.
I tried my best to give you the quickest description of each's sonic qualities and their technical features. Unfortunately there's no good way to listen to each of these preamps and make comparisons. Shootouts are almost impossible to create scientifically with controlled variables since I can't reach out of the screen and make sure your'e listening on the best studio headphones or monitors you can get in an acoustically treated room. It's also nearly impossible to find a store that stocks all of these and will let you play with them. Renting them is expensive as well, when you could put that cash towards owning one instead.
That's why we've shown you the best of the best. From there, you can read about the transparency and color, number of channels and other features, and go from there. In general, since you're upgrading, you're going to be very pleased with whatever decision you make, especially the higher you reach in budget. Your main goal is to unlock the full potential of every microphone you use, and to do that just pick up the preamp that catches your eyes that's in the highest budget range you can manage.
Don't get caught up in what's the best vocal preamp or the best one for this or that. They all serve the same function in the end, which is to crank up the mic-level signal to line-level while keeping the signal clean of noise. You could even ignore the concept of "color" and end up perfectly happy, because it's such a super subtle and subjective concept anyway.
Don't bog down in analysis. None of these pre's listed on this page will do you wrong. Get you the best mic preamp you can afford and get to recording!
Jared H.

Jared has surpassed his 20th year in the music industry. He acts as owner, editor, lead author, and web designer of LedgerNote, as well as co-author on all articles. He has released 4 independent albums and merchandise to global sales. He has also mixed, mastered, & recorded for countless independent artists. Learn more about Jared & The LN Team here.