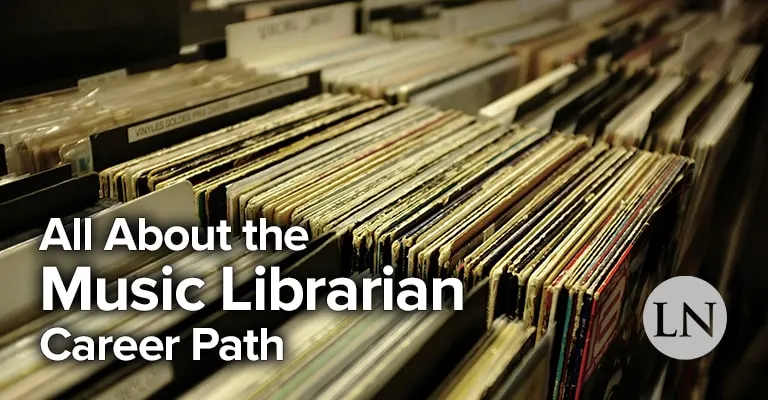 Here we'll explore what music librarians do and what types of jobs are available. We'll also cover the average salary and how you can begin a career in this area of study in terms of education requirements.
What is a Music Librarian?
A music librarian is a person who has a broad understanding of both music and librarianship. The same way that a regular librarian categorizes and organizes books, a person in this profession does the same with musical works and literature.
Depending on where you work, you might catalog music and texts or check out reference materials to students, researchers, or the public. In some instances, you might curate music collections and resources or collaborate with students, musicians, and performers. You'll also perform myriad other library maintenance tasks.
Working in this field often requires a background and formal degree in both music and librarian studies. A passion for music is also necessary if you decide to pursue any career in music librarianship.
What Does a Music Librarian Do?
A music librarian works at organizing music in a range of locations and industries. On the job, you oversee the preservation and cataloging of various types of music. From audio CDs to records and more, you'll have strong organizational skills and knows about a range of music genres.
Like the librarians who work in your community library, you might direct visitors to the music-related materials they're looking for. With their specialized knowledge of eras, mediums, music styles, and ethnomusicology, this type of expert can locate and elaborate on any subject matter.
Music librarian duties range based on their specific job type. In general, the job entails organizing and maintaining both physical and digital music resources. Curating materials and examining new finds can also be part of the role. Specific job duties vary widely based on the organization, institution, or company, however.
Depending on the type of music librarian job, a worker might give presentations, make special orders, acquire new materials for the organization, and more.
Music Librarian Jobs
Music librarians can work in a range of environments and for many different organizations. For example, related jobs exist in research libraries, university and college libraries, public libraries, radio and TV station libraries, musical societies or foundations, music publishing companies, museums, and with bands and orchestras.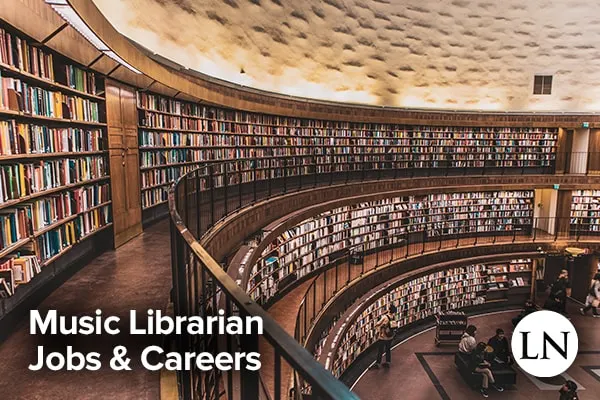 In other words, librarians and media collections specialists (a more general term for music librarians) can work in both public and private settings. From recordings to films and databases, a media collections specialist handles reference materials and musical equipment.
Many professional musicians find that this area is a natural fit for a second or part-time career. Ensemble librarians, for example, help musicians obtain and prepare the music for performances. Symphony or chamber orchestra librarianship covers preparation of music for formal presentation, often in collaboration with other librarians. This is a demanding role when working with the best orchestras in the world.
Some jobs involve working independently in a facility or institution. Other jobs are more collaborative. You may contribute to research, help find appropriate music and literature for projects, or archive an organization or band's work.
Librarianship jobs also exist at both administrative and supervisory levels. So, there may be room for growth from entry-level type librarian jobs in musical industries.
The job outlook for music librarians appears positive, though specific figures are challenging to pin down. Since they are lumped into the same category as other types of media librarians, it may help to connect with someone working in the industry to learn more about potential careers.
Music Librarian Salary
According to the Bureau of Labor Statistics, mean annual music librarian salaries are about $61,920. At that rate, the mean hourly wage is $29.77. In contrast, the median hourly wage is $28.61, or an annual salary of $59,500.
Based on BLS statistics, the highest-paying states for music and other librarian careers include the District of Columbia, California, Maryland, Washington, and Connecticut.
Specific figures on job outlooks for this specific profession are hard to come by. But librarians, in general, can expect an average growth rate over the next ten years, according to the Bureau of Labor Statistics.
Is There a Music Librarian Degree?
There is no single, specific degree to help you enter a career as a music librarian. That said, some schools offer a combination of degree programs to help you meet employers' hiring requirements.
For example, most candidates for these roles have both a musical and liberal arts education. Depending on the field you want to enter, you may also need foreign language fluency. An advanced degree in music, literature, or another relevant field could also be required.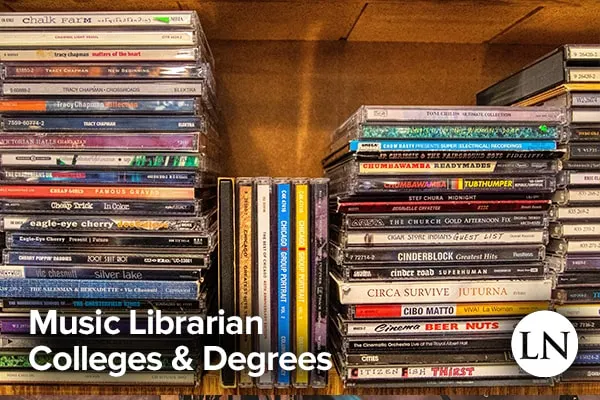 Many educational institutions recommend studies in music and liberal arts plus knowledge of German and one Romance language. Language skills are vital because music is a global interest: understanding German provides a foundation for exploring literature about music.
Romance languages include French, Italian, Spanish, Portuguese, and Romanian. Strong verbal and reading skills in these areas can help you further your study in the industry, both in school and on the job.
You can expect to earn either one or more master's degrees in the relevant subject matter before qualifying for a music librarian job. However, many organizations and educational institutions have separate requirements for their librarian roles.
Past experience as a musician or music teacher may also prove beneficial when applying for jobs in this industry. Similarly, an education in library sciences can also be an enormous perk when you begin applying for these jobs.
Music Library Association Recommendations
If you're hoping for more specific guidance on what you need to learn to succeed as a music librarian, the Music Library Association established "core competencies" for the career path in 2019. As an authority on this career path, the Association suggests an education in eight separate areas:
Knowledge of Music
Knowledge of Copyright Issues
Ability to Manage and Lead
Research Support and Instructional Skills
Resource Identification, Organization, and Maintenance Skills
Access Services Skills
Technology Skills
Knowledge of Archival Standards and Practices
Other helpful elements of a musician librarianship education may include learning the Library of Congress Classification System (LC) or the Dewey Decimal Classification System (Dewey), depending on what type of institution you'll be working in.
Schools That Offer Music Librarianship Career Paths
Many schools offer degrees that promise to help prepare you for a career in music librarianship. Educational paths can vary, depending on what area of the career you wish to pursue. Here are a few of the options and the specific degrees and programs they offer.
Berklee College of Music
The Berklee College of Music highlights preparatory programs for music librarian candidates ranging from certificates and bachelor's degrees to master's degree options. The college emphasizes learning specific skills that are relevant to a music librarian career, such as:
Library science
Information science
Archive management
Music history
Foreign languages
Music notation
Organizational skills
Degree programs at Berklee include:
Bachelor of Music in Music Education
Bachelor of Music in Performance
Master of Music in Music Education
Conservatory Master of Music Performance
Minor in English; Literature Track
Certificate for Music History and Liberal Arts
Berklee also highlights membership in relevant clubs and associations to help advance your education and career. Among those are the Music Library Association and the Major Orchestra Librarians' Association.
University at Buffalo
The University at Buffalo offers a Music Librarianship, MS/MA Collaborative Agreement to help hopeful music librarians achieve their career goals.
The program involves earning dual master's degrees: a Master of Science in information and library science plus a master of arts degree in music. The Master of Arts degree involves a concentration in either music theory or music history.
The University at Buffalo offers flexible course options and special projects to help students prepare for their careers. The program takes four full-time semesters to complete, and you must earn a bachelor's degree before you can enroll.
Many other universities and colleges offer curriculum in librarianship and music studies, and a combination of courses may help you earn the appropriate education for a career as a music librarian. Consulting with an educational advisor is your best bet when determining what degree will help you enter your chosen career.
Want to learn more about schools that offer educational paths into this career? Click below to request information from any of the listed schools. [Edit: Tool Removed]
That's the Music Librarian Job Description
If working with and cataloging music and supplementary materials sounds like your dream job, a career as a music librarian might be the perfect fit. Language, music, and liberal arts skills can help prepare you for a lucrative career organizing and enjoying music in libraries worldwide.
Of course, finding the right educational program is paramount to entering a lucrative career in music and librarianship. But with the right education and a passion for music, you'll be well on your way to becoming a music librarian.