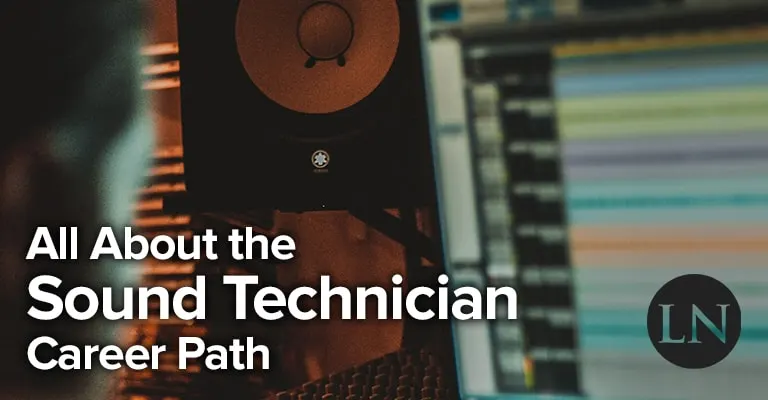 While the job title of sound technician sounds a bit stuffy, it's a more colorful career than you might assume with plenty of challenges, creativity, technical know-how, and opportunity for advancement.
Many sound tech job duties are similar to those of the one-man recording artist, making this career path a desirable and lucrative one for many music enthusiasts.
Here we'll cover what a sound technician is (and what they do), plus what you can expect in terms of job prospects and salary. If you want to pursue this path professionally, we'll also cover what degree you'll need—and how to make your music-mixing dreams come true.
What is a Sound Technician?
When we say a sound tech's responsibilities are a lot like a one-man recording artist, that much is true. They work with equipment and machines that manipulate music and sounds in live environments and recording studios.
You may also hear the job called sound engineering technician or sound engineer. Audio engineer is another related title, and they all seem to describe the same type of role with different emphases.
A professional in this career can work in a ton of different environments with a variety of job duties. Some specialized industries also call for a particular skill set, as you can imagine with film and television as opposed to the music industry or video game industry.
In general, though, sound technicians work with recordings or perform their jobs during live performances. They use technology to synchronize, mix, record, and adjust music, sound effects, and voices to create a cohesive whole.
What Does a Sound Technician Do?
One of the great things about becoming a sound technician is that the job can change from day to day.
You might work in a studio, producing and editing music. You could have jobs in sports arenas, broadcasting sound effects, music, and more to an audience.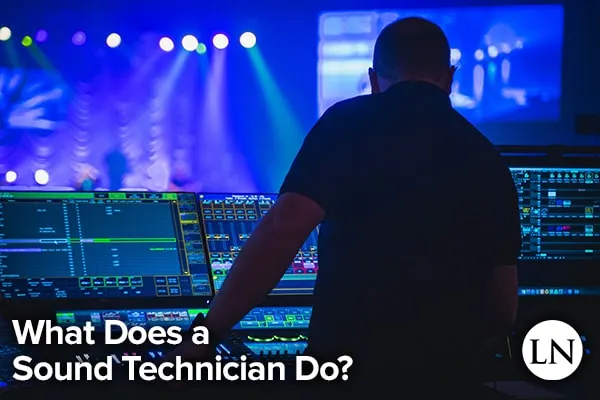 You may be backstage at a theater production, managing the acoustics for the performers. Or, you could be on the sets of high-profile films, mixing sound and cutting out background noise.
Wherever a sound tech goes, their role is to make every piece of audio sound amazing. From voices to music tracks to innovative sound effects, technology helps the audio tech make everything sound perfect.
Sound Technician Jobs
Most sound tech jobs are in the motion picture and video industries, notes the Bureau of Labor Statistics (BLS). Nearly as many are in the sound recording industry, while fewer are spread across radio and TV broadcasting, performing arts companies, and independent categories.
Because sound technician roles and careers are so diverse, they come with a ton of different names. Examples of sound technician jobs include:
Utility Sound Technician (Film & TV)
A utility sound tech works in film or TV production to hone audio to specific levels. You'll use technical equipment, maintain hardware, and 'wrangle cables.'
Sound Designer
In a sound designer job, you might work in theater productions or with video games and technology. Typical roles in sound design include audio designer, audio developer, sound developer, sound effect designer, and others.
Recording Engineer
Recording engineers, also known as audio or studio engineers, oversee in-studio recording sessions. This is one music industry job that many sound techs aspire to, and it can be very lucrative.
Mixing Engineer
A mixing engineer takes isolated recordings and mixes them together in such a fashion that their combined result sounds much better than if you simply pressed play on them all at the same time. It requires a balancing of volumes and frequencies.
Mastering Engineer
While the recording engineer participates in live recording sessions, and the mixing engineer cleans up the results, the mastering engineer makes the final adjustments to a piece before the commercial release.
A great ear for discrepancies in sound combined with exceptional technical abilities will make you an excellent fit for a mastering engineer career.
Radio DJ
While you might think that anyone with a great voice and speaking ability can become a radio DJ, some expertise is required to be successful on-air.
Becoming a disc jockey, DJ, or radio host or announcer often requires knowledge of studio equipment and technology. Plus, you'll need great communication skills to handle call-ins and interviews.
Technology Trainer / Specialist
A technology trainer/specialist is an expert on music and sound technology products and equipment. You might work for a particular brand, demonstrating products at events or schools.
Of course, to net one of these sound technician jobs, you'll need an education in the industry. More on that below.
Sound Technician Salary
If you're thinking about becoming a sound tech, you're not alone—but you also won't find an overwhelming amount of competition. Per the BLS, only 13,510 people were estimated to be employed as sound techs in 2018.
According to the BLS, sound engineering technicians make a mean hourly wage of $30.53. That equals an annual wage of $63,500. That said, the median wage is a bit lower at $25.19 per hour or a salary of $52,390 per year.
If you want to reach the top of the salary range, working in the motion picture and video industries is your best bet. Sound techs in that industry make an annual mean wage of over $80,000.
A handful of professional sound engineering techs work in computer systems design and related services, other info services, specialized design services, and even accounting and tax prep industries!
These are the most lucrative options for your career path, though a specialized niche can be especially challenging to break into. Taking the right educational courses will be crucial for your growth in a sound technician career.
How to Become a Sound Technician
Becoming a sound technician requires an ear for music, technical aptitude, and, in most cases, a formal degree. Just about anyone with some talent can book DJ jobs. In contrast, a sound engineer is a more formal role that you might not be able to get through word of mouth.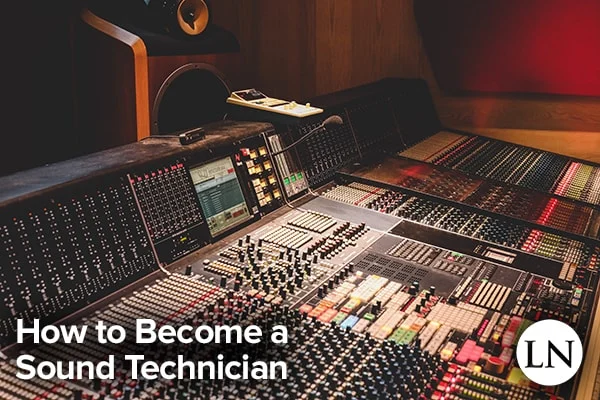 In some industries, you can apply for a paid or unpaid internship. If you're hoping to break into a specific niche, an internship might be your ticket. However, earning a sound tech or similar degree is often a requirement, even for entry-level jobs beyond intern opportunities.
Attending college for sound technician courses helps you bulk up your skillset and be prepared for a range of professional roles.
You might even find that attending school helps you make connections that will serve your career goals. Many schools offer membership in student and professional organizations.
The people you meet could connect you with professional opportunities, and experience is another key component to starting down this career path. Plus, your school might offer internships with local music or film studios, among other industry corporations or organizations.
Whatever your passion, you're likely to meet someone in your program who shares the same one—and collaboration could lead to even more opportunity.
Can I Get a Sound Technician Degree?
While you might not find a bachelor's degree in Sound Technology, there are many programs that help equip you with the necessary skills for a sound tech job.
For an entry-level job, you may need a certificate that covers the basics. With other beginning roles, an associate degree may be a minimum requirement, while a bachelor's degree will probably be necessary for more formal career paths.
Since audio engineering roles are so diverse, it's important that you know what field you want to enter and what the standard job requirements are.
Then, you can pursue a degree at one of many sound-focused schools around the country. Here are a few examples of college programs that support sound tech careers.
Berklee College of Music
The Berklee College of Music has a handful of music-centered degrees that can aid you in becoming a sound technician.
Their programs span music production and engineering, recording engineer, and utility sound technician degrees. You can even earn a degree that helps you prepare for a role as a live sound mix engineer.
NYU Steinhardt School of Culture, Education, & Human Development
Steinhardt NYU has a Music Technology degree option at every level, from certificates to master's degrees to a Ph.D. For example, you can earn a BM/MM in Music Technology, which teaches you about sound engineering, multimedia, film scoring, and software development.
The school explains that a "solid foundation in music technology" plus the liberal arts makes for a great start toward a career in sound engineering, post-production, or electronic music, among other roles.
The Los Angeles Film School
The LA Film School offers degrees in Audio Production, both a Bachelor of Science and an associate of science. According to the school, their degrees cover all facets of the audio field, from mixing and sequencing to using professional tools and producing live sound.
Depending on what area of this career work you want to enter, an Audio Production degree might be a great, generalized start to cover all of the basics and then some.
Ready to begin your education and become a sound technician? Click below to request information on any of the listed schools. [Edit: Tool Removed]
That's the Sound Technician Job Description
If listening to—and editing—music all day sounds like your dream job, becoming a sound tech might be the ideal career for you. Though you'll need formal education, and possibly a specific degree and some industry connections, learning the ropes in the recording studio is an excellent start.
Whether you start by earning a degree or applying for an internship on set, there are plenty of paths toward starting this career path. Ready to pursue your new profession? Start by researching the industries you're interested in and what their requirements are for starting a career as a sound technician.