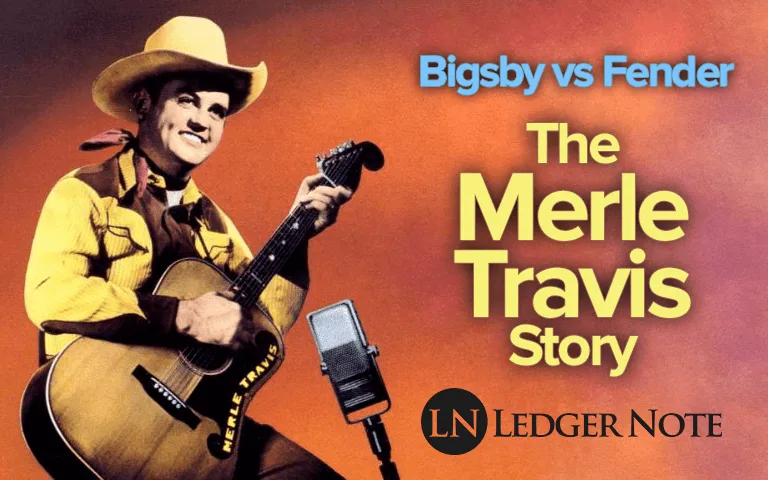 Of the many American musicians known for writing country and western songs, none are as synonymous with the genre as the great song-crafting guitarist Merle Travis (1917 – 1983).
Others come close but they don't come before this historical icon. He gained popularity in a time and place when the people needed a voice for their experiences and emotions that otherwise weren't being validated.
His lyrics embodied the lives and struggles of his fellow Kentucky coal miners, which propelled him to stardom through his honest representation of their economic plight and hard labor. It didn't hurt that he was a master guitarist either.
While Merle was known as a folk-artist hero, many modern musicians aren't familiar with his portfolio of country and western gems (shame on them!). It is guaranteed, though, that any studied guitar player uses the unique fingerpicking techniques that Merle Travis invented, even if they don't realize it.
Many world-renowned guitarists tout Merle as a major influence on their own styles, such as Chet Atkins, Steve Howe, and Tommy Emmanuel. His influence is still channeled from the strings of modern songwriters to this day.
Like most greats, Merle became infatuated with guitar as a young boy. His first guitar was one hand-crafted by his own brother, largely because the family couldn't afford one otherwise.
He learned solo style fingerpicking from other local musicians, eventually landed on a radio show's amateur hour at the age of 18, was hired by a fiddler for a band, and he was off to the races. He even appeared in some of the earliest music videos, called 'soundies,' recorded on 16mm film in the early 1940's. The rest is history…
Let's take a look at the several reasons Merle Travis remains an icon in guitar history, including his:
fingerpicking innovations
ventures into the first electric guitars
early acoustic guitar customizations
and especially the controversy surrounding his scroll headstock!
In that order, we begin…
The Famous "Travis Picking" Guitar Technique
The "Travis Picking" technique has found its place in history as one of the most musically distinct textures a guitarist can pluck from six strings.
It results in a piano like sound that can be deceiving until you realize just one person is playing all those notes. Hearing an alternating bass line with accompaniment and a melody on top can boggle the ears and mind.
If you aren't sure if you know the technique, just check out this golden great from the rock band Kansas called Dust in the Wind and you'll immediately recognize the sound of "Travis Picking."
Keeping all of that in mind, it's easy to see how important Merle is to the guitar community. He was one of the most popular songwriters of his time and invented one of the most widely used finger picking patterns in modern music.
Merle also has a historic place in the development and rise in popularity of the electric guitar, through his work with Bigsby and Fender. These efforts earned him the honor of a place in the Country Music Hall of Fame in 1977 as well as the Nashville Songwriters Hall of Fame in 1970.
Merle Travis' History with Bigsby Guitars
Back in the pre-Fender epoch of time, Merle had a preference for Bigsby guitars. He was one of the first electric guitarists, along side the late, great Charlie Christian (who was preferred to play a Gibson).
Merle loved Paul Bigsby's craftsmanship so much he even had the company craft a new neck for his Martin acoustic. Travis considered the Bigsby guitar neck to be of the highest quality craftsmanship, formed from the finest Birdseye maple.
These days, we'd never consider replacing any part of a vintage Brazilian Rosewood Martin D-28, but Merle Travis had no second thoughts (it wasn't vintage at the time). He had Paul Bigsby create a brand new neck for his main acoustic and used the axe for the majority of his career any time the muse called for a flat top box. This iconic headstock might seem familiar to you…

Bigsby was producing the first solid body electric guitars in the 1940's. This pre-dates Fender by a stretch. Merle Travis loved their guitars so much he actually bought the third "Bigsby Birdseye Maple Solid Body Electric Guitar" from Paul Bigsby in 1949.
The first Bigsby Solid Body guitars were numbered sequentially. While Merle had #3, the fourth one built is also famous in the guitar world. Of the 23 built, most have been accounted for, but #4 has a special place in history for not having verifiable documentation from a previous owner.
It was auctioned off in 2012 for a hefty price tag of $266,000 and has landed its indelible place in history of old school guitars.
These instruments were made even before Bigsby had invented his Bigsby Tremolo, which is still in production to this day. The functional simplicity of its design has given even just parts of his instruments a place in the books, such as the Bigsby whammy bar:
Merle Travis was so impressed by the craftsmanship of the neck of his guitar that he had Bigsby make another neck for his Martin D-28 that we saw him perform with for so long.
You've probably heard many of his coal miner hits, such as Sixteen Tons or Dark as a Dungeon. These songs were played on his half Bigsby/Martin D-28. This move influenced his peers so much that Lefty Frizell, Hank Thompson, and Zeke Clements also asked Bigsby to craft new necks for their instruments, alongside many other axe slingers.
You know trend-setters get sick of being copied, but imitation is the sincerest form of flattery.
Check out Dark as a Dungeon above, filmed in 1951 with Merle's custom D-28. Notice the set and costumes aimed at reaching the coal mining community, which was accepted as very authentic and touching.
The Fender vs. Bigsby Headstock Dispute
So what's the deal with this headstock shape? Something seems familiar when you look at the Bigsby headstock. It's reminiscent of the head scroll of old violin family instruments, but we now associate it with a single instrument, the ever-present Fender Stratocaster!
One of the major factors was the distinctive scroll headstock, which was the maker's mark of Bigsby guitars. But that shape eventually became known as the Fender Stratocaster's defining detail.
We all immediately recognize this uniquely shaped symbol as one of the mainstays of the Fender and the electric guitar in general.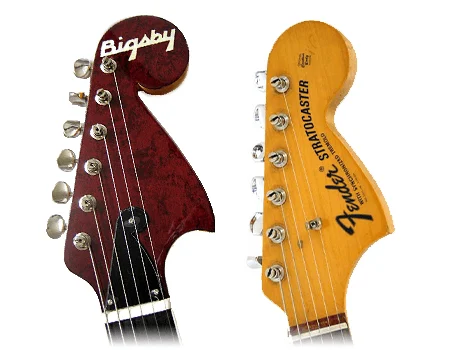 According to guitar legend and lore, Leo Fender was performing research on many guitars before he began to create the Telecaster and the Stratocaster. During some of his museum trips, the headstock shape of earlier European guitars that mimicked the scroll of a violin headstock piqued his interest.
Many had assumed, negatively, that when Leo Fender saw the shape Paul Bigsby was using for his guitars that he decided to make his own variant. But his museum trips lend credence to the idea that Fender didn't steal the sexy curves of the scroll headstock, but actually was honoring tradition by using the shape in his own designs.
Certainly Merle Travis' notoriety for using the Paul Bigsby necks played a large role in influencing Leo Fender to follow suit. But the debate will surely continue to be had because the truth has disappeared in time and the rest is speculation.
We do know that Bigsby introduced the scroll headstock for the electric guitar before Leo Fender did (and he didn't necessarily invent it, just added it to the guitar), but now we see that it had possibly been used even before that point in time on a variety of instruments.
Fender had used a similar yet subtler shape on his Broadcaster (later renamed the Telecaster) headstocks before he introduced the much more pronounced version on the Stratocaster, so this could be a tale of two guys centering on a similar idea around the same time.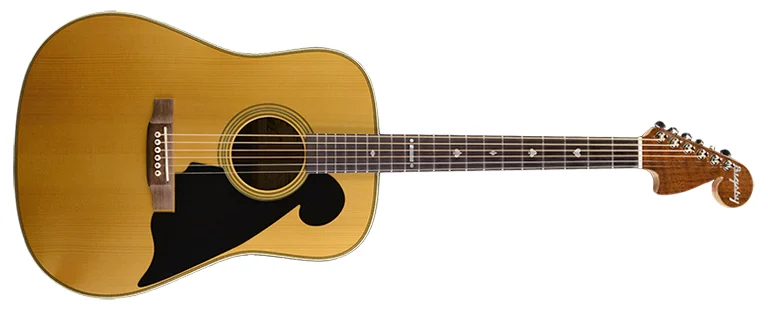 We'll never know the full story at this point, and that's probably for the best. Lore and legend is more fun than fact, especially when it doesn't really matter what the truth is. What else are we going to argue about on the internet? Everything, apparently.
The Merle Travis Guitar Story Rocks…
Merle Travis definitely exposed the masses to the scroll headstock with his Martin D-28 custom neck acoustic dreadnought (pictured above), as well as his usage of one of the first Bigsby electrics.
Merle played the custom Martin guitar from the time he had it re-necked until his death in 1983 on all his acoustic tracks.
Music history is much like studying a family tree. The further down the branches we go, we end up at an indelible trunk that only forks off into many more roots.
The journey is what it's all about, where we learn where the core features of even the best acoustic guitars come from today. Stay tuned for more guitar history lessons!