If ever there was an inspirational story, the story of Scatman John as told through his own lyrics fits the bill:
Everybody stutters one way or the other
So check out my message to you
As a matter of fact, don't let nothin' hold you back
If the Scatman can do it, so can you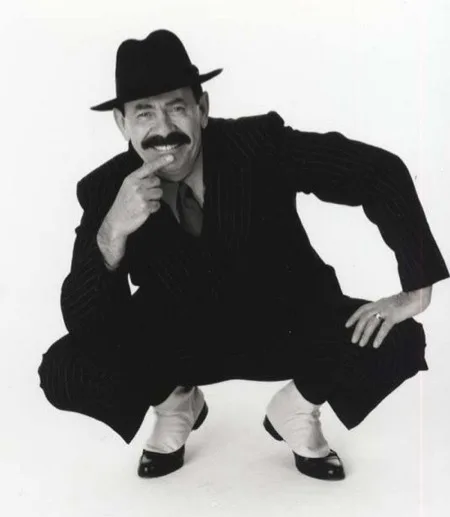 Scatman John's Early Life
The Scatman was born as John Paul Larkin on March 13, 1942 in El Monte, California. Like many of us, as John grew and began to speak it became obvious to his parents that he would experience the difficulty of navigating childhood with a speech impediment. John's specific situation centered around a debilitating stutter.
As an adult looking back, he reported his youth as being extremely traumatic. Other kid's tease and we carry an undeserved shame that sticks with us throughout our lives. John did find a way to turn this problem into a solution, but before that he simply tried to cope. He found his early voice through the piano. He had no idea this was priming him for literal worldwide stardom…
Young John discovered the piano and jazz at age 12 and as he continued to explore this new vista he found inspiration in the music of Ella Fitzgerald and Louis Armstrong and their usage of scat singing…
"I hid behind the piano when I was performing because I was scared of talking."
As John grew into an adult he hit the jazz scene all throughout Los Angeles, earning his living through the 70's and 80's as a pro jazz pianist, even releasing an early, rare record called John Larkin. The lifestyle compounded his speaking difficulties and it all caught up with him.
John found himself deeply engaged in the local drug culture. After the loss of a close friend and with the support of his wife and their social circle, he defeated addiction and substance abuse. But some problems can't be left behind. They must be embraced and transformed.
It seems that this period was his crucible, firing him and readying him for his new shape to come.
Scatman John Debuts
John Larkin decided to take a big leap and in 1990 he bailed on California to join the jazz scene of Berlin, Germany. After putting his balls on the chopping block and singing a cover of the song, On the Sunny Side of the Street, John was floored to have received a standing ovation.
Taking in consideration his life long battle with insecurity surrounding his voice, this was a huge moment for him. One that would change everything.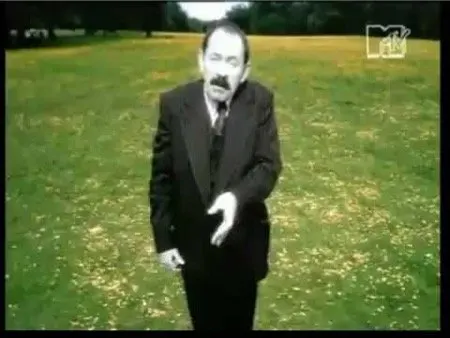 John's agent liked this new John, the John that was singing and scatting like it didn't matter. Dollar signs flashed in his ideas and the cogs started turning. Before long it all clicked into place and the manager pitched to John the idea of combining his scat repertoire with the booming dance scene.
John was iffy but his label, BMG Hamburg, insisted they give it a shot. Understandably, it came to light that John's resistance was based on a fear that the listeners may realize he had a stutter, even if they ensured the recordings were flawless. His wife suggested he just throw it out there in the lyrics and let it be what it is. Did it work?
Ya darn-tootin' it did. He hit the studio in late 1994 with two popular dance producers in the area and pumped out the first track called Scatman (Ski Ba Bop Ba Dop Bop):
[The video looks like it won't play but it does! They didn't upload a thumbnail apparently]
Click here to download the single or the full Scatman's World album.
Hanson and MMMBop move over, the king still reigns!
The Scatman Becomes An International Sensation
Less than a year later, Scatman John was a worldwide phenomenon. This song alone topped the charts at #1 in at least 14 countries. Take into consideration of top 5's, 10's, 30's, and 100's and you get the point. He racked up 14 Gold and 18 Platinum records worldwide and set a ton of world records for 1995 and 1996.
In one fell swoop, John transformed his lifelong insecurity into his most profitable asset. This song itself went Platinum in France and Germany and went Gold in three other countries. Not bad for a 53 year old jazz pianist with a stutter!
He pumped out more singles and albums, each with a tad less success than the previous. It supported entire European concert tours and more, but the real surprise came when his third album, Everybody Jam!, became a national obsession in Japan.
The Scatman John sensation in Japan got so crazy that:
They made & sold Scatman dolls
He appeared on prepaid phone cards
He was on Coca-Cola cans
He made custom songs for make-up & pudding commercials
And even worked with the Ultraman TV show
Beyond this, he even began making songs for his Japanese fan base such as Su Su Su Super Ki Re i and Pripri Scat…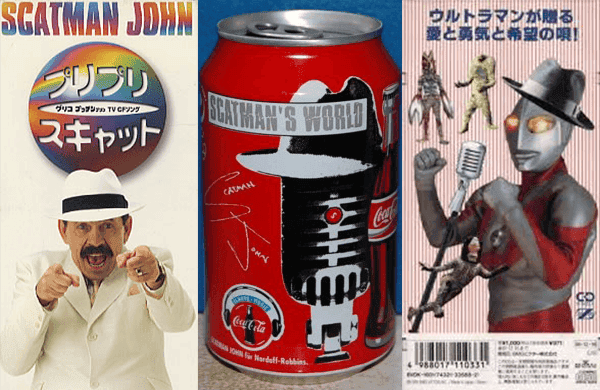 …and even a song called Scatultraman!
Final Years of John Larkin
Just two years after the release and explosion of the Everybody Jam! album in Japan in 1996, Mr. Larkin received a diagnosis of lung cancer. The doctors told him to take it easy, but John went ahead and released another album in June 1999 called Take Your Time.
"Whatever God wants is fine by me… I've had the very best life. I have tasted beauty."
On December 3rd, 1999, John Larkin passed away in peace in the comfort of his own home in Los Angeles at 57 years of age. He chose to be cremated and released into the ocean at Malibu.
The Scatman's Influence in the Stuttering Community
John Larkin's clever method of adopting scatting as a way to bring attention to stuttering never went unnoticed. The Stuttering Foundation has written about his story, the Advance for Speech Pathologists & Audiologists interviewed him, and his local newspaper the Los Angeles Times honored him after his passing as well.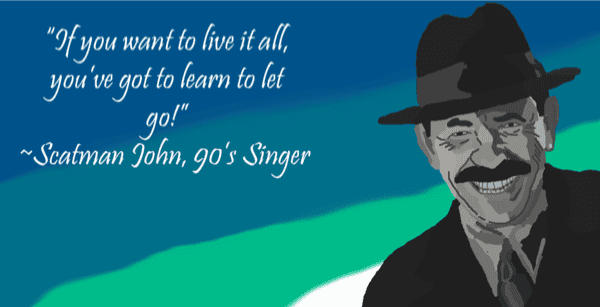 It is the few authentic humans who follow their passion and use the success as a way to help others instead of glorifying themselves and getting wrapped up in the money game.
Scatman John is a true hero to millions of people. Please share his story with your friends and make sure anyone you know that's dealing with stuttering knows that there's no shame.
"If the Scatman can do it, so can you!"
Use the buttons below to quickly spread the good message. Thanks!