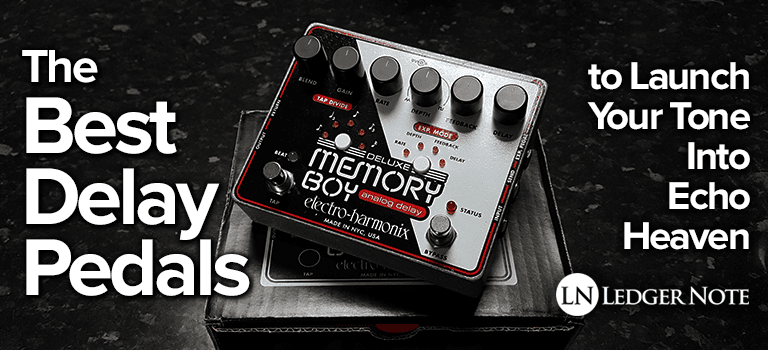 Click here to jump straight to the reviews!
Every musician is familiar with the delay effect, whether they're an instrumentalist or studio engineer. It's used for various reasons, but they all boil down creating a fuller and more dimensional sound.
It all started in the early 1900's with telephone line delays, literally sending signals around the city and back to be combined with the original. Eventually someone replicated this effect on magnetic tape to create the classic 'slapback' echo in the 1950's.
In the mid 1970's solid-state delays hit the market in integrated circuits. And now, since the 1980's or so we've had digital delays.
Besides mixing engineers, nobody has really taken advantage of this luscious effect like the guitarist has. With his affinity for fleshing out the pedalboard and fine-tuning the perfect tone that defines his style, the guitarist has demanded perfection, convenience, and plenty of options for his delay pedals, and the manufacturers have answered the call.
While some still romanticize vintage means of achieving a delay, nothing beats the modern solid-state and digital options found in the current line-up of effects pedals aimed strictly at the present day guitarist.
With that being said, today we'll create a deeper understanding of delay and how to use it, explore the features you should expect from a guitar delay pedal, and share our top picks from today's advanced offerings. By the time we're done, you'll have no problem choosing the perfect pedal for your needs and putting it to use immediately with the rest of your gear.
What is the Delay Effect?
Delay is an audio effect in which your original signal is stored in some fashion for a period of time before being played back.
This can mean that your original audio signal itself is restricted in time before being audible or that a duplicate of this signal is restricted and then added back to the original audio. The delayed signal can sound off as a one-time event or can be repeated as a decaying echo.
All of the parameters associated with the delay can be manipulated, including the volume, length of the decay, pre-delay (a waiting period before the delay begins), and more. This was all initially achieved using tape loops in the 1940's before analog delay units were invented in the 1970's.
Digital effects pedals, which are largely the type we will be concerned with here hit the market in 1984. And of course, software plugins now are available since the early 2000's.
What to Look for in the Best Delay Pedal?
The big debate between purists and practical guitarists is whether or not digital electronics are a better choice than vintage or current analog versions. While there may be some merit to that conversation related to other effects or tools, delay is not one of them.
Digital delays are completely transparent and perfectly executed by an algorithm every time. This isn't the place to worry about coloration or tone. Digital wins the battle here clearly, with the ability to pull off reverse echos, stereo bouncing, tap tempos, and more.
Analog delays are restricted to shorter echo tails, can generate a lot of "dirt" and artifacts that only compound over the course of all the echoes. If you're looking for color and warmth, I say to find it elsewhere. Get a digital delay pedal.
The only other concern is do you want a standard or nano sized stomp box with the normal expected options, or do you want a big box with tons of presets? Those can be nice if you want to pop between them immediately between songs if you know they work good for them. All that's left is to tap in your tempo and you're back in business.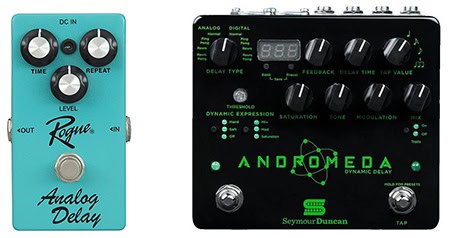 How to Use a Delay Pedal
Delay is a simple audio effect. You turn it on and it creates echoes. This makes using it a very simple task, and let me explain why by answering the two most common questions surrounding any pedal.
Where to Place it in the Signal Chain
Despite what the artsy-fartsy guys say about there being no rules, there is a very specific order your guitar pedals should be in. This is defined by nature and logic, because some pedals will ruin the effect of others if in the wrong order. It goes like this:
Dynamics, Filters, & Pitch Shifters
Boost & Distortion
Modulation
Time
Delay is a time-based effect along with reverb. They come in at the end of your pedal chain. Now, the only caveat here is that you should use delay and then add reverb.
So delay should be your 2nd to last pedal, and only be your last if you're not using reverb. Think about it in reality. A sound is created and shaped at the sound source and then goes out into the environment to bounce around and come back to your ears.
Also, if you compress a delayed signal you'll ruin the uniform decay of the sound over time. The same goes for most other effects that all use gain and volume to do their job. You will destroy your decay tail, which is the only reason delay exists. Place it at the end!
Understanding the Knob Settings
Thankfully these pedals are free from the marketing nonsense of many manufacturers re-labeling common knobs with nutty names and adding extra features we don't need or want. You typically find three or four knobs on these and maybe a switch or two.
The main knob is called Delay usually, though sometimes called Feedback, which defines the time between each echo, sometimes called Rate. You'll find a Level knob, sometimes called Mix, Repeats, Blend, or E. Level (E for effects), that lets you choose how wet you want your signal.
This means you can control how loud the delay itself is in comparison to the original signal and controls the number of echoes you're getting in the same fashion.
Some pedals feature a Mode knob or switch that lets you define more intricate delay patters like eighth notes, triplets, dotted quarter notes, etc. They'll even feature cool things like a reverse delay, modulation (like a tremolo and vibrato together), and more.
Once in a blue moon you'll see a Regen knob that lets you feed the delay back into the input to create an even more crazier pattern. Regen basically chooses how many echoes you're getting versus a one-and-done slap back.
---
The Best Delay Pedals

Note: Each image and text link leads to Amazon.com where you can read additional user reviews, find specific technical detail listings, see additional product options and sizes, and make your purchase.
So now we know what kind of features to look for in a delay pedal and understand how to use it once we have it. Let's move on and take an overview of the best choices on the market.
We're not going to order these in any special manner since they all met and exceeded our expectations, but there are a few best-in-class options that you can find by scrolling back to the top of the article.
These are the Best Delay Pedals Out There
Delay pedals range from your standard single-effect style of pedal up to multi-effects in a single option all the way up to full on modelers that emulate a ton of other classic pedals. And that's what you find in the list above.
We've chosen the best of each class and brought them to you here to save you time hunting and learning. These are the best delay pedals on the market.