The best delay pedal is the difference between a boring, single melody guitar solo and a lush, polyrhythmic soundscape that captures the ears of your listeners, sending them into a dreamy mind state where they wonder what kind of magic you're casting out into the crowd. Delay is a tool that is non-negotiable. Every guitarist should have it on their pedalboard…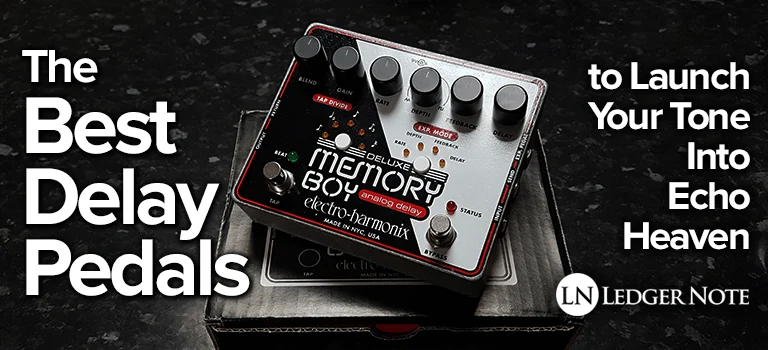 Every musician is familiar with the delay effect, whether they're an instrumentalist or studio engineer. It's used for various reasons, but they all boil down creating a fuller and more dimensional sound.
It all started in the early 1900's with telephone line delays, literally sending signals around the city and back to be combined with the original. Eventually someone replicated this effect on magnetic tape to create the classic 'slapback' echo in the 1950's.
In the mid 1970's solid-state delays hit the market in integrated circuits. And now, since the 1980's or so we've had digital delays.
Besides mixing engineers, nobody has really taken advantage of this luscious effect like the guitarist has. With his affinity for fleshing out the pedalboard and fine-tuning the perfect tone that defines his style, the guitarist has demanded perfection, convenience, and plenty of options for his delay pedals, and the manufacturers have answered the call.
While some still romanticize vintage means of achieving a delay, nothing beats the modern solid-state and digital options found in the current line-up of effects pedals aimed strictly at the present day guitarist.
Need more information in order to better understand your needs? We have got you covered! Visit our FAQs section.
INCLUDED IN THIS GUIDE:
The Best Delay Pedals
So now we know what kind of features to look for in a delay pedal and understand how to use it once we have it. Let's move on and take an overview of the best choices on the market.
We're not going to order these in any special manner since they all met and exceeded our expectations, but there are a few best-in-class options that you can find by scrolling back to the top of the article.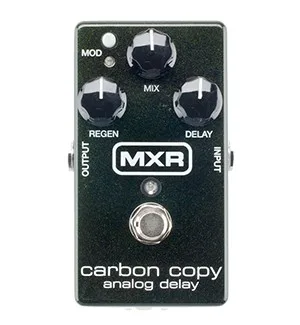 Our pick for the "Best Bang for the Buck" goes to the MXR M169 Carbon Copy, a fully analog delay with a long delay time of up to 600 milliseconds. With that amount, you can go from David Gilmour style tape echo slap backs all the way down to the tightest of delay. But why is this the best bang when there are others that appear to have more options?
First, you get your basic delay effect knobs like Mix where you choose how loud the echoes are, Regen where you can choose how many echoes you hear, and Delay where select the time interval between the echoes. You'll also notice a Mod switch that turns on modulation so that the delay takes on the characteristics of a vibrato. Within the chassis there are two trim pots that let you choose the rate of this modulation and also the width of the pitch-bending.
In addition you have a true bypass so when it's off it's truly off as well as circuitry that's completely analog so you got that bit of warm saturation through the bucket brigade. What's so great about this is the natural, organic sound you get out of it while maintaining articulation.
It doesn't drown out your signal like many others do. There's no noise and plenty of space between the effect and your dry signal, even when you flood the soundscape with echoes.
Specs:
Item Weight: 1 pound
Signal Format: Analog
Voltage: 9 V
Style: Pedal
Pros:
Great sound quality
Easy to use
Has adjustable modulation
Cons:
The modulation button is not accessible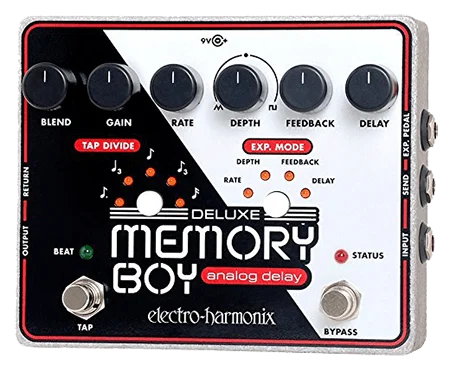 The classic long-term winner of most "Best of the Best" categories goes out to the Electro-Harmonix Deluxe Memory Boy. It's been such a hit that they have countless models with small changes and different features based on this one, which was the real winner of the advances added to the non-deluxe model.
Let's look at the knobs from left to right. You have Blend which is a mix knob, and Gain which lets you control the output volume. Then you'll find Rate and Depth knobs that let you add in some vibrato-style modulation and control that aspect of the effect.
Feedback acts as a regen knob, letting you choose how many echoes ring out. And of course you have the Delay knob for the timing between the slap backs. Those are the basic controls.
Here's where the fun starts. You'll notice there are two different footswitches. The first is your on/off with true bypass. The other is a tap tempo switch that lets you keep your echoes in time with the song. You can also use the Tap Divide option to choose between five subdivisions of a beat, like dotted 8th note and quarter note triplet, for instance. The fun doesn't stop there.
You can use an expression pedal to control either the rate, depth, feedback, or delay. You can use an expression pedal to also enter a Low Cut mode to EQ out the bass frequencies so you get a crystal clear delay that doesn't muddy up the rest of your signal.
For me, it's an "always on" feature. To sweeten the deal, there's a send and return so you can create an effects loop on the delay effect itself. What's not to love? You're looking at, in our opinion, the best delay pedal ever.
Specs:
Item Weight: 1.7 pounds
Signal Format: Analog
Voltage: 9 V
Style: Delay, Expression, and Modulation
Pros:
Many functionalities
Great quality
Versatile
Cons:
Has a few knobs that can be a little cramped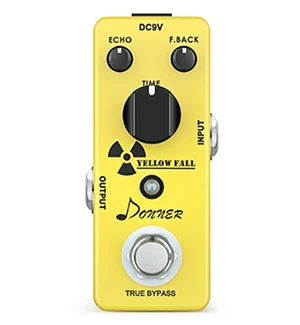 Our "Best Budget Pick" goes to the extremely cheap and high quality Donner Yellow Fall mini pedal. Why is it so inexpensive? Because it's cutting manufacturing costs by being Chinese-made, but that hasn't hurt the quality of the effect in the slightest. In fact, it competes with options twice and even three times it's own price.
The basics: a completely analog circuit, a sturdy aluminum-alloy chassis, true bypass, and an LED indicator. You get three knobs, with the main one being Time that takes you from 60 ms up to 620 milliseconds. The Echo knob sets the level of the slap backs while the Feedback knob lets you control the number of echoes ringing out. The noise floor and distortion is basically non-existent too.
This is what you want when you don't want to blow a ton of cash on a boutique pedal and don't have time to study which are the best but intend to later. You can get this perfectly capable delay now and not even worry about the cost, then circle back around to pick up another later. I have a strong feeling that you won't even feel the need at that point. This baby gets the job done.
Specs:
Item Weight: 0.5 pounds
Signal Format: Analog
Voltage: 9 V
Style: Delay
Pros:
Offers clean and soaring leads
Great build quality and tiny form factor
Easy to use
Cons:
True analog delay produces a more authentic sound than emulated analog voicing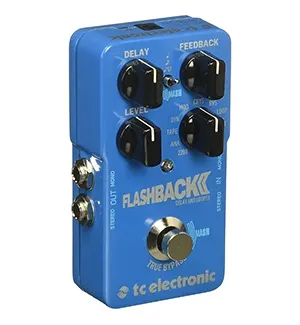 Another legendary option that has gone through the growth of having new models come out is the TC Electronic Flashback. And this newest model has it all. Perhaps the coolest feature is the on/off toggle switch is now pressure sensitive and can function as an expression pedal.
You won't see that on any other pedal in this list. The switch also acts as a tap tempo input. Oh boy. There's a tempo subdivision switch to let you choose between a quarter note, dotted eight note, and a combination.
Yeah, you get the typical knobs to control the mix levels, repetitions, and delay length, but you get a fourth knob that houses 8 different delay modes, including the ultra cool Crystal delay. This produces an ethereal sound, passing the echoes through a feedback loop that pitch shifts it up an octave with each pass. It has an analog-dry-through circuit that maintains the full integrity of your original signal while doing all this processing.
To top it off, you get access to their TonePrint catalog (for free) where you can download and store up to 3 professionally created settings in the pedal. The crazy thing is you can do this from your computer or you can beam it through Bluetooth from your smart phone through your bass or guitar's pickup. That's insane.
If you want a more 'normal' pedal that has plenty of modes to jump through without you needing to design them, then you've found your baby right here.
Specs:
Item Weight: 0.7 pounds
Signal Format: Analog
Voltage: Delay
Style: 9 V
Pros:
Great sound quality
Excellent MASH function
Affordable price
Cons:
Lacks expression pedal support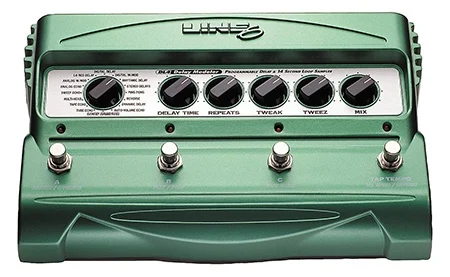 Of all the pedals Line 6 has pumped out, they created a real winner with their Line 6 DL4 Stompbox Modeler. This is kind of like the TC Electronic Flashback above but taken to the next level. You get double the number of delay modes, taking that up to 16, all based on other classic and hard to find modern and vintage pedals. Many of these had choruses and vibratos built-in and they all appear here too.
Instead of going all analog like many others do, this one takes full advantage of the digital age and offers a 24-bit stereo signal path so you get a faithful reproduction of any sound you want, over and over again. This means it can also have up to 14 seconds of memory for looping and 800 milliseconds of pre-delay.
This opens of a whole new world, including reverse delays and more like engaging the half-speed switch, reverse overdubbing, etc. Because it's true stereo capable, you can create ping-pong delays and all of those weird rhythmic delays like The Edge uses with U2. Of course you can add in an expression pedal to control the parameters in real time.
This tank of a pedal is like having 16 or more classics all rolled into one. It's cool to have those individually if you can afford (or even find) them. But this just makes sense if you need that many options. Click the image above to read about the various knobs and other features. There's too many to go into here. If you're an 'options' kind of player, then you need proceed no further. You've found the one.
Specs:
Item Weight: 3.1 pounds
Signal Format: Analog
Voltage: 9 V
Style: Delay and Expression
Pros:
Excellent sound
Compact chassis
Easy to use
Cons: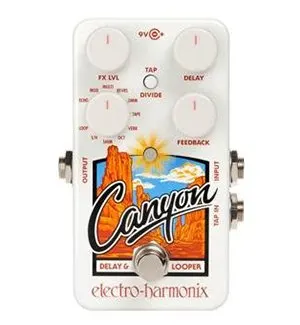 It's become quite the rage in the boutique and newer pedal companies to merge pedal types together, and why not when you can. EHX jumped on that bandwagon with their EHX Canyon Delay & Looper pedal. This beast nearly crams as much as the Line 6 choice above but into a standard sized case.
You get 8 types of delays, including reverse, tape delay, reverb, modulated, and more. The 10th mode is a sample and hold and the 11th is a looper mode with up to 62 seconds of recording.
Most delays boast of having up to 600 milliseconds of length. This one can go up to 3 full seconds, five times as much. You get a tap tempo and tap divide, hidden parameters through a "secondary knob mode," like signal modulation amount and tape age.
But that's not all. They don't mention it but this pedal has a full-blown, multi-type reverb in it. You can get a hall, room, and spring reverb that can be combined with the echoes to mimic tons of classic pedals and famous guitar player's styles.
You can make life very simple by slapping this in your amplifier's effects loop, that of any other pedal, or use it in serial. Have fun trying to find any other pedal as consistently highly rated as this one, largely because of the delay itself. The reverb and the looper is just the icing on the cake.
Specs:
Item Weight: 400g
Signal Format: Analog
Voltage: 9V
Style: Delay
Pros:
Versatile sounds choice
Compact
easy to set up
Cons:
Buttons and LED system may be a bit confusing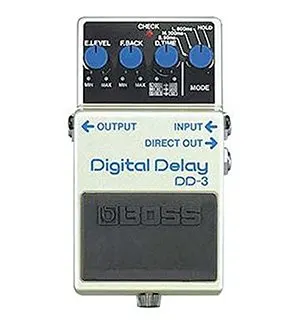 As always, you'll find at least one Boss pedal on every list. Boss doesn't play, and their Boss DD-3 Digital Delay reflects that philosophy. I always think of Boss as high quality at a reasonable price with an average number of options. Which is to say that they stand nearly entirely on the fact that their effects are top notch with no gimmicks.
That's what you get here. You get three delay modes, in this case they're short, medium, and long lengths plus a hold mode that'll produce endless repeats as long as you don't step off the switch. The timings can range between 5 ms up to 800 ms, a bit shorter and longer than most others offer.
And that's what you get. You can control the effects level, the feedback amount, and the delay time, plus the hold mode. No gimmicks!
Boss is the simple option with top notch quality that you buy for life. They are pretty much indestructible, which is why you see them around so often. More and more of them are out there since you'd have to try to destroy them. If that appeals to you, then you should definitely look into this pedal and the rest of their line up.
Specs:
Item Weight: 1.14 pounds
Signal Format: Digital
Voltage: 9 V
Style: Advanced-DD-3
Pros:
Covers the delay needs of most players with excellent sounds
Cons:
FAQs
In this section, today we'll create a deeper understanding of delay and how to use it, explore the features you should expect from a guitar delay pedal, and share our top picks from today's advanced offerings.
What is the Delay Effect?
Delay is an audio effect in which your original signal is stored in some fashion for a period of time before being played back.
This can mean that your original audio signal itself is restricted in time before being audible or that a duplicate of this signal is restricted and then added back to the original audio. The delayed signal can sound off as a one-time event or can be repeated as a decaying echo.
All of the parameters associated with the delay can be manipulated, including the volume, length of the decay, pre-delay (a waiting period before the delay begins), and more. This was all initially achieved using tape loops in the 1940's before analog delay units were invented in the 1970's.
Digital effects pedals, which are largely the type we will be concerned with here hit the market in 1984. And of course, software plugins now are available since the early 2000's.
What to Look for in the Best Delay Pedal?
The big debate between purists and practical guitarists is whether or not digital electronics are a better choice than vintage or current analog versions. While there may be some merit to that conversation related to other effects or tools, delay is not one of them.
Digital delays are completely transparent and perfectly executed by an algorithm every time. This isn't the place to worry about coloration or tone. Digital wins the battle here clearly, with the ability to pull off reverse echos, stereo bouncing, tap tempos, and more.
Analog delays are restricted to shorter echo tails, can generate a lot of "dirt" and artifacts that only compound over the course of all the echoes. If you're looking for color and warmth, I say to find it elsewhere. Get a digital delay pedal.
The only other concern is do you want a standard or nano sized stomp box with the normal expected options, or do you want a big box with tons of presets? Those can be nice if you want to pop between them immediately between songs if you know they work good for them. All that's left is to tap in your tempo and you're back in business.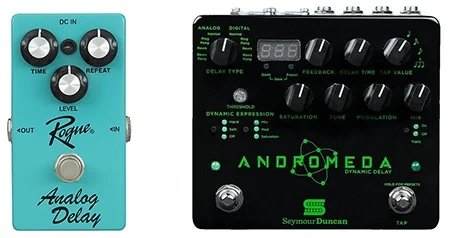 How to Use a Delay Pedal
Delay is a simple audio effect. You turn it on and it creates echoes. This makes using it a very simple task, and let me explain why by answering the two most common questions surrounding any pedal.
Where to Place it in the Signal Chain
Despite what the artsy-fartsy guys say about there being no rules, there is a very specific order your guitar pedals should be in. This is defined by nature and logic, because some pedals will ruin the effect of others if in the wrong order. It goes like this:
Dynamics, Filters, & Pitch Shifters
Boost & Distortion
Modulation
Time
Delay is a time-based effect along with reverb. They come in at the end of your pedal chain. Now, the only caveat here is that you should use delay and then add reverb.
So delay should be your 2nd to last pedal, and only be your last if you're not using reverb. Think about it in reality. A sound is created and shaped at the sound source and then goes out into the environment to bounce around and come back to your ears.
Also, if you compress a delayed signal you'll ruin the uniform decay of the sound over time. The same goes for most other effects that all use gain and volume to do their job. You will destroy your decay tail, which is the only reason delay exists. Place it at the end!
Understanding the Knob Settings
Thankfully these pedals are free from the marketing nonsense of many manufacturers re-labeling common knobs with nutty names and adding extra features we don't need or want. You typically find three or four knobs on these and maybe a switch or two.
The main knob is called Delay usually, though sometimes called Feedback, which defines the time between each echo, sometimes called Rate. You'll find a Level knob, sometimes called Mix, Repeats, Blend, or E. Level (E for effects), that lets you choose how wet you want your signal.
This means you can control how loud the delay itself is in comparison to the original signal and controls the number of echoes you're getting in the same fashion.
Some pedals feature a Mode knob or switch that lets you define more intricate delay patters like eighth notes, triplets, dotted quarter notes, etc. They'll even feature cool things like a reverse delay, modulation (like a tremolo and vibrato together), and more.
Once in a blue moon you'll see a Regen knob that lets you feed the delay back into the input to create an even more crazier pattern. Regen basically chooses how many echoes you're getting versus a one-and-done slap back.