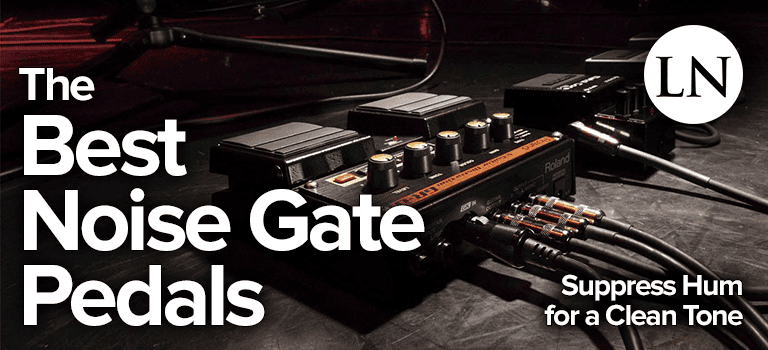 Click here to jump straight to the reviews!
Electrical problems can plague guitar players. The 60 cycle hum and other ground noise issues can be devastating to a performance or recording.
Most of the time you can't do anything about bad power at a venue.
If a problem develops within your guitar or your other gear while you're live on stage, there's nothing you can do, unless you have a noise gate pedal on your pedalboard. And in that case, you're good to go as long as you've set it up before hand.
Noise gates have had their place in the recording studio for the longest time, especially during the mixing process. It's only right and was inevitable that we'd get them in stompbox form due to their incredible usefulness.
Regardless if you're using one in true bypass mode when unneeded or with noise suppression engaged, the result is that all of the lower volume (but still audible) hum and hiss will be removed from your signal when you're not actively playing. It's an instant upgrade for you that your entire band will benefit from.
Today we'll look at exactly what a noise gate does, how it does it, and the features you should be looking for when you start considering a purchase. By reading this short discussion, you'll be fully equipped to make an informed decision, and that's when we'll get you started with our top recommendations from today's current and modern line-up. Let's do this.
What is the Noise Gate Effect?
The noise gate effect works like a combination of a compressor and an all-pass filter on an equalizer. The problem is equalizer pedals don't have all-pass filters, so you need this additional tool in your arsenal. And without it a compressor pedal can make your noise more noticeable.
The end result of using one is that, for a guitar for example, your amplifier will only output sound when your guitar is actively being played. Otherwise, all electrical noise and hum and other low volume sounds will be blocked out.
This effect is used by mix engineers on nearly every track, whether done manually or with a noise gate plugin, on every song these days. Even if every track has inaudible amounts of noise that you'd never notice when solo'd, when combined this noise can add up and be heard, muddying up the song in its final mix.
By setting a very precise threshold level below which no audio can pass through, you can ensure you won't be emitting any buzzing noises out of your amplifier between songs, and if set extremely carefully you can make sure there's no extra noise even between notes or phrases.
Often people will forego the benefits because they're too lazy to set it up (yes, you need to reset it up each time and in each location depending on how you're playing that day or that hour), but having this pedal early in your set up offers a clean feed to your other effects and amplifier that everyone will appreciate.
What to Look for in the Best Noise Gate Pedal?
The most important aspect of a noise gate is accuracy. While you can't test every pedal out there, you can read reviews and make sure nobody is complaining about this. Accuracy relates to how quickly the effect kicks in when the amplitude of your guitar or other instrument dips below the threshold.
If you can't set and trust a precise value, then noise will sneak through. If you're playing metal or any other genre or distortion effect with huge amounts of gain this can be problematic.
Other than that, you'll likely want a transparent gate that adds no coloration or extra flavors to your tone. Let your other pedals handle that.
You may see pedals with a lot of options on it for the attack and release of the noise gate, you can trust the manufacturers to have set pleasing values there, which is why you see a lot of pedals with nothing more than a threshold knob.
Those tend to be perfectly fine. This isn't a complicated effect, you just need to be able to set the threshold and trust that it's working accurately.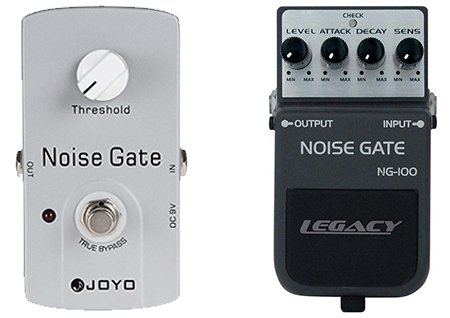 How to Use a Noise Gate Pedal
With a noise gate you don't have to worry about the complications of an effects loop or the signal chain in general. You obviously want the gate to come early so the rest of the effects aren't acting on any noise that would have otherwise snuck through. Let's look at this logically.
Where to Place it in the Signal Chain
By looking at the sequence of the effects chain it becomes obvious where you want your gate to come among all of your other types of guitar pedals and why you should place it there:
Dynamics, Filters, & Pitch Shifters
Boost & Distortion
Modulation
Time
Noise gates are a form of dynamic control and should come at the very front of your signal chain, even before compression, though you can place it afterwards if you're concerned about having a lot of sustain.. You typically want all noise out of your signal before other effects start acting on it.
Understanding the Knob Settings
These are the easiest pedals to understand, but not to use. Most only feature a Threshold knob which is the volume level below which everything is silence.
Others will let you control the Release or Decay so you get a smooth transition back into the main signal, although most manufacturers set the attack and release for you, which tends to work out just fine. Others with Mode knobs will let you move from a complete muting of noise to just a reduction to save you from any abrupt sound changes.
---
The Best Noise Gate Pedals

Note: Each image and text link leads to Amazon.com where you can read additional user reviews, find specific technical detail listings, see additional product options and sizes, and make your purchase.
Now that we have a firm grasp on noise gate pedals and which features to expect from them, let's peruse the market and see what the best options are for our well-earned money. We've made life easier by only sharing the current top choices below, but we don't order them in any specific manner other than to point out our top favorite.
You can see our two other "best in class" picks in the comparison table at the top of the article as well. Otherwise, please consider all of them carefully, because if they made the list then they exceeded our expectations. You may see one you like even more than our faves.
These are the Best Noise Gate Pedals Out There
You never know where you'll end up gigging and how their electricity is... ground loops, lighting, all of that can affect your tone, and that reflects on you, unfortunately. And if you play in a high gain style you may encounter issues with hiss, hum, and buzz regardless.
The easy and reliable fix is a gate that cuts the noise out at any time your instrument isn't loud enough to mask it. Above we've provided our top picks of the current market. Read above and, when you get one, make sure you get one of the best noise gate pedals.