As John Lennon once wisely told us: "Instant Karma's gonna get you, gonna knock you right on the head!"
And that's precisely what happened to Aaron Lewis, the singer from Staind.

Hey, Aaron. How do you like your justice served? Scrambled or fried?
Christina Aguilera Flubs the National Anthem
Now look, seriously… I can't even think about public speaking without my hands shaking and my armpits dumping buckets of sweat. I'd lip sync my entire life if I could.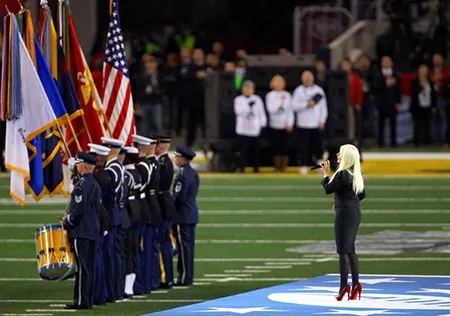 Christina Aguilera graced us with her amazing voice and vocal gymnastics at the NFL's Super Bowl XLV. She didn't use a prerecorded take, she didn't lip sync. She got out there and put her hypothetical nuts on the chopping block.
And she he had a tiny goof up.
Big deal. She was meant to say "were so gallantly streaming" but said "at the twilight's last gleaming" again. She even caught it and said "twilight's last streaming." Literally nobody there cared. They cheered her on because she was honoring our nation and people. I couldn't do it nor would I even try.
"I got so caught up in the moment of the song that I lost my place. I can only hope that everyone could feel my love for this country and that the true spirit of its anthem still came through"
If you want to see the awesome performance, here you go, quick and easy:
They brought it up on Ellen later. She had been singing the anthem for football teams since she was 7 or 8 years old, singing for the Steelers. She said she was taking in the moment as it was a pinnacle achievement in her career and she lost her place.
My guess is, it's easy to switch those lines since they rhyme and occur in the same part of different stanzas. The Ellen crowd didn't care, nobody cared but the press who wanted a cheap story… and…
Aaron Lewis of Staind Got on His High Country Horse
So this dunce goes to one of his concerts, where he's now pretends to be a hot shot country singer with his nice acoustic guitar. To play the role, he decides to take a shot at Christina by saying:
"I guess I just don't understand how people who sing The National Anthem can be so f-ing self-absorbed that they would try to change that f-ing song. If there is a single song in the history of this country that deserves no creative interpretation, it's that one."
Here's a video of about 50 seconds where he goes on his minor tirade:
He even calls her Cyndi Lauper, as if that's an insult.
Fast forward to the MLB's World Series a few years later where homie gets the undeserved chance to sing the National Anthem. And guess what happens?
Yep. He does THE EXACT SAME THING. It wasn't a publicity stunt. It wasn't a joke. It was karma manifesting itself at the earliest opportunity.
Here's a video of him goofing it up, but the audio is real low. You'll have to crank up your speakers (don't forget to turn them back down after!) to hear it:
It's just the Star Spangled Banner, bro. How you gonna mess it up, bro?
Here's the difference between Mr. Lewis and Ms. Aguilera: She got the chance to appear on one of the biggest talk shows on the planet to offer her apology. He had to settle for a Facebook post, which read like this:
"All I can say is I'm sorry and ask for the Nation's forgiveness. My nerves got the best of me and I am completely torn up about what happened. America is the greatest country in the world. The Star-Spangled Banner means so much to so many, including myself. I hope everyone can understand the intensity of the situation and my true intent of this performance."
We forgive you and don't care. Thanks for your performance and for helping us honor the country. Thanks for the chuckle at your own expense!