If you're like me, you probably remember the old days of uploading your songs to MySpace and Soundcloud.
It was cool to hit the charts and get a ton of plays, but there wasn't a readily available way of monetizing those plays. The best you could do on these streaming sites was link people out to your own shoddily built website and hope people trusted it enough to order a CD.
And then came the launch of CD Baby in 1998.
Suddenly we had a way to print compact discs and offer digital downloads. Eventually they helped artists with online distribution and payouts for streams. It's been a long journey, 20 years to be exact at the time of this writing in 2018.
The Growth of CD Baby
A portion of that long 20 year journey was CD Baby toughing it out through the decline of the music industry while it pivoted and shifted, trying to understand its role in the online marketplace.
While major labels floundered and resisted adopting these new technologies, CD Baby was already at the forefront helping independent musicians reach new markets and earn their living. And we've embraced them since.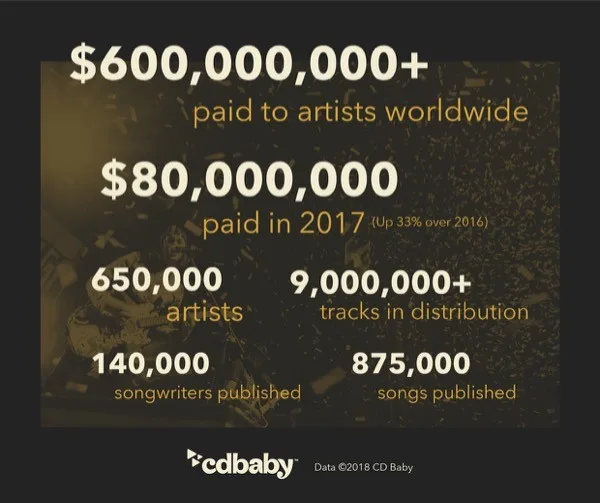 They hung in there and it paid off not only for them but for the artists that stayed by their side. Of the total $600 million in payouts, just over $80 million of that was in 2017 alone, and that represented a 33% growth over the previous year.
They're absolutely slaying it, helping over 650,000 various artists distribute their 9 million plus songs across various platforms. They also publish over 140,000 musician's songs that now total to over 875,000. The only way to reach these numbers is to go completely global, which they've done.
The Rise of Streaming
CD Baby, who's name may be an anachronism before too long for referring to the compact disc, attributes much of their growth to the rise in music streaming. While iTunes dominated early on, companies like CD Baby, Pandora, and Spotify have eroded their market share.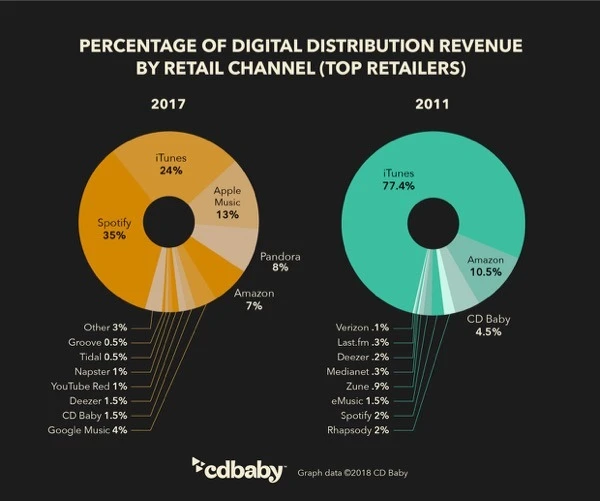 In 2009, the company paid indie artists a total of $33.3 million, but only $575,000 of that was related to streaming. That was a minor 1.7% of their revenue. Fast forward to 2017 and they paid out 58% of their $80.1 million revenue out in streams, totaling a whopping $46.7 million.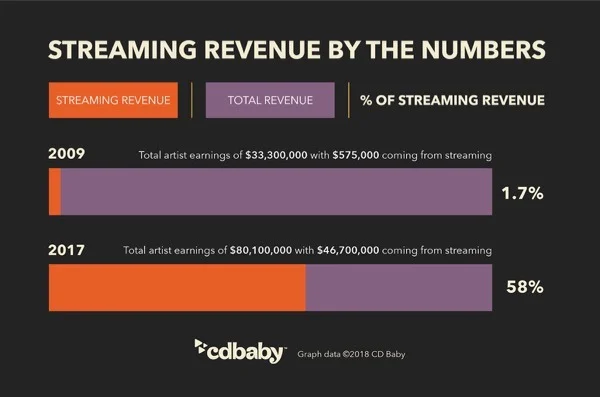 CD Baby is helping artists get their own slice of the pie, and that pie is huge and growing. It's estimated that the global revenue for streaming equates to 38% of the global music market which totals over $6 billion.
As they continue to grow and find more financial backing, they will most definitely continue to expand their own pie slice.
Happy Birthday to CD Baby
CD Baby, happy birthday. I very recently got on a synthwave kick, and as you know there are no major label artists producing these niche specific genres of music. Where did I go to find some independent artists filling in the gap?
That's right, I came to you and was able to support over 10 artists and purchase 15 albums that had the specific style and sound I was looking for.
That's not something you can do walking into a record store or even hunting around on Apple Music and other companies with annoying barriers to entry for artists. For that, I thank you and wish you another year of tremendous growth.
Musician or fan, you're going to be hard pressed to find a better place to cater to your unique tastes and needs than CD Baby. Check them out, browse around, and see what oddball sound you can find that you thought only you enjoyed.