If there's any spot in the studio that lends itself to being anal-retentive and obsessive its the ordering and look of your rack.
For me, I have to have each piece mounted in the right order with the right color combinations going on. I'll even turn off the lights and see how all of the LED lights look! That's all completely unnecessary, which is where the Funklogic Palindrometer comes in.
It blows all of that seriousness right out of the water.
Sometimes that's what it takes to knock us out of our absurd compulsions that don't matter. We have to purposefully screw it up with some solid humor.
Funklogic Palindrometer
The key to even understanding that this face plate rack filler is a joke is knowing what a palindrome is and what it means. Let us consult Merriam-Webster:
Definition of palindrome: a word, phrase, or number that reads the same backward or forward
Even if you're aware, you may be looking at this filler plate and not realize that there's not even any gear behind it, because you're so wrapped up in trying to understand the sophisticated knobs, switches, and labels.
Even the name 3P-III Palindrometer sounds legit and official. If that's not enough to throw you off the track, the functioning LED light will definitely do the job.
Check out the left half: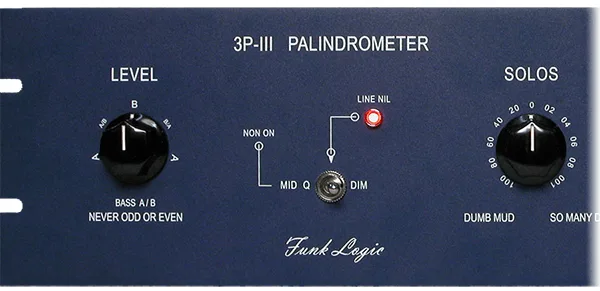 I'm willing to bet this whole joke started with the realization that "level" is a palindrome. The Line Nil light requires a couple AA batteries, which should last for years on end.
And the right side:
Even the red line is a palindrome, "redivider"… As goofy as this is, the attention to detail is pretty astonishing, not to mention that the construction of it is nicer that a lot of the faceplates you find on serious studio gear.
What's the Point of the Palindrometer?
Okay, party pooper. It's not JUST a horribly great joke.
Basically, sometimes you don't have enough gear to fill a rack but you don't want a gaping hole showing through to the back with all of your cords dangling. Other times you may have wall-wart plugs in your power conditioner that are taking up too much vertical space and you can't fit a deep piece of gear right under it.
Typically you'd fill it in with a blank face plate, but why not use this and make a visual impression. When a client or friend finally discovers it after weeks or months, it'll be worth a huge chuckle.
Here are some of the technical details so you'll know:
3 Unit Rack Space Design
Toggle Switchable Red Indicator Light (Requires 2 AA Batteries)
Heavy Duty, 1/8th Inch Thick, Aluminum Construction
Fine Texture Powder Coat Finish
Knobs & Switches Turn & Flick
Fills With Glee, Spaces of Three
If you think it's cool and have some space to fill in your rack, click the pick or button to score one for your own studio!
Share this with your studio friends if you think they'd like it using the buttons below. Thanks and peace!