Here we go now with another silly Metallica legal scandal. File this one under 'Legal Lessons.' Before you get your pitchforks out and start to burn your Black Album (if St. Anger didn't get it first), I want to offer up some context into this sort of thing.
When you get to Metallica's level, you aren't just a band anymore… you're a corporation, it's big business. Big enough to constantly waste money on things that don't matter much.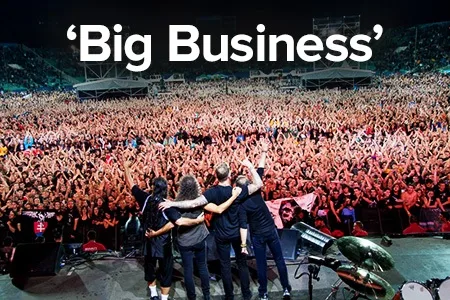 The Metallica machine keeps a lot of people employed and puts food on many tables. From recording engineers working in the studios, to the roadies who tour with them, chefs, assistants, managers, accountants, lighting, marketing, merchandise, and of course, their infamous legal team.
It makes sense to defend your empire… if and only if you have a worthy adversary putting your cash flow in jeopardy.
So, when we're talking about some of the dumb lawsuits or cease and desist letters they've sent over the years, it's important to understand that it's usually not Lars sitting at a table looking for people to mess with.
In many cases, the band themselves don't get bothered with these types of things, the legal hounds go out and do their job to protect Metallica's intellectual property and everything carries on business as usual…
Except for occasionally, where the story explodes, Metallica takes a lot of heat, and things are ultimately resolved.
Enter Sandman the Cover Band
When Canadian Metallica cover band Sandman arrived at a gig in January 2016 at FitzRay's in London, Ontario, they were met with a huge stack of paper waiting for them in a FedEx package.
Inside was a 41-page packet from Metallica's legal team containing a cease and desist for using "official, stylized logos […] to identify or promote live musical performances through Facebook and YouTube."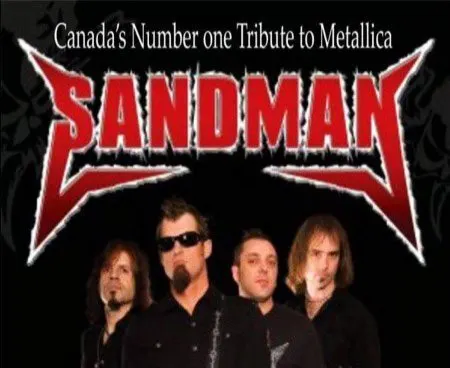 Sandman formed in 1994 and were surprised to get the news after being perfectly fine and flying under the radar for so many years.
A guitar player who had recently joined the band named Joe Di Taranto revealed to Rolling Stone that he feels a bit responsible for putting the band on the map:
"The band have been using this logo for years with no problems at all. I only joined the band last summer and feel a little guilty that perhaps my (albeit humble) success with my main/original band WARMACHINE have brought a little extra attention to the band, leading to this little fiasco."
The guy just had so much clout, apparently. Perhaps the best metal guitar player ever, if you take his word for it.
To his credit, when Metallica drummer Lars Ulrich found out about this, he reached out to Sandman directly over the phone and gave the band his permission to continue doing what they do, offering up their "full blessing and approval," as per Di Taranto.
Metallica's Statement
Metallica issued a statement to Rolling Stone, offering more insight into the matter:
"We hear that a Canadian Metallica tribute band is a little upset with us and with a little digging, figured out why. It turns out that a certain letter was delivered to the band Sandman that neither we nor our management were aware of until it surfaced online. Lucky for us, the band was kind enough to post it for us to see, and it turns out that we have a very overzealous attorney who sent this letter without our knowledge."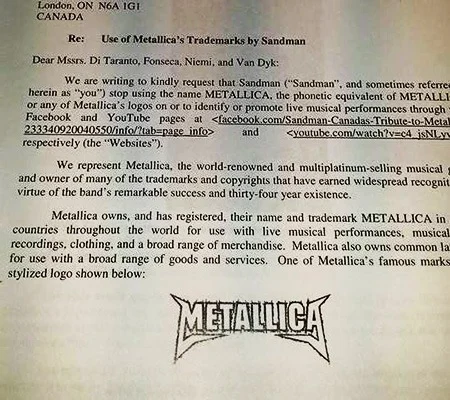 After throwing their attorney under the bus to save face, Metallica also offered some advice on what Sandman should do with the letter, and what the future has in store for their lawyer:
"Sandman should file the letter in the trash," said Metallica. "Keep doing what you're doing … we totally support you! And in the meantime, our attorney can be found at SFO catching a flight to go permanently ice fishing in Alaska."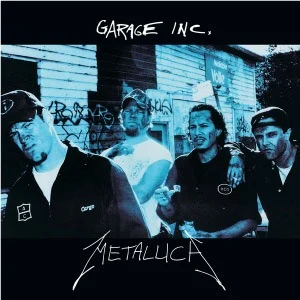 Metallica collectively used their 1998 album Garage Inc. as validation that they have no problem with cover bands, because this double-disc album itself is composed entirely of cover songs.
They even spent time with their Canadian cover band in 2016.
Legal Lesson Learned:
For all you cover bands out there, you can un-pucker your draw strings for now. Just don't design your band's logo using the same font or style and you'll be just fine (as long as you're not a Metallica cover band).
You may be able to play another band's music, but you can't poach their marketing materials. How about starting your own band instead of a cover band anyways? Then you won't have this problem.