Over the years, there have been plenty of rap artists who have crossed over and worked with rock musicians. Sometimes… Okay, most of the time… these rap rock crossovers are pretty bad, and often they're downright cringeworthy.
There are, however, some gems out there that everyone should check out from classics that opened up the doors, to some killer new tracks.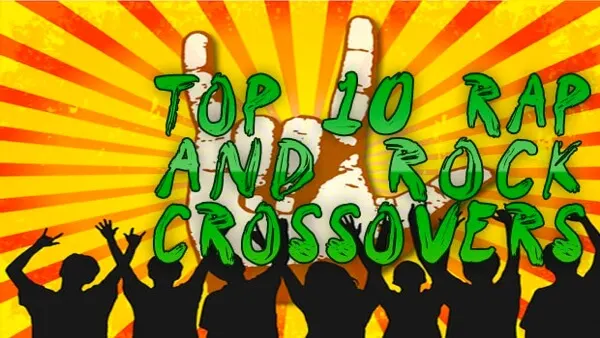 I've saved you the trouble of hunting these down and wading through the crap. Below are the cream of the crop only. Sure, there's some better underground tracks but we're here for the recognizable, famous acts.
Here's a look at our Top 10 Rap & Rock Crossovers…
Take a look, hopefully you'll find some great new songs you haven't heard before. Please let us know how we did with this list. We'll probably leave out some songs that you think are obvious choices, so let us know and we'll include them in a special section.
#10 – Busta Rhymes & Ozzy Osbourne – This Means War
This one is border line cheesy and awesome, but it earns a spot at number 10. Fans of Ozzy will recognize the riff from Iron Man.
Busta Rhymes is very well known, after paying his dues and earning street cred in the earlier days, he's gone on to do some more commercial stuff, for exmaple that song with the Pussy Cat Dolls, but he gets a pass because even when he features on some questionable tracks, he always kills it.
#9 – El-P & Trent Reznor – Flyentology
El-P is a true innovator in the rap game. At the helm of Definitive Jux records he's helped usher in an era of backpacker rap, innovate beat makers and handfuls of classic albums. On this track, he collaborates with the man behind Nine Inch Nails himself, Trent Reznor.
#8 – Chuck D & Sonic Youth – Kool Thing
Sonic Youth are alt-rock darlings, and Chuck D is the driving force behind Public Enemy. Chuck D is one of two artists to appear on this list two times. Find out why…
#7 – Jay-Z & Linkin Park – Numb/Encore
One of the more popular mashups of late, Jay-Z and Linkin Park fit together pretty well, but then again – what does't go well with Jay-Z? We're giving a special mention to the Jay-Z / Jimi Hendix mash-up because it's epic. However, LP and Jay actually worked together, so it gets the spot on our list.
#6 – Public Enemy & Anthrax – Bring The Noise
Another early crossover between rock and rap, amongst influential groups in both genres. Only one is still pumping out music and going on tour though (Anthrax).
#5 – Del Tha Funkee Homosapien & Gorillaz – Clint Eastwood
This could easily be higher up on the list, but we wanted to leave some room for other artists, but Del's holding down the fort really strong with two appearances in our top 5, this time in the group Deltron 3030.
#4 – The GZA & The Black Keys – The Drop I Hold
Showing some love to the Wu-Tang camp with this entry, where The Genius teams up with one of today's hottest rock bands. The Wu-Tang Clan has done tons of collaborations since.
#3 – Beastie Boys – Sabotage
Here's the only entry that features just one group. Did you know the Beastie Boys started off as a punk band? They blend rock and rap in Sagotage perfectly, here's another one that could easily be at the top of the list.
#2 – Run RMC & Aerosmith – Walk This Way
This one gets some special points for being a trailblazer when it comes to unifying these two polarized genres. Both groups were and are still absolute monsters and chart toppers with anything they touch.
#1 – Del Tha Funkee Homosapien & Dinosaur Jr – Missing Link
The number one rap and rock crossover on our list is the 2nd appearance of Del on this Top 10. Not as popular as Clint Eastwood, but the flow and the way Del's able to effortlessly weave his way through the music that's laid down by Dinosaur Jr is just unforgettable.
Got Beef With These Rap Rock Crossovers?
You don't like our version of Clash of the Titans: Mic vs Guitar? Anytime you take a list of artists and put numbers next to their names and publish it on the internet, you're going to have some folks who agree and some who disagree. An even funner game is to see which of these lyricists also are featured in the top 10 richest rappers in the world.
Do you think this list is garbage? Leave us a comment using the social media buttons below and let us know, we love to hear feedback! What's wrong – the order? The names overall? Let us know your own favorites, or even put together a Top 10 Rap Rock Crossovers of your own and send it our way.
Top 10 Rap Rock Crossovers (2022)
This is the table for the top 10 rap rock crossovers. It contains the musician names and song name.
| Position | Musicians | Song |
| --- | --- | --- |
| 1 | Del Tha Funkee Homosapien & Dinosaur Jr | Missing Link |
| 2 | Run RMC & Aerosmith | Walk This Way |
| 3 | Beastie Boys | Sabotage |
| 4 | The GZA & The Black Keys | The Drop I Hold |
| 5 | Del Tha Funkee Homosapien & Gorillaz | Clint Eastwood |
| 6 | Public Enemy & Anthrax | Bring The Noise |
| 7 | Jay-Z & Linkin Park | Numb/Encore |
| 8 | Chuck D & Sonic Youth | Kool Thing |
| 9 | El-P & Trent Reznor | Flyentology |
| 10 | Busta Rhymes & Ozzy Osbourne | This Means War |