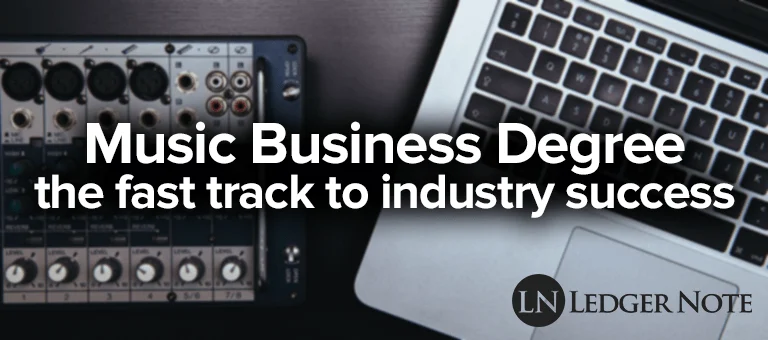 Have you ever wondered why musicians will hit the big time and immediately start their own record label? They begin to arrange and market their own tours, hire a team to run their merchandise booths, and focus on the business itself as opposed to the art. Why?
Because trends come and go within the industry, but the industry stays the same. And if you want to position yourself within the framework instead of as a product that will fall out of favor, then you get that longevity by working on the music business versus in it as an artist.
The fastest path is as a music business major.
You probably realize you don't need a degree to start a business. But to join someone else's usually requires some form of diploma or certificate from a trusted school. This is how they weed out time-wasters and ensure themselves that you have the skills to pay the bills.
And jumping right in, making connections, learning through experience in an established company in the industry is far better than spending decades climbing up from the trenches with your own brand new business. And this is what you see artists doing constantly.
Let's take a good look at what all is involved in majoring and mastering in a music business program and where it can lead you.
What is a Music Business Degree?
A degree in music business is an approval from an accredited or respected public or private school that confirms you have obtained an education in and displayed a mastery of the skills required to be deeply involved in business administration in the music industry.
Basically, this means you know the inner workings of the music industry and can handle managing these details for clients, artists, and companies.
It means by the time you have the degree you know all of the terminology in the fast-changing music world, understand the needs and expectations required to get a job done, and can actually do it.
It proves to a future employer that you're worth your paycheck, which gets you the job, which gets you the experience and connections to climb the corporate ladder or eventually venture off with your own business.
Why is this preferable over "just doing it"?
This differs from a typical business degree because it's not so generalized. Here, we're talking about a direct application to the music industry and none other.
It's a specialized education that runs you through the obvious topics like accounting and bookkeeping, business strategy, promotion and marketing, distribution and touring, and so forth.
But through the elective courses and extracurricular activities you're also being immersed in the various aspects of the industry from day one, unlike other programs that are entirely theoretical and hope you'll take an internship to get hands-on experience.
One of the strongest points of the degree path is the built-in networking, qualifications obtained, and especially the internships since many music business jobs you later seek to will require an amount of experience to even apply.
All in all, it's like trying to learn another language. You can study for years, reading dictionaries and listening to tapes. Or you can just move to the country and be forced to learn it fast.
That's what these music business programs are like. It's the fast track that gives you leverage when you start networking and hunting for a job.
Some people dream of starting their own label or music marketing business. That's all well and good but you start from the bottom with no funding and no connections.
A program like this puts you in touch with the right people and lands you a career that helps fund your eventual personal business, if you even want to go that route by then. Jumping right into a high paying salaried position alongside of other connected people is a lot easier than creating one for yourself.
Are There Any Negatives To Going This Route?
Yes, but the positives far outweigh the one negative. The only negative is that it costs money. But that's money well spent for organized coursework by industry professionals that gives you leverage for a nice position in a company over everyone who doesn't have the degree.
It's like paying for a cheat code to speed run through the first 20 levels of a video game to zoom past your competitors. Unfortunately, that's how the world works and the music industry is obviously no different.
What are the Types of Music Business Careers?
There are a ton of careers in music business. Below is a list of just some of the jobs:
Music Publisher
Music Marketer
Concert Promoter
Producer & Supervisor
Booking Agent
Music or Instrument Distributor
Artist Manager
Tour Manager
Public Relations
Copyright Administrator
and many more…
The beauty is that there are all of these smaller niches for you to get into to really cater to your interests, but you'll never get bored because you'll cross paths and ultimately do some work in each of the other types as well.
Music Business Career Outlook
Some jobs are only available to those with a masters in music business instead of only a bachelors. The U.S. Bureau of Labor Statistics states that the wages and salaries of music business employees is "generally higher" than the median annual wage for all other industries combined (reported as $35,080 in May 2013).
It's hard to find hard data for all of this, but you can think your way through it. The projected job growth for some careers like sound engineering is extremely low, around 1%, but for artists it's around 25 percent.

Music business careers are nearly entirely related to the needs of the artist, so you can assume there's a very healthy growth for this aspect of the industry.
Music Business School Coursework
Now that we fantasized about income and the kind of jobs we might find ourselves in, let's talk about the actual curriculum. What you'll find is that the music programs are very much like other education paths where they feature structured courses where you'll sit down and listen to a lecture, take notes, and do homework.
You'll also see electives where you can choose related courses from other music-related tracks from other degrees like Music Performance, Music Technology, Music Composition, Music Education, and each with various focuses like Jazz, Music Theatre, Classical, and even Video Game and Film Scoring.
Beyond this, you'll be expected to take part in extracurricular activities like working with the Program Board and dealing with the intricacies of the local college radio station. Most universities host these and it's the task of the music students to operate the equipment, interview musicians, bring in live bands, handle advertising and finances, and more.
Now, among some of the courses you'll take will be names and topics like:
Music Business Structure & Strategy
Music Marketing Strategies
Business Law
Human Behavior in Organizations
Accounting & Financial Analysis
Concert Touring
Creative Entrepreneurship
Music Licensing
Artist Management
Copyright Law
Music Venue Management
and so forth…
Extracurricular choices may include courses like Music Theory, Ear Training, Reharmonization Techniques, Mixing & Mastering, Arranging, Developing Your Artistry, Rock History, Acoustics, among others tangentially related topics from all of the other types of music majors offered.
Masters in Music Business
Of course, as you venture past the bachelors degree you'll end up taking more and more specialized business courses as well, including more math like Statistics, Business Analytics, Information Technology, Leadership Communication, Operations & Maintenance, and more. You'll likely choose a focus as well, such as Marketing versus Management, etc.
Top Music Business Schools
At this point, there's quite a few schools offering this program, so many that we can't mention them all. They all have various admission requirements tied to your GPA or GRE score, ACT and SAT, and of course financial hurdles to overcome (along with scholarship opportunities).
Below is a handful of the top music business schools (including online schools!) with reasonable expectations. You can use the prompts to ask for or find more information from these specific options or alternatively scroll back up to the top of this page and use the search widget supplied to get a more comprehensive look.
If you follow through with the search above, you can provide a bit of information like a zipcode, GPA, and when you think you'd like to start attending, that will quickly pre-qualify you and only show you the relevant schools, colleges, and universities you would be accepted at. This can help you narrow your search. [Edit: Tool Removed]
Start Your Career With a Music Business Degree
Being a music business major is a great way to learn the ropes of the industry, get a lot of initial networking out of the way, gain experience in college programs and internships, and have a decent resume to score a job deeper in the industry.
It's more than a stepping stone. It's a launch pad that will boost you past anyone else without it, because they'll be climbing the ladder at a slower rate. Even if they started before you, they can't compete with rocket boosters.