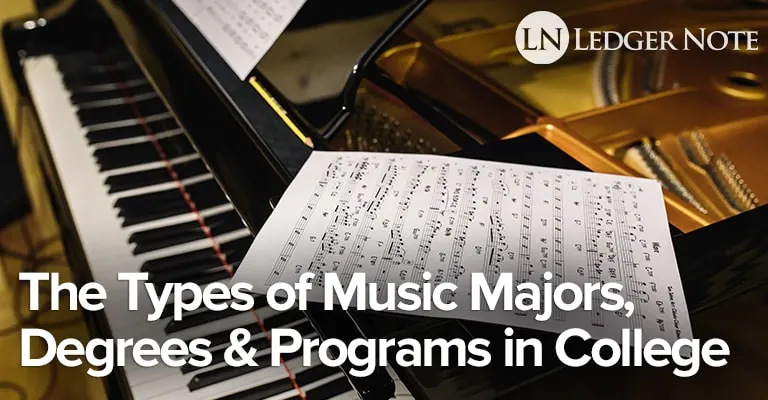 The problem is that some students get confused about which types of music majors or degrees to pick and which one will best prepare them for their desired career.
Music majors and degree options vary from one university or college to the next. While some are quite general, others are highly specialized. You should only choose the specialized ones when you are sure of your career path.
Here are the most common music programs being offered in colleges and universities today. Once you know the details of these degrees, you should be able to pick the one that is best for you.
The Types of Music Majors, Degrees, & Programs in College
Here is an overview of music majors available at colleges and universities.
Music
An undergraduate music degree is very general, and the specific coursework will depend on the university.
The emphasis is on a well-rounded liberal arts education and less on musical performance. Coursework often includes private instrumental or voice lessons, music history, and theory. You will also take courses outside of the music department.
This degree program is best for those who are interested in music but are afraid that too much specialization may limit their future career options.
After getting an undergraduate degree in music, you can choose to take a specialized graduate degree in things such as Ethnomusicology or Film Scoring.
Jazz Studies
Most Jazz Studies majors are either looking to start a career as a jazz performer or composer. Coursework in these programs often includes music history and theory, performance, composition, and pedagogy.
Jazz programs are popular, and they are very selective as a result. You may need to audition before joining, and students are required to participate in campus ensembles.
Ethnomusicology
Ethnomusicology is usually a graduate degree program, though there are a handful of undergraduate programs. While part of the program involves learning about traditional music, many programs also study Western music, such as hip-hop and jazz, and their influence on culture.
Coursework covers music history, world musical cultures, music theory, composition, and private instrumental lessons. Some institutions go further and offer fieldwork courses, including music documentary production and grant writing.
Most schools require Ethnomusicology majors to be competent in a foreign language, so you may need to take extra classes.
Communications
If you're more interested in working as a Radio DJ or music videographer, then a degree in Communications should help you get there. Such degrees often have an emphasis on radio, TV, or broadcasting.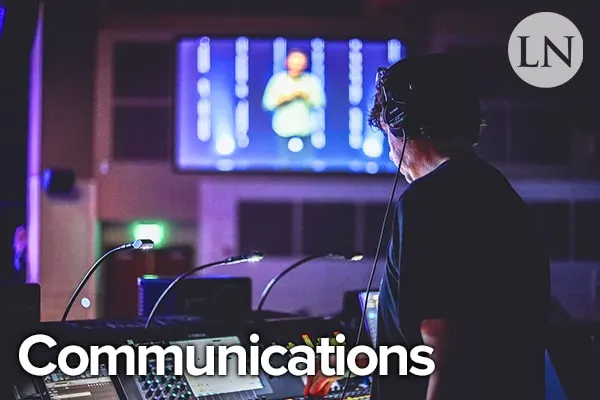 Students have the chance to volunteer or work at a campus TV or radio station and internships at large media corporations. Coursework often includes media ethics and law, writing for media, production, post-production, and sound or video editing.
Music Composition
Music composition degree programs typically prepare students for careers as composers, arrangers, or orchestrators. Coursework often includes music history and theory, keyboard and piano skills, orchestration, ear training, and conducting.
Some degrees will also include coursework in production, recording technology, and editing, which are essential to help composers bring their ideas to completion.
Film Scoring
Film Scoring is limited in terms of undergraduate programs, but you can find a wide range of opportunities at the graduate level. Those interested in film scoring may study composition as an undergraduate.
Coursework in film scoring explores the different aspects of composing for TV, film, video games, and documentaries. You study topics like film music editing, arranging, orchestration, production, conducting, and recording.
Many Film Scoring programs are in film hubs like Los Angeles, where students have the opportunity to work and learn directly under professionals.
Music History & Musicology
Music history and musicology are different subjects, but they are often used and taught together under the same degree. Musicology is the scholarly study of music within the context of the humanities, while music history is the study of the history of music.
This program is heavily dependent on research and, as a result, degree programs are not as common. Many students go on to further their studies at the postgraduate level. Coursework includes music theory and history, research methods, private lessons, and foreign languages.
Music Business
Music business degrees are more business-oriented than Arts Administration programs. This major appeals to those who aspire to be future concert promoters, booking agents, recording industry executives, and so on.
Programs are typically a mix of coursework and internships that help students network and build career opportunities.
Classes usually include music history and theory, private instrumental/voice lessons, marketing, business management, entertainment law, recording technology, concert management, music publishing, and so on.
Arts Administration
Arts administration may seem like music business at first glance, but the two deal with different industries. While Music business deals with the business side of things, arts administration involves work with nonprofits.
Arts administration prepares you for roles like Director of Development, Managing Director, Symphony Business Manager, and other similar positions.
Classes cover law, philanthropy, finance, business, economics, marketing, and fine arts/music coursework. Some schools will split evenly between the music coursework and the administration classes, while others will favor the administration side.
Colleges Offering Music Majors
While it's helpful to know all of the different music majors you can pick in school, you also need to know the details of the schools themselves.
Some of the most popular and prestigious schools in the US with respected music programs include:
Peabody Institute at Johns Hopkins University
Jacobs School of Music at Indiana University – Bloomington
Yale University
You can click on any of the schools below, which offer music programs, in order to request more information directly from them so you can start getting a frame of reference for how they operate. [Edit: Tool Removed]
There are many schools out there with talented instructors and high quality programs that don't cost an arm and a leg, or you can choose the most prestigious schools and try to mine the most value out of them as possible.
More Music Majors Degrees
The list above isn't all of the music major programs you'll find. We just took a short detour to break up the list. Here's more that might pique your interest.
Music Theory
Music theory degrees often get combined with composition studies. These programs include private instrumental lessons and coursework in music history, ear training, and musicology. Graduates go on to become orchestrators, arrangers, and conservatory, college, or music teachers.
Conducting
There are very few undergraduate degree programs in the US in this subject. Most programs are for postgraduates who have a relevant degree in music.
Conducting specializations include band, orchestral, or choral, while in some schools, you may have to choose between choral conducting and instrumental conducting.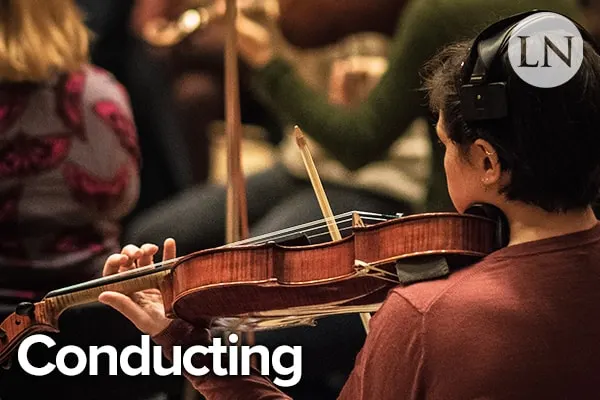 Coursework focuses on music theory, score analysis, tonal analysis, pedagogy, and music history. This degree prepares you to be a professional conductor.
Music Education
Music education appeals to those who not only enjoy playing music but also teaching it. It's also a popular choice for those who want stable employment after they have completed their music degree.
Music Education coursework includes many of the same courses as the other music department programs with the addition of industry-specific music education courses and a student teaching assignment before graduating. Graduates go on to be K-12 music teachers or private music tutors.
Commercial Music
Commercial music programs try to focus more on contemporary genres of music, such as rock, pop, jazz, and R&B, rather than the classical music focus that is more common at universities.
You will learn music theory and get private instrumental/voice lessons while also learning about the commercial side of things, including music entrepreneurship and marketing. Commercial Music programs appeal most to those interested in the recording industry.
Music Performance
Music performance focuses on the playing of music at a professional level. It gives students a chance to hone their skills on an instrument of their choice.
Most programs require an audition, and coursework includes private lessons, ensembles, ear training, and music theory. Graduates go on to become opera singers, session musicians, performers, music therapists, or work in other performing careers.
Music Technology
Music technology programs go by a variety of names, including Recording Arts and Audio & Sound Design.
Coursework includes learning about recording and production technologies and practices. You also take more traditional classes, such as private lessons, music history, and music theory.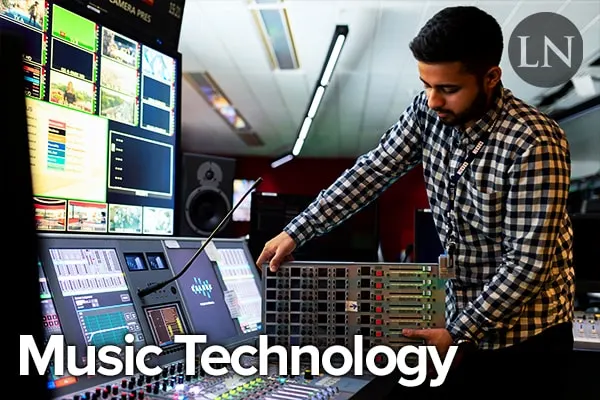 Students also get the opportunity to volunteer or work on campus as live sound techs at concerts or work as audio engineers at the campus radio station. Career opportunities include record producer, music producer, recording engineer, and sound technician.
Music Therapy
Music therapy degree programs contain coursework that follows the American Music Therapy Association's guidelines. Because of the need to meet these guidelines, the courses are similar, no matter which university you attend.
Coursework includes private instrumental lessons, music theory and history, composition, psychology, human development, and therapeutic practices. You also need 1200 hours of clinical training.
Worship Arts
Worship arts programs are most commonly offered at Christian colleges, though there are a few secular schools that provide them.
Coursework includes private lessons, music theory and history, music technology, theology, leadership, and worship literature. Worship arts majors go on to become choir directors, worship leaders, and performers.
Music Majors are Full of Career Options
As you can see, there are tons of types of music majors available from a range of schools. Students interested in music have plenty of degrees and universities from which to choose.
If you're excited about the idea of a career in music, or you want to pursue your love for music and see where it will lead, any of the music majors above can open the door to an exciting future while doing what you love.