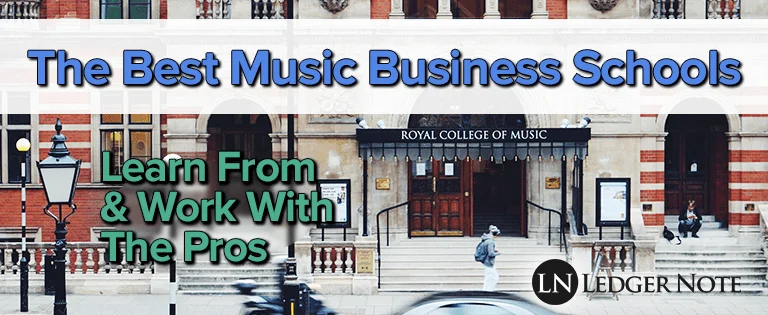 Lots of musicians take a strange path through this life of musical hardship. While they work their craft and attempt to gain exposure they fund their low income lifestyle by waiting tables and other measly day jobs.
That's not a judgement statement. You've got to do what you've got to do and are willing to do.
But why not play on easy mode and work inside the music industry as a business professional and stack some serious cash in the meantime?
Then you can really fund your projects, and you'll meet the people who can get you the real exposure and deals. Many of the famous pop stars out there now got their start writing songs for the pop stars of the past.
They slid into the scene from the inside instead of fighting through the crowd pounding on the front door. And they didn't have to live on ramen noodles while they did it.
Today we're going to talk about music business colleges that exist to prepare and prime you to enter the music industry in a professional position that supports the artists and infrastructure that lets the whole thing thrive.
It's the fast track that provides a decent (and lots of times extravagant) living, whether your immediate goal is to work in music business or use that as a stepping stone into gaining visibility for your music.
For most people who are fortunate enough, college is just something you do after high school. You make friends and memories, meet your future spouse, and "earn" a degree so you can get a decent job. For us music lovers, it's a different ballgame completely.
We know what it is we want to study. We know why. We have committed our lives to the pursuit and advancement of music.
As mentioned above, instead of grinding it out online and in the streets hoping for a lucky shot of an A&R hearing your track and being in the mind state of even scouting talent, we want to take the fast track where we can warp right into the inside of the industry and make a good living while we're at it.
And if we choose to try to be one of the big time artists on the scene, we're already a lot closer than anyone else due to the networking we did in school and on the job.
But the question becomes… which school should you go to and which degree should you obtain?
Things to Understand About Music Business Schools
There's a handful of things we should clarify real quick before we dig into specific schools and programs.

What Do We Mean by Music Business?
This can be confusing without context around it. Lots of people assume we're talking strictly about the business side of the music industry when we talk about this in reference to schools, but it's the same as if we are talking about the "music business" in general.
It's not just accounting, trademarks and copyrights, and management. Although that is most definitely a part of it, we're talking about everything from record producers to concert promoters. We're talking about mixing engineers, songwriters, radio disc jockeys, and entertainment attorneys.
Do I Really Need a Degree or Accreditation?
It depends on your goal. Some companies demand it and some jobs require it. You can't waltz in and claim to be an attorney who specializes in licensing music to Hollywood without some credentials.
But you can be a songwriter or recording engineer without a music business degree, because there's no oversight committee there regulating it. You're either good at it and get the job or you suck and don't.
In some music business jobs and careers, there may be no formal education requirement but it's still expected and you'll be expected to have experience. And the only way that happens is through hands-on labs and internships offered by a school.
The Real Benefit of Attending a Music Business College
Besides the obvious of needing the accreditation of a certificate or a degree, there are huge benefits to taking this route of going to a music-specific school if you want to break into the industry.

Here are the core benefits:
Location & Vocation
Almost every university has a music program. Some might focus on theater, jazz and music theory, and probably have a local radio station you can work in, but that's usually it.
You'll do recitals and all of that, but nothing noteworthy that you can slap on your resume to impress an employer. This is why we recommend going to a public or private school or college that focuses entirely on the music business and nothing else.
Most of those are situated right in the sweet spot. The music industry has four main cities, in descending order of importance:
Los Angeles
New York
Nashville
Chicago
Those are great places to attend a school due to the connections the school makes with companies to not only teach interns but to place employees after graduation. The extracurricular activities will be enormous as well.
There are schools in other huge cities like Miami that offer just as many opportunities, and even a school in an odd city not listed will have great chances for you to work with recording studios, theaters, concert halls, radio stations, and more. But if you can swing it, the top four will serve you best, because of…
Networking & Relationships
Another reason to attend a big city school or college is for the networking opportunities. The first and main group will be your cohort, your fellow students all coming up in the game alongside you.
You will all go out into the music world and when you need help or have an opening, you'll call upon those you know and trust. This is why people join fraternities and secret societies in universities. These relationships are worth more than money can buy.
The second set of relationships will be with the professionals you brush shoulders with every day. Your professors know people and spot out the star students and give them special assistance.
Guest lecturers from major labels will come in and you can interface with them face-to-face and leave your mark. You literally never know what amazing opportunity will come knocking just because you're in the right place to receive it.
Work Experience
The final benefit we should mention is that you will not have a choice but to jump over a hurdle that others will never be able to leap past, which is having professional experience prior to being able to have professional experience.
How can you apply for an entry-level position that demands you already have experience? The main way is through a music business school.
Everyone knows about internships but what they don't realize is companies and schools team up to offer placement exclusively for their students. So even if you're the local hot shot, you're not getting the internship before someone who's enrolled in the school. Having this on your resume is the key to the "fast track" I've been mentioning.
Also, you'll have opportunities for you to clock a ton of hours (keep track of how many and which projects you contribute to!) to work inside a recording studio as an assistant. You'll get chances to promote local concerts, recitals, and operas, etc.
You'll get to work the marketing and business side of the college radio station and the school's website. The extracurricular activities will be bountiful, but they go to the students only. Rack them up to fluff up your resume as best as you can.
The Best Music Business Schools
The good news is that there's an unbelievable number of high quality schools to choose from as an aspiring member of the music biz community.

The bad news is that we can't possible list them all or even talk about more than a handful here. The better news is that we can at least point you in the direction of the top options.
Below is a sampling of information concerning some of the top schools, including some of their course tracks and degree programs: [Edit: Tool Removed]
With less detail, I'd like to list off some more choices for you to investigate. Some of these are extremely competitive and therefore expensive with limited enrollment.
Curb College of Entertainment & Music Business at Belmont University in Nashville, TN
The College of Saint Rose in Albany, NY
Middle Tennessee State University in Murfreesboro, TN
The Clive Davis Institute of Recorded Music at NYU in New York, NY
Full Sail University in Winter Park, Florida
University of Southern California in Los Angeles, CA
Five Towns College on Long Island, NY
Some notes about those above… Curb College was established by the massively successful Mike Curb. Of all of his accomplishments, the top is probably him having been the president of MGM Records.
One of the cool things about Saint Rose is that you have to completely finish an album to graduate, where you and your classmates do it all in their Saints & Sinners recording studio. MTSU is near Nashville and is known for having top-of-the-line everything including internships. So if that's the path you're looking at, there's a good choice to look into.
And finally of course we have the most prestigious music business schools for you to look at so you can get a frame of reference for the other choices. Berklee College of Music in Boston is perhaps the most well-known option out there.
They go as far as to have entrepreneur incubators to help students start labels instead of all fight for jobs within the last few dinosaur major labels out there. Many famous people in the industry of old and new all call Berklee their alma mater.
NYU Steinhardt's Department of Music & Performing Arts Professions has an incredible music business program with countless opportunities centered around their own Village Records label. Like all of these, you'll have a chance to study composition, performance, technology, and education with a focus on Jazz, Music Theatre, Classical, and even Film Scoring.
Typical Courses & Electives in Music Business Schools
Some schools offer an Associate's Degree in music business while most others at least extend that up to a Bachelor of Science in music business and even up to a Masters in music business.
This track is suitable for those even with no musical experience with an instrument or music theory. You can take electives along the way to learn that, but you'll focus largely on business and technology.
Associate's Degree in Music Business
For instance, in the associate's degree track, you'll cover courses such as:
Introduction to Business
Studio Music Recording
Music Production
Intro to Marketing
Music Industry Entrepreneurship
and more…
These get you completely ready to work jobs and careers such as a radio or wedding disc jockey, a music marketing assistant, tour promoter, session musician, and many more. This marks the halfway completion point for the next step:
Bachelor of Science in Music Business
Here, the completion of which marks four years of study, will see you through a deeper understanding of the industry through courses such as, but not limited to:
Intro to Music Business
Intro to Music Marketing
Business Law
Business Management Principles
Music Publishing
Recording Techniques
Intellectual Property & Copyrights
and more…
This covers the basis and gives you the degree to take on jobs such as being an artist manager, record label executive, music publisher, recording engineer, and puts you on the path for careers such as being an entertainment lawyer and more.
Masters in Music Business
Finally, if you want to take it all the way to the top, you can go for your masters degree. Ultimately you'll study topics such as:
Emerging Music Markets
Concert Management
Artist Management
Music Industry & Law
Management & Leadership
Financial Accounting
Strategic Marketing
Business Ethics
and more…
As you would expect, this degree path positions you for a career with titles such as Record Label Owner, Talent Management Supervisor, Publishing Executive, Professor, and more. Of course, music business is only one of the many music majors you can pursue, so don't constrain yourself before you're aware of all of the others.
Music Business Schools are Fun to Attend
As I've been saying, this is the fast track. There is no better way to meet the people you need to know or gain the qualifications required to gain a deep entry into the industry. Even if your final endgame is still to be a famous musician or pop star, I'd still wager that there's no quicker path to it than this.
The experience and credentials earned through the best music business schools ready you for the realities of the business faster than trying to climb from the bottom. If you're serious about the business, give this real consideration.