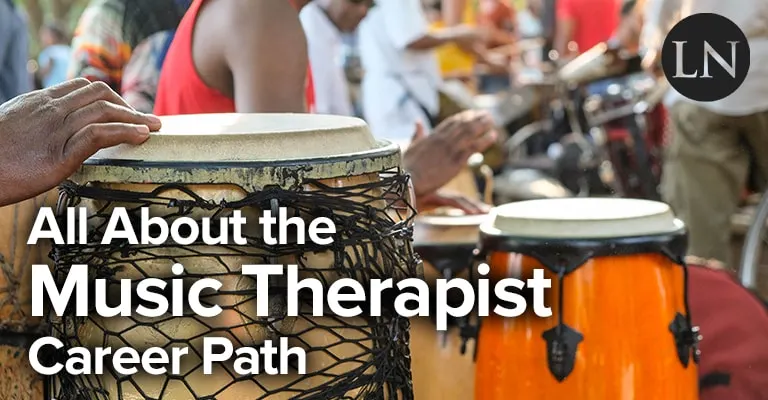 Unlike other careers in music, music therapy doesn't involve recording soundtracks for films or perfecting the acoustics in a theater.
Instead, music therapy requires you to work one-on-one or in small groups to facilitate therapy that helps people heal and recover.
Ready to learn more about music therapy, including how to become a music therapist and what degree you need to make it happen? Read on for those details and more.
What is a Music Therapist?
As a type of recreational therapist, a music therapist helps people manage effects from a disability, injury, or illness. These types of professionals must hold a degree and implement evidence-based practices to help improve the lives of their clients.
Each music therapy session will be different depending on the therapist, the interventions they use, and their patient or client. But overall, musical therapy aims to help individuals meet specific goals in the areas of physical, emotional, cognitive, and social needs.
Working as a music therapist, you can combine a love of music with a love of people. You can work with individuals of all ages and ability levels. You might encounter people with severe disabilities, or you might work with young children and their caregivers.
Work environments vary widely, too. You might have a personal office that you work from. You could see clients in your home or studio. Or you could travel to various locations for group sessions at residential treatment locations.
Other opportunities may involve visiting hospitals or nursing homes, working in a clinic, or basing your practice out of a physical or recreational therapy building.
Some music therapists work in schools or daycares, particularly special day programs for people with disabilities. Older people with Alzheimer's and similar conditions often benefit from music therapy, so this is another path to consider when pursuing jobs.
What Does a Music Therapist Do?
Explained simply, a music therapist uses music to help engage and rehabilitate individuals with a range of conditions.
But music therapy isn't as simple as playing a CD for a patient to calm them down. Instead, therapists in this field must create a specific treatment plan for each individual's needs.
That plan may involve sourcing or creating music, engaging in dance or other movements while listening, and encouraging the client or patient's participation.
Various people with a wide range of needs attend music therapy, whether they are hoping to recover from a physical injury, psychological troubles like stage fright, or have a disability that requires ongoing therapy.
In addition to presenting specific musical compositions to your clients, you'll develop activities to pair with the listening experience. You might discuss lyrics, help clients visualize imagery to go with the music, or lead dancing or movement sessions.
Many music therapists also play an instrument. In fact, some college programs require electives in instrumental subjects.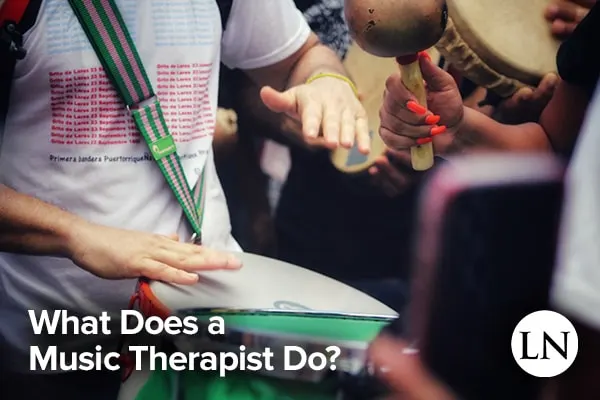 If you're already a talented player—or just enjoy plucking the strings now and then—you will likely enjoy this aspect of your education. Sharing your love of music with your clients is just one of the perks of working in this career.
Once you have many years of experience in a range of music therapy environments, you can go on to teach others. Music therapist educators often need additional degrees or certifications.
However, teaching others to provide therapy might be the pinnacle of your career. It can also prove more lucrative than working in lower-level positions. There's not much advancement past a professorship, though.
Music Therapy Career
Per the Bureau of Labor Statistics, the field of recreational therapy is expected to grow faster than average over the next eight years. As of 2018, there were around 19,800 recreational therapists working in the United States.
However, projections indicate employment levels around 21,200 by 2028, meaning a music therapy career might be an excellent idea if you're contemplating your professional path.
While you're attending school, you will likely need to enroll in a clinical experience where you'll work with live clients. This experience can help shape your plans for your career, including where you want to work and what populations you hope to serve.
Joining the American Music Therapy Association and similar professional organizations can also help develop your career. Plus, if you become Board Certified, you might find additional opportunities through that professional affiliation.
Of course, when you're first starting out in the field, you can't expect to make the highest salary on record. Within the first four years of employment, you'll likely earn an income on the lower end of the range for music therapist salaries.
Music Therapist Salary
It's tough to nail down specifics about music therapist salaries. After all, this type of career falls under the broader category of recreational therapy. That said, the BLS does offer figures for median pay and job outlooks for this industry.
For example, the median hourly pay for a recreational therapist is $23.18. This translates to a salary of $49,220 per year.
According to professionals who report their earnings to Payscale, the hourly rate for a Board-Certified music therapist is around $22.99 per hour. It's worth noting that over half of the respondents said they were in the "early career" stages at this rate of pay.
More experienced therapists, on the other hand, tend to make up to $31.12 an hour. Salaries also vary widely based on location.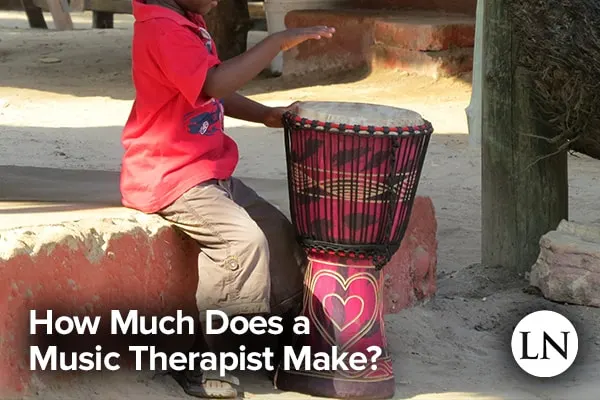 For example, Payscale reports that practitioners in Massachusetts appear to make significantly more per hour than music therapists in Arizona, for example.
Music Therapist Degree
Becoming a music therapist requires both a degree and, in many states, a music therapist-board certified credential.
So, you'll need to attend college—under an approved program—and sit the Certification Board for Musical Therapists (CBMT) exam. With the credential, you also need to recertify with Continuing Music Therapy Education (CMTE) under the Board.
Here are the steps you'll need to take to become a music therapist with a degree and certification if it's a requirement in your state or jurisdiction.
First, Get a Music Therapy Degree
Education requirements for becoming a music therapist include topics like psychology, biology, social and behavioral sciences, in addition to general studies and career-specific courses.
According to the AMTA, your curriculum must also include 1200 clinical hours, completed through fieldwork such as an internship in healthcare or education.
Degrees are available between the bachelor's level and master's level. Some schools offer higher-level degrees, such as doctoral options. In any degree program, you'll cover topics like:
Musical foundations
Clinical foundations
Music therapy
General education
Here are a few schools that offer music therapy degree programs:
Berklee College of Music—Bachelor of Music in Music Therapy: You'll take the expected therapy courses plus instrumental classes for a well-rounded introduction to the profession.
Biola University—Bachelor of Music in Music Therapy: Biola's program combines music therapy coursework with interdisciplinary study with Biola's psychology department. However, this program is currently pending AMTA approval, according to the university's website.
Loyola University—Master of Music Therapy (MMT): The Master's degree in Music Therapy covers research, music therapy in medicine, theories, and multicultural issues.
Also, the university notes that the AMTA endorses Loyola's MMT program. To earn this degree, you'll need to be Board Certified—or you can take the equivalency program option instead.
Want to learn more about colleges and universities that offer music therapy degrees? Click below to request more information on any of the listed schools. [Edit: Tool Removed]
Sit Your Exam for the MT-BC Credential
If your state doesn't require the Music Therapist-Board Certified (MT-BC) credential, you may still want to sit the exam.
Earning the license proves you are passionate about your profession. It also shows you're committed to continuing your education to support your clients in every way possible.
Before you can take the exam, you'll need to complete academic and clinical training. Most degree programs cover that aspect, and you'll likely feel prepared to sit the written exam.
You can take the written exam at one of many testing sites around the US (and even around the world). The cost of the exam is $325, and that includes the exam fee and a processing fee.
Renew Your Credential Every Five Years
To retain your certification, you'll need to complete 100 recertification credits every five years.
You'll also pay an annual certification maintenance fee, explains the CBMT. It's also worth noting that some universities require you to maintain Board Certification if you want to earn a higher-level degree.
That's the Music Therapist Job Description
Regardless of the instrument you play or what clients you hope to serve, working in music therapy can be both rewarding and lucrative. Plus, the options for your career path are highly diverse.
From starting your own therapy practice to collaborating with daycares, special needs programs, elder care homes, or hospitals, there are tons of opportunities to find your niche.
Specialized educational programs and professional affiliations can also help. If you're hoping to pursue a formal degree and certification as a music therapist, our educational resources are a great start.