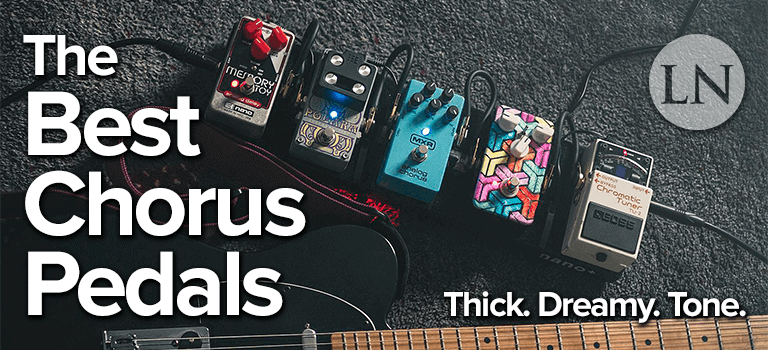 Click here to jump straight to the reviews!
Sometimes, we need a thicker, dreamier sound to accentuate specific parts of songs. Coincidentally a very common part of a song to use the chorus effect on is during the chorus itself. But many guitar and synthesizer players will use the effect for the full duration of a song.
By splitting off the original signal and delaying it variably generally from 20 milliseconds up to 50 ms, the listener starts to hear slight alterations in timbre, pitch, and timing just like they hear when a group of instrumentalists attempt to play the same melody in unison. Take this enhanced sound and make it stereo and you'll have an even bigger impact.
Your tone can combine with the effect to be a very subtle change that does more subconsciously than overtly, or you can combine it with a delay and washed out reverb to create the most dream-like soundscape, sending your audience into another world.
I'll go as far as to say that there's likely not a rock or pop album that's come out in the past 40 years that hasn't featured the chorus effect at least once, and most likely heavily throughout the whole album.
It's a staple these days. If it's not chosen by the band or producer from the outset, the mixer will hear a good chance to add it in and go for it.
With that being said, let's look at what this must-have effect does in detail, how to use it, and what to look for when choosing a chorus pedal. By the time we zip through all that, you'll be equipped to make the choice about which you will prefer and can buy with confidence.
What is the Chorus Effect?
The chorus effect takes an original sound and duplicates it several times, adding minor changes before playing all versions of the sound back in unison. This is achieved in various ways, through slight pitch-shifting, time delays, and low frequency oscillation.
The result is a shimmering version of the original sound due to the fast 'acoustic beating,' which is a periodic variance of the volume of the combined sound sources related to the differences in their frequencies.
The effect can be created in stereo in the same fashion by offsetting the delay, phase, and pitch shifting in the left and right channels. The result is a very rich, dreamy, and thick tone that adds a pleasant ambience to an instrument or soundscape.
When combined with the flanger, delay, and reverb effects, an out of this world experience can be created that is otherwise never experienced naturally.
What to Look for in the Best Chorus Pedal?
Like flangers, the components used in chorus stomp boxes haven't experienced the decline in price that other more common pedals have seen. That means that if you cheap out too much, you'll get fairly poor results. You need to spend enough to get over the hump of low quality options.
Another thing to consider is that vintage options here sound exactly that. They will sound like very old school, low fidelity versions of what you want. I highly suggest you choose a modern option to not only get the highest quality version of the effect but also to get a higher range of options.
I usually tell people to look at all of the reviews on forums, make sure the chassis is built like a tank since you're stepping on it frequently, look for a true bypass where possible, etc. But really the world of flangers has boiled down to a handful of reputable and trustworthy options that we've listed below.
If you want to save the time, any of the choices below will make you happy, but make sure you read and check out the differences between them that may better suit your preferences and rig.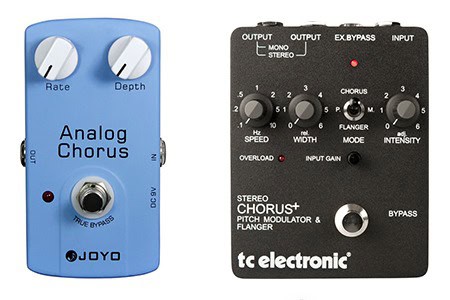 How to Use a Chorus Pedal
Chorus is a confusing effect, not only in regards to how to use in properly but also in terms of where you should put it in the signal path. Let's explain where to place it in the pedal chain first.
Where to Place it in the Signal Chain
The order of your pedals is defined by nature and logic. Some effects need to come before others to work properly while others follow the sequence we hear naturally out in the world. It goes like this:
Dynamics, Filters, & Pitch Shifters
Boost & Distortion
Modulation
Time
Chorus is a type of modulation effect. The duplicated signal's delay and pitch is modulated by a low frequency oscillator (LFO). You don't want to do any of this until you've established your base waveform shape and tone, so naturally it's going to come after pedals like a compressor, equalizer, and distortion.
But it should come before reverb and delay (time-based effects) like always happens in nature, like sound bouncing around a room.
Understanding the Knob Settings
In general, you will find four knobs: E. Level, Rate, Depth, and Tone. E. Level is an abbreviation for Effect Level, which is the same way of saying Mix level. This sets the dry/wet ratio so you can decide how much you want to hear the effect in respect to the original signal, both of which can come through.
Rate defines the speed of the LFO so the acoustic beating is faster or slower. Depth is basically an intensity knob to increase how noticeable the effect is in terms of the timing of the delay and distance of the pitch shifting.
And finally you have the Tone knob everyone includes on every pedal that's a shelf EQ you can use to make your frequency response brighter.
Unlike other pedals where manufacturers come up with their own labels or add knobs with different functionality, all of these are generally the same with the same four knobs.
---
The Best Chorus Pedals

Note: Each image and text link leads to Amazon.com where you can read additional user reviews, find specific technical detail listings, see additional product options and sizes, and make your purchase.
Now that we know what features are important and how to use chorus pedals properly, it's time to peruse the market and see what's out there for our hard-earned money. Our overview below represents the best choices available today. They aren't presented in any special order, although we do point out which is our favorite pick.
We have two more "best in class" picks in the comparison table at the top of the page, but we also recommend that you take the time to consider each option below since your preferences may differ slightly from ours. All in all though, if a pedal made this list, it met and exceeded our expectations.
These are the Best Chorus Pedals Out There
The attraction of a chorus pedal is two fold. Everyone finds the thickness added to be very pleasant, which comes from a slight pitch shifting.
These also add in time delays which create an acoustic beating that creates the warbling aspect of the effect. This sounds great in stereo and goes from a gentle oceanic movement to an outer space sci-fi sound if you really dial up the depth and rate.
We've even included an option that doesn't have the time delays and focuses only on the pitch shifting. Take your time and peruse all of the above, which represent the current market's best chorus pedals.