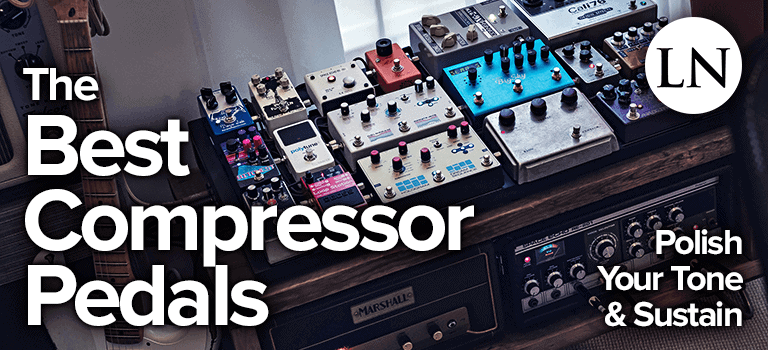 Click here to jump straight to the reviews!
If there's any audio effect that's used the most and had the most impact on music, it is by far the compressor effect. It takes the lead so hard that mastering engineers are even going through "The Loudness Wars" over it. It's influence has been monumental.
Whether you're a guitarist, vocalist, synthesizer player, or literally anyone else involved in music, you'll be using compression in a live setting and it'll be applied during the mixing stages after recording. Nobody escapes it and nobody wants to.
The reason is, we went from recordings and performances that varied in volume levels so drastically that the listeners would go from not really being able to make out certain segments to others hurting their ears.
With this effect engaged, all of that variable dynamic range is reduced. We still have the pleasurable rollercoaster ride through volume levels, but they stay in a comfortable and intelligible range now.
With the importance of this effect emphasized, let's take a look at exactly how it works, how to use it, and what to look for when you purchase one. By the time we're done, you'll know exactly how to choose the most appropriate one for your needs, and then we'll share our suggestions for the best options out of today's current line-up.
What is the Compressor Effect?
The compressor effect provides a means by which you can control the variance in amplitude of a sound or series of sounds. This is done by forcing the highest volume parts of a sound to be quieter so that the gap between the peaks and lowest volume parts is reduced. The lesser volume difference adds intelligibility to a sound, making it easier for listeners to interpret and 'latch on' to it.
This is achieved by setting a threshold level of decibels, and when the sound rises above that level it is then reduced by a specified ratio. For instance, if you set the threshold at 50 dB with a ratio of 3:1 and the sound rises to 59 dB, the compressor will ensure that only 53 dB is outputted.
The reason is because the sound went over the threshold by 9 dB, and it is reduced by a three-to-one ratio, so for every 3 dB that went over the threshold only 1 dB is allowed through.
There are also two other settings, called attack and release, that control how soon the effect begins taking place after the sound crosses the threshold and when it stops acting upon the sound after it dips below the threshold again.
The attack is used to shape the attack of the pick, where you can squash it or allow it to ring through. The release can sound unmusical if set too fast and unnatural if set too slow.
What to Look for in the Best Compressor Pedal?
At this point, all compressors are about the same in terms of quality. They all perform the same signal processing task that hasn't changed or had a reason to change since its invention. But with that being said, there are two considerations to keep in mind.
The first is to not purchase too cheaply. While the outputted sound quality might be extremely similar between inexpensive and high-end compressor stomp boxes, the cheap ones can be too slow in their reaction to handle very fast attack and release settings on complex waveforms.
You don't want to spring for the cheapest option because you need that consistency and reliability when shaping your tone.
The other thing to consider is how finicky you want to get with the settings. Not all of these pedals have the same options. Some work more based on presets with variables you can tweak with knobs, while others give you full control. Once you understand how it all works you'll have no problem, but some people fail to ever grasp how it functions.
Nano sized pedals might feature far less options in their mini size than a standard sized pedal. Many of the knobs do the same things with different labels. You'll see stuff like sensitivity, output, level, sustain, clipping, and even just 'comp.'
They all in some way relate to the four basic variables of compression, if not individually than in combination. Why they do this, I don't know, but you'll want to decide how much control you want over the effect or if you want to trust the manufacturer's pre-made choices. You'll be okay, either way, for the most part.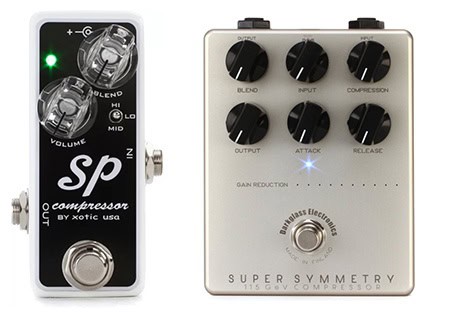 How to Use a Compressor Pedal
Despite our conversation about how complex compressors are for newcomers, the manufacturers of the pedals have opted to remove all of those choices and keep it simple. But that adds another layer of complexity. Let me explain how it all works as well as where you should place the compressor in your signal path.
Where to Place it in the Signal Chain
There's a very specific order that all of your different pedal types should come in, and although there might be a little flexibility within sub-groups, there's no question about where compressors should come in. Let me show you the typical pedal chain:
Dynamics, Filters, & Pitch Shifters
Boost & Distortion
Modulation
Time
Compression is a way to control the dynamics of your volume. There is only one pedal that should definitely come before it and that's the noise gate. There is one pedal that I argue should come before compression, although it can come right after in regards to guitar, and that's equalization.
But the main point is the compressor comes at the very start so you shape your waveform before you begin applying the rest of your effects. If you do it after, you'll ruin the other effects by squishing your reverb and delay or defeating the purpose of a tremolo.
Understanding the Knob Settings
Let's start with the main knob, Comp. Despite compression being made up of four independent variables, pedal makers are now creating a "proper" preset that works for nearly all guitar playing styles.
This is great, in my opinion, because nobody has time to deal with that while live on stage. And you accidentally kick your knobs, there's no catastrophe.
You just set one knob back where you had it instead of four. This Comp knob simply raises and lowers the threshold so you can apply more or less compression. Sometimes you'll see this being called Sensitivity or Sustain.
Other manufacturers have decided to at least give the guitarist control over the Attack of the compressor so you can decide if you want to squish the initial peak of when you pick the string or let it ring through.
The Attack knob lets you set a time in milliseconds for how long the compressor waits to kick in once a sound crosses the threshold. A slower setting lets the string's 'attack' come through uncompressed.
Finally, you have a Level knob that lets you control the output volume, and some even have an EQ or Tone knob if you don't want to have an extra equalizer pedal.
---
The Best Compressor Pedals

Note: Each image and text link leads to Amazon.com where you can read additional user reviews, find specific technical detail listings, see additional product options and sizes, and make your purchase.
Now that we've reduced the complexity of compressor pedals, know what features to look out for, and how to use them in general, it's time to venture out into the marketplace and see what the best options are for our hard-earned money and needs.
There's no specific order below other than to point out our top pick. You can see our two other "best in class" picks in the table at the top of this article, but remember that if they made this list they more than met our expectations. Consider them all since your preferences may be slightly different than ours. These are the top choices out there right now.
These are the Best Compressor Pedals Out There
Without a doubt, the most important effect when it comes to sounding like a professional is compression (followed by equalization). Above is our hand-picked list of our choices for the best compressor pedal, all of which will get you that pro sound but in various ways.
You can choose your level of engagement, from two-knob options to ones that give you individual control over each parameter. The choice is yours, but yo won't go wrong with either style. It should help you narrow down your selection though. Best of luck and rock hard.