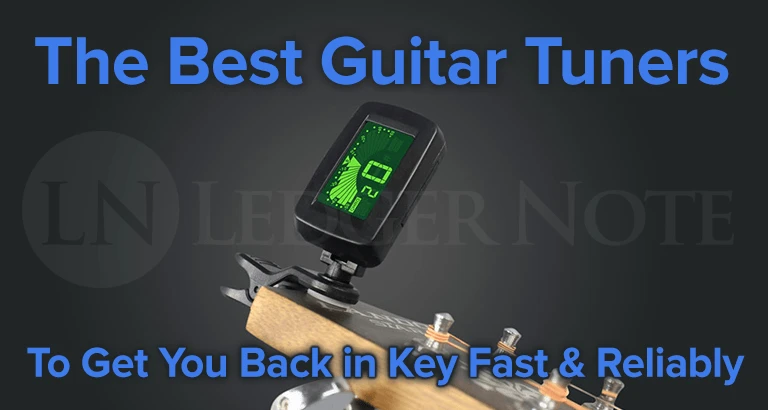 If there is one tool you will absolutely need as a guitar player, it's the best guitar tuner you can get your hands on. The importance of having your instrument in the right key can't be emphasized enough.
Additionally, guitars going out of tune during use is something everyone has to deal with. So it's a non-negotiable skill; you will have to learn to tune up and how to do it fast.
As a matter of fact, getting a tuner and learning how to properly tune a guitar should be among the first items on your to-do list as a beginner. If you build that habit right from the start, your life as a guitar player will be much easier later on.
Tuning a guitar requires a precise tuner that is also easy to use. When you are on stage, you really need to be able to get that pitch corrected in a matter of seconds between songs and sometimes during them after a hard bend.
Today we are going to show you a number of awesome guitar tuners that will get the job done in various ways so you can figure out what's right for you.
There are many types of these devices out there, each created to optimize efficiency in their own way. You can even get tuner apps and DAW plug-ins that do the same thing, but we won't get into those in our guide since they aren't applicable to you in the middle of a performance.
Let's get started with our first category of the best guitar tuners, the handhelds, and see what we've got to share before moving on to every other type of tuner out there.
Note: Each image and text link leads to Amazon.com where you can read additional user reviews, find specific technical detail listings, see additional product options, and make your purchase.
Best Handheld Tuners
Handheld tuners are among the oldest designs still around to this day. You'd think the older form factor would eventually be frowned upon, but handheld tuners have been the favorite up until recently.
They held their spot at the top for so long because more advanced tuners were generally much more expensive. However, the situation has changed since then. You still can't go wrong with a handheld in most situations.
A handheld tuner is basically a little box with an 1/4″ TRS input, a display, and a couple of buttons depending on the design. These are usually battery powered.
To use a handheld tuner, you have to plug in your electric guitar, although most of them have built in microphones. Just keep in mind that those microphones are not that accurate.
If it were up to us, we would say that handheld tuners are most appropriately used as backups. You can't really use them to correct your tuning on the fly in the middle of a song like you can with a pedal, but you can quickly pull one out of your pocket and plug in between songs to get some very accurate tuning done fast.
I'd consider having one of these around and a spare battery a must for your gig bag. They're especially convenient at home when there's no pressure to tune in a hurry. Let's check out a couple of great options from this category.
Best Clip-On Tuners
We have seen the old standard, the handheld. Now it's time to check out what most people use today. Clip-on tuners are simple, effective, and incredibly convenient. We are talking orders of magnitude simpler compared to handheld tuners, but less robust.
As their name says, clip-on tuners are clipped onto a headstock of a guitar and can be left there indefinitely, although that'll look goofy during a live performance.
There are no cables to worry about nor anything similar. You can perform with them on the headstock and not suffer any consequences. The way these tuners work is by picking up vibrations straight from the headstock when you strum a string in isolation.
There are no microphones involved, which makes them a perfect choice for noisy environments like stages. You just need to make sure you have a spare battery around.
These are cool and inconsequentially priced, so there's no real reason not to have one around. But before you think these are the be-all, end-all, wait till you see the polyphonic and pedal tuners up next.
An average clip-on tuner is fairly accurate, cheap, pretty reliable, and make great gifts. Speaking of which, here are two clip-on tuners that have proven to be really capable.
Best Polyphonic Tuners
If you were wondering what's the latest and greatest innovation in guitar tuning, this is it. Polyphonic tuners are relatively new and still in development.
Even so, the stuff we have seen so far is very promising. We can thank TC Electronic for these masterpieces. The miracle is in how they work, which provides the fastest tuning possible.
One of the universal truths about using a guitar tuner is that you have to tune each string one at a time. That's how it's been done forever, but not any more.
With polyphonic tuners, all you have to do is strum all of the strings at once, and it tells you which string needs to be tuned and how much. It's truly revolutionary.
Naturally, the main benefit of having a polyphonic tuner is the time you save going over your key one string at a time. With that said, polyphonic tuners come in a variety of shapes and forms, including some we have already covered. Our two favorite options are below.
Best Pedal Tuners
When you step into a more professional territory, the first type of tuner you will run into is a pedal tuner. As you have probably figured out by now, pedal tuners come in form of guitar effects pedals. The idea is that you link one of these early in your signal chain on a pedalboard.
This way, whenever you need to check your key, all you have to do is tap that foot switch and you are good to go. The only real downside to pedal tuners is that you don't get support for acoustic guitars.
A cable is a must in order to get any feedback. That's inconvenient for some, but also very beneficial to all electric players who can get a true read without dealing with microphones and vibrations.
A pedal guitar tuner is generally going to be much more precise than other types of tuners due to tapping right into the source. Their robust build makes them durable while the pedal format makes them practical. It's nice to have them fit right in with the rest of your effects processors. Here are some of the best pedal guitar tuners.
Best Sound Hole Tuners
One of the more unique types of guitar tuners are sound hole tuners. Designed specifically for acoustic guitars, these tuners don't work with electric guitars. The idea behind this design is that you attach the tuner on the edge of the sound hole, where it can pickup the most accurate readings from the guitar.
Most of them are constructed in a way where the display is in a direct line of sight with the user while playing, but not visually obtrusive to the audience. There are two types of sound hole tuners out there.
You have the curved ones and the clip-on ones, although both have to clip onto the top of the guitar. The curved tuners are a bit more complex but more accurate, and it ultimately comes down to user preference.
Today we are going to show you an example of each. The models we have chosen have proven their worth numerous times by now, making them solid choices regardless of your taste. Let's get to it.
Best Rack Tuners
The last category of guitar tuners are the rack tuners. This is the type of gear you would want to have on a professional stage with sound engineers in the background.
Since these are rackmounted, you will want an actual rack or at least a small hard-shell rack case in order to use one. They're great if you're already using rackmounted modeling amps and effects processors
As expected, rackmount tuners require a cable-fed input in order to work. In other words, you won't be able to tune your acoustic guitar with these. The main benefit of using a rackmount tuner is the high precision they offer and the abundance of features.
If you're using mostly rack gear then you'll find that running through run of these in bypass mode most of the time means you can tune up with the press of a button and then jump right back into bypass mode. Here are two really awesome models we would like you to check out.
These are the Best Guitar Tuners Out There
Guitar tuners are by far one of the most important tools you can have as a guitar player, especially when you're first learning how to play. Going into a performance with a perfectly tuned guitar is a must.
Having the ability to adjust that tune on a moment's notice is important as well. The models we have shown you today represent the best in their respective categories.
All you have to do is figure out which format works best for your needs and your type of guitar. We highly suggest that you get a clip-on tuner, if nothing else then as a backup. It's always good to have some redundancy. But, if you can swing it, we do consider the polyphonic pedals among the best guitar tuners ever.