The best envelope filter pedal will turn you into a funk machine by adding the power of the wah-wah effect to your guitar and apply it automatically based on your picking style. This next-level effect is a must-have for the multi-genre guitarist, whether for your own material or in a cover band. It opens up a whole new world of stylistic choices for the skilled guitarist…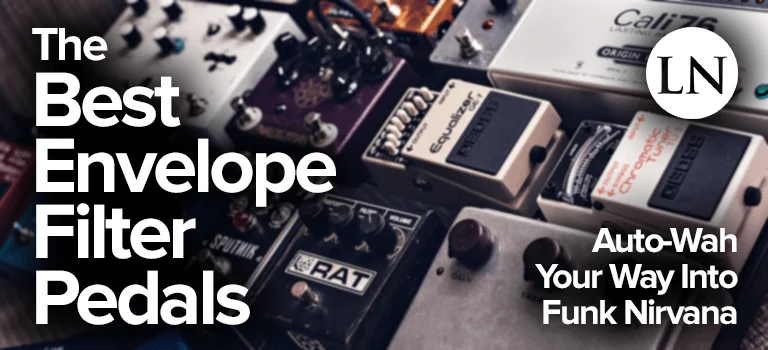 Most of the effects pedals out there are for universal effects any instrumentalist or studio engineer might use on any number of tracks.
But the envelope filter pedal, or auto-wah pedal, is largely designed for the electric guitar, bass, and piano and employed for the funk genre.
That's not to say you won't find it elsewhere being used creatively by talented thinkers. It's just that when people think of the envelope filter effect, funk comes to mind, and for good reason.
The Mu-tron III, the first envelope-controlled filter for musicians came out in 1972 at the height of the funk era and has become closely associated with it ever since.
It's gone by many names, such as Q-wah, T-wah, envelope follower, and more, but the world settled on "envelope filter," although many still refer to it as the auto-wah effect due to its resemblance to the sound you can achieve manually with a wah pedal.
Need more information in order to better understand your needs? We have got you covered! Visit our FAQs section.
INCLUDED IN THIS GUIDE: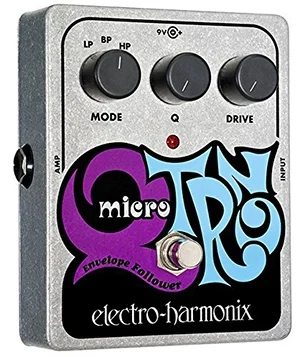 Let's start with the smaller, simpler version of the best choice on the list, the Electro-Harmonix Micro Q-Tron. While, of course, the volume of your pick attack will create a more intense or subtle effect with a broader or narrower frequency sweep.
But here you get to design that sweep with three modes, including low pass, band pass, and high pass EQ settings. This makes this pedal not only one of the best for guitar, but for bass, keyboards, and any other electric instrument you want to push through it.
You can control the width of your frequency peak with the Q knob (your general set-and-forget sweet spots are between noon and 2 o'clock). No matter how you set the Drive knob, you're going to get the current best auto-wah in the game, but you can get variations on it with this knob. Start at 12 o'clock and play with it from there with a high output on your guitar.
If you're looking for that Jerry Garcia and Prince sound, look no further than this Mu-tron III inspired option. The construction is far stronger than needed. It will be by your side for the ages. If you want a more feature stacked version (I recommend it if you can afford the step up), check out it's bigger cousin below.
Specs:
Item Weight: 1 pound
Signal Format: Analog
Style: Filter
Voltage: 9V
Pros:
Multiple effects and filter settings offer a wide range of sounds
Rugged and well-built
Cons:
Quite large compared with some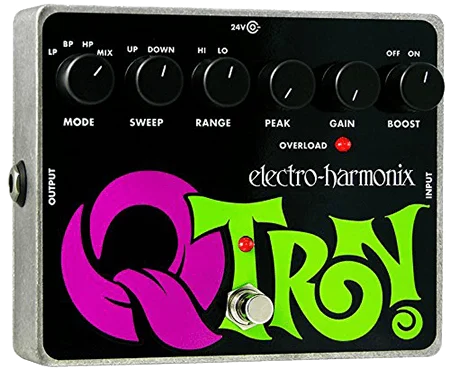 It's rare for there to be an obvious choice in any category. There's usually a contender or at least a runner-up, but the Electro-Harmonix Q-Tron XO envelope follower is the clear leader of the pack.
Take everything I said above about its Micro Q-Tron cousin and you're only breaking the surface of what this beast can do. Want even more? Check out the Q-Tron Plus version with the effects loop, but this one is the one that suits most players without inflating the price.
So on top of everything the Micro offers, you're also looking at a Boost switch that enables the Gain knob, which lets you boost your input volume on the pedal instead of at the output of your guitar (in case you have other effects in your pedal path). The Peak knob gives you full control over the width of your Q.
The Mode switch gives you the same three options above (low pass, band pass, high pass) while adding a Mix option, which is a mixture of a band pass envelope plus a mixture of your dry instrument signal. This lets you use the full-fledged effect in a more subtle fashion, rather than dialing down the effect itself. The Range knob lets you accentuate the vowel-like sounds in the fundamental frequencies or more so in just the higher overtones.
The Overload LED is there to let you really push the internal preamp to emulate the Mu-Tron III to get that Jerry Garcia sound. Or, of course, you can define your own style to carve out your own niche in the guitar game.
Specs:
Item Weight: 1.85 pounds
Signal Format: Analog
Style: Filter
Voltage: 9V
Pros:
Excellent sound quality
Solid build
Cons:
Not friendly for beginners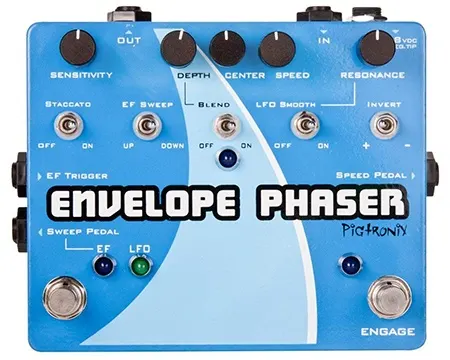 This is the first in our list of envelope filters that pack on quite a few extra features. The niche is evolving and the Pigtronix EP2 Envelope Phaser is the king of the new breed. Basically, in addition to a world-class envelope filter, you're stacking on an analog uni-vibe style rotary phaser.
You can use either in isolation or combine them for the next level. You can control the phaser with the envelope or with an LFO, in staccato mode and more. You can even side-chain another audio trigger. But let's focus on the auto-wah, since that's why we're here. The rest is icing on the cake.
Like the choices above, this pedal's envelope section is modeled after the great Mu-Tron III's signature quack sound. Unlike others where you can define your filter, here you can even control the direction of the sweep, either upward or downward through the frequency spectrum.
Their digital intelligent envelope response means you don't need to set a sensitivity or worry too much about your input volume, they take care of it for you while still giving you the manual control over expression.
This EP2 model is based on 6 years of customer feedback regarding the EP1, and it hit the mark. You can go from Hendrix style wah all the way to outer space craziness. You can trigger it based on any audio input like a drum feed, etc.
It's got so much going for it I can't even type it all, just look at each knob and switch and you'll see what I mean. It's good enough for Mars Volta! Give this an honest consideration if you play more than just funk. This is a one-time, keep forever kind of purchase.
Specs:
Item Weight: 2.1 Pounds
Signal Format: Analog
Style: Bass and Modulation
Voltage: 9V
Pros:
Downright funky phase effect that doesn't sacrifice low end
Cons:
Might not offer enough control for some players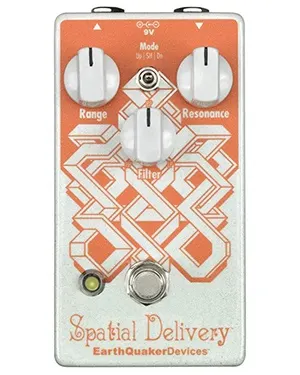 Not everyone wants extra features. They want a plain and simple, but top of the line auto-wah, and that's what the EarthQuaker Devices Spatial Delivery brings to the table. This pedal focuses on the core product with no gimmicks, meaning it has to stand up to serious scrutiny, and that it does.
First, take notice of the switch between the knobs. That's your Mode selector that includes Up Sweep, Down Sweep, and Sample & Hold. So not only do you get your classic auto-wah with the up and down modes, but the Sample & Hold controls the filter with random voltages instead of your picking amplitude, holding it in place while you control the speed with the Range knob.
It crossfades from low pass to band bass to low pass, giving you full control with less knobs. When in the other modes the Range knob helps you control the sensitivity and reaction time. So this is sort of an intensity knob combined with a Q-width knob. The way they built it always keeps it musical and doesn't let you sabotage yourself.
The Resonance control is basically an oscillation knob, letting you keep a very clean wah versus adding tons of body and ring to it. It has true bypass and everything else you would expect. This thing really shines when you start pairing it in your signal chain with octave and harmonizer pedals and any other typical options.
The flexi-switching means you can fire it up momentarily too to add what I call "ear candy" to parts of your performance. To do this, just hold down the switch until you're done and release. Otherwise turn it on with your typical tapping. This handmade option deserves a serious look. For many, it is the one.
Specs:
Item Weight: 0.75 pounds
Signal Format: Analog
Style: Spatial Delivery
Voltage: 9V
Pros:
Easy and intuitive to use
Great quality
Cons:
No battery feature
Wah feature not perfect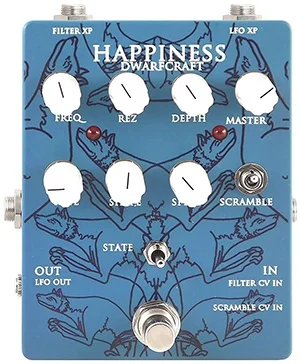 I'm typically the kind of guy that wants precisely what I'm looking for. In this case that's an envelope filter and nothing more. But the Dwarfcraft Devices Happiness Multi-Filter takes care of that masterfully while bringing so many more options. The low frequency oscillator (LFO) opens up an entire new world to auto-wah fans.
From classic rock to dubstep, there's not much you can't dial in here. And it sounds authentic each time. The quality is non-negotiable and they have that covered, but it's the versatility that solidified this pedal's spot on the list.
Bass, guitar, drums, synthesizer, electric violin, and even mandolin, this mother has found a home everywhere. You get your typical controls for the envelope like Freq (your mode switching like low pass), Rez (controls the resolution of the oscillation), and Depth (the intensity of the Q height).
In addition, since it has a phaser like the Pigtronix option above, you get controls for that like Rate, Speed, and Shape. Something to note is the Scramble switch, which turns it into a Sample & Hold mode that can include an external CV modulation.
The State switch is like an EQ or Tone knob on your guitar. You get three filters, including a low pass, band pass, and high pass. This pedal takes your auto-wah and takes the lid off of it, letting you keep the classic sound or dial in completely out of this world tremolo sounds and more. Pair it off with octave pedals, reverb pedals, delays, and everything else and truly you can design nearly any sound you can dream of, and even control it with a secondary audio source.
This is a top of the line choice for the envelope filter enthusiast or sound designer and any one in between who doesn't want to be cooped up in one box.
Specs:
Item Weight: 0.7 pounds
Signal Format: Analog
Style: Envelope Filter
Voltage: 9V
Pros:
Very versatile
Durable built
Cons: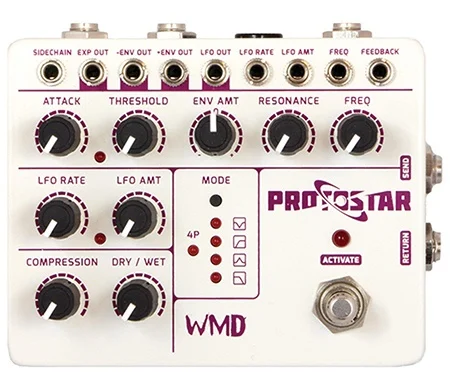 Like the option above, this is another full-featured contender but in this case the WMD Effects Protostar takes it another step forward. In addition to the five modes of auto-wah, you're getting an LFO and even a compressor on board. In this case, they don't skimp on quality in any portion of the signal chain like so many other companies do.
But notice the 15 inputs and outputs here. The amount of customized work you can do here is astounding, if not overwhelming at first. That's a good thing once you acclimate, because not only can you dial in a classic envelope follower sound but you build on that to create soundscapes the likes you've never heard before.
Oh lordy, we can't even mention all of this here. Look at the knobs to get an idea why. You have your auto-wah strip on top, plus a tremolo / phaser strip, and then a compression strip. In the middle you can choose your modes, which include the typical options plus an inverted band pass. It also has the CV sidechain and so much more.
If you're familiar with the Super FatMan envelope filter, this is that with even more options. It is, without question, the most versatile auto-wah every invented. Please take the time to consider it if you're really into sculpting your own sounds.
Specs:
Item Weight: 2 pounds
Signal Format: Analog
Style: Envelope Filter
Voltage: 9V
Pros:
Produces great bass
Great sound quality
Cons: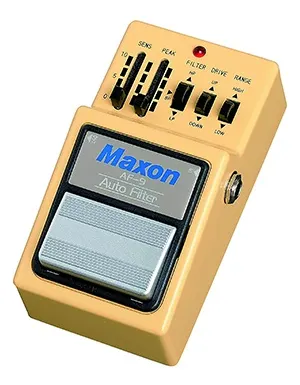 Now we're taking it back to basics, which is where I like to live. The Maxon 9-Series Auto-Filter looks like a normal pedal and acts like one too. This no-frills option tackles the envelope filter effect perfectly. It might not have a crazy visual appeal, but who cares. We're here for the sound, and this bad boy delivers.
Basically what you get here is the core desirables, including a top tier auto-wah plus a handful of sweep filters to keep things interesting. They chose to keep it old school and go with opto-coupler circuitry to keep that watery sound of the shimmering vintage envelope filters. It, too, like others above, is based on the classic Mu-tron III pedal. Many pros stick with this beast for that reason, like the old Megadeth guitarist.
Let me hit you with what the switches do. You get three filter modes, including low pass, band pass, and high pass EQ's. You have a sensitivity slider to control the threshold of the effect as well as a peak slider to control the intensity. The Drive switch lets you choose whether you're using an up sweep or down sweep, while the Range switch accentuates the fundamental frequencies or the overtones in the auto-wah.
This is your no-thrills, gets the job done and gets it done well option. It's also a conventionally sized pedal if you have a specific type of pedal board arrangement it needs to fit within. Again, give this one serious consideration. It's not a looker, but it's a serious contender. It never stopped Boss pedals from being some of the best and it doesn't stop Maxon.
Specs:
Item Weight: 1 pound
Signal Format: Analog
Style: Optical Envelope Filter
Voltage: 9V
Pros:
Creates an automatic wah effect based on the player's pick attack
Features high, band and low pass filter modes
Cons:
FAQs
In this section, let's discuss how to use one of these pedals, which features you should be looking for when choosing one, and finally introduce you to our top picks of the modern analog and digital options and the strengths of both.
What is the Envelope Filter Effect?
The envelope effect, also commonly called auto-wah (not to be confused with the manually controlled wah pedal), is a self-adjusting peak filter that accentuates certain frequencies while reducing the volume or completely blocking out others.
The strength of the effect bases itself off of the amplitude of the signal going into the pedal, so that guitarists can alter the sound by how hard they choose to pick the strings. It is also commonly used by bass guitarists, electric pianists, and synthesizer players.
The cut-off frequencies of the auto-wah are performed by a detection of the incoming voltage, which is a direct measurement of the volume of the signal. It then alters the envelope following filter to adjust the cut-off frequencies, which are usually defined by a bandpass response, although some allow you to choose a low-pass filter instead.
What to Look for in the Best Envelope Filter Pedal?
All auto-wah pedals will include the typical knob to control the sensitivity of the effect. This means that you'll be adjusting your input gain so that your natural playing volume matches the levels expected by the pedal. You can increase or decrease this gain to get more or less of the effect being outputted.
Most will also include a control for the cutoff frequencies, either in bandpass or low-pass filter form. You will also commonly find a depth control that lets you change the intensity of the overall effect and filter sweep.
Extra Knob Controls
What you'll want to look for otherwise, if you want to fully define your own sound, are controls for other aspects of the envelope filter, such as the ability to choose several pre-designed filter types, the choice of whether the filter sweeps up or down the frequency spectrum, and a resonance control.
The resonance allows you to choose which frequencies you want to accentuate when the effect is engaged (where the bandpass filter is centered).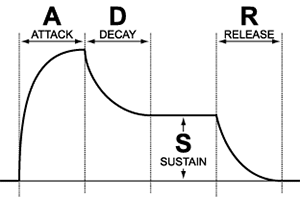 How to Use an Envelope Filter Pedal
There are two aspects to using one of these guitar pedals effectively, and that's placing it in the right spot in the signal path and then understanding how to deal with all of the knob-based parameters.
Where to Place it in the Signal Chain
In nature, sounds occur in a specific order where effects begin to get stacked on top of them cumulatively. As guitar players we want to emulate that same process, which is why we follow this typical setup:
Dynamics, Filters, & Pitch Shifters
Boost & Distortion
Modulation
Time
Envelope filters are obviously types of filters. It's in the name! So you really only want two effects to come before it, which is compression and then equalization. Basically you're going to shape your waveform and then clean it up first, then you want to enact the envelope filtering before anything else.
The reason for this is that if you use a delay and reverb first, you'll end up filtering those which are simply time-based replications of sounds in the environment. If it doesn't happen in nature, you don't want it happening in your signal chain (unless you're experimenting of course).
Understanding the Knob Settings
You'll see a range of knobs relabeled many different ways, but the core set is always there. Many have a pre-built filters that you simply control the volume (or expression of the envelope) with using the Level knob, and the filter type using a Filter knob.
These options are usually just low-pass, high-pass, and band-pass. But when you have a Resonance knob, you can control where the center frequency for the band-pass lies.
Sometimes you'll get a Q knob, which lets you choose the width of the band-pass around the center frequency you choose with the resonance knob. And when given the choice, you'll see a Range knob, sometimes acting as the Q knob and otherwise controlling the cut-off frequencies of the high-pass and low-pass filters.