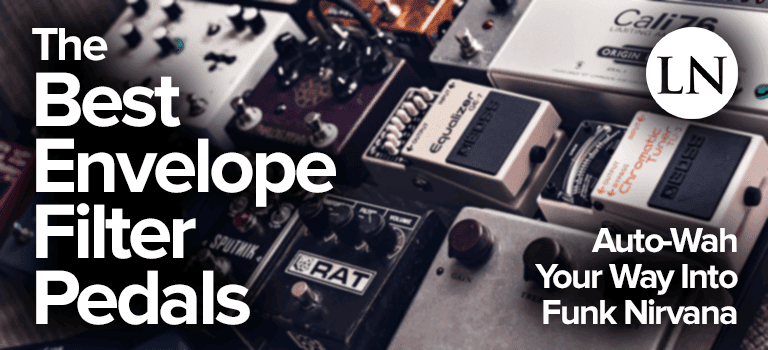 Click here to jump straight to the reviews!
Most of the effects pedals out there are for universal effects any instrumentalist or studio engineer might use on any number of tracks.
But the envelope filter pedal, or auto-wah pedal, is largely designed for the electric guitar, bass, and piano and employed for the funk genre.
That's not to say you won't find it elsewhere being used creatively by talented thinkers. It's just that when people think of the envelope filter effect, funk comes to mind, and for good reason.
The Mu-tron III, the first envelope-controlled filter for musicians came out in 1972 at the height of the funk era and has become closely associated with it ever since.
It's gone by many names, such as Q-wah, T-wah, envelope follower, and more, but the world settled on "envelope filter," although many still refer to it as the auto-wah effect due to its resemblance to the sound you can achieve manually with a wah pedal.
Here, we get it done automatically. Let's discuss how to use one of these pedals, which features you should be looking for when choosing one, and finally introduce you to our top picks of the modern analog and digital options and the strengths of both.
What is the Envelope Filter Effect?
The envelope effect, also commonly called auto-wah (not to be confused with the manually controlled wah pedal), is a self-adjusting peak filter that accentuates certain frequencies while reducing the volume or completely blocking out others.
The strength of the effect bases itself off of the amplitude of the signal going into the pedal, so that guitarists can alter the sound by how hard they choose to pick the strings. It is also commonly used by bass guitarists, electric pianists, and synthesizer players.
The cut-off frequencies of the auto-wah are performed by a detection of the incoming voltage, which is a direct measurement of the volume of the signal. It then alters the envelope following filter to adjust the cut-off frequencies, which are usually defined by a bandpass response, although some allow you to choose a low-pass filter instead.
What to Look for in the Best Envelope Filter Pedal?
All auto-wah pedals will include the typical knob to control the sensitivity of the effect. This means that you'll be adjusting your input gain so that your natural playing volume matches the levels expected by the pedal. You can increase or decrease this gain to get more or less of the effect being outputted.
Most will also include a control for the cutoff frequencies, either in bandpass or low-pass filter form. You will also commonly find a depth control that lets you change the intensity of the overall effect and filter sweep.
Extra Knob Controls
What you'll want to look for otherwise, if you want to fully define your own sound, are controls for other aspects of the envelope filter, such as the ability to choose several pre-designed filter types, the choice of whether the filter sweeps up or down the frequency spectrum, and a resonance control.
The resonance allows you to choose which frequencies you want to accentuate when the effect is engaged (where the bandpass filter is centered).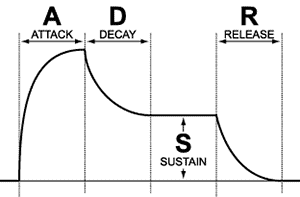 How to Use an Envelope Filter Pedal
There are two aspects to using one of these guitar pedals effectively, and that's placing it in the right spot in the signal path and then understanding how to deal with all of the knob-based parameters.
Where to Place it in the Signal Chain
In nature, sounds occur in a specific order where effects begin to get stacked on top of them cumulatively. As guitar players we want to emulate that same process, which is why we follow this typical setup:
Dynamics, Filters, & Pitch Shifters
Boost & Distortion
Modulation
Time
Envelope filters are obviously types of filters. It's in the name! So you really only want two effects to come before it, which is compression and then equalization. Basically you're going to shape your waveform and then clean it up first, then you want to enact the envelope filtering before anything else.
The reason for this is that if you use a delay and reverb first, you'll end up filtering those which are simply time-based replications of sounds in the environment. If it doesn't happen in nature, you don't want it happening in your signal chain (unless you're experimenting of course).
Understanding the Knob Settings
You'll see a range of knobs relabeled many different ways, but the core set is always there. Many have a pre-built filters that you simply control the volume (or expression of the envelope) with using the Level knob, and the filter type using a Filter knob.
These options are usually just low-pass, high-pass, and band-pass. But when you have a Resonance knob, you can control where the center frequency for the band-pass lies.
Sometimes you'll get a Q knob, which lets you choose the width of the band-pass around the center frequency you choose with the resonance knob. And when given the choice, you'll see a Range knob, sometimes acting as the Q knob and otherwise controlling the cut-off frequencies of the high-pass and low-pass filters.
---
The Best Envelope Filter Pedals

Note: Each image and text link leads to Amazon.com where you can read additional user reviews, find specific technical detail listings, see additional product options and sizes, and make your purchase.
Okay, we now understand envelope filter pedals, the features to keep an eye out for, and how to use them in general. It's time to venture out into the market with our overview and see what the best choices are for our needs and budget.
We won't be ordering these in any specific way except to call out our favorite pick, but you can scroll back up to the top of this article to see our other two "best in class" picks too. These are all worth your own consideration though, because you may prefer one more than we did.
These are the Best Envelope Filter Pedals Out There
The world of envelope filters has never been in a better spot. You have companies keeping the traditional, plain auto-wah alive with new models and ones based on the legendary vintage options that you can no longer get.
But you also have companies creating the next stage of evolution within this sub-industry. There's never been a more exciting time to purchase one, and that's why we've brought you a mixture of all three styles in our list of best envelope filter pedals.