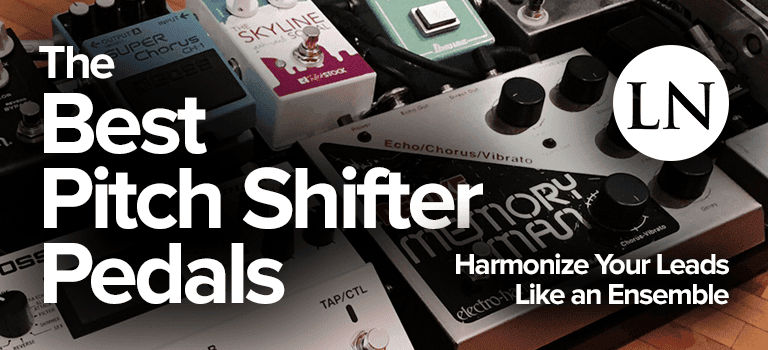 Click here to jump straight to the reviews!
If any instrumentalist can get a lot of use out of the pitch shift effect, it's a guitarist. The uses are endless, from harmonizing one's own lead to filling in for a bassist. Combine it with other pedals like a looper and an entire musical universe opens up before you.
And how fortunate we are, because in the old days we had to record to tape and slow the tape down or speed it up to achieve this effect and that would throw off our timing.
So then, instead of time stretching, we would have to play faster or slower at normal speed and then change the timing to affect the pitch. What a nightmare. Vari-speed motors didn't help that much either.
Fast-forward to the present and we have entire digital signal processors that can pitch shift with easy-to-access option knobs all tucked away in a tiny stomp box you can turn on and off with your feet.
These days, the separate concepts of a pitch shifter pedal and a harmonizer pedal are quickly converging, saving us money and space on our pedalboards, too.
That makes today's discussion even more pertinent as we explore which features we should expect out of a pedal, how to use it in light of the new features, and which of our top picks are the most right for your needs and preferences. Let's waste no time jumping into it.
What is the Pitch Shifter Effect?
In general, the pitch shift effect is a detection of an original pitch which is then either raised or lowered by a specific number of semi-tones.
Although many exist in which you can define an exact amount of cents to alter the current pitch, such as software plugin versions, guitar pedal pitch shifters have a pre-defined interval where the altered pitch is optionally added back to the original pitch in order to create a harmonization.
In the early days, pitch shifting was not able to be disconnected from time shifting. Playing reel-to-reel tape back faster or slower was the method used to increase or decrease pitch.
Using the current digital signal processing methods, time shifting is no longer necessary to achieve the desired results. All current pedals use this digital method.
What to Look for in the Best Pitch Shifter Pedal?
There are two main features you'll want to make sure appear in the pedal you choose. They're so important that we don't even recommend any below that don't already have these features.
The first is pitch-combining, which was originally only found in harmonizer pedals and octave pedals. This is referring to how the earliest pitch shifters affected the original sound and then outputted that altered signal.
Newer ones can keep the original note while also outputting the new shifted notes while allowing you to mix them in at different levels. Older ones also wouldn't lock you into harmony.
They were too literal, as another way of saying it. The new ones can process chords and create down-tunings as well, thanks to the second feature I want to point out.
With the new polyphonic style of pedals, they can detect each string separately and help you play in different tunings all without detuning your guitar. This can save you a lot of time if you're willing to trust the machine. Other 'detune' modes will replicate your signal at a slightly lower pitch to thicken your tone.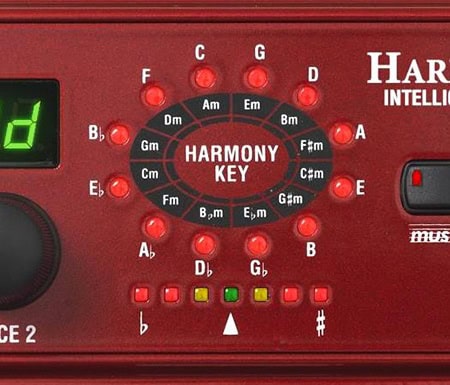 Modern pedals include what is being called 'smart pitch shifting' where you can define the key you're playing in so you never have unintended dissonant intervals.
How to Use a Pitch Shifter Pedal
When pitch shifting, you only want to effect the lead signal, not all of the extra effects added onto it later in your signal chain.
Where to Place it in the Signal Chain
A pitch shifter has a specific spot it should be placed in within the guitar pedal order. The reason for this has to do with the way nature produces sounds. This general order is as follows:
Dynamics, Filters, & Pitch Shifters
Boost & Distortion
Modulation
Time
Pitch shifting is already listed as its own type of effect in the list above, making it obvious where it should be placed. If you're using them (you should be) you'll want compression and equalization to come first, as well as any noise gates.
The idea is that you'll clean up and shape your waveform first before filtering it. After that, you can add all the distortion, modulation, reverb, and delay you want. But what you don't want is to have those effects pitch shifted. You want them responding to the shifted signal and not the other way around.
Understanding the Knob Settings
Modern pitch shifters can do what old ones can't, which introduces a new set of knobs or LCD panels related to smart locking into the correct musical key and actually combining the lead into a harmonized line versus altering the lead only.
Although knob and button options for these features are self explanatory, you'll often see panels that help you navigate through the choices. Let's talk about the knobs that are consistent across all of these pedals.
Most importantly you'll find a knob labeled as Interval, Harmony, or Type, which lets you select how many semi-tones or which interval you want to shift to. If you choose by interval then that means you have a smart pitch shifter. Your options might be a third, perfect fifth, or octave, for example.
Blend, Mix, or Level are all the same and let you control how loud the shifted signal is compared to the original lead, or how loud the shifted lead is, depending on if you're harmonizing or not. And of course, if the option is available you'll have a Key knob or panel to let you select which musical key to lock into so you always have pleasing, consonant sounds being played.
---
The Best Pitch Shifter Pedals

Note: Each image and text link leads to Amazon.com where you can read additional user reviews, find specific technical detail listings, see additional product options and sizes, and make your purchase.
Now that we are familiar with pitch shifter pedals in terms of what to look for and how they're used properly, it's time to peruse our overview of the current marketplace and see what the best options are for your hard-earned money. We aren't ordering these in any specific way except to note which is our top pick.
You can scroll back to the top to see our other two "best in class" picks, but please give them all equal consideration. If they made this list, they're worth your time. You may like one more than we did based on our differing preferences.
These are the Best Pitch Shifter Pedals Out There
Pitch shifters are becoming an oddity these days. It's nearly impossible to find a pure one since they all now combine octave and harmonizers all in the same chassis. That's really a bonus, on top of them being "intelligent" harmonizers and the pitch shifting being polyphonic.
What you're really looking for is the best algorithms that produce the highest quality tone (crappy ones sound like synthesizers) that track fast, accurately, and polyphonically. And that's what you'll find above in our list of best pitch shifter pedals.