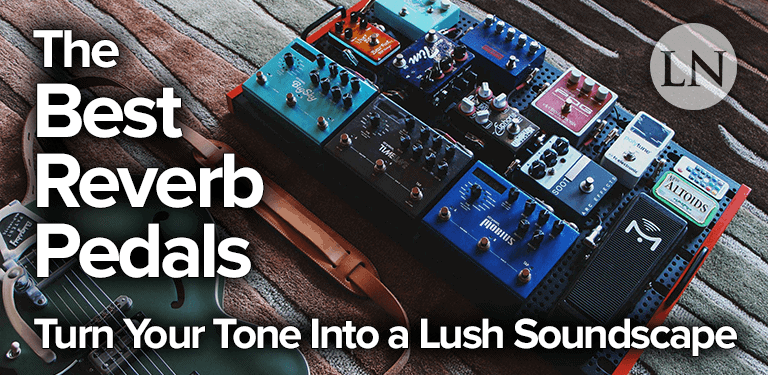 Click here to jump straight to the reviews!
We've come such a long way since the early days. If you wanted a concert hall reverb on your guitar recording, you had to find a concert hall to play in. If you wanted a chamber reverb, you had to rent time in a specially-built echo chamber.
Now we can emulate every type of environment and reverb there is, including plate and spring reverbs and more, all through digital programs.
And that's how reverb pedals work today, whether electronically through analog circuits or digitally through software. We've crammed entire auditoriums into a tiny stomp box all in the name of supreme access and convenience.
Many guitarists don't realize that reverb is actually a very sophisticated delay effect that takes advantage of many lines of echo to create the early reflections, main reverberation, and the tail of the effect.
That's why a lot of the functionality is similar, but there are some key differences we'll talk about as we explore this topic and our top picks of the current modern line-up of guitar reverb pedals.
Every musician should take advantage (but not take for granted) the wondrous world of reverb. There's no easier way to transport your listener to the environment of your choosing.
Imparting the specific emotions of that environment that match your song has never been easier or higher quality. By the time we're done, you'll know how to use and how to choose a pedal that matches your needs and preferences.
What is the Reverb Effect?
Reverb, or reverberation, is defined as the continuation of a sound after it is produced and ceases sounding. This reverberation persists over time with a gradually lowering amplitude until it is no longer able to be heard.
This effect is differentiated from delay and echo, due to having a much shorter reflection time of under 50 milliseconds which results in a 'smearing' of the sound versus a distinct repeating of it.
This was originally achieved by choosing and later designing specific acoustic spaces that would reflect a sound back and forth for the desired amount of time. It was eventually able to be reproduced using analog electrical means and ultimately digitally in guitar pedals and software plugins.
Every aspect of reverb can be manipulated using the knob controls on pedals, including the reverb length, quickness of the amplitude decay, and even style by accentuating different frequencies to emulate specific types of rooms or reflection methods like a plate or spring.
What to Look for in the Best Reverb Pedal?
Reverb is a complex effect. You obviously want one that's capable of creating the effect based on the input without problem. But beyond that, what should you be concerned with? Not all of these are created equal. I'd say the main thing to look out for is how many types of reverb the pedal can emulate.
There are five classic types of reverb: hall, chamber, room, plate, and spring. They're named either on the environment or the material used to produce the sound. Not all pedals will offer these five basic types, and some offer even more. At minimum I'd want at least a hall, room, and spring or plate reverb.
That covers most of your ground, but I'd prefer all five. Some pedals offer an additional delay or other effects you'll see labeled like "shimmer," for instance. Typically the more options the merrier here, especially if they're well created effects by a trustworthy manufacturer.
The final item to consider is whether or not you need a tap tempo. Reverb is a time-based effect, but it doesn't always have to be in time with the tempo of the song.
But if you're using a delay built into the same pedal then you definitely want a tap tempo option. Otherwise a time knob is just fine to define the length of the reverb tail.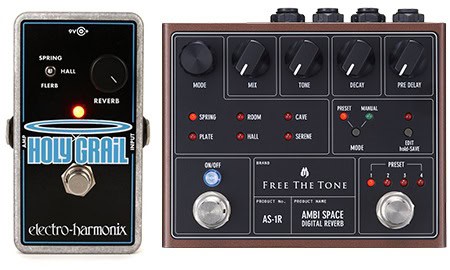 How to Use a Reverb Pedal
Reverb is a very simple effect to use thanks to the answers to two fundamental questions, which are where to put it in the order of guitar pedals and how to use the knobs. Let's cover those answers real fast.
Where to Place it in the Signal Chain
There is a specific order your pedals need to come in that follow a logical sequence. It exists based on the way nature creates the sounds and how each effect can ruin another in the wrong order. It goes like this:
Dynamics, Filters, & Pitch Shifters
Boost & Distortion
Modulation
Time
Reverb is a time-based effect along with delay. The answer is easy here. Reverb comes at the very end of your pedal chain, even after delay. It is the very last pedal you want to use. The reason is because that's how it works in nature.
Sound is formed and shaped first and then it bounces around a room or out of a canyon. Another reason is you don't want to compress or distort reverb, for example. It will sound incredibly unnatural and unprofessional.
Understanding the Knob Settings
Fortunately for us, manufacturers haven't gone completely nuts on these pedals like they do others by adding weird labels for each knob and inventing new features just for marketing purposes. In general you find four knobs on these and the occasional switch. Let's look at these.
Like most pedals, there is a Tone knob so you can slide the high shelf equalization boost around to select your preferred brightness. But then we get to the good stuff, like the Mode knob, first and foremost.
The Mode knob will have a ton of words around it like Spring, Plate, Hall, Room, etc. This lets you select the type of reverb you want to use. You'll then find a Time knob which lets you define how long this smeared out echo lasts. Sometimes this is called Liveliness or Intensity.
Beyond that you'll find a Level knob, sometimes called Mix or E. Level (E for effect). This is a wet/dry knob so you can choose how loud the reverb is in relation to the original signal.
I mentioned switches eariler. Not all pedals have these or may only have one. Usually they're control the Mode if there's no knob, but others control a pre-delay, which is a great feature by the way that says "hey, don't kick in the effect for a certain number of milliseconds."
It helps your original signal shine through by not smearing out the pick attack. Other switches will tell the pedal to keep the decay tail ringing out after you cut off the pedal or to stop it abruptly. All in all these are pretty easy to use.
---
The Best Reverb Pedals

Note: Each image and text link leads to Amazon.com where you can read additional user reviews, find specific technical detail listings, see additional product options and sizes, and make your purchase.
Now that we understand reverb pedals in regards to the features to be on the look out for and how to use them in our setup, it's time to check the market and see what the best options are for our hard-earned cash.
Below, we'll show all of the choices that qualified for our listings, but if you want to know which we consider the best of all, of the cheap, and for the value, scroll back to the top to see the comparison chart. Let's do this.
These are the Best Reverb Pedals Out There
Lots of guitar effects are very simple. They either work correctly or they don't. Reverb is way different, especially when you cram it all into a tiny stompbox. Companies are having to study and write complex algorithms into their digital computer chips so you can have access to all of the various types of reverb environments.
And when it comes to this kind of work, it's not a "does it work or not" kind of thing. There's actually a quality gradient. Some do it much, much better than others. Those that do it that well have made it into our list above of the best reverb pedals on the market.