The best reverb pedal can turn a dry mono performance into a spacious stereophonic experience that transports your listeners to another time and place, all determined by how you choose to dial in the effect. Whether you're playing lead or rhythm guitar, supporting during the verses or rocking a solo, reverb is a must-have guitar effect that fleshes out your tone so it fills the soundscape and gets the attention it deserves…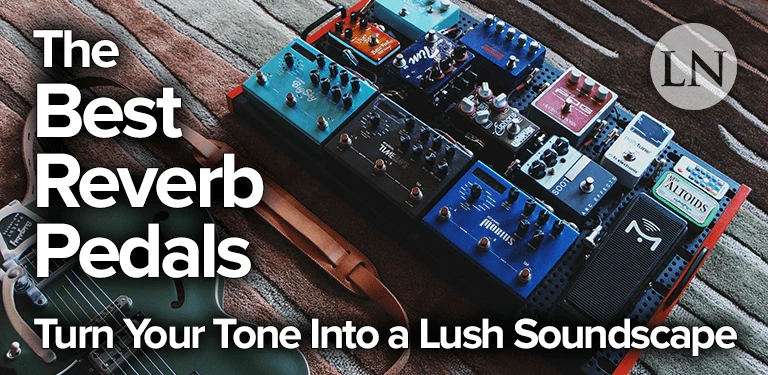 We've come such a long way since the early days. If you wanted a concert hall reverb on your guitar recording, you had to find a concert hall to play in. If you wanted a chamber reverb, you had to rent time in a specially-built echo chamber.
Now we can emulate every type of environment and reverb there is, including plate and spring reverbs and more, all through digital programs.
And that's how reverb pedals work today, whether electronically through analog circuits or digitally through software. We've crammed entire auditoriums into a tiny stomp box all in the name of supreme access and convenience.
Many guitarists don't realize that reverb is actually a very sophisticated delay effect that takes advantage of many lines of echo to create the early reflections, main reverberation, and the tail of the effect.
That's why a lot of the functionality is similar, but there are some key differences we'll talk about as we explore this topic and our top picks of the current modern line-up of guitar reverb pedals.
Every musician should take advantage (but not take for granted) the wondrous world of reverb. There's no easier way to transport your listener to the environment of your choosing.
Need more information in order to better understand your needs? We have got you covered! Visit our FAQs section.
included in this guide:
The Best Reverb Pedals
Now that we understand reverb pedals in regards to the features to be on the look out for and how to use them in our setup, it's time to check the market and see what the best options are for our hard-earned cash.
Below, we'll show all of the choices that qualified for our listings, but if you want to know which we consider the best of all, of the cheap, and for the value, scroll back to the top to see the comparison chart. Let's do this.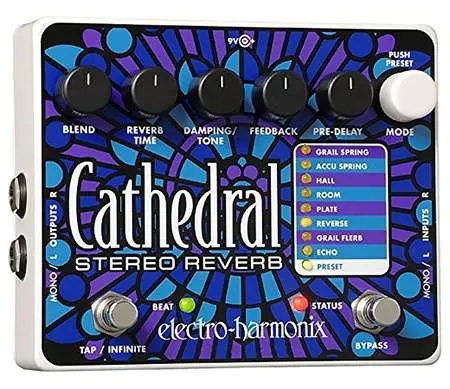 Each song demands that it sound like its emanating from the perfect space of any type. It doesn't matter which, but it has to be perfection. The Electro-Harmonix Cathedral stereo reverb offers you access to all of these spaces of any size and any shape so you can dial in exactly the emotion you want your listeners to experience.
The real benefit is that it's as easy to pop into one of these spaces as selecting one of the 8 built in modes. Then it's simply "tweak to taste."
Yeah, you get your Blend knob to control the mix levels. You can control the Reverb Time, Feedback, and Pre-Delay. You even get a Damping / Tone knob that lets you dampen certain reverbs, create a high pass or low pass filter in others, and even act as a resonance control in Flerb mode.
The Mode knob is where the action is at. Not only can you select one of the pre-built reverb modes, but you can then tweak it to how you like it and save it as a preset. No more trying to recreate your custom signature sound from scratch.
That's not all. There's even an Echo mode where you have access to a full delay effect. You get a tap tempo switch to set the pre-delay that can also give you infinite reverb. You get a true bypass so when it's off it's off.
This digital pedal even goes the extra mile to give you 24-bit AD and DA converters. But again, the real winning aspect of this incredible digital processor are the lush, unbelievable sounds that come out of it with little effort. Choose a mode and go.
Specs:
Item Weight: 1.98 pounds
Signal Format: Analog
Voltage: 9 V
Pros:
Has a variety and a wide range of modes
Clear sound clarity
Cons:
Lacks the on/off button
Needs to be plugged in/out after every use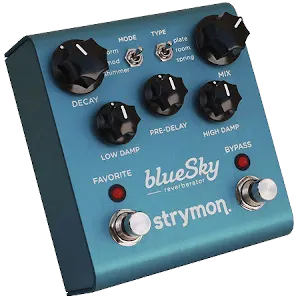 If you were to take every option available to a reverb pedal, trim the fat, and focus on creating the most lush, blissful soundscapes, the result you'd end up with is the Strymon BlueSky Reverberator.
This digital sound processor has some of the most incredible proprietary algorithms built in that tax the processor to the max. The result? The best reverbs you'll ever hear.
You'll start with one of the three base reverb choices: Plate, Room, or Spring. From there you select one of three modes: Normal, Modulation, or Shimmer. Then you turn your attention to the knobs.
The modulation mode adds a bit of vibrato for extra character and 'ear candy,' while the shimmer mode brightens up the high-end so you're still lush but not muddy. Or, if you're a solo act you can rock the normal mode and fill up the acoustic environment with the majesty of a full frequency spectrum reverberation.
The Decay knob controls the decay time so your reverbs can echo out endlessly or cut off sweet and short. The Pre-delay and Mix knobs do as you'd expect. In addition you get a Low Damp and a High Damp knob that act somewhat as EQ knobs so you can dodge the mud, add warmth, or increase the sparkle. The Mix knob can also act as an EQ, giving you a plus-or-minus 3 dB boost or cut.
Strymon says their crew spent countless sleepless nights writing these algorithms. It shows, by a long shot. If you just want an okay reverb that gets the job done, that's fine. This probably isn't for you. If you want to hear the fullest, most intricate soundscape possible and share that with your fan base, then you need to give this one some serious consideration. You won't find a better choice.
Specs:
Item Weight: 1.19 pounds
Signal Format: Analog
Voltage: 9 V
Pros:
Complete reverb workstation
Offers excellent and stunning sound quality
Cons:
Lack of fine control on hand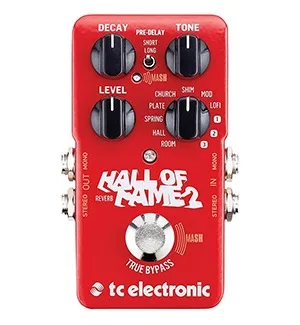 Have you ever wanted access to tons of reverbs created by the professional guitarists and bassists you've been listening to and studying for years on end? The TC Electronic Hall of Fame 2 offers you that and much more.
Their TonePrint technology lets you download these from their huge catalog (for free) through your computer to your pedal or even beam it through your smart phone's Bluetooth to the pedal through your guitar's pickup. That's nutty awesome. They also have their new MASH footswitch that doubles as an expression pedal.
Of course you get your Level and Decay knobs where you set the mix volume and the length of the reverb decay. Unlike many others, this one comes with a Tone knob where you can adjust the equalization of the effect from warm to crisp and bright.
You get 8 modes that include choices like church, spring, hall, plate, lofi, and even a modulated reverb. They've added a new Shimmer mode too, that adds polyphonic pitch shifting to the effect as well.
To sweeten the deal, they have a true bypass so you have zero tone loss when it's off. There's the analog-dry-through circuitry so your original signal maintains its tone and clarity. And you get a full stereo input and output, which is great for keyboardists and anyone else who wants to fill out the soundscape all the way.
This is easily our "best budget pick." At the price of other cheaper options, it offers much more quality and configuration.
Specs:
Item Weight: 0.77 pounds
Signal Format: Analog
Voltage: 9 V
Pros:
Easy to use
Excellent reverb sounds
Cons:
The mash footswitch is underwhelming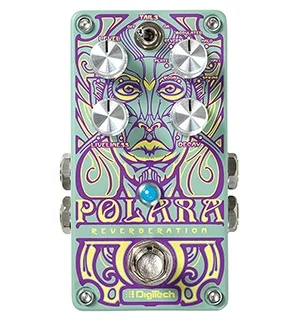 Though this pedal comes with seven incredible Lexicon reverbs, that's not the selling point. It's how well they're created. The DigiTech Polara Reverberation pedal is truly top of the line, and it shows in the little things too. You get full stereo input and output, true bypass, a soft click noiseless footswitch, and high-voltage operation.
What this means is your original tone and your effect will be completely uncompromised at all points of operation. There's even "stomp lock knob guards" so you don't bump your knobs and change the settings in the middle of your performance. They took care of all of the small things other companies didn't even consider.
On top of the warm Room mode, the expansive Hall mode, and all of the others you expect (including Reverse and Modulated), they have a new Halo reverb that's kind of like the Shimmer mode on others. It features cascading, pitch shifted octaves echoing out as the reverb decays over time. Of course you can independently control the mix level, the decay time, and the intensity of the effect through their Liveliness knob.
Like the Strymon BlueSky, who created their own top of the line reverb algorithms, DigiTech leases theirs from Lexicon who put unbelievable work into theirs. And you can hear it. The difference between a pedal like this and some cheaper overseas pedal pumped out quickly is clear to see and hear once you start working with it. And that's why it makes our list.
Specs:
Item Weight: 0.67 pounds
Signal Format: Analog
Voltage: 240 V
Pros:
Have various guitar tones
Great range of digital effects
Cons: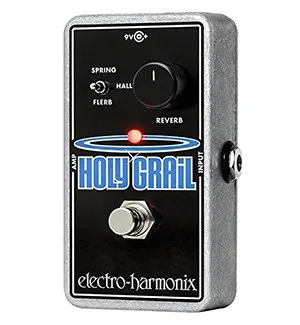 You may look at this pedal after looking at those above and think "only one knob and a switch?" If you dismiss it like that, that's your loss, because there's an unbelievable amount of musicians who consider the Electro-Harmonix Holy Grail the best reverb pedal ever, bottom line. It is the anomaly in the matrix.
Look at this thing. Where is the level mix knob? Where is the decay time control? They're both built into the simple to use Reverb knob. Think about it, the less loud you want your effect, the lower you have the decay time, and vice versa 99% of the time. We use our effects as we hear them in nature, and for that reason all of these independent controls can be wrapped up in one knob.
What you do get access to is three modes. They were all created specifically for the electric guitar, though that hasn't stopped bassists and keyboardists from using it. That's because the Spring mode is hailed as the most faithful, clear, and natural version most people have heard.
It's the best spring reverb pedal, they say. The Hall mode is based on their new algorithm, mimicking the lush spaciousness of a huge concert hall. And they have their Flerb mode, which is reverb and flanger combined like you hear on songs like 'Shine On' by Pink Floyd.
Believe it or not, this reverb is often touted as the best, despite the limited options. I guess a lot of us still appreciate simplicity and quality combined. That's all most of us are ever asking for. Those two aspects can't hide behind a ton of options. They're either there or not. The Holy Grail has them.
Specs:
Item Weight: 1.4 pounds
Signal Format: Analog
Voltage: 9.6 V
Pros:
Cons:
Can be noisy, even with shorter inputs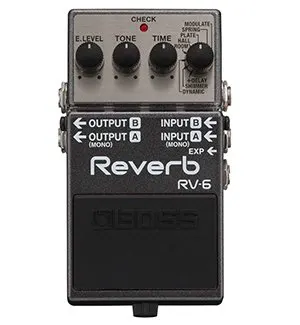 Boss packs quality into their compact and nearly indestructible pedals, and the Boss RV-6 Reverb is no different. This one, despite its small footprint, is packed with features. You get your typical knobs to control the effect level, the tone (it's strange you don't see this often on reverb pedals), and the decay time. You also get a knob that gives you access to eight modes.
These modes include the expected options like plate, spring, hall, and room. It's the others that are a bit more exciting, such as the modulation, reverb plus delay, shimmer, and dynamic modes. You have quite a few choices for adding body and character to your signal, and with the tone knob you can keep it all from turning into a muddy mess.
What's cool is their DSP inside ties more parameters than you're given control of to the ones you are, so when you tweak one there's a lot more going on. What this does is stop you from screwing up. You will always get a beautiful reverb out of the RV-6, one you can control with an expression pedal too.
One thing I like is the dynamic mode, which you don't see elsewhere. It's kind of like ducking, if we were to use mixing terms. The louder and more frequent your notes are, the less loud and long the reverb is, and the opposite is also true. The fewer notes you play, the louder it rings out and lasts longer. This stops you from flooding the airwaves with an intricate mess that you never intended.
It's like having a mixing engineer in a pedal. I love it. The reverb plus delay makes for an extremely convenient and simple playing setup, especially when you took a gig on the fly and don't have time to set up your entire pedalboard. You can never go wrong with Boss. They're dependable, high quality, and add just enough extra features others don't have to make them irresistible.
Specs:
Item Weight: 1.21 pounds
Signal Format: Analog
Voltage: 9 V
Pros:
Superb sound and build quality
Cons:
Spring setting is a little splashy
These are the Best Reverb Pedals Out There
Lots of guitar effects are very simple. They either work correctly or they don't. Reverb is way different, especially when you cram it all into a tiny stompbox. Companies are having to study and write complex algorithms into their digital computer chips so you can have access to all of the various types of reverb environments.
FAQs
In this section, we will delve into the specifics of Reverb Pedals.
What is the Reverb Effect?
Reverb, or reverberation, is defined as the continuation of a sound after it is produced and ceases sounding. This reverberation persists over time with a gradually lowering amplitude until it is no longer able to be heard.
This effect is differentiated from delay and echo, due to having a much shorter reflection time of under 50 milliseconds which results in a 'smearing' of the sound versus a distinct repeating of it.
This was originally achieved by choosing and later designing specific acoustic spaces that would reflect a sound back and forth for the desired amount of time. It was eventually able to be reproduced using analog electrical means and ultimately digitally in guitar pedals and software plugins.
Every aspect of reverb can be manipulated using the knob controls on pedals, including the reverb length, quickness of the amplitude decay, and even style by accentuating different frequencies to emulate specific types of rooms or reflection methods like a plate or spring.
What to Look for in the Best Reverb Pedal?
Reverb is a complex effect. You obviously want one that's capable of creating the effect based on the input without problem. But beyond that, what should you be concerned with? Not all of these are created equal. I'd say the main thing to look out for is how many types of reverb the pedal can emulate.
There are five classic types of reverb: hall, chamber, room, plate, and spring. They're named either on the environment or the material used to produce the sound. Not all pedals will offer these five basic types, and some offer even more. At minimum I'd want at least a hall, room, and spring or plate reverb.
That covers most of your ground, but I'd prefer all five. Some pedals offer an additional delay or other effects you'll see labeled like "shimmer," for instance. Typically the more options the merrier here, especially if they're well created effects by a trustworthy manufacturer.
The final item to consider is whether or not you need a tap tempo. Reverb is a time-based effect, but it doesn't always have to be in time with the tempo of the song.
But if you're using a delay built into the same pedal then you definitely want a tap tempo option. Otherwise a time knob is just fine to define the length of the reverb tail.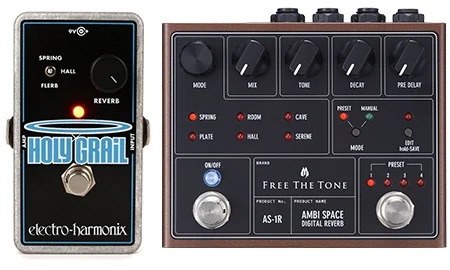 How to Use a Reverb Pedal
Reverb is a very simple effect to use thanks to the answers to two fundamental questions, which are where to put it in the order of guitar pedals and how to use the knobs. Let's cover those answers real fast.
Where to Place it in the Signal Chain
There is a specific order your pedals need to come in that follow a logical sequence. It exists based on the way nature creates the sounds and how each effect can ruin another in the wrong order. It goes like this:
Dynamics, Filters, & Pitch Shifters
Boost & Distortion
Modulation
Time
Reverb is a time-based effect along with delay. The answer is easy here. Reverb comes at the very end of your pedal chain, even after delay. It is the very last pedal you want to use. The reason is because that's how it works in nature.
Sound is formed and shaped first and then it bounces around a room or out of a canyon. Another reason is you don't want to compress or distort reverb, for example. It will sound incredibly unnatural and unprofessional.
Understanding the Knob Settings
Fortunately for us, manufacturers haven't gone completely nuts on these pedals like they do others by adding weird labels for each knob and inventing new features just for marketing purposes. In general you find four knobs on these and the occasional switch. Let's look at these.
Like most pedals, there is a Tone knob so you can slide the high shelf equalization boost around to select your preferred brightness. But then we get to the good stuff, like the Mode knob, first and foremost.
The Mode knob will have a ton of words around it like Spring, Plate, Hall, Room, etc. This lets you select the type of reverb you want to use. You'll then find a Time knob which lets you define how long this smeared out echo lasts. Sometimes this is called Liveliness or Intensity.
Beyond that you'll find a Level knob, sometimes called Mix or E. Level (E for effect). This is a wet/dry knob so you can choose how loud the reverb is in relation to the original signal.
I mentioned switches eariler. Not all pedals have these or may only have one. Usually they're control the Mode if there's no knob, but others control a pre-delay, which is a great feature by the way that says "hey, don't kick in the effect for a certain number of milliseconds."
It helps your original signal shine through by not smearing out the pick attack. Other switches will tell the pedal to keep the decay tail ringing out after you cut off the pedal or to stop it abruptly. All in all these are pretty easy to use.