The best EQ pedal solves the main problem that have plagued guitarists since day one. You can be the best guitar player since Pat Metheny or Steve Vai, but none of that matters if the crowd can't hear you. Cut through the mix with a high quality equalizer. It can be the difference between a record deal and being stuck at open mic night for the rest of your career…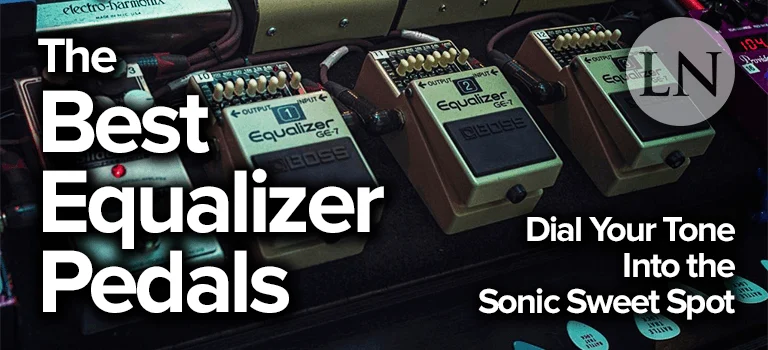 One of the worst problems plaguing everyone in a band is being able to be heard clearly by the crowd in the midst of every other band member.
Perhaps the second worst problem is leaving this up to the sound guy, who is likely plastered and barely paying attention after sound check.
The first method you should approach to solve this problem is equalization.
Equalization allows you to refine your tone by boosting or cutting specific frequency ranges. If every band member does this appropriately, everyone will be heard crystal clear, no matter how loud the crowd gets or how much the sound guy snoozes off.
An EQ pedal isn't optional since every venue you play in will have a different acoustic environment. You need to be in full control of your sound, cutting out bass frequencies when needed or boosting your highs during a solo.
The uses are endless and limited only by your willingness to tweak the knobs. It's not just a matter of gaining clarity though. When combined with other effects, you can change your entire soundscape.
Need more information in order to better understand your needs? We have got you covered! Visit our FAQs section.
INCLUDED IN THIS GUIDE:
THE BEST EQUALIZER PEDAL REVIEW
Now that we are familiar with EQ pedals and the different types of equalization, hopefully you've formed a preference based on your needs, because now it's time to peruse the marketplace and see what the best options are for our hard-earned money. We didn't order them in any special way other than to point out what our top pick is.
You can find our two other "best in class" picks at the top of the article in the comparison table, but we do recommend you consider each of the choices below. Your preferences might make a choice pop out more to you. If they made the list, they met and exceeded our needs and expectations, so don't gravitate just to our top picks!
Let's start off with our "Best Budget Pick" the Danelectro DJ-14 Fish & Chips. To meet our requirements for such a designation, it has to first and foremost be quite good. The problem with most cheap EQ's, and this one is cheap, is that they're noisy and the pots crackle and have dead spots.
You'll get none of that nonsense here. The Fish & Chips didn't cheap out where it counted. They save you money by using a hard plastic chassis, which is why it can have that nice molded design on the top.
Having seven bands (versus three) means you get finer control over your tone, especially when you know you have a colored pedal in your signal path or your amp can't quite get it right. It's not just a matter of doing its job. You can get plus-or-minus 15 dB of boost or cut that's absolutely transparent otherwise.
The level slider has so much volume that many even let this beast double as a boost pedal. The reason they're happy to do that is because you're looking at a nearly noiseless operation, even with the output volume high enough to compensate for passive pickups.
For the guitar player or bass player on a budget, you're not going to find a better cheap EQ pedal for stage or studio. The sliders are stiff enough to not move on you inadvertently and have a nice, smooth Q curve between them. Whether you're looking to suck out the mud or add a little sparkle, you can still compete with the more expensive options with the Fish & Chips mini pedal.
Specs:
Item Weight: 0.6 pounds
Style: Mini
Signal Format: Analog
Voltage: 9 V
Pros:
Great value for the performance
Cuts and boosts the tone
Suitable for beginners
Cons:
Not very durable
Not too powerful
Our favorite EQ follows the pattern of the top studio equalizers, being a parametric EQ. The Empress Effects ParaEQ is not only that, giving you unparalleled tone control that always sounds musical, but has a boost built in as well.
Most players don't need or want the extreme precision of 6 or 10 bands because it's so easy to screw up. Three bands are more intuitive to work with and always result in a more "musical" result, and that matters when you're talking about your guitar tone.
The reason 3-band EQ's sound musical is because of their wide Q curves. That's great, but you do encounter times when you need to make a precision cut for one reason or another. The ParaEQ allows you to choose between one of three Q widths per band so you still have that luxury, something nearly all other parametric pedal EQ's can't offer.
In addition, you two ways to control your volume. One is an input pad in case you're coming in too hot and the other is a clean boost you can engage, even without using the EQ. Whether you're coming in hot, need to make up lost volume from cutting, or want to drive distortion after with as much as 30 dB of boost, you can solve all of these problems easily.
This is an incredibly transparent pedal, and even more so when turned off thanks to the true bypass. With plus-or-minus 15 dB of boost & cut, there's no instrument, no amplifier, and no environment where you can't make your tone and performance cut through the mix and be the star of the show. Do it all with our top pick for the best EQ pedal on the market.
Specs:
Item Weight: 1 pound
Style: Pedal
Signal Format: Analog
Voltage: 9 V
Pros:
Versatile and durable
Produces excellent sound
Cons:
Our "Best Bang for the Buck" choice goes to the MXR M108S Ten Band EQ. This is a graphic EQ with nearly double the bands of others you find, meaning you can get into some precision work, or "draw" a smooth curves like you see in the image above.
Having both options is great. Most make you choose which mode you want to operate in, but with ten bands you can achieve both at the same time.
Consider that you have a great tone you've shaped but find that one of your pedals or the electricity at the gig is causing a horrible 60 Hz hum. Here you can cut that right out thanks to how low the bands reach, and that's only if the noise makes it past the built in noise reduction circuitry.
The slider knobs are lit up by LED's so you can see to make adjustments on stage. They're also extremely sturdy, mounted in the nearly indestructible metal chassis. It also features true bypass switching, which is almost a standard at this point.
An interesting feature they added in this second model is a second output so you can split your signal and have two separate treatments recombining further down the pedal path. Like those above, it's as transparent as they come so you'll have no problems dialing in your tone and performing precision work. There's an input gain control and an output volume control as well.
This has everything you need and a bit more, providing the most bang for your buck.
Specs:
Item Weight: 1 pound
Style: Pedal
Signal Format: Analog
Voltage: 18 V
Pros:
Offers true bypass
Double output
Cons:
Most guitar players don't want to deal with a ton of graphical EQ bands. Their base tones and other pedals don't need that much surgical work done on them. That's why 3-band parametric EQ's are still among the most popular choices, which is what the EarthQuaker Devices Tone Job provides.
The way it works is that the Q widths of the frequency ranges is fixed and overlapped so that all you need to worry about is how much boost or cut you add and where, in three easy to understand bands: treble (high), mid, and bass (low).
When EarthQuaker Devices builds these by hand, they're doing so based on the old premium-grade stereo preamps. That means these can handle a variety of input voltages (and has a lot of headroom). This pedal is ready for guitar, bass, synthesizer, and anything else you can throw at it. And if you need more volume after the fact, the Volume knob adds as much as 20 dB of clean boost.
You get the slightest amount of saturation without the warm coloration you've come to expect. Put this right after your guitar and before your compressor to add some character, sweeten your tone, and hear your instrument like you never have before.
Specs:
Item Weight: 0.75 pounds
Style: Tone Job
Signal Format: Analog
Voltage: 9 V
Pros:
Provides sweet tone
Offers simple control with many functions
Cons: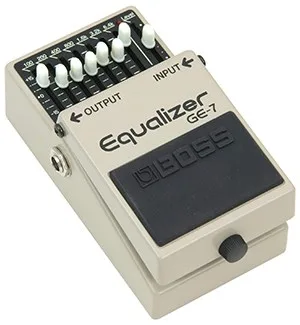 Boss never fails to surprise. With the Boss GE-7 7-Band EQ, they managed to squeeze in a 7-band graphic equalizer in their normal sized chassis, with the pegs recessed enough that there's very little chance of kicking them and accidentally changing your tone.
With up to 15 dB in boost or cut and another 15 dB in output boost, your options are endless. Removing the squeaking from playing acoustic guitar, dropping out some mud in the 200-400 Hz range, or adding a high shelf sparkle, you can do it all.
All of this is safely packed into Boss' robust tank-like case with the huge switch that you can't possibly miss. Players that prefer a graphic EQ like this choose them because they don't like being limited by the simple two and three band options on their amps at the end of their pedal chains.
They want to feed specific adjustments in before their compressors and reverbs, for instance. And the GE-7 fits that bill as much as any other could. Those are just a few of the reasons it's one of the most popular EQ's available.
Specs:
Item Weight: 1 pound
Style: Pedal
Signal Format: Analog
Voltage: 9 V
Pros:
Reliable and durable
Suitable for beginners and simple to adjust
Cons: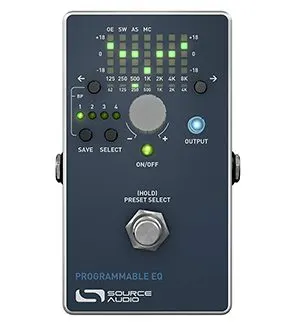 As mentioned above, accidentally changing your guitar tone by kicking the EQ sliders or twisting the knobs can be a real threat. The Source Audio SA170 completely removes that risk by introducing their programmable equalizer.
Perhaps the coolest option on our list, the basics of the SA170 is you get plus-or-minus 18 dB of boost or cut across 7 bands, plus an 8th band at 62 Hz you can access thorugh the Octave Extend function. It also offers up to 12 dB of clean boost at the output.
The main features of this pedal are that you can create your EQ and then save it to one of 4 presets. This way, whether you play four different guitars and basses, or have four different pedalboard configurations, you can quickly select the right preset and be ready to rock nearly instantaneously. You can even let it "auto scroll" through all four presets at any speed you want to create crazy effects.
You can even use the MIDI input coming out from any MIDI compatible multi-effects pedal to extend the options available, select presets, and turn them on and off. You get a true bypass, transparent processing, and the very convenient preset functionality for the same price as most other EQ pedals. Plus, it has the cool factor. Wow your band mates with this bad boy.
Specs:
Item Weight: 0.65 pounds
Style: Pedal
Signal Format: Analog
Voltage: 9 V
Pros:
Offers a clean boost
Versatile
Cons:
FAQs
In this section, today we'll explain exactly what EQ is, how to use it, and which features you should be looking out for as you consider which pedal you want. Once we're done, you'll know all you need to make an informed decision, and we'll help you get started by introducing you to our top picks in today's current line-up. Let's get started.
What is the EQ Effect?
The equalizer effect is a type of signal processing method used to change the frequency response of a sound. There are many types of studio equalizers and several ways to control them, such as parametric EQ, graphic EQ, or names based on the number of bands you can control, like a three-band EQ.
These types have all made their way into the guitar pedal industry as well. With many bands with tight Q's (the width of the band), you can perform sound changes with surgical precision, or use fewer bands with wide Q's to create a broad, musical change to your sound.
Your options are limited to boosting or cutting the volume of a set of frequencies, defined by the position and width of each band. Guitarists and all other instrumentalists use this to alter their tone.
Every track on every professionally released song has had EQ applied to it by a mixing engineer. It is easily the most-used and least obvious effect when used correctly.
The main uses are to alter your own tone beyond the limits of your instrument itself and to use it in order to not clash with other instruments when played in unison. For instance, the vocals and guitars in a live band may all largely reside in the same range on the frequency spectrum.
The guitarist will then use their equalization pedal to 'dodge' the vocalist so both can be heard clearly without clashing. They may disengage this effect during a solo, only to turn it back on once the singer rejoins the performance.
What to Look for in the Best EQ Pedal?
The main thing you want to consider is how finely you want to change your tone. If you want to get in there with surgical precision then you probably want a graphic equalizer with as many as 10 bands separated into sliders (you'll be limited in number on a standard sized pedal, let alone on a nano pedal's mini size).
My opinion is most players should be considering a parametric equalizer with 3 or 4 bands on knobs. You'll deal with wider Q curves with a much more 'musical' result in your tweaks. It's also a lot easier to kick sliders and break them or at least ruin your finely crafted tone.
The rest comes down to preference. If you want a small pedal you can't have a lot of bands. If you want a lot of bands you can't have a small pedal. I can say that a lot of players will tweak their tone and then leave the EQ at that setting for the entire show, if not forever.
I can say even more that most guitarists never need more than one EQ pedal over the lifetime of their career, so it makes sense to get the best one you can at the time to make sure it lasts that long in terms of reliability, sound quality, and durability.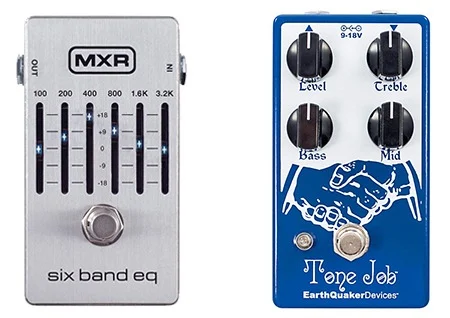 How to Use an EQ Pedal
Equalization isn't such an overt effect like others, but more of a mixing and balancing method of signal processing. The question is where should you use it and once you get it there, how do you use it?
Where to Place it in the Signal Chain
There's a logical sequence for your guitar effects chain, whether or not you're completely linear or using your amplifier's effects loop. It goes like this:
Dynamics, Filters, & Pitch Shifters
Boost & Distortion
Modulation
Time
Equalization falls under the filters or pitch shifters category, depending on who you ask. Its job is to alter the frequency spectrum, usually before any other effects (even compression at the very start). The reason is that you don't want your other effects acting upon frequencies that you don't intend to be in the signal anyways. Use your EQ first!
Understanding the Knob Settings
The main knobs or sliders on an EQ are related to the frequency bands you have access to. For a graphic equalizer you'll have a row of sliders ranging from 6 to 10, and for a parametric equalizer you'll have 3 or 4 knobs to twist.
Not all give you the choice, but some allow you to change the width of the Q curve of each band so you can make wider or thinner cuts or boosts. That's it. Setting those knobs and sliders to the best sounding spots isn't easy though, it's quite the art.