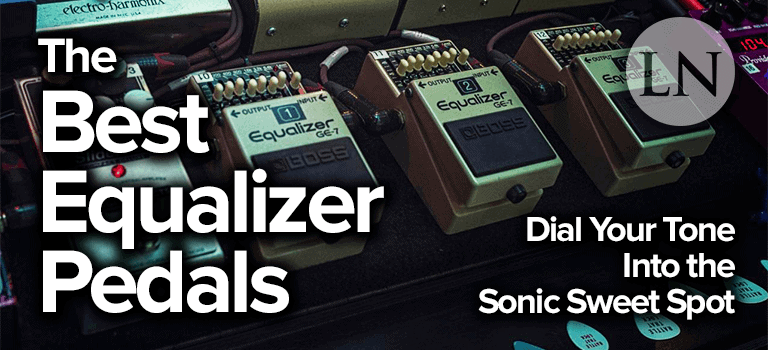 Click here to jump straight to the reviews!
One of the worst problems plaguing everyone in a band is being able to be heard clearly by the crowd in the midst of every other band member.
Perhaps the second worst problem is leaving this up to the sound guy, who is likely plastered and barely paying attention after sound check.
The first method you should approach to solve this problem is equalization.
Equalization allows you to refine your tone by boosting or cutting specific frequency ranges. If every band member does this appropriately, everyone will be heard crystal clear, no matter how loud the crowd gets or how much the sound guy snoozes off.
An EQ pedal isn't optional since every venue you play in will have a different acoustic environment. You need to be in full control of your sound, cutting out bass frequencies when needed or boosting your highs during a solo.
The uses are endless and limited only by your willingness to tweak the knobs. It's not just a matter of gaining clarity though. When combined with other effects, you can change your entire soundscape.
With all this in mind, today we'll explain exactly what EQ is, how to use it, and which features you should be looking out for as you consider which pedal you want. Once we're done, you'll know all you need to make an informed decision, and we'll help you get started by introducing you to our top picks in today's current line-up. Let's get started.
What is the EQ Effect?
The equalizer effect is a type of signal processing method used to change the frequency response of a sound. There are many types of studio equalizers and several ways to control them, such as parametric EQ, graphic EQ, or names based on the number of bands you can control, like a three-band EQ.
These types have all made their way into the guitar pedal industry as well. With many bands with tight Q's (the width of the band), you can perform sound changes with surgical precision, or use fewer bands with wide Q's to create a broad, musical change to your sound.
Your options are limited to boosting or cutting the volume of a set of frequencies, defined by the position and width of each band. Guitarists and all other instrumentalists use this to alter their tone.
Every track on every professionally released song has had EQ applied to it by a mixing engineer. It is easily the most-used and least obvious effect when used correctly.
The main uses are to alter your own tone beyond the limits of your instrument itself and to use it in order to not clash with other instruments when played in unison. For instance, the vocals and guitars in a live band may all largely reside in the same range on the frequency spectrum.
The guitarist will then use their equalization pedal to 'dodge' the vocalist so both can be heard clearly without clashing. They may disengage this effect during a solo, only to turn it back on once the singer rejoins the performance.
What to Look for in the Best EQ Pedal?
The main thing you want to consider is how finely you want to change your tone. If you want to get in there with surgical precision then you probably want a graphic equalizer with as many as 10 bands separated into sliders (you'll be limited in number on a standard sized pedal, let alone on a nano pedal's mini size).
My opinion is most players should be considering a parametric equalizer with 3 or 4 bands on knobs. You'll deal with wider Q curves with a much more 'musical' result in your tweaks. It's also a lot easier to kick sliders and break them or at least ruin your finely crafted tone.
The rest comes down to preference. If you want a small pedal you can't have a lot of bands. If you want a lot of bands you can't have a small pedal. I can say that a lot of players will tweak their tone and then leave the EQ at that setting for the entire show, if not forever.
I can say even more that most guitarists never need more than one EQ pedal over the lifetime of their career, so it makes sense to get the best one you can at the time to make sure it lasts that long in terms of reliability, sound quality, and durability.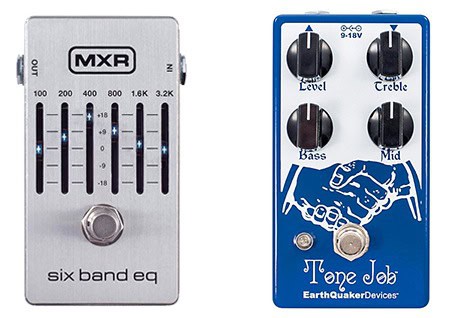 How to Use an EQ Pedal
Equalization isn't such an overt effect like others, but more of a mixing and balancing method of signal processing. The question is where should you use it and once you get it there, how do you use it?
Where to Place it in the Signal Chain
There's a logical sequence for your guitar effects chain, whether or not you're completely linear or using your amplifier's effects loop. It goes like this:
Dynamics, Filters, & Pitch Shifters
Boost & Distortion
Modulation
Time
Equalization falls under the filters or pitch shifters category, depending on who you ask. Its job is to alter the frequency spectrum, usually before any other effects (even compression at the very start). The reason is that you don't want your other effects acting upon frequencies that you don't intend to be in the signal anyways. Use your EQ first!
Understanding the Knob Settings
The main knobs or sliders on an EQ are related to the frequency bands you have access to. For a graphic equalizer you'll have a row of sliders ranging from 6 to 10, and for a parametric equalizer you'll have 3 or 4 knobs to twist.
Not all give you the choice, but some allow you to change the width of the Q curve of each band so you can make wider or thinner cuts or boosts. That's it. Setting those knobs and sliders to the best sounding spots isn't easy though, it's quite the art.
---
The Best EQ Pedals

Note: Each image and text link leads to Amazon.com where you can read additional user reviews, find specific technical detail listings, see additional product options and sizes, and make your purchase.
Now that we are familiar with EQ pedals and the different types of equalization, hopefully you've formed a preference based on your needs, because now it's time to peruse the marketplace and see what the best options are for our hard-earned money. We didn't order them in any special way other than to point out what our top pick is.
You can find our two other "best in class" picks at the top of the article in the comparison table, but we do recommend you consider each of the choices below. Your preferences might make a choice pop out more to you. If they made the list, they met and exceeded our needs and expectations, so don't gravitate just to our top picks!
These are the Best EQ Pedals Out There
There are really two types of pedals every player can't escape having, and one of those is an equalizer. Nobody gets the perfect tone without one, even if you get close. For those that are close, you'll enjoy a good parametric EQ with three bands.
For those needing to do some precision work, a graphic EQ is right up your alley. Either way, you'll find what you need above in our current top picks for best EQ pedal.